Keen to find the best cat chew toys for your kitty? Once you have a finicky feline in your house, you realize there's a lot more to taking care of a kitten than many people think. Of course, they need to be fed and loved and cleaned, but they also need stimulation in the form of toys.
And some cats are prone to leave bite marks in furniture, children's toys, and even their humans' skin. This is why it's a good idea to have a few chew toys laying around, and encouraging them to munch on these rather.
This guide to all the best chew toys for cats will help you make the right purchase decision, and keep your possessions (and hands) safe from little kitty fangs.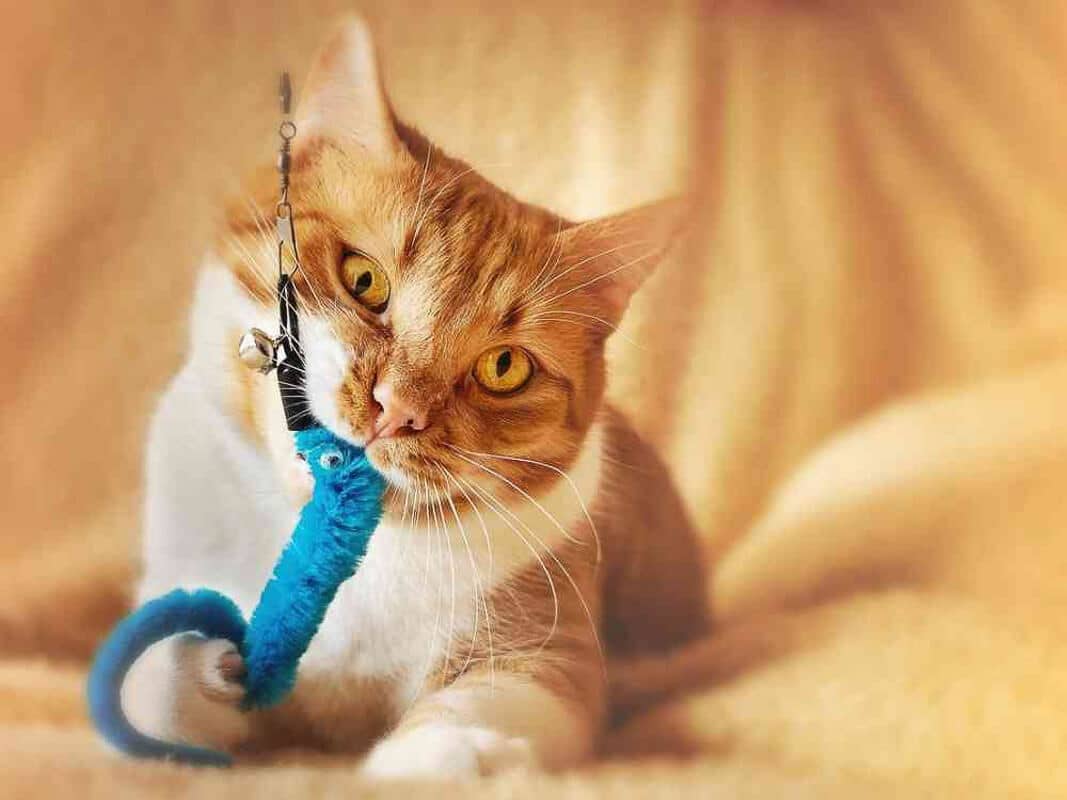 Cat Chew Toys: Do Cats Like to Chew on Things?
You may find that your cat has started to chew and/or eat things that are not supposed to be in her mouth. This is probably not because you're not giving her enough food, but rather because this is how she discovers the world around her.
Cats explore with their teeth – which can result in plenty of chewing, nibbling, and even biting. Many cat owners can relate to the image of walking into the lounge and catching their kitten chewing on important TV cables. Or finding them under the bed nibbling enthusiastically on shoelaces.
Nothing is necessarily off-limits to their 'explorations'. But you can definitely help guide them to chew on toys that have been specially designed to help their teeth and gums, and aren't toxic.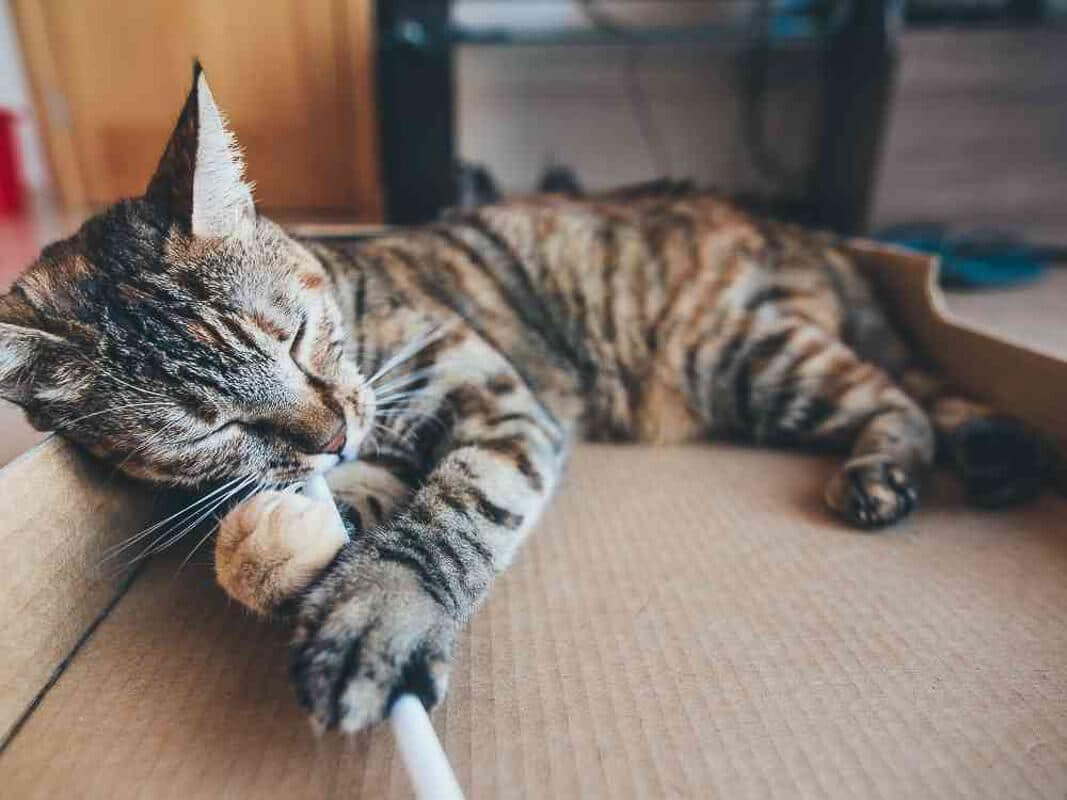 Things to Consider When Buying Chew Toys for Your Cat
As with any cat toys, chewable playthings should only be bought if you know they are safe and good for your kitty. There are a few things you should consider when making a purchase.
Is It Safe?
If you're buying something specifically to go in your cat's mouth, you want it to be free from any toxic materials. It should also not have any small parts that your kitten can chew off and choke on.
Is It Colorful and Fun?
Most of what kitties find to chew on is interesting to them. The wires and shoelaces are like wiggly snakes, and your makeup blender looks a little like an escaping house mouse. So toys need to catch their attention to distract them from everything they shouldn't be chewing on.
Toys that are multipurpose are also great because they add value for less money. Something your cat can chase, pounce on, and wrestle while they expel all that chewy energy is a plus for everyone involved.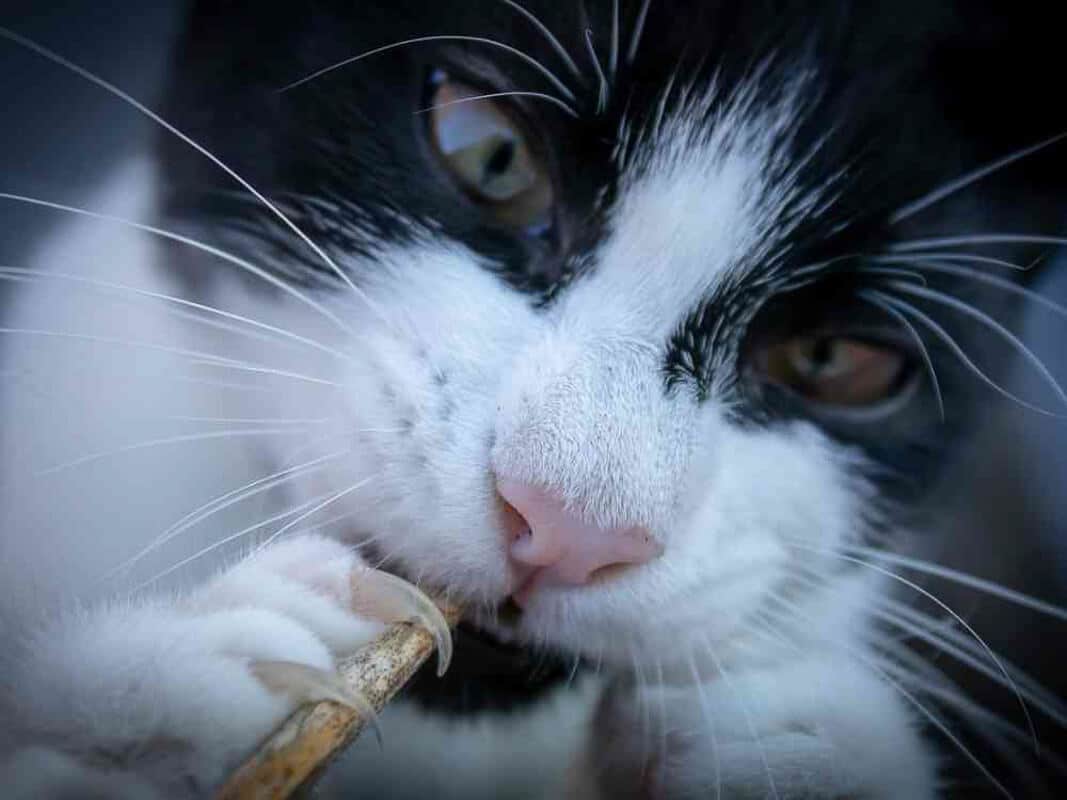 ⇒ Thinking about what kind of kitty you would like? Check out my posts on the 9 Most Expensive Cat breeds, 10 Snuggly Flat Faced Cat Breeds, 7 Strange and Weird Cat Breeds, 11 Indoor Cat Breeds, 14 Cutest Cat Breeds, 12 Most Friendly Cat Breeds, 8 Fluffiest Cat Breeds, 9 Super Cool Cat Breeds, 11 Rare Cat Breeds, 8 Small Cat Breeds, 9 Big Ear Cat Breeds, 13 Big Eyed Cat Breeds, 10 Tuxedo Cat Breeds, 9 Gorgeous Grey Cat Breeds, 8 Garfield Cat Breeds, Siberian cat colors, Maine Coon Personality and the ultimate Siberian Cat personality profile.
Will It Last?
If something isn't durable, and it breaks too easily, you're going to need to purchase more very soon. Try to find something that can withstand any feline's frenzied chew-athon and will be worth your money.
Is It The Right Size?
There are some chew toys that you'll see are made for dogs. These are usually too big for cats and aren't always great for feline teeth anyway.
When buying any toy, but especially something you want your kitty to be able to chew on, make sure it's the right size. If your kitten is still young and tiny, or your cat has really small teeth, then the toys need to be small too.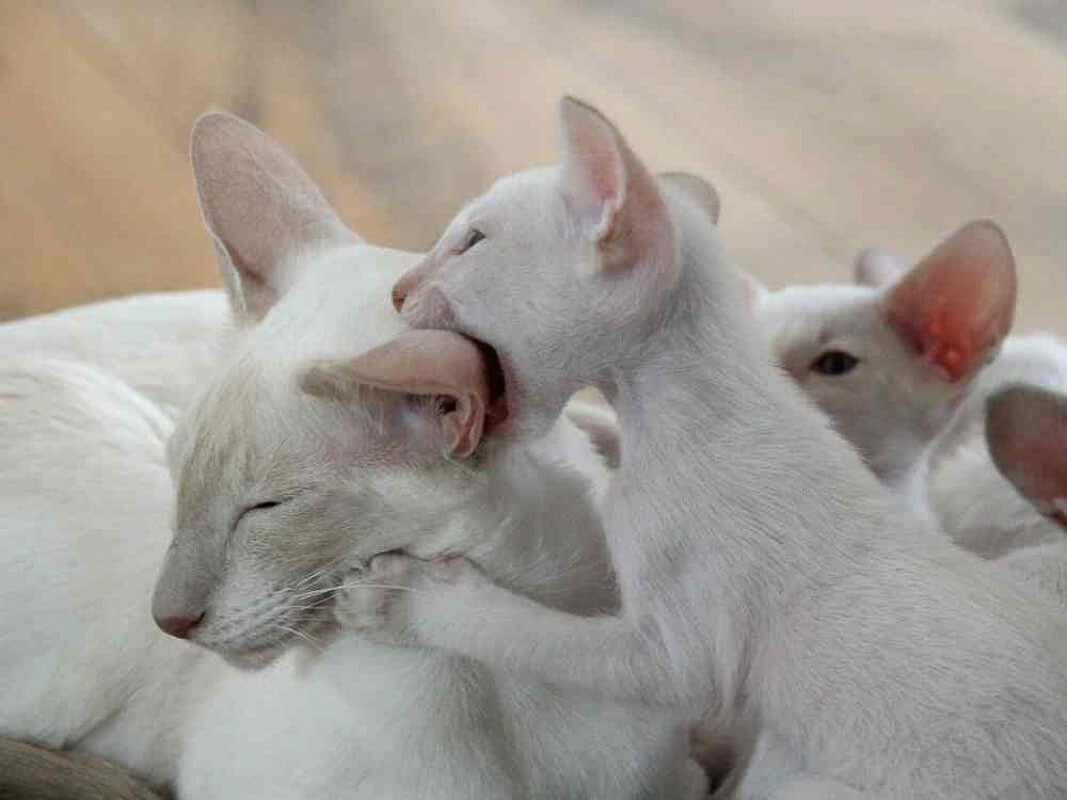 ⇒ Keen to get a better understanding of why your cat behaves as it does? Check out my posts on What Smells do Cats Hate, Why Does my Cat Lick my Nose?, Why do cats roll in the dirt, Why Does my Cat Lay on my Chest , Why Does my Cat Sleep on my Legs, How Often do Cats Pee, How to Pet a Cat, Why do Cats Chase Their Tails?, What Does it Mean When a Cat Rubs Against you , Why Does my Cat Sit on Me? , Why do Cats Purr when you Stroke them? , How to Train a Cat Not to Bite, Why do Cats Knead their Owners? , Why do Cats Arch their Back, How to Get a Cat to Eat, Why Doesn't My Cat Purr?, Why Does my Cat Attack Me, Why Do Cats Lick Each Other? , What Does it Mean When a Cat Licks you? , Why Do Cats Bite Their Nails? and What Does it Mean when a Cat Headbutts you?
The Best Cat Chew Toys on the Market
If you've noticed that your feline enjoys sinking their teeth into unsuitable items, then buy one of the following products and give them a fun and useful gift.
There are a few different kinds of chew toys that you can buy for cats. Some of these are hard and help to clean teeth, others are softer and just enjoyable to bite. And perhaps the most valuable ones, are those designed to keep teething kittens entertained.
Dental and Hygiene Chewies
Petstages kitty chew wheel – This will keep your cat chewing happily while helping with oral hygiene. The round, bright rubber wheel has two fabric tassels to it and has rubber spikes on the outer edge. It helps massage gums, exercise the jaw, and is 100% non-toxic. Plus it's incredibly affordable.
Petstages Fresh Breath Mint Stick – The smell of mint is almost as desirable to cats as catnip is, so this dental chew toy is ideal. It's lightweight and easy for your kitty to handle, and helps remove tartar and keep teeth healthy. It's also fun to play with and made to be durable.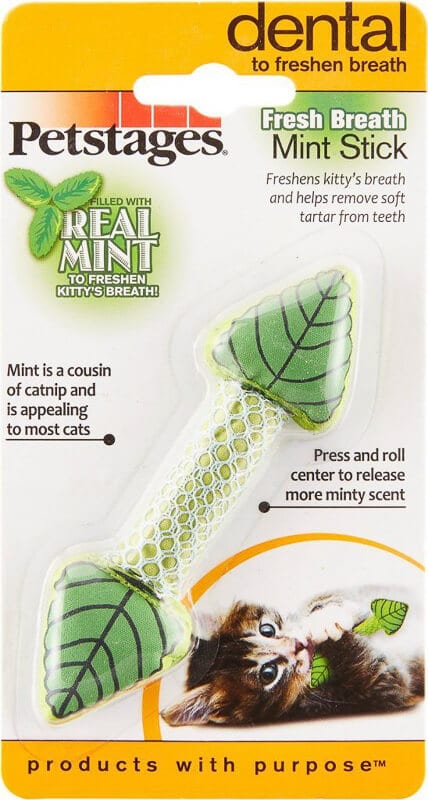 Petstages Plaque Away Pretzel – Another of Petstages' stunning dental hygiene products, this pretzel is also infused with catnip.
It's the perfect size for your cat to hold it, carry it away to their favorite corner, and bat and play with. The netting is durable and helps remove plaque, and the catnip keeps them interested in the toy.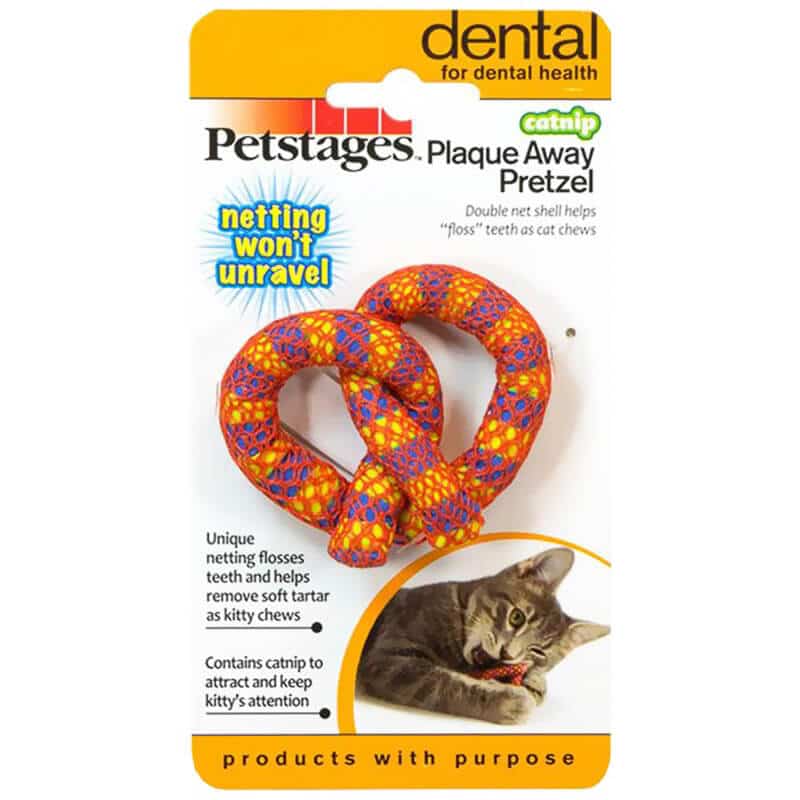 Segminismart Fillable Fish-Shaped Toothbrush – Help avoid any oral issues and get your feline a fun toy that doubles as a toothbrush. Chewing on this promotes fresher breath, healthier gums and teeth, and it's fun. You can fill it with mint or catnip, and the size is perfect for your cat to hold and chew.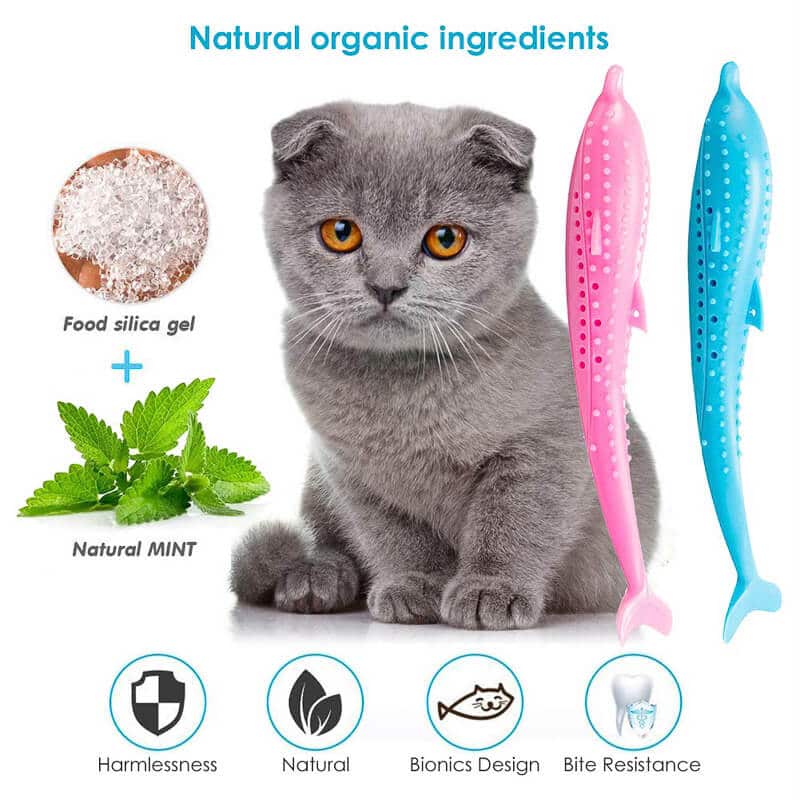 ⇒ Looking for the perfect collar for your kitty? Check out my posts on 6 stylish leather cat collars, the 7 best GPS Cat Collar Options, 8 stylish and fun Christmas cat collar choices, 6 best flea collar for Cats, 4 best Cameras for cat collars and 6 Spooky Halloween cat collar options.
Soft Chew Toys for Cats
Petstages Mesh Lil' Avocato – As well being as soft and cute as anything, this toy is filled with catnip and encourages dental health – so it's a real winner.
The tiny mesh avocado-shaped toy helps keep your cat's teeth and gums healthy while releasing that well-loved catnip smell. And it's soft and small, so it works for smaller breeds and kittens.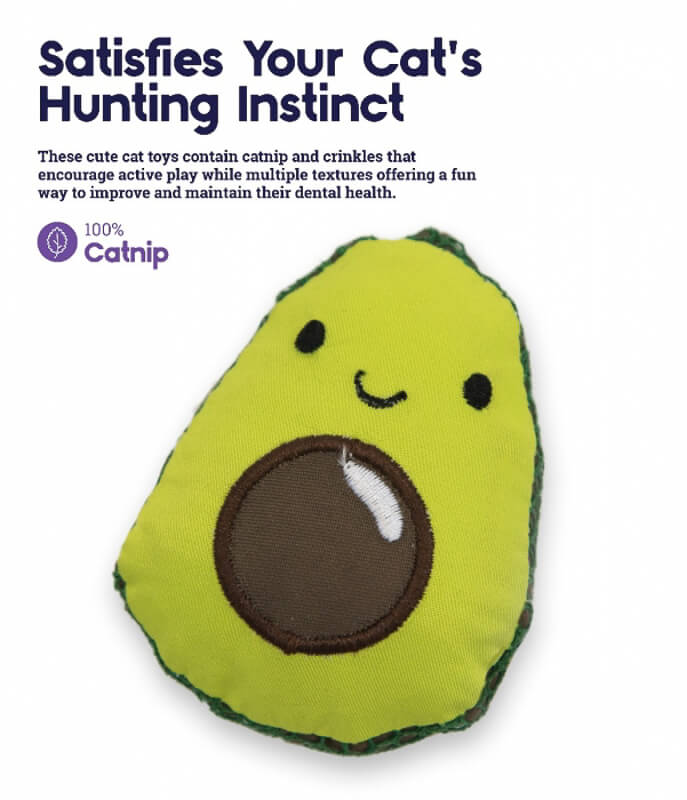 Legendog Natural Cat Toy – Get your kitten a friend to keep them company while you're out or busy. This little cat-like soft toy is made from breathable fabric, which is bite-resistant and helps the catnip scent escape easier. It's filled with catnip and is perfect for playing, chewing, and cuddling.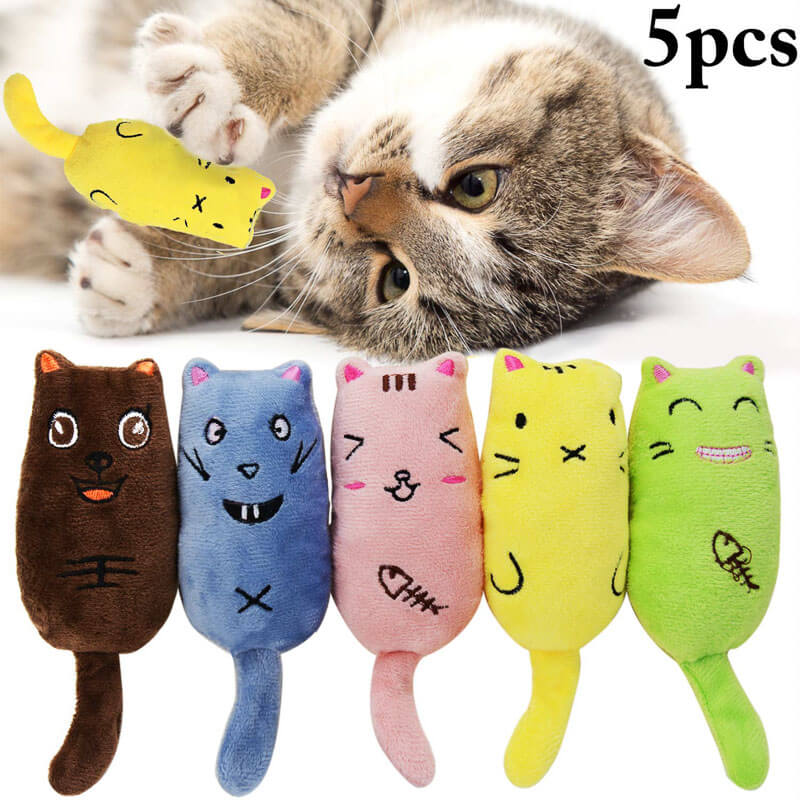 Ainolway Interactive Cat Catnip Toy – Get your kitten a pack of these tiny and fluffy cat-shaped toys and be the best savvy servant ever. They're made from a soft, flannel-like material, and can fit into two paws.
They're also filled with catnip and built to be bitten. So these make the perfect all-day, any-day toy, and may even be snuck into bed at night as well.
⇒ About to become a fur parent? Check out my Complete Guide to How to Look After a Kitten.
⇒ Check out my guides to the Best Cat Products, Travel Litter Box, and the Best Cat Litter
Kitten Teething Toys
Leaps & Bounds Teething Mouse – Ideal for kittens who need something to chew on and rough-house with, as well as a cuddly toy to snuggle with. This cute mouse has large textured ears – all the better to chew on. Plus a large plush head – all the better to kick and then cuddle with.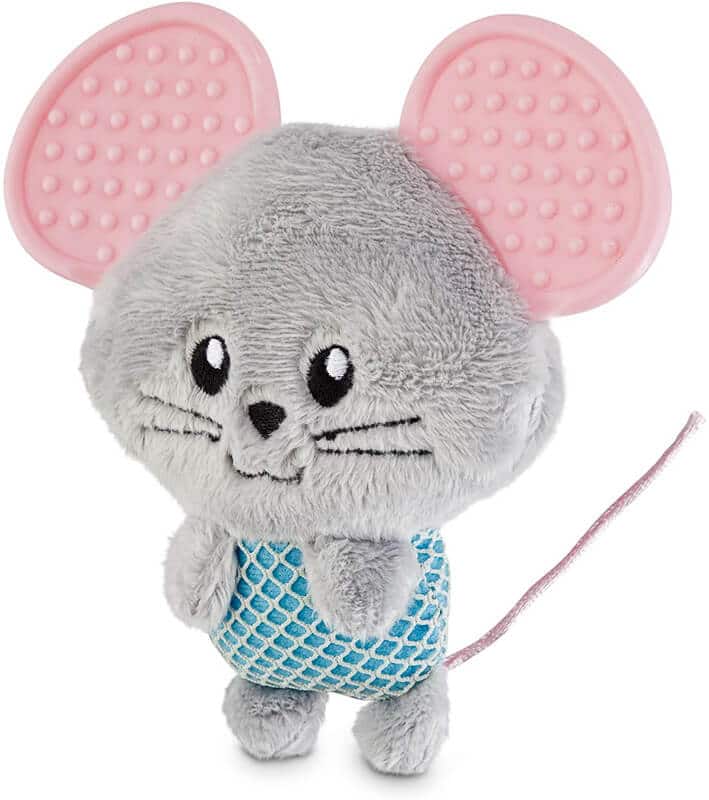 Leaps & Bounds Little Paws Teething Ring – This is a textured ring that's designed to withstand the force of your young kitten's bite. It also has pieces of string tied to it, with soft balls at the end. This makes for some real fun playing while allowing for safe chewing time.
BringerPet Interactive Cat Chew – If you're looking for a multipurpose chew toy that your kitten can use into adulthood, this is it. This eco-friendly toy can be used first and foremost as a toothbrush and teething toy.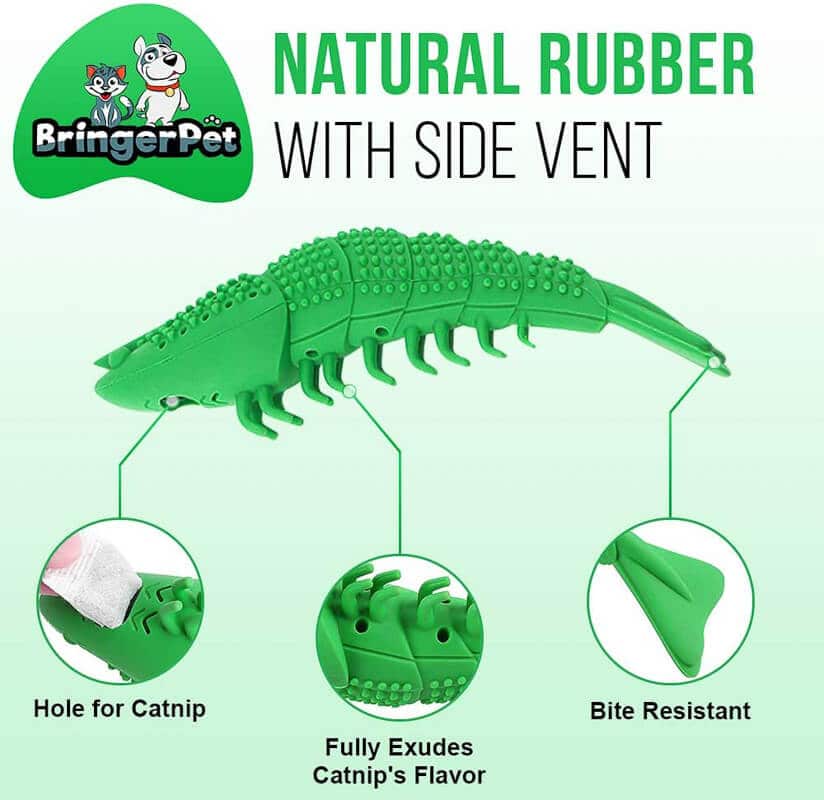 But it also contains a bell, can hold catnip or treats, and is the perfect size for all ages. It's also recyclable and you'll see the difference in your cat's teeth cleanliness after chewing it.
⇒ Check out my guides to the best treats for cats, high-calorie cat food, high fiber cat food, low protein cat food, best food for cats with ibd, best cat foods for older cats that vomit, best food for constipated cats, can cats each cashews, can cats eat raspberries, best kitten dry food and a complete cat feeding guide wet and dry food.
Catnip Chew Toys
Petstages Mice Chew with Catnip – These are small enough that your cat can hold one in its paws and the bright colors are sure to attract kitties of all ages. They're made to help remove tartar and improve dental health and are also filled with irresistible catnip.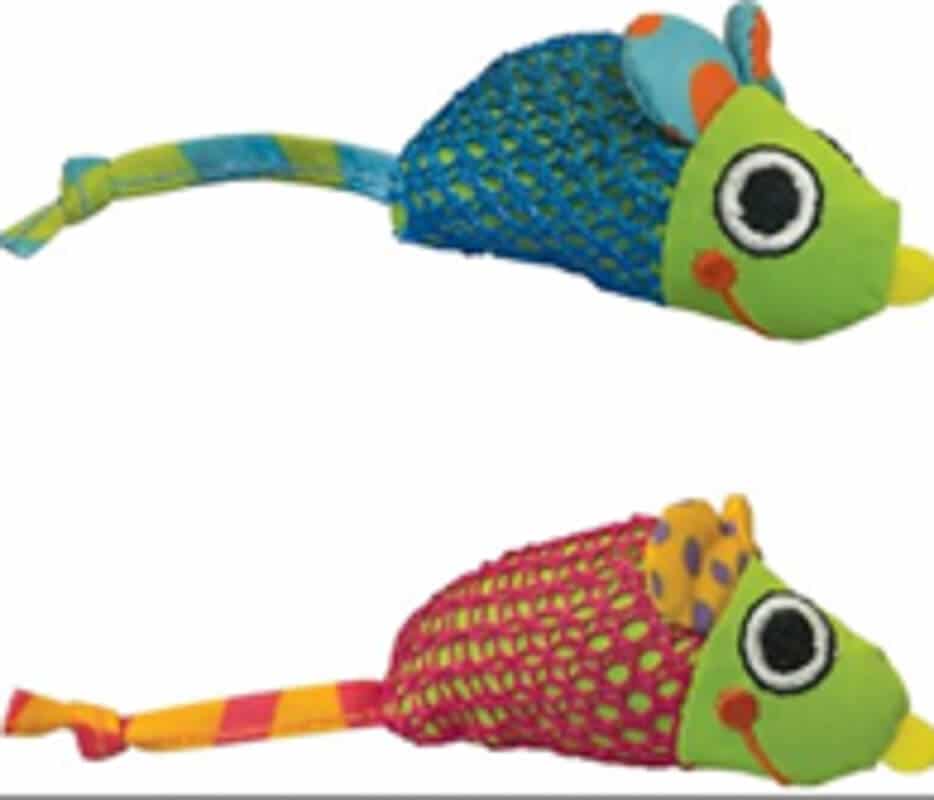 Dancing Fish Toy – Combining an interactive kicker, dancing fishiness, and catnip chew toy all in one, this will be enjoyed by humans and felines alike. This USB-rechargeable fish flaps and dances when charged. Your cat can pounce, kick, bite, and toss the toy as they please. It also has two catnip pouches inside, for added fun and enjoyment.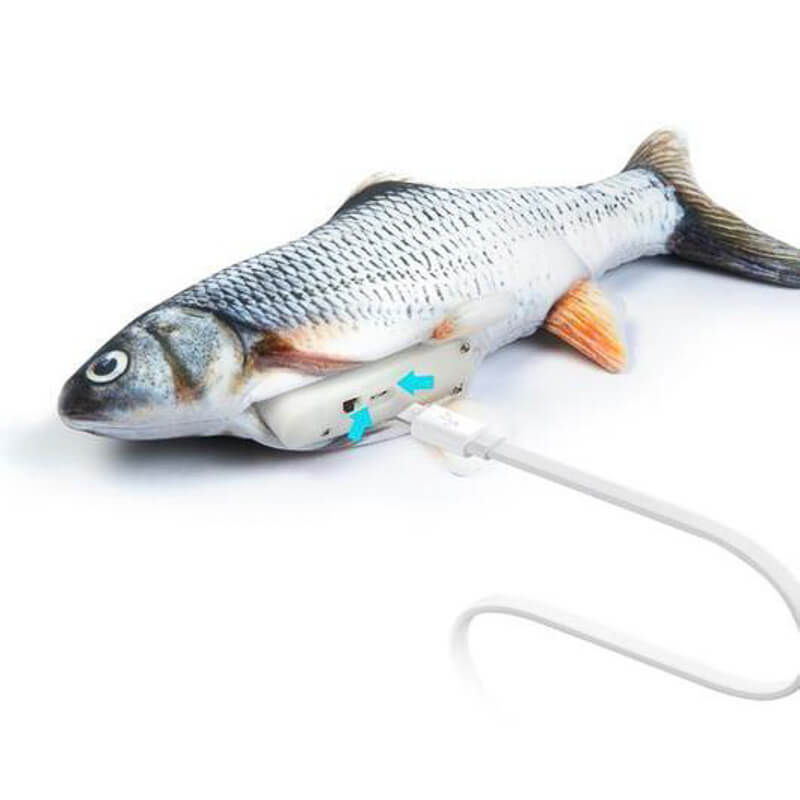 Pioneer Pet Nip Nibblers – Safe and filled with catnip, these are sure to be favored by most cats. These lightweight catnip pouches are great for kitties to nibble on and squeeze, which will release a little bit of catnip and new fun energy. They're colorful and long, making them easy for cats to find and hold.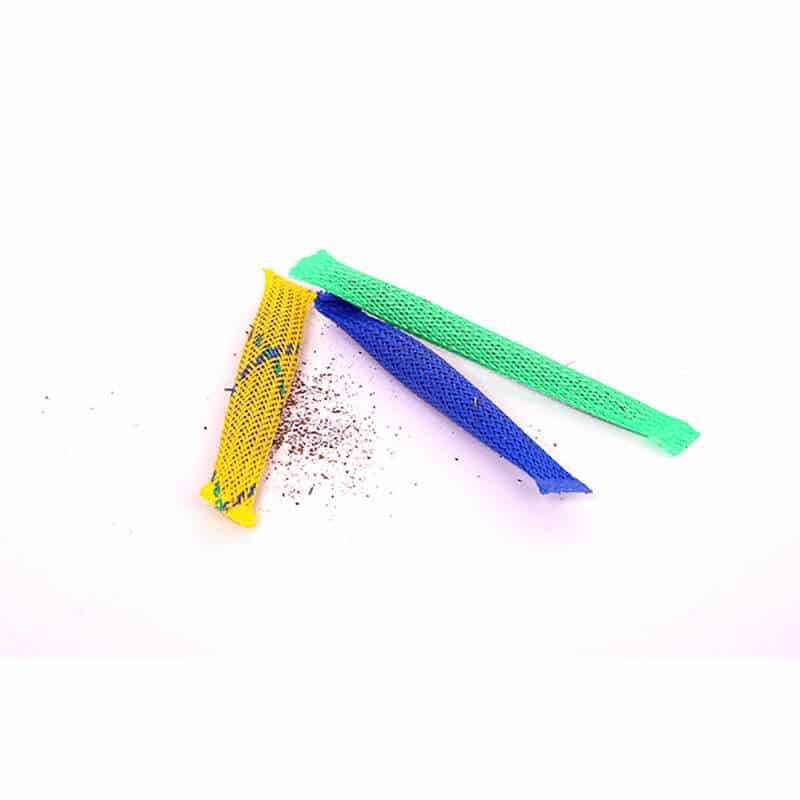 Yeowww! Catnip Banana – For owners who are looking for something organic and safe, this non-toxic catnip-filled cotton banana is ideal. The toy is perfectly shaped, brightly colored, and packed with natural, organically-grown catnip. Expect this to become the favorite chew toy in the house.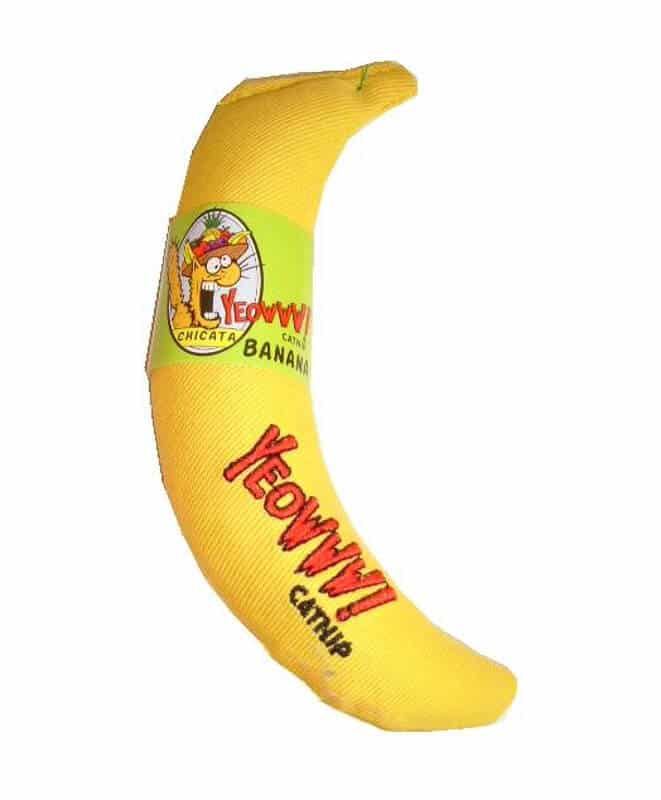 ⇒ For all things fun with your kitty check out my guides to clothing for cats, the best toys for cats, great gifts for cats and my annual cat planner for kitty photo opportunities across the year.
⇒ For everything you need to know about taking care of your finicky feline check out my guide to How to Groom a Cat, Ultimate Persian Cat Grooming Guide, the Best Cat Brush, Caring for Cats guide and my quick cat check up guide.
Final Words
Many cat owners will notice that there are fewer chew toys on the market for cats than there are for dogs. But the great news is that there is a range of feline chew toys available that are really excellent, and many of them are on this list.
If you find your cat isn't responding to something you've bought him, simply try something different. It may take a few tries, but eventually, I'm sure that you'll find something that captivates and entertains your fur-child for hours. And keeps their ivories too busy to chew on your stuff.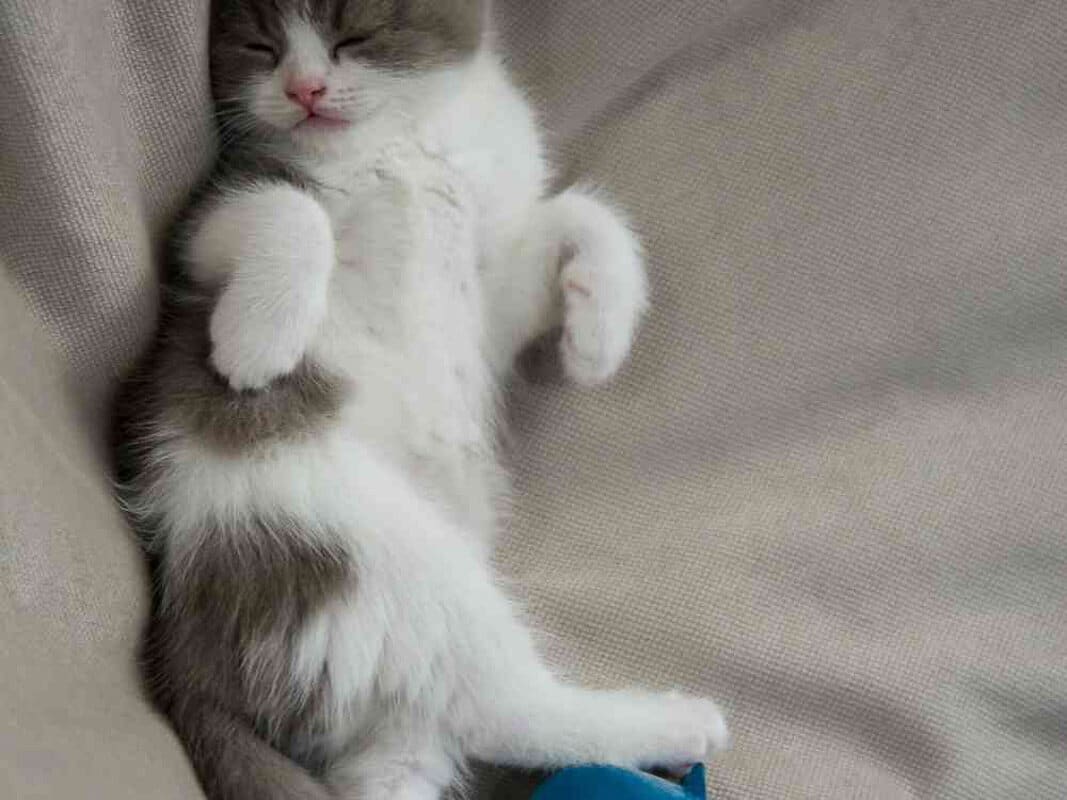 ⇒ Don't miss my guide to buying Cat Walking products, the 7 Best Escape Proof Cat Harness options and the Best Carrier for Cats.
Please Note: This cat chew toys post contains affiliate links. That means if you click through on most of the links and end up making a purchase I will receive a small commission. This will not affect the price that you pay. I wanted to make sure that you were aware of this.
Like this Cat Chew Toys Post? Why Not Pin It?