Christmas is a wonderful time to have some fun with your favourite feline. However, many cats don't like being dressed up like a Christmas tree – such poor sports!!! If your cat won't allow you to dress him up like an elf or Santa Claus than a Christmas cat collar could be the perfect solution.
But there are quite a few things to know before buying a collar for your cat. Any decent pet store will have a wide range of collars for cats on offer. These vary from the functional (eg identifying your cat, flea collars) to stylish leather cat collars to the downright over the top.
Buying the right collar for your cat can be quite an overwhelming choice – not to mention how many collars does your cat need?
So here are the key things you need to know to make the right choice of Christmas cat collars for your favourite feline.
⇒ Shop for Christmas Cat Collars Now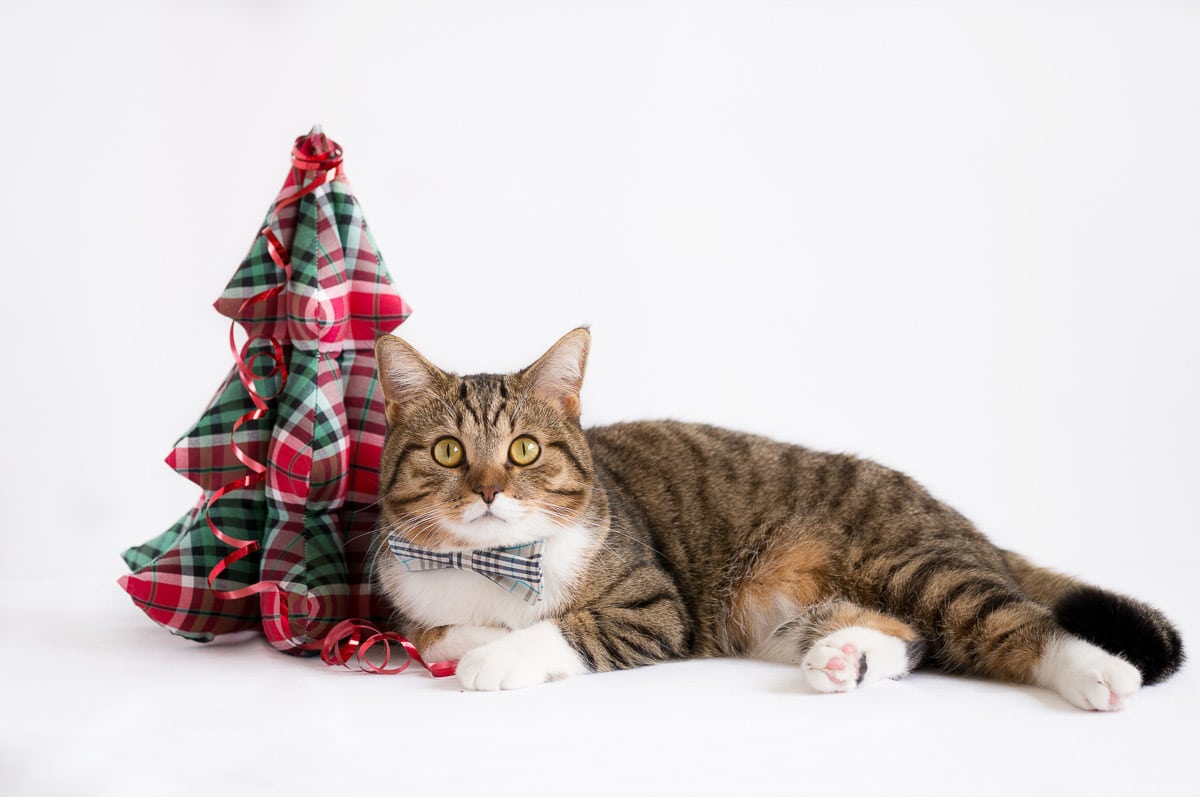 Christmas Cat Collars: Why should I get a collar for my cat?
Increasing visibility
If you have an outside cat then a reflective strip on their cat can help them be found at night. Also, when my cat was a kitten I attached a bell to his collar. This helped me to know where he was in the house and to find him when he got himself lost or confused.
Identification
Whilst getting your cat microchipped is by far the safest and most permanent way to make sure your cat can be identified, adding a tag to its collar with ownership details can also be helpful.
Your cat would need to be taken to a vet in order for the microchip to be read. However, if you have your contact details on its collar you may be able to reclaim your feline much faster.
A tag also shows people that your cat has a home and an owner.
⇒ Don't miss my guide to buying Cat Walking products, the 7 Best Escape Proof Cat Harness options and the Best Carrier for Cats.
⇒ Got a new kitty on the way and looking for some names? Check out my posts on 12 Greek Cat Names , 11 Egyptian Cat Names, 12 Best Cat Food Names, 12 Bang On Irish Cat Names and the 16 Best Disney Cat Names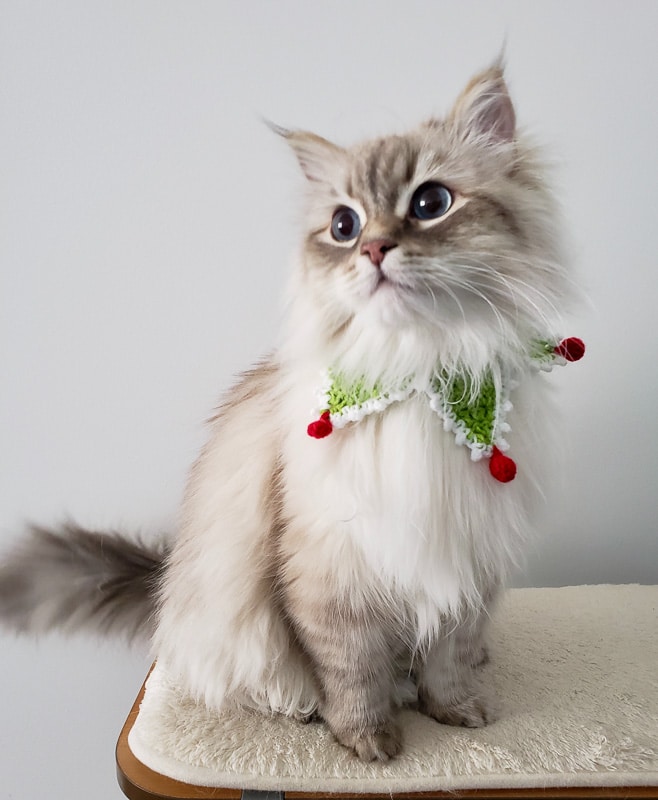 Activating the cat flap
Many cat flaps come with an electronic or magnetic key that attaches to a cat's collar. This allows the cat flap to make sure it only lets your cat in – not every cat in the nieghborhood! However, some of the newest cat flaps link to a cat's microchip so this may soon become a superfluous benefit.
Reducing Hunting
If you would prefer your outdoor cat not be off hunting and potentially eating (or much worse bringing home!) prey then attaching a bell to its collar could be a good idea. A bell will let potential prey know that your kitty is nearby and gives them more time to escape your kitty's hunt.
Fleas
For years pet stores have sold flea collars. There have been questions raised about the use of the chemicals in some of these collars and how they may interact with your cat's fur and skin. There are now flea collars with safer ingredients as well as different options for applying flea deterrents to your cat.
⇒ Thinking about what kind of kitty you would like? Check out my posts on the 9 Most Expensive Cat breeds, 10 Snuggly Flat Faced Cat Breeds, 7 Strange and Weird Cat Breeds, 11 Indoor Cat Breeds, 14 Cutest Cat Breeds, 12 Most Friendly Cat Breeds, 8 Fluffiest Cat Breeds, 11 Rare Cat Breeds, 13 Big Eyed Cat Breeds, Siberian cat colors, Maine Coon Personality and the ultimate Siberian Cat personality profile.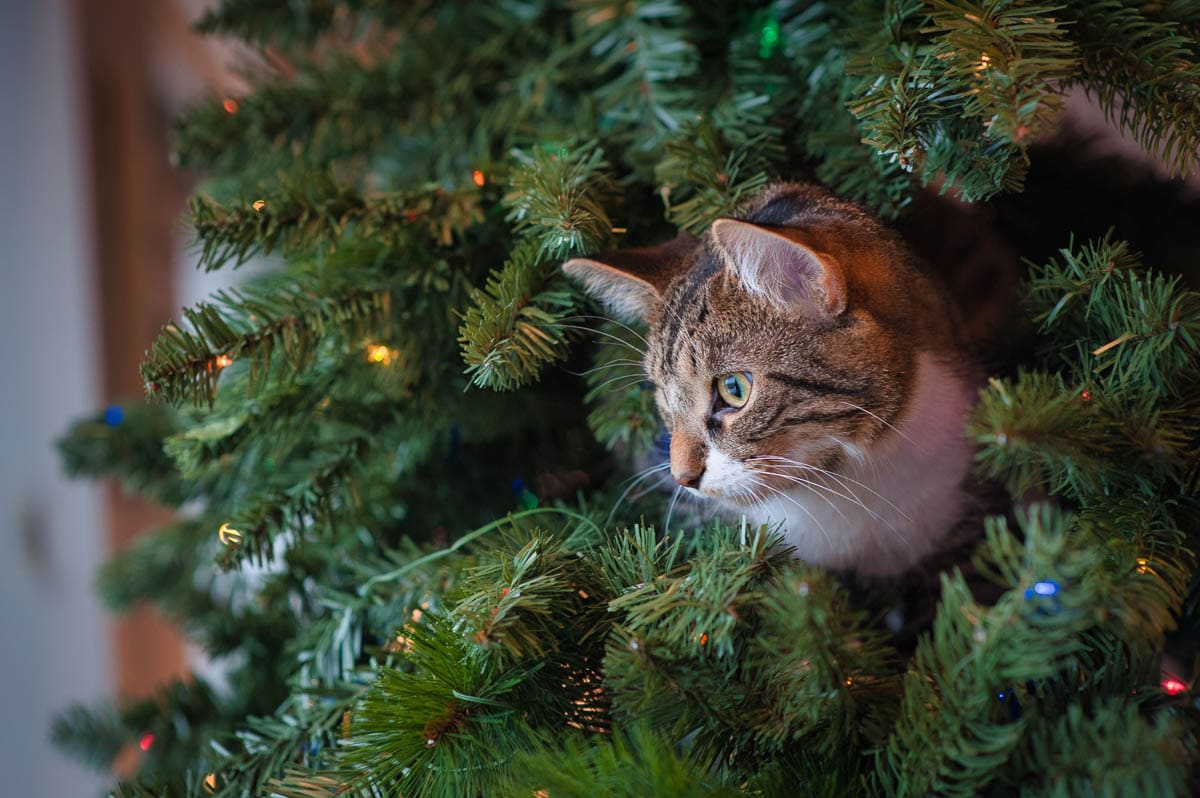 ⇒ For everything you need to know about taking care of your finicky feline check out my guide to How to Groom a Cat, Ultimate Persian Cat Grooming Guide, the Best Cat Brush, Caring for Cats guide and my quick cat check up guide.
Tracking
GPS cat collars are now available that can track your cat. They tend to use GPS or radio frequency to keep tabs on your cat's whereabouts. Obviously these collars come with a heftier price tag than the average cat collar.
There are also tracking devices available that can be attached to your cat's collar rather than being the entire collar.
Fashion and Style
I must confess, along with identification this is a key reason I was interested in having a collar for my cat Alexei. Particularly when it comes to options like Christmas and Halloween collars. However, there are risks with cats wearing collars so these need to be traded off and/or managed relative to the aesthetic benefit.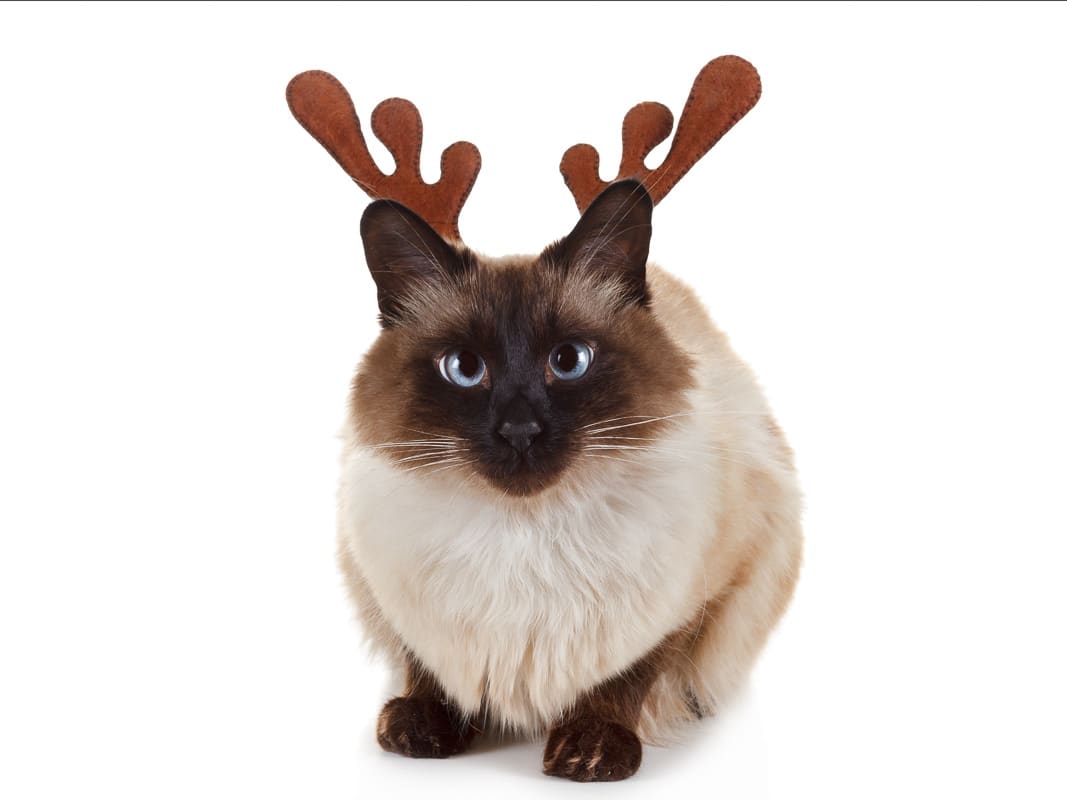 What are the risks with my cat wearing a collar?
Your cat may suffer from minor irritations like hair loss due to the collar rubbing against its fur.
Many cats don't like wearing a collar and may try to take it off. This can cause problems as the collar may get caught on your cat's jaw or on its paws if it uses its legs to try to take it off.
If the collar gets hooked onto something like a line or string and doesn't come off or break open your cat may be strangled.
What causes problems with cat collars?
Poor Quality collars can often cause problems. This may be because they were not properly made so could become loose – making it more likely that your cat may be injured trying to remove the collar. Also, the stitching may become lose and cause further issues.
⇒ Keen to get a better understanding of why your cat behaves as it does? Check out my posts on What Smells do Cats Hate, Why Does my Cat Lick my Nose?, Why do cats roll in the dirt, Why Does my Cat Lay on my Chest , Why Does my Cat Sleep on my Legs, How Often do Cats Pee, How to Pet a Cat, Why do Cats Chase Their Tails?, What Does it Mean When a Cat Rubs Against you , Why Does my Cat Sit on Me? , Why do Cats Purr when you Stroke them? , How to Train a Cat Not to Bite, Why do Cats Knead their Owners? , Why do Cats Arch their Back, How to Get a Cat to Eat, Why Doesn't My Cat Purr?, Why Does my Cat Attack Me and What Does it Mean when a Cat Headbutts you?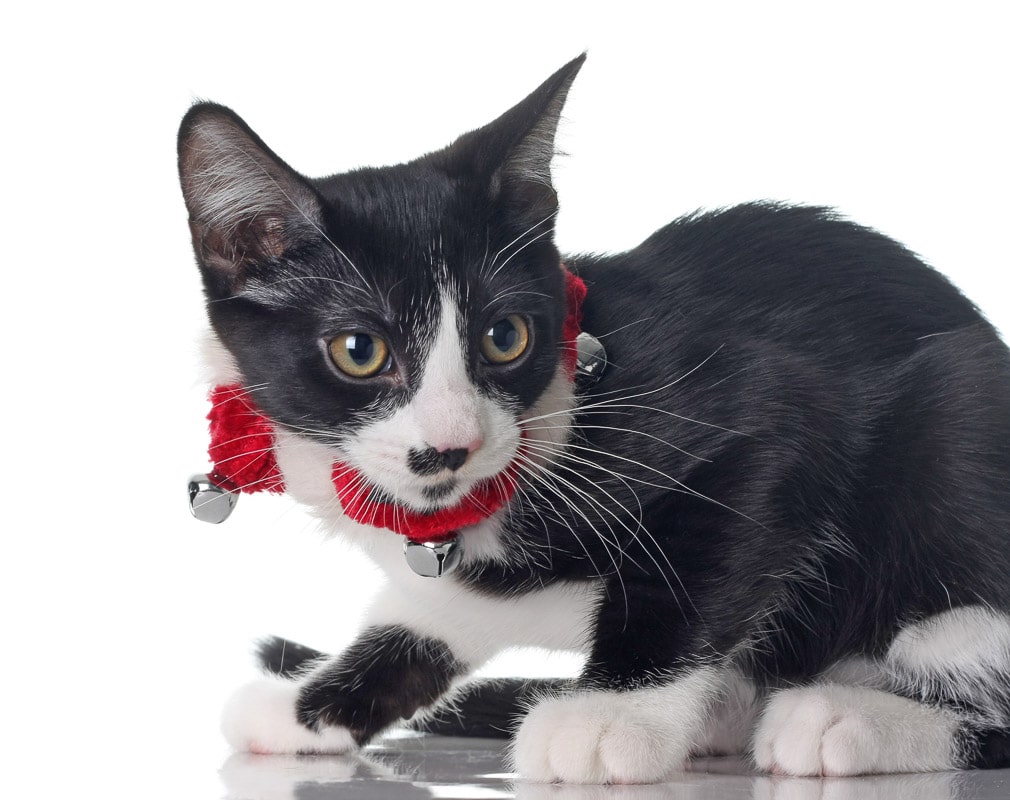 The fit of your cat's collar is also important. Too loose and your cat may get injured trying to take it off. Too tight and it could cause injury and anxiety to your feline.
Some collars still come with elastic inserts. In the past these were thought to be a good idea as it could provide some give. However, vets are now in agreement that these types of collars are more likely to cause problems rather than prevent them.
Collar accessories like discs, bells or other items linked to the collar can cause problems. Your cat may get its claw stuck in one of these or they could become caught on something thus restricting and traumatising your cat.
Cat Collar Best Practices
If you do want your cat to wear a collar there are several steps you can take to make sure it is as safe and happy an experience for your feline as possible.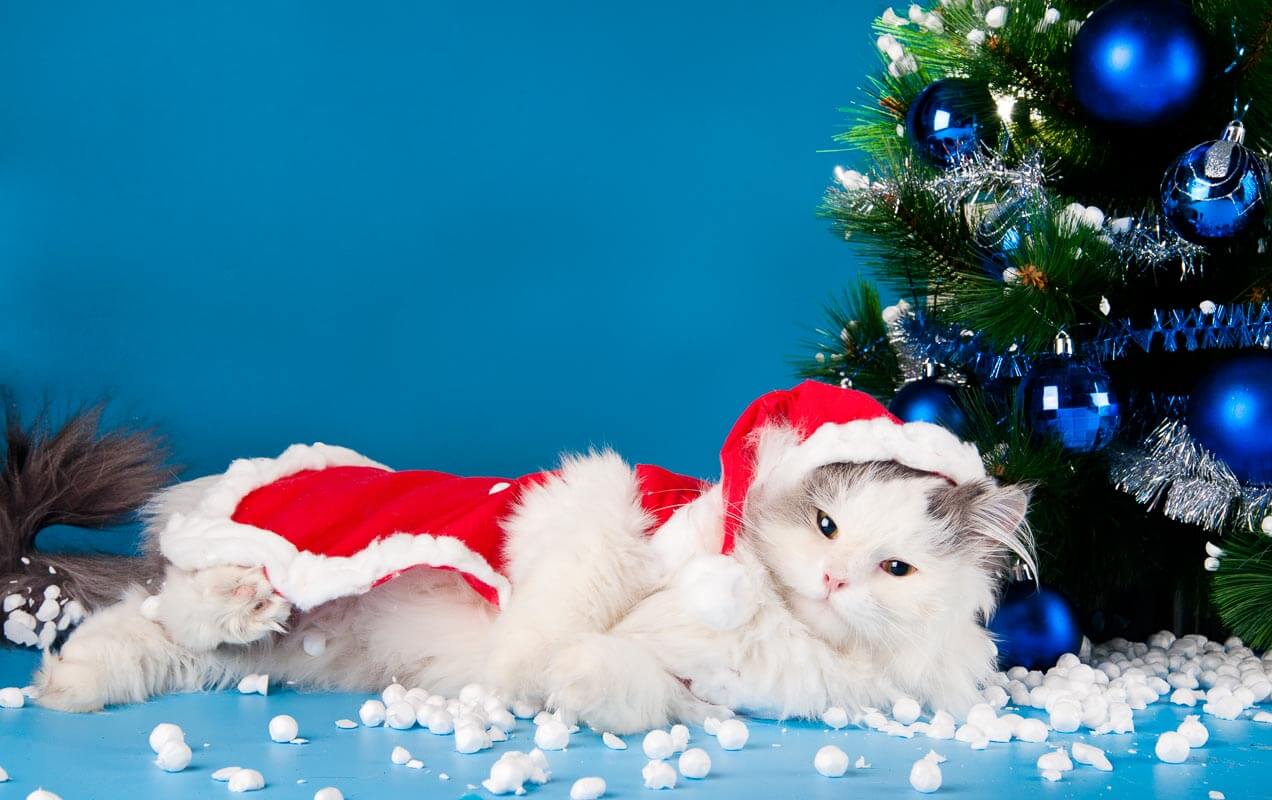 Take time choosing the right collar for your cat
Snap open or plastic buckle collars are the current best practice. These allow your cat to be released if it gets trapped. This does mean that you may well lose a few collars but your cat won't run the risk of getting trapped. This can be particularly important if you have a cat that often goes outdoors.
Do invest a bit more and check that your collar has the right balance of staying secure as well as opening easily under some pressure.
The ideal collar will have rounded or folded edges rather than sharp ones. This will be much more comfortable for your cat.
Get the right fit
There is a right fit for cat collars. A cat collar should be quite tightly fitted. This means that you should be able to fit 1-2 fingers underneath it. Start with a loose fitting collar and then adjust.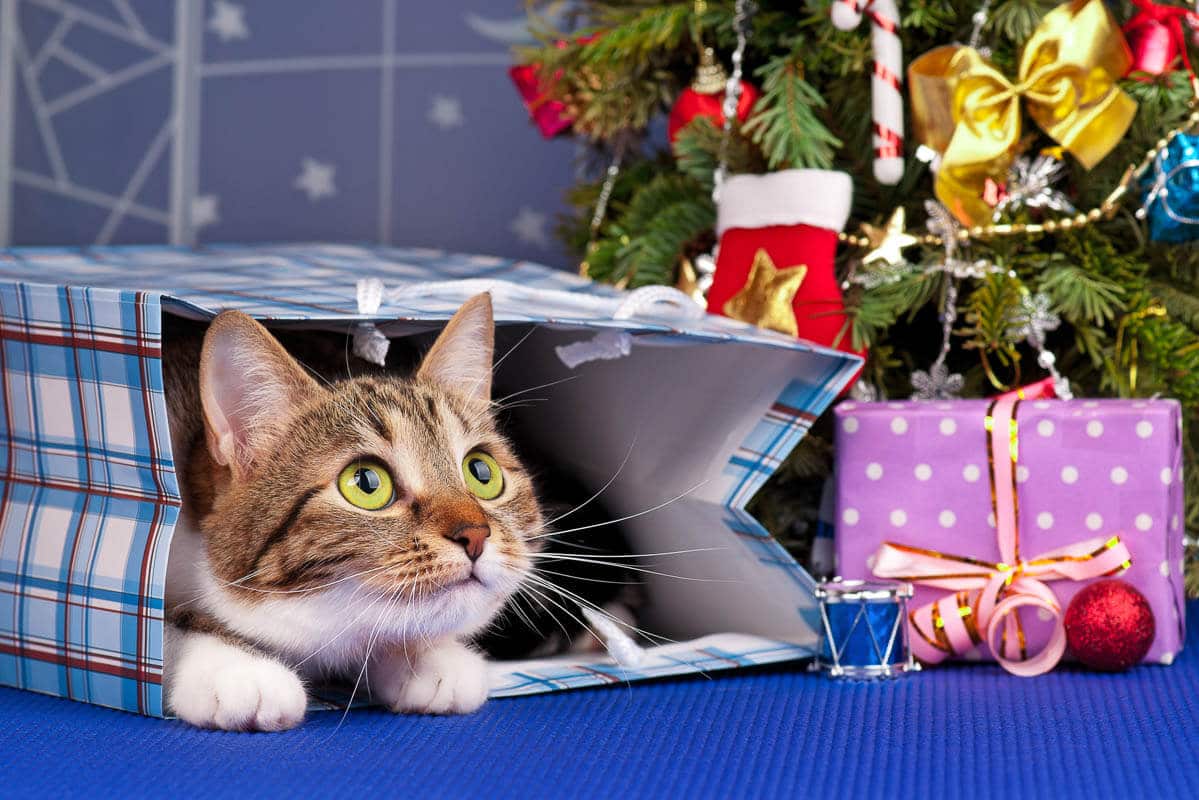 Cats tend to tense their muscles when a collar is being fitted so do check the collar again a few minutes after applying it to make sure the fit is firm. If this is the first time your cat has worn a collar you may want to reward it with a treat some playtime and/or cuddles.
Allow your cat to adjust
It is ideal to start your cat wearing a collar when it is a kitten if that is your intent. If your cat is older you may want to try having your cat initially wear its collar in a limited space for limited time. This allows them to get used to it batches and you can watch how your cat deals with the collar.
⇒ For all things fun with your kitty check out my guides to clothing for cats, the best toys for cats, great gifts for cats and my annual cat planner for kitty photo opportunities across the year.
Check your cat's collar regularly
Check the fit of your cat's collar every couple of weeks. If your cat gains weight or is a kitten and growing at a fast rate it may well become too tight quite quickly. Also, check that the collar is in good shape and not coming loose or that it hasn't suffered any damage.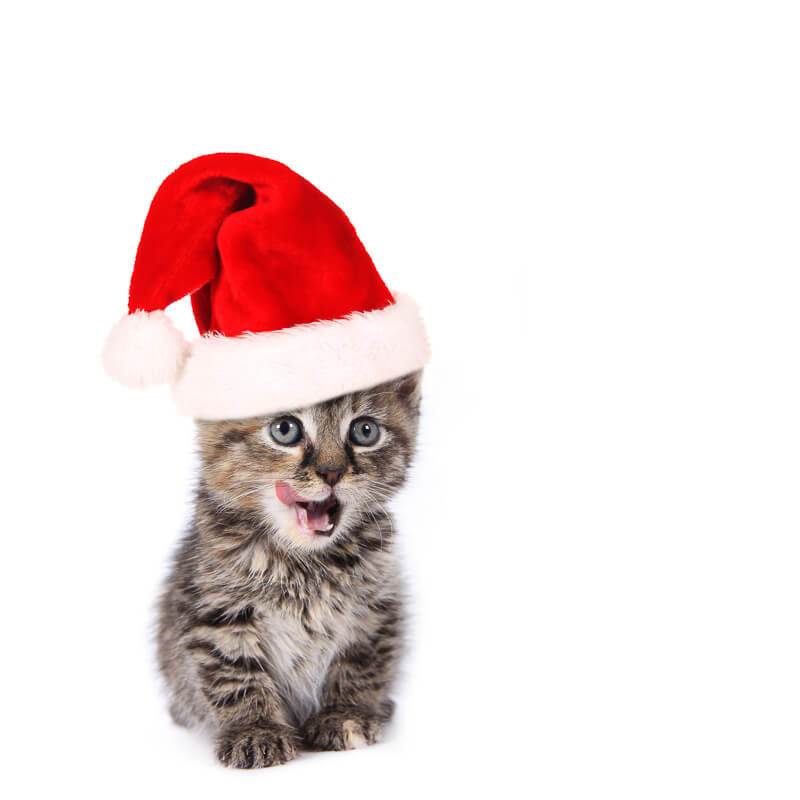 Of course, if your cat appears unhappy and is pawing/clawing at the collar do check it immediately.
If you are thinking about taking your cat out for walks please do buy a harness rather than attaching a lead to your cat's collar. A harness is much more secure and will be far more comfortable for your cat if they begin to strain against the leash.
Most cats have quite small necks so it doesn't take much pressure for them to experience considerable pain or damage if that strain is coming from their collar.
Now that the basics on cat collars are taken care of, let's move on to Christmas cat collars.
Breakaway Reindeer Christmas Cat Collar
I love this simple red Christmas collar with a cute little reindeer. The red looks particularly good against the fur of a black cat.
These Christmas cat collars are 3/8″ wide and fully adjustable, they have a safety breakaway clip and metal D ring to attach your own tag or bell.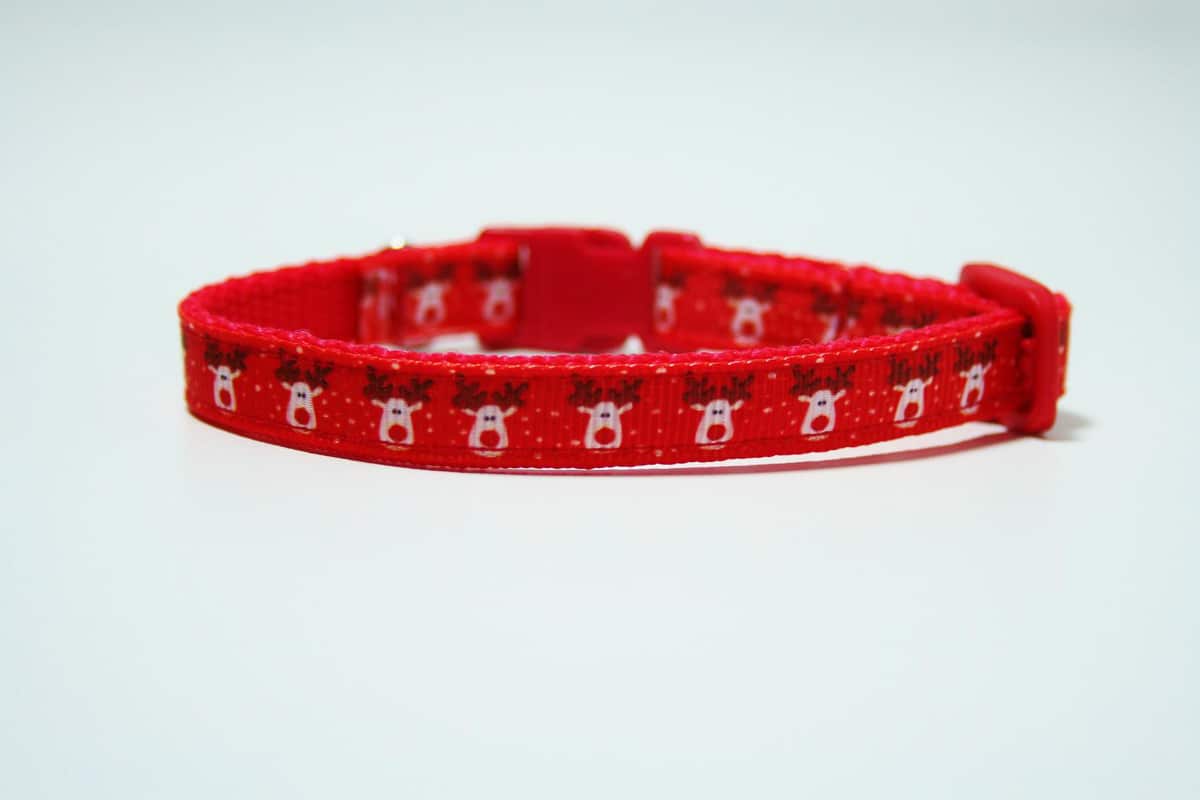 The collars are custom made so yours will be unique. There are 2 size options: small and large and the choice to buy the collar with or without the bell. There are 6 colour options for the breakaway buckle or one black non breakaway buckle option.
⇒ Buy your Red Reindeer Christmas Cat Collar Now
Green Christmas Tree Cat Collar
This Christmas cat collar features a wintery green Christmas tree scene. It is handmade with high-quality products sewn with grosgrain ribbon and light-weight nylon.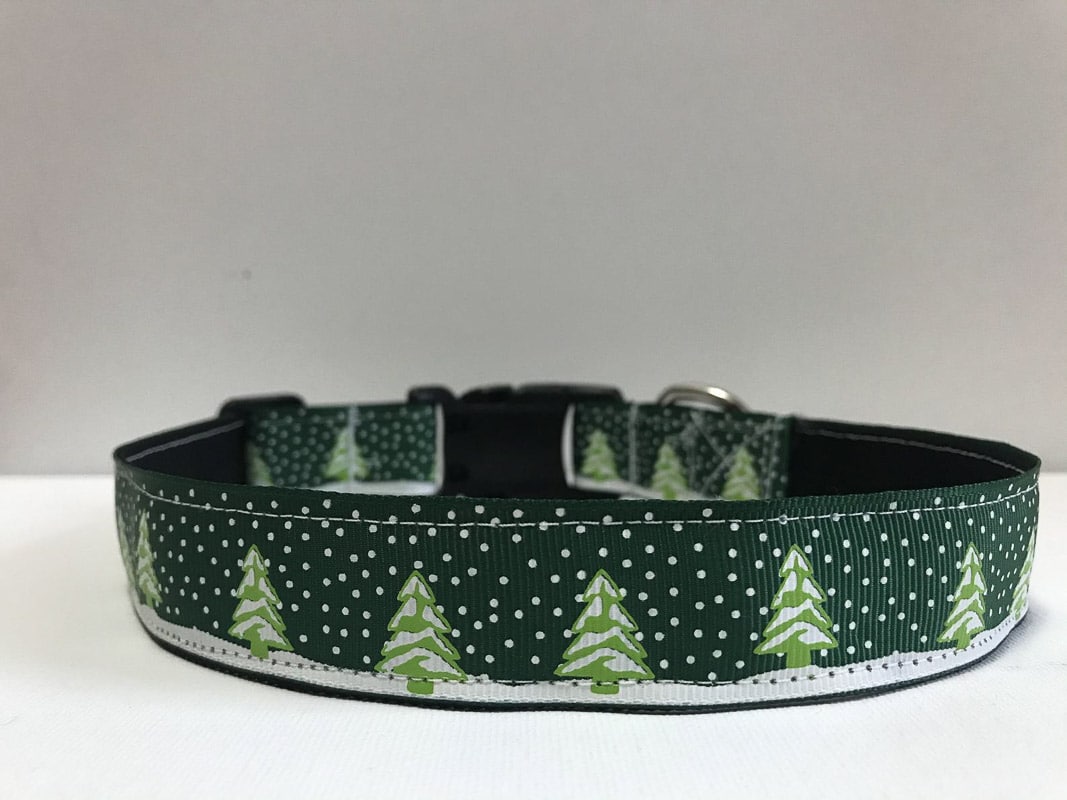 Every collar is adjustable and the collar is available in 4 sizes. These were originally designed for dogs so you may want to look at the smallest sizes for your cat.
Choose from 1″, 5/8″ or 3/4″ widths depending on the amount of ribbon they have in stock and the size of your furry friend. The breakaway buckle comes in 5 different colours.
⇒ Buy your Green Tree Christmas Cat Collar Now
⇒ Check out my guides to the best treats for cats, high-calorie cat food, high fiber cat food, low protein cat food, best food for cats with ibd, best cat foods for older cats that vomit, best food for constipated cats, best kitten dry food and a complete cat feeding guide wet and dry food.
Santa Face Father Christmas Cat Collar
I love the range of colour options (15) for this collar (both the collar and the trim) as well as the super cute santa face accessory. The 9mm ribbon collar has been customised with an exclusive Santa face (Father Christmas) design on 13mm webbing and will be finished with a breakaway side release buckle to ensure your cat will stay safe if he or she gets caught on anything.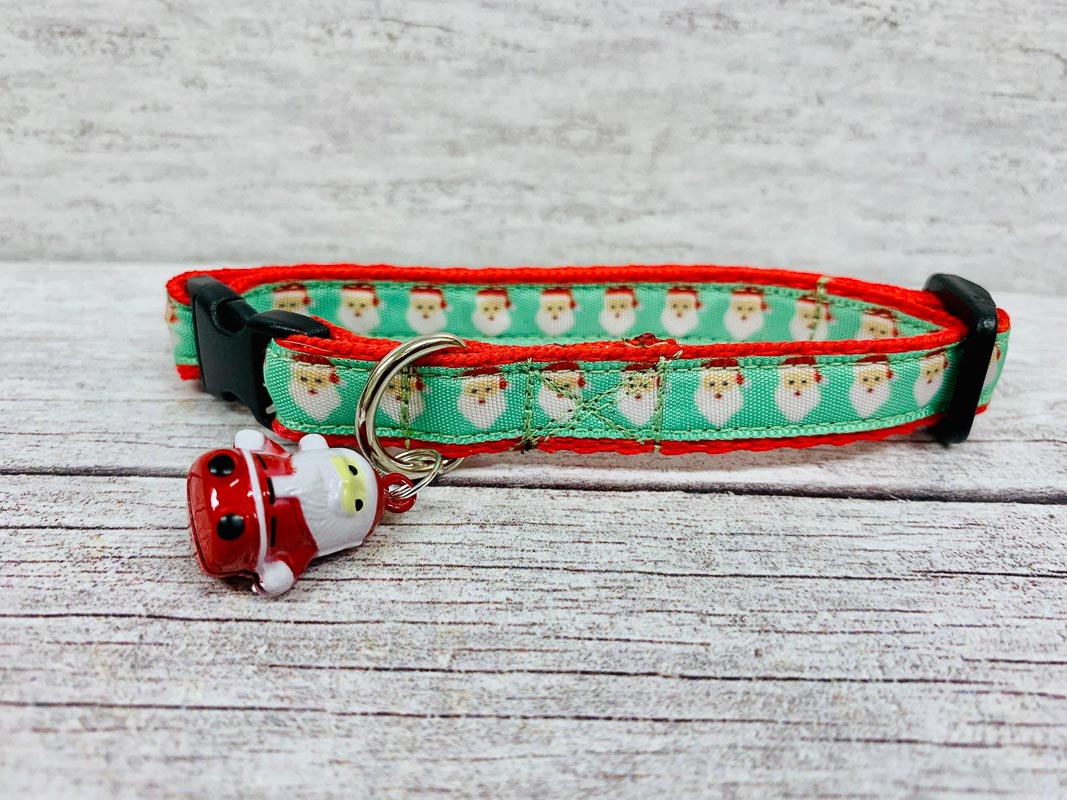 These collars also come with a welded D-Ring and a xmas bell, but also allows you to attach an ID tag too. The collars come in 5 sizes and can be machine washed.
⇒ Buy your Santa Face Christmas Cat Collar Now
Crochet Christmas Cat Collar
These handmade knitted Christmas cat collars are available in both red and green and come with pompoms. They are made to order with acrylic yarn and come with a button for easy wearing and removing.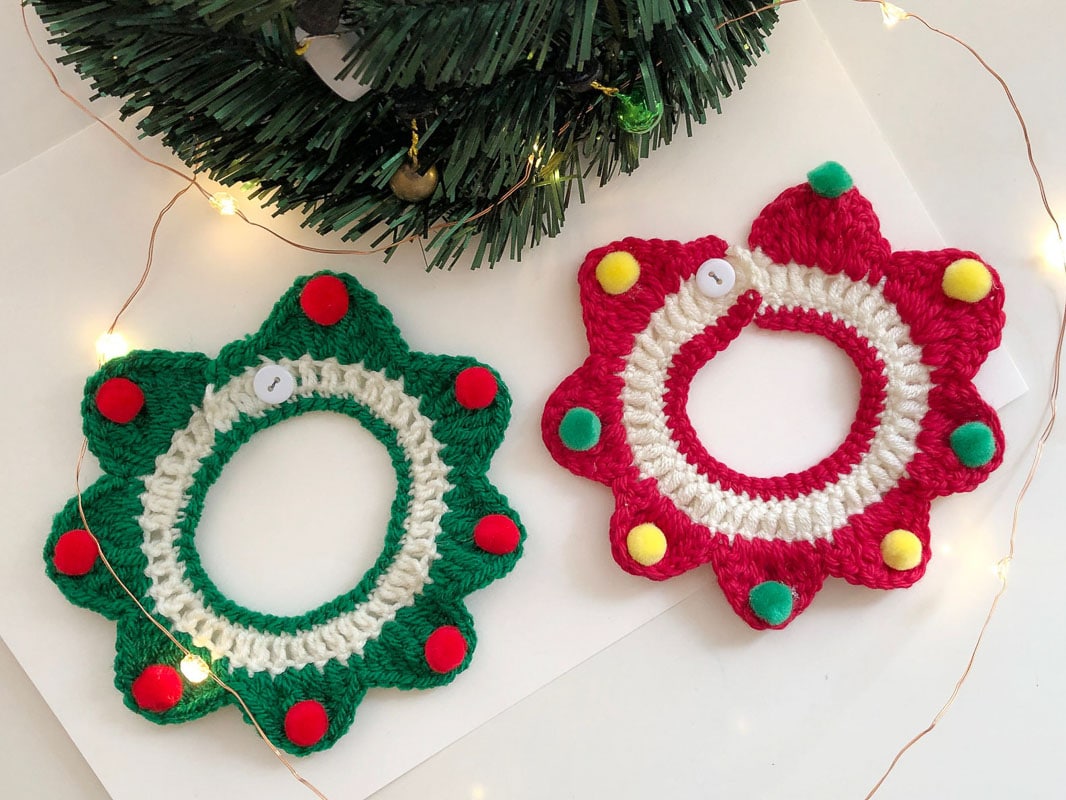 The collars are available in 3 different sizes and the button also allows for size adjustments.
⇒ Buy your Crochet Christmas Cat Collar Now
Bow Tie Christmas Cat Collar
This collar and bow tie set features a red and black plaid print with little Christmas trees. The bow tie can be ordered separately from the collar.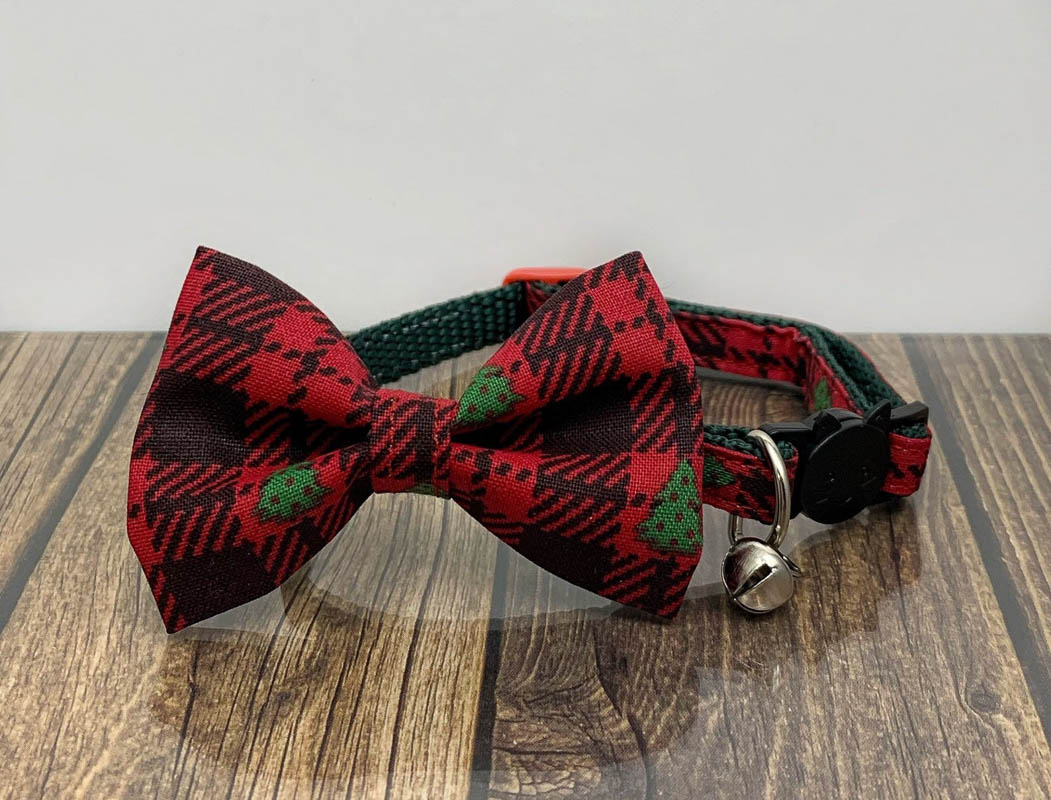 The matching bow tie has an elastic loop and is easy to remove. The bow tie is made from a premium cotton fabric stitched on soft, durable nylon webbing. The collar has a breakaway clasp and a removable jingle bell on a D ring.
The collar is available in 2 sizes and is fully adjustable.
⇒ Buy your Bow Tie and Christmas Cat Collar Set Now
⇒ Check out my guides to the Best Cat Products, Travel Litter Box, and the Best Cat Litter
Jingle Bells Christmas Cat Collar with more bells
This Christmas cat collar is a bit more over the top but still relatively restrained! This festive and somewhat furry red and white collar comes with 2 silver bells for jingling.
This collar fits over your cat's normal collar so it can be slipped on quite easily. It is available in 3 different sizes.
⇒ Buy your Jingle Bells Christmas Cat Collar
Holiday Cat Ruffle Collar
This festive collar has six different points with little bells and a red background print featuring penguins and christmas trees. The collar has built in elastic which makes it easy to put on your cat and as comfortable as possible for your kitty.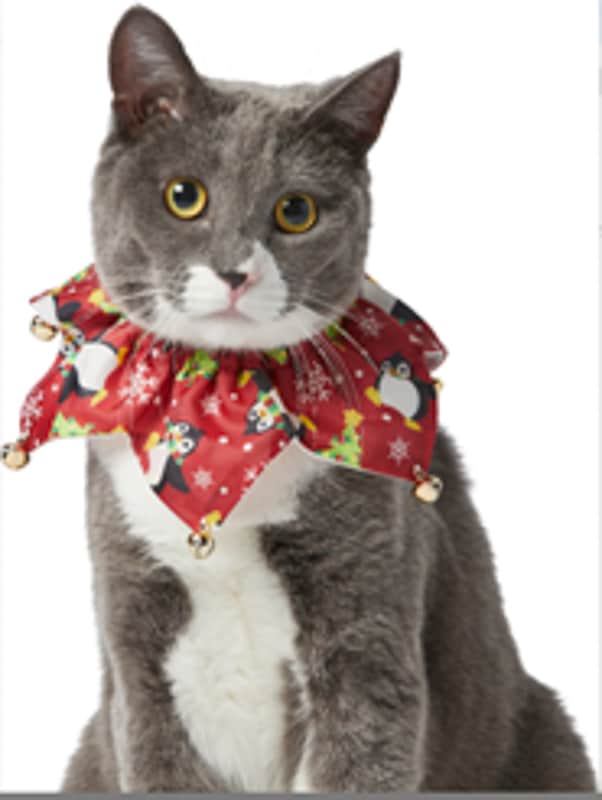 It is made from polyester and comes in one size.
⇒ Buy your Holiday Ruffle Christmas Cat Collar
Holiday Antler Headband and Bell Collar
I am going rather over the top on my 8th Christmas cat collar recommendation! The headband features plush antlers with small ears that have a plaid inside. The headband has an elastic chin strap.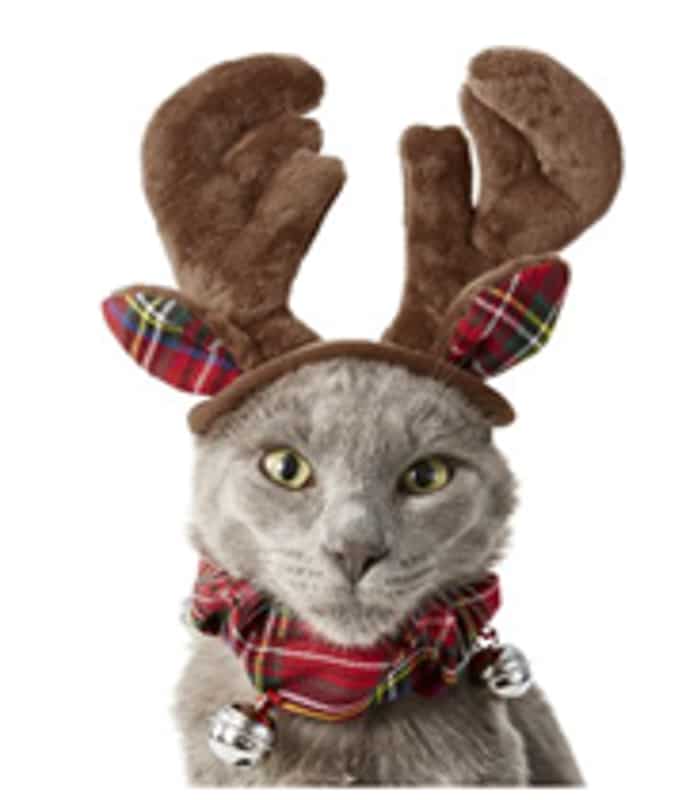 The red plaid puckered collar comes with silver jingle bells. The collar slips onto your cat's neck and can be put on over their normal collar. The set is available in 3 sizes.
⇒ Buy your Holiday Antler Headband and Christmas Bell Cat Collar
⇒ Looking for the perfect collar for your kitty? Check out my posts on 6 stylish leather cat collars, the 7 best GPS Cat Collar Options, 8 stylish and fun Christmas cat collar choices, 6 best flea collar for Cats, 4 best Cameras for cat collars and 6 Spooky Halloween cat collar options.
If you love celebrating Christmas and would like your favourite feline to join in the festivities a Christmas cat collar can be a great option. But do make sure you follow best practices about how to fit and check cat collars so that your Christmas fun is kitty safe!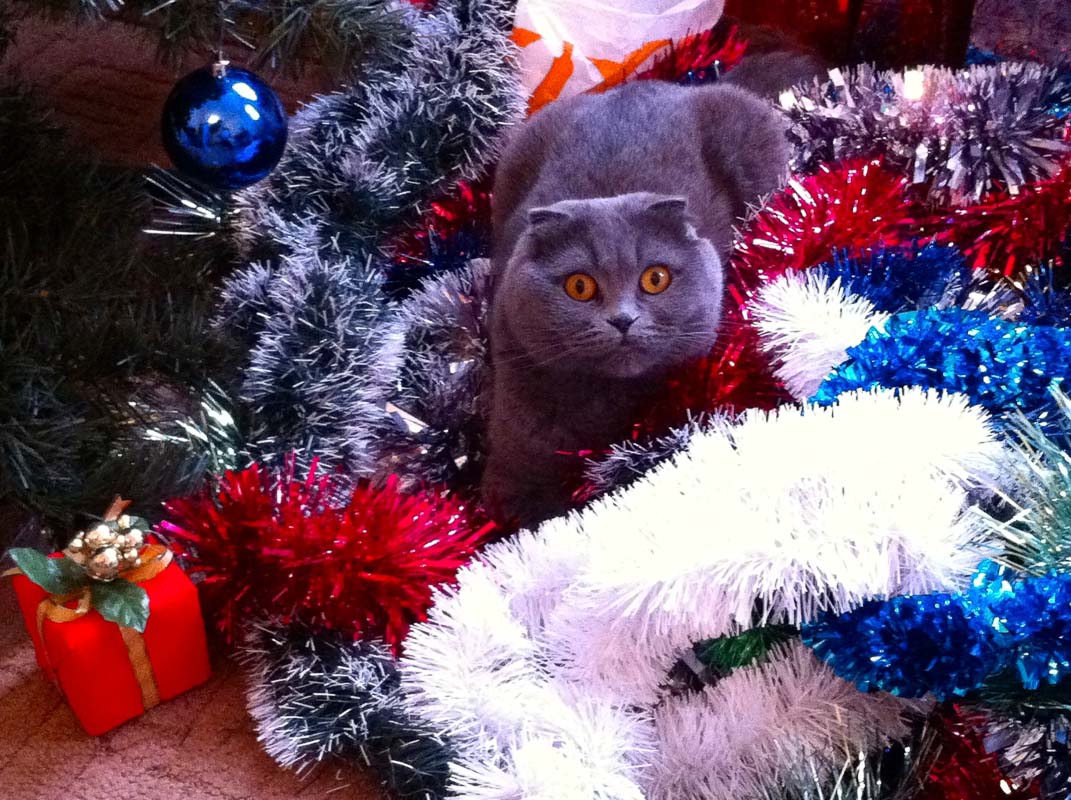 Please Note: This Christmas cat collar post contains affiliate links. That means if you click through on most of the links and end up making a purchase I will receive a small commission. This will not affect the price that you pay. I wanted to make sure that you were aware of this.
Like this Christmas Cat Collar Post? Why Not Pin It?