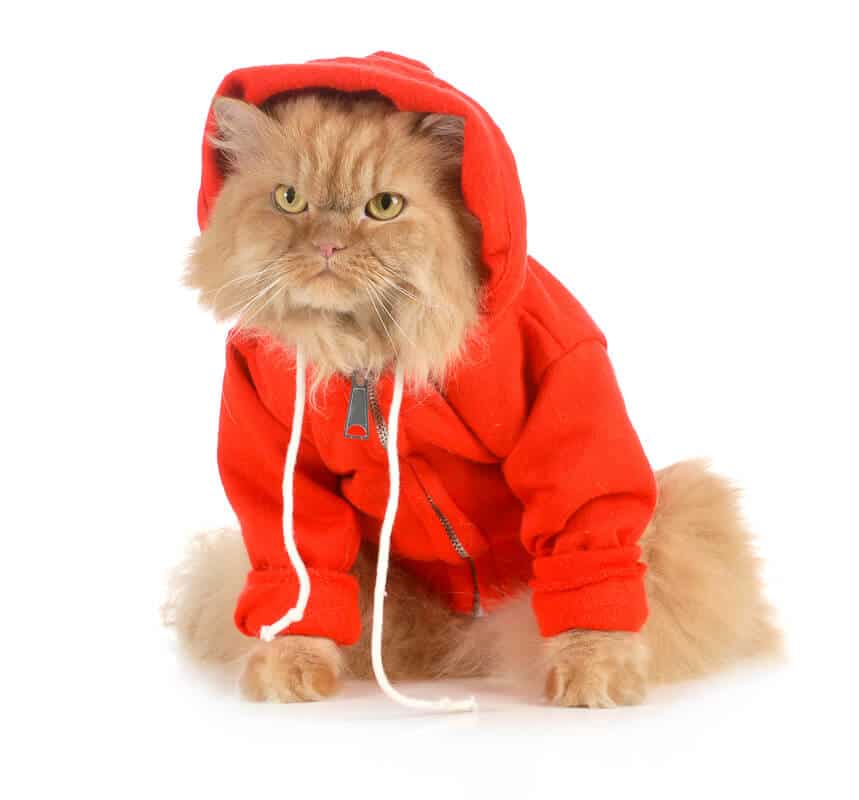 Is it right for cats to wear clothes? Cats absolutely can wear clothes and it is unlikely to harm them – but do they want to? If you, like me, love the idea of your cat decked out in cute cat clothes sometimes it is difficult to know if you are doing the right thing when trying to convince your cat to dress up.
In this post, I will try to give you some guidance on seeing if your cat can be persuaded to wear clothes – and then the cat outfits and options that are available.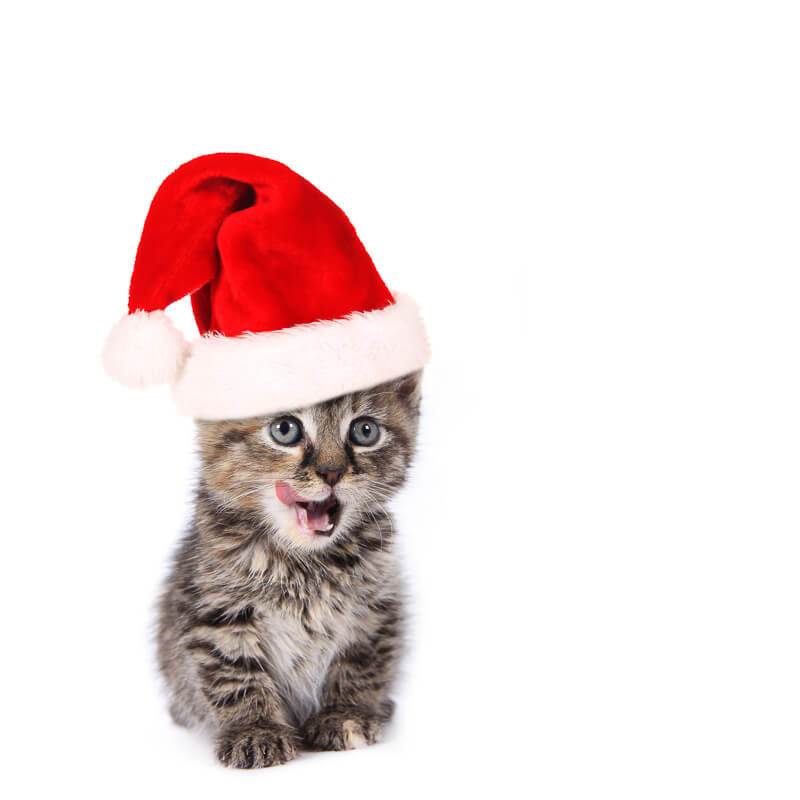 Clothing for Cats: Will your cat wear clothes?
Yes, cats weren't meant to wear clothes – they come with fur. So if your cat doesn't like being dressed up as a good owner you shouldn't make them. However, there are some things that you can do to test if your cat is open to cat apparel.
A key thing to remember during this process is that cats use their whole bodies to explore the world and anything that restricts their movement means that they will immediately feel threatened and unhappy.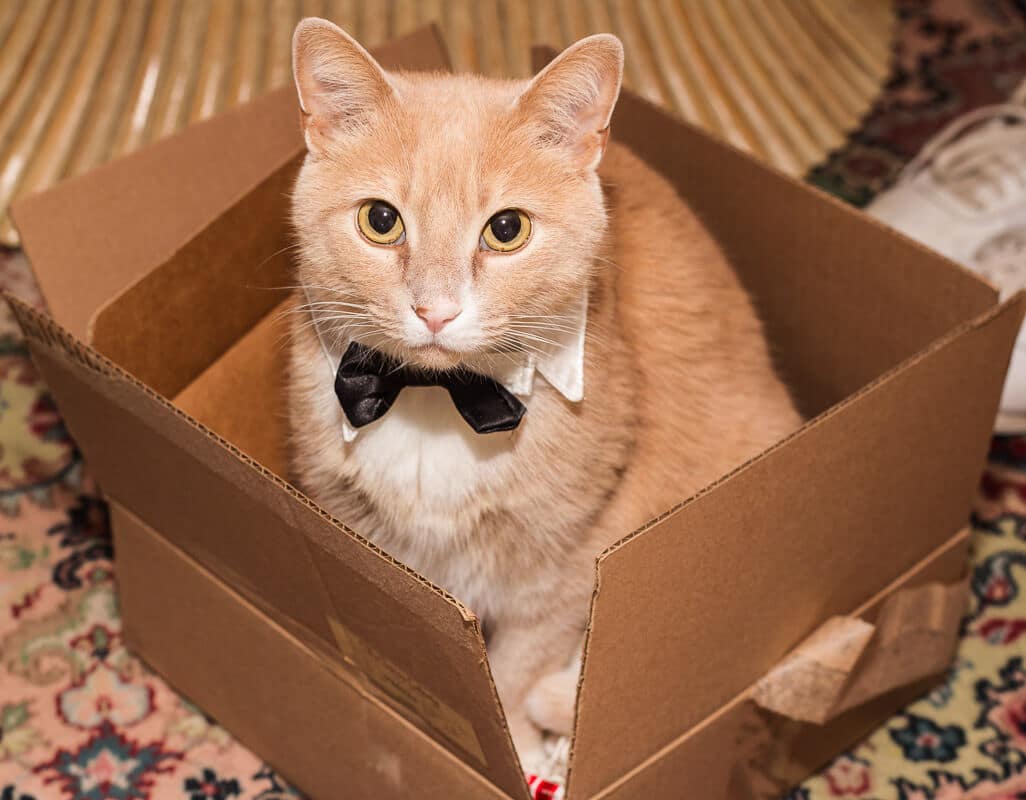 Restricting their vision or their whiskers will also result in them feeling vulnerable and threatened. Be particularly careful with head gear – a dangling reindeer horn that a cat can sense from the corner of its eye will feel ike a threat to your feline.
Cats rely on their tails for balance and to communicate their feelings. Restricting their ability to use their tail in anyway will immediately cause stress as well as throwing out their balance and causing them potential injury.
⇒ Don't miss my guides to the Best Toys for Cats and the Best Gifts for Cats as well as my Annual Cat Planner to help organise photo opportunities!
The first experience with clothing for cats is key. Keep your first attempt simple and comfortable. Leave the item near your cat. Let the cat roll around on the cat pet clothes and give it a good sniff.
Let the cat get its scent onto the pet clothes for cats. This will help it to establish a sense of ownership and acceptance of the item.
Next place the item just on your cats' fur for a few seconds. The cat needs to understand what the texture of the cat outfit feels like. Take these steps slowly and build up to actually putting the item on your cat.
⇒ Thinking about getting your favourite feline a new collar? Check out my posts on 6 Stylish Leather Cat Collars, 6 Spooky Halloween Cat Collars, 8 Fun Christmas Cat Collar options, 7 Best Cat Tracking Collars, 4 Best Cameras for Cat Collars, 6 Best Flea Collars for Cats choices and 5 Best Designer Cat Collars.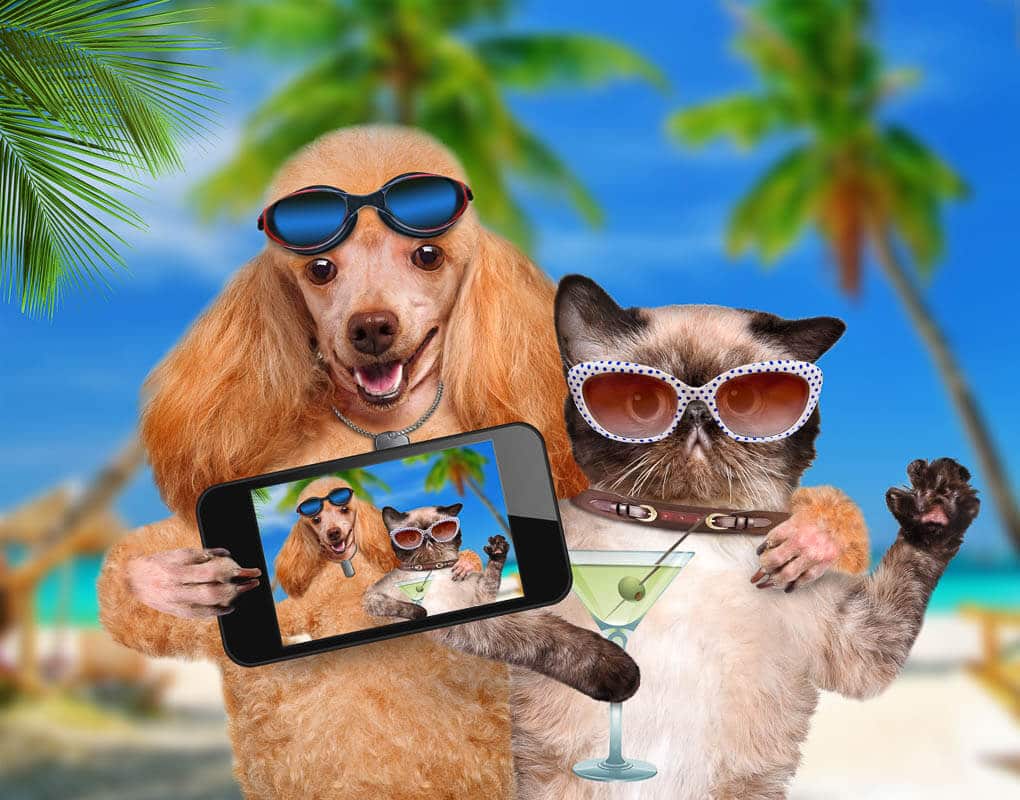 If you have a t-shirt for cats begin by only putting the cat's head through the whole. If your feline is comfortable with this clothing for cats you can try the arm holes the next time.
Have loads of treats on hand for all of these steps so that your feline associate's cat outfits with positive experiences.
Slowly build up from your most simple item to more complex clothing for cats items – using the roll and sniff and light touch approach with treats and cat toys on each of them. Make sure none of the items are tight or ill fitting – nothing should impede your cat's movements.
⇒ Getting a new kitty? Check out my guide to How to Look after a Kitten, 6 Best Kitten Wet Food Options and 8 Best Kitten Dry Food Options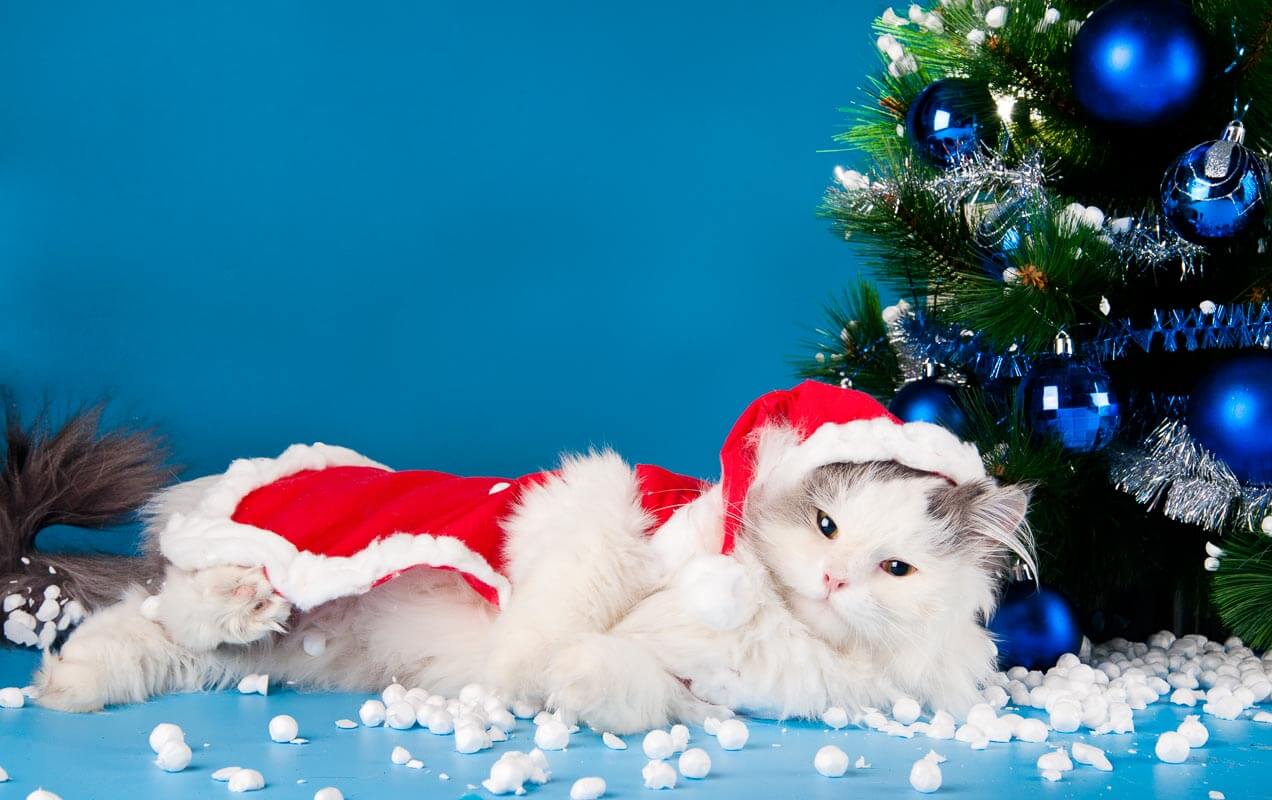 Once your cat is dressed it is a good time to play. Try using a feather toy and playing with your cat whilst they are dressed. Cats in playing mode are generally more confident – and playing means they are moving around. Both of these can help your cat to get more comfortable wearing clothes.
All of the above, if done correctly, clothing for cats can also make for some lovely bonding time between you and your favourite feline.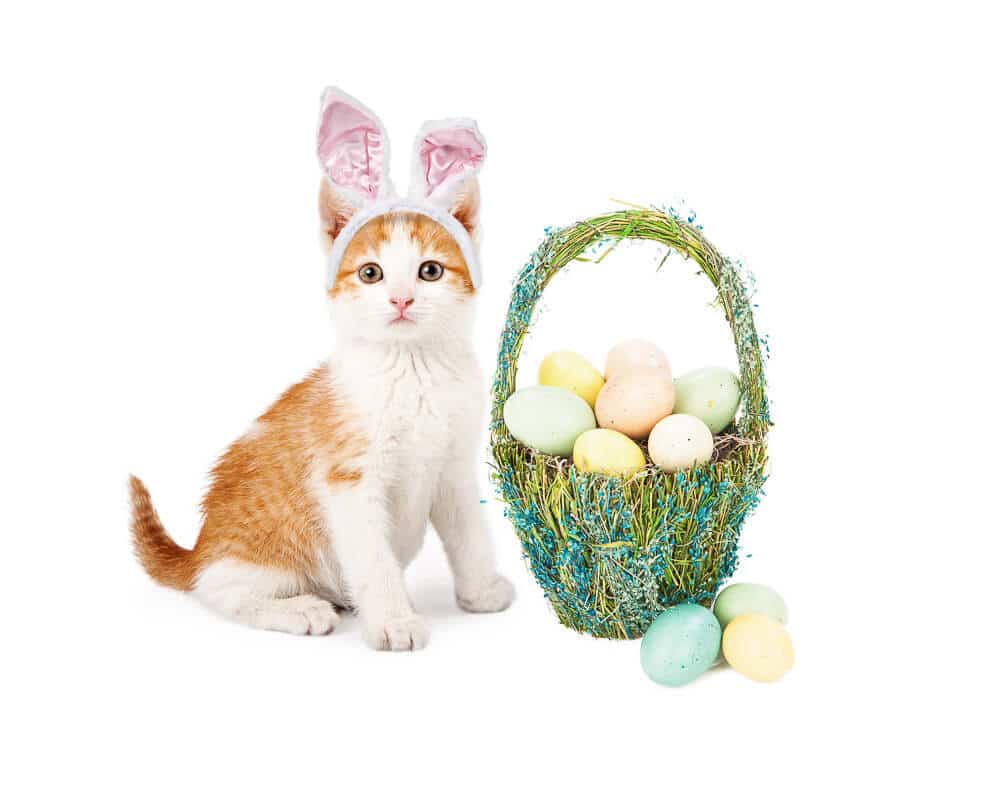 Cat Clothing Watch outs:
Once your cat is "dressed" don't leave them alone. Cats in clothes may at any point struggle with the item and will want it off immediately.
Cats spend up to 50% of their time grooming themselves. If the clothing in any way restricts your cat's ability to self groom it will become stressed.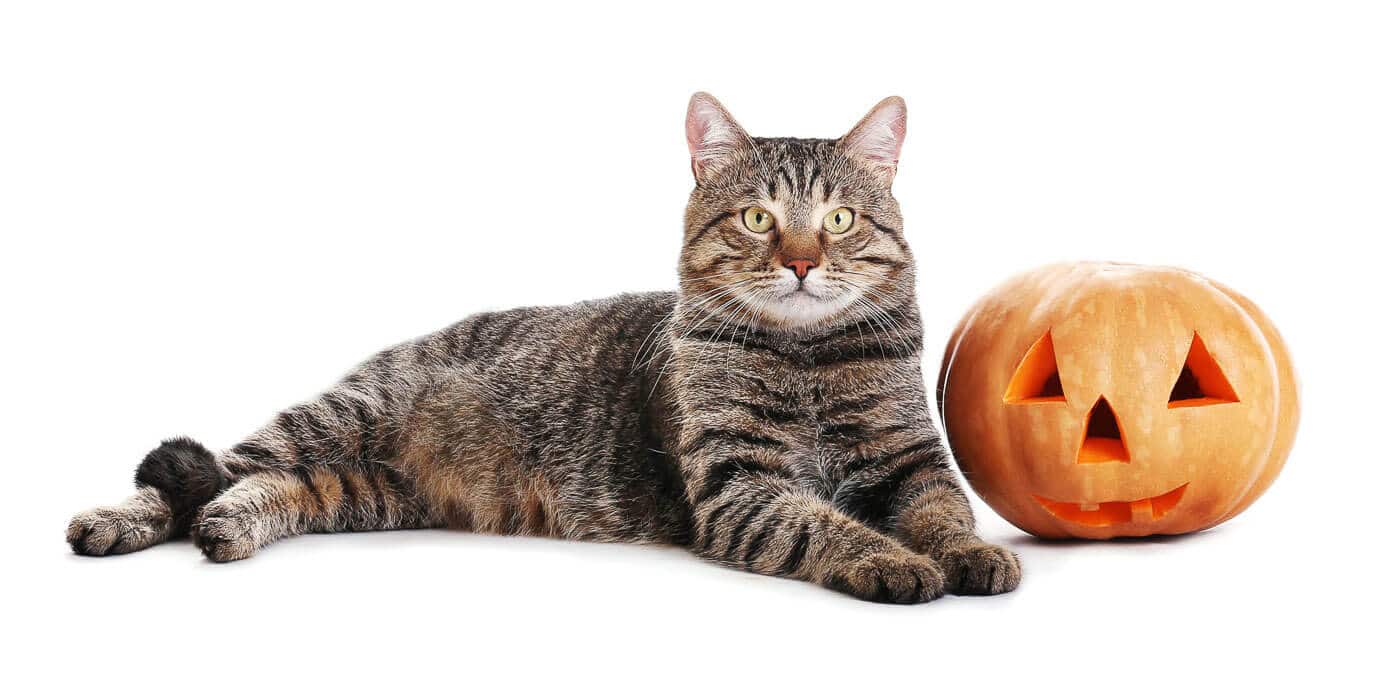 If your cat gets stressed remove the item/s as quickly as possible. Key signs that your cat is not happy about being dressed up include clawing at the clothing item, your cat refusing to move, hissing, eyes rolling back or to the sides, and more.
There is no need for a cat to wear anything to "keep warm". Even if your cat is quite happy to wear an item like a sweater or hoodie or a coat keep an eye on them as they could possibly overhead. Pay particular attention if your cat decides to do a bit of a workout whilst dressed.
⇒ Keen to get your cat out and about? Check out my posts on Is Cat Walking Possible?, 7 Best Escape Proof Cat Harness Options, 5 Best Carrier for Cats choices, 14 Best Cat Carrier for Car Travel options and 4 Top Travel Litter Box options.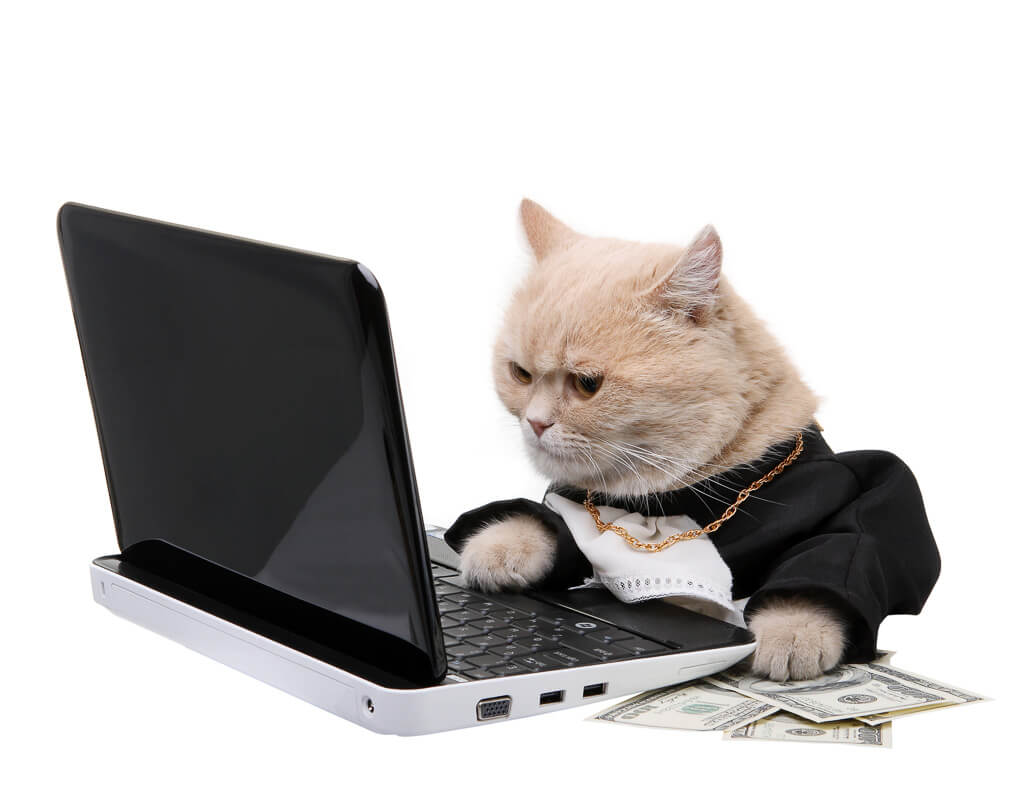 If you have several cats, dressing one up whilst the other remain "natural" could cause considerable confusion. Costumes covering up fur can also block a cat's scent which causes the confusion. Indeed, the "naked" cats may react to the dressed up cat with hostility.
A useful acronym to use when you are dressing up your cat is PET – can your cat play, eat and go to the toilet in their clothing? If the answer is yes to all three then you are on the right track!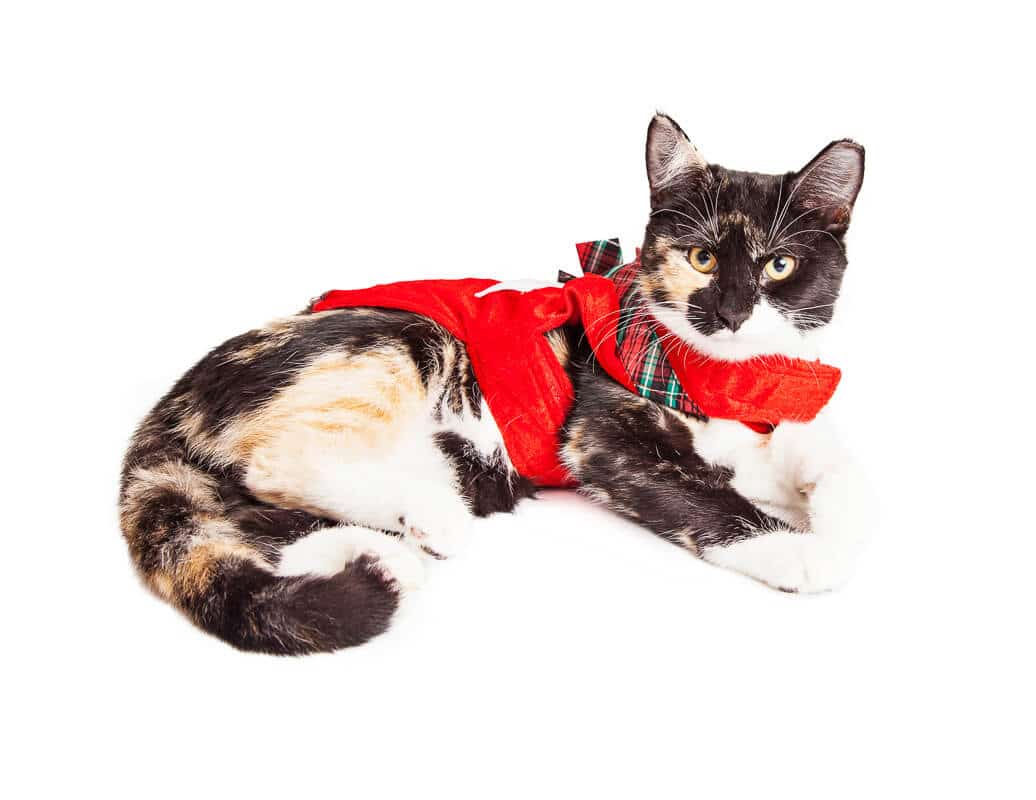 Clothes for Cats: Stage One
So if you are keen for your cat to get comfortable being dressed up where do you start? There are some simpler clothing options that are well suited to helping your cat "move up the scale" of dressing up.
One of the best options for getting your cat used to wearing clothes is a harness. You may well need a harness for walking your cat. Today there are harnesses available that go beyond the simple to resemble a cat jacket almost.
Palm leaf Harness
Custom Made
Comfortable, lightweight double-layered harness with heavy-duty Velcro hook & loop tape. Perfect for kittens and adults too.
Fleece Harness Vest
Soft & Comfortable
Comes with a D-ring to hook your leash onto easily, fastens round the neck and waist with velcro so it makes it easy for you and comfortable for your pet.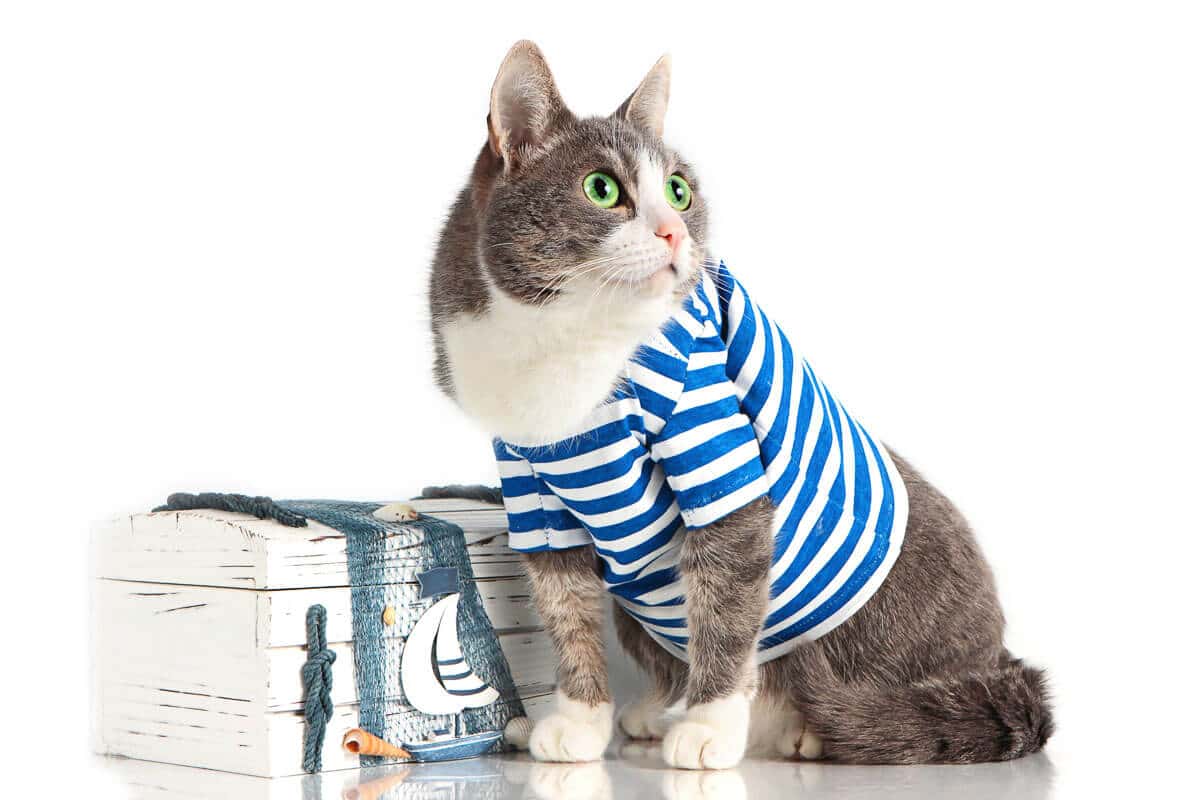 Next up are bowties, bandanas and scarves. Essentially, neck wear for your kitty! These are less invasive for your cat and don't restrict its movement.
Fish Bowtie
Cotton Fabric
Bow Size: Standard approximately 3″ x 2.5" (w x h) Sailor bow 3"x3"
• Bow ties are detachable with elastic loop that slips on a collar
• Collar 3/8 collar
And for smarter events you could invest in a cat tuxedo bandana.
Stage Two: Jackets, Jumpers and t-shirts
If your cat is comfortable with neckwear it may be time to progress to more fabric. In the winter vets don't recommend cats wearing jackets unless they have been shaved for health or grooming reasons or if it is extremely cold.
However, if you are taking your cat outside it may well tolerate a loose fitting waterproof jacket to shelter it from rain. A waterproof jacket is a good place to start with this stage as it is light and loose. Remember to follow the process of allowing your cat to become familiar with the item first.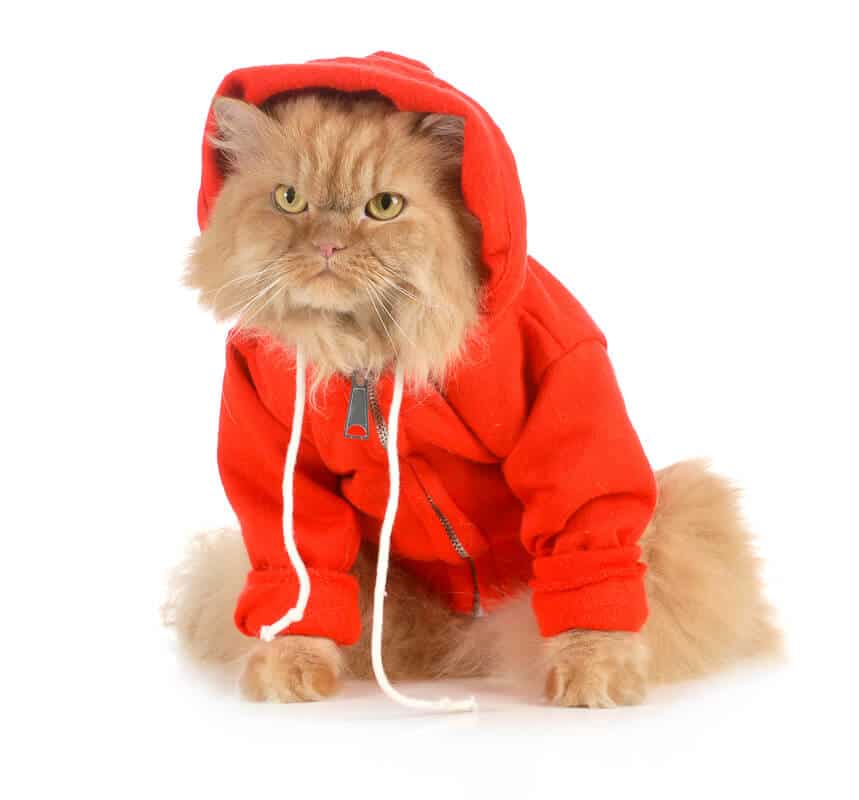 Many cats love blankets – keep this in mind when you are choosing items for your cat to wear. Blankets tend to be soft and don't restrict movement in any way – a key to keeping your cat feeling safe.
Stage Three: Cat Costumes
The holy grail! The over the top funny cat clothes that make us all smile! From cowboys to easter bunnies to christmas cats – elaborate costumes for cats have become easily available these days!
This will be your most difficult challenge as many of these items can be quite elaborate. But do be careful as they can break some of the rules of restricting your cat's movements that I mentioned above.
Consider sourcing items like capes that will only need to adhere around your cat's neck but still provide the "look" of extra coverage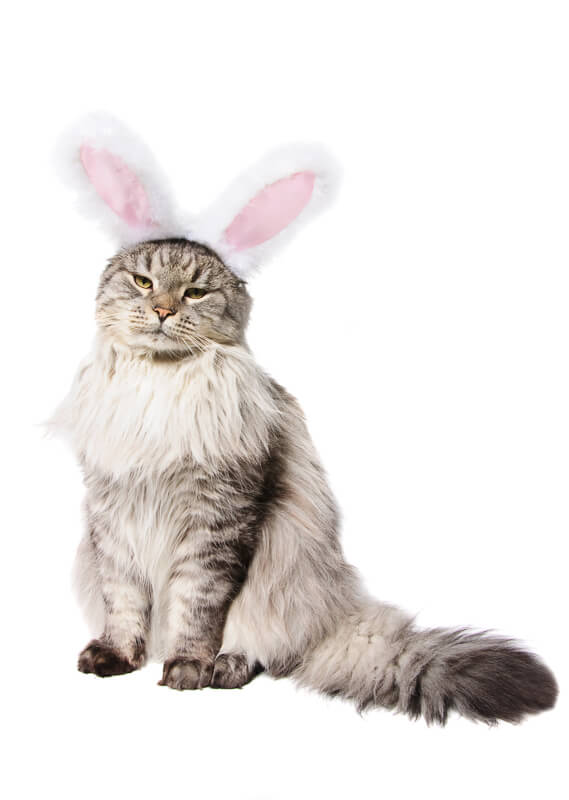 Top tips for great photo opportunities whilst minimising stress to your cat
-Remember where your cat is posed can have nearly as much effect as what your cat is wearing. Having your cat next to the christmas tree or a pile of easter eggs communicates the season or event and can mean your cat may only need to wear a small item around its neck to give you a great fun photos
-Coordinate your costume colours with your cats fur. White cats can look particularly amusing when wearing white bunny ears etc – or contrast white and black
–long haired cats can look particularly cute when the item emphasises how furry they are. You may be able to put a skirt on your kitty so that they are still able to move freely but the shape of the skirt and the waist band will highlight your furry friend.
-don't forget props! A small ukelele or other item just near your kitty will generate humour without having to involve your cat at all.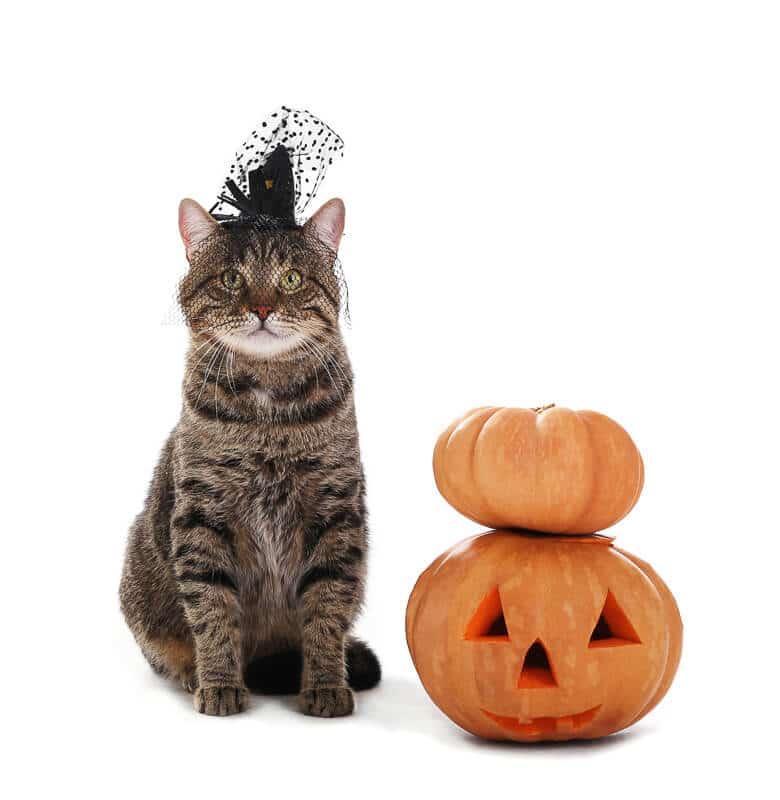 -if your cat will wear them, kitty sunglasses, kitty sized hats and headbands can be very effective in fun photos. Do make sure that any head gear not only doesn't obscure your cats vision but also doesn't have any items that they may see or sense in their peripheral vision.
-combining a neck item with a head item can look fantastic without causing your cat any stress – if they're okay with it!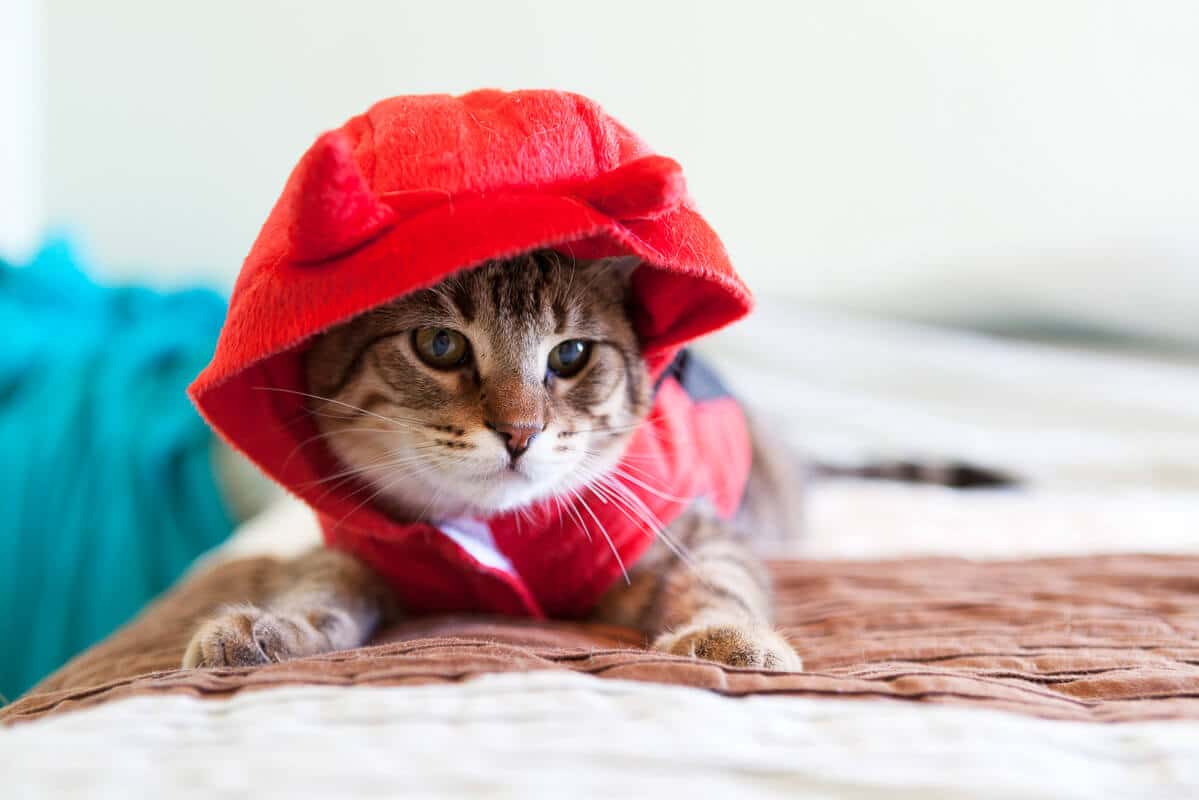 Where to Buy Cat Clothes Online
Two of my favourite online cat clothing retailers are AliExpress and for those of you in the USA Chewy. Check out Amazon, Etsy and ebay for a wide range of cat clothing and costumes. I particularly like Etsy for its more unique items!
There are lots of designer cat clothes but to be honest I wouldn't spend the money as your cat may completely reject these items! A good compromise is the wonderfully named website Meowingtons.
Start with some cat clothes diy and once you get a sense of what your cat will tolerate you can get your credit card going!
Please Note: This Clothing for Cats post contains affiliate links. That means if you click through on most of the links and end up making a purchase I will receive a small commission. This will not effect the price that you pay. I wanted to make sure that you were aware of this.
Like this Clothing for Cats Post? Why Not Pin It?