Being a fur parent is busy! In addition to meeting (and hopefully exceeding) all of your feline's daily needs, planning is critical to make sure that you maximise all fun holiday and photo opportunities with your kitty.
And a cat's needs can change across the year. Get ahead of allergy seasons and some pre-summer grooming to keep your favourite feline as cool as a cucumber. And get moving on your costumes for pet cats for the whole year.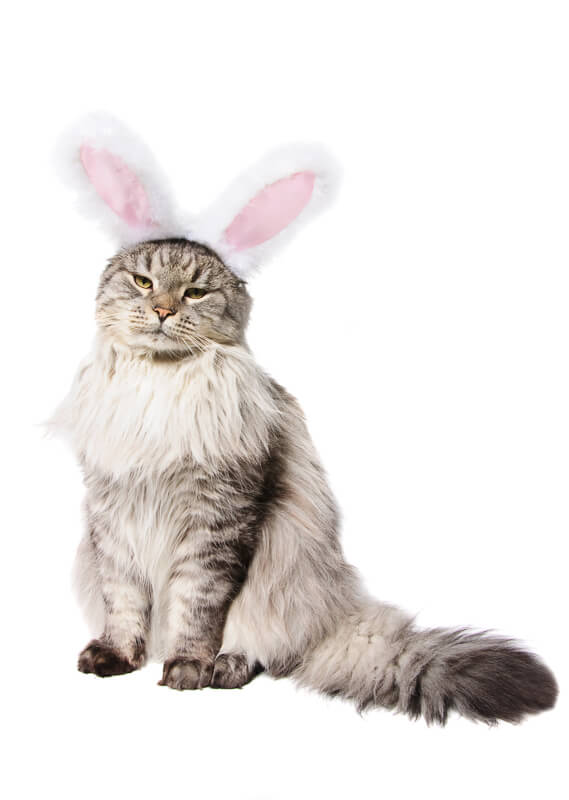 Costumes for Pet Cats – January
Ah the cruellest month! Hopefully your feline kicked off the new year feeling fresh and ready for some powerful resolutions! January is COLD in the Northern Hemisphere.
Sure your kitty came with its own fur but if you live in a particularly cold area do keep some blankets around in case your cat gets particularly chilly.
January is a great time for some cold weather photo shoots with your feline modelling the latest in kitty warm weather apparel. But do make sure to check their temperature. Cats can actually overhead whilst wearing jumpers and coats – particularly if they are moving around alot.
⇒ Getting a new kitty? Check out my guide to How to Look after a Kitten, 6 Best Kitten Wet Food Options and 8 Best Kitten Dry Food Options
There are three terrific opportunities for costumes for pet cats towards the end of January:
–Chinese New Year – obviously there are endless dressing up opportunities here plus the use of props from chopsticks to surrounding your kitty in paper money!
Plus your kitty can dress up as whatever animal was ruling the roost during her year of birth.
–Burns Night – January 25 – who can resist a kitty in tartan? Or with a Lochness monster plush sitting beside it? Or bagpipes? A tam o'shanter cap is an easy winner – huge bonus points if you get your cat happily into a kilt!
Tartan Bowties
Available in 5 Colours
I love these little tartan bowties. They are perfect for giving your cat a scottish feel in a way that won't annoy them. And they come with a bell.
Tartan Cat Vests
Available in 10 Colours
Not only will these tartan vests help you and your cat to celebrate Burns Night, they are also an effective calming vest for your kitty.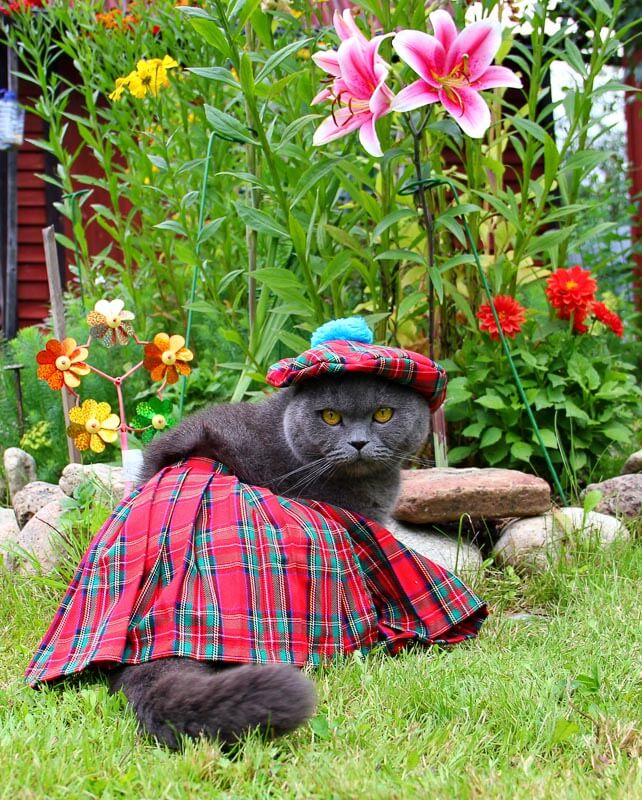 –Australia Day – January 26 – for Australian felines – or for those with an Australian parent like my kitty – Australia day is a great opportunity for some photos!
Dress up resistant cats can have a backdrop of an Australian flag and perhaps some sunscreen next to them? More pliable cats could possibly pop on the bottoms of bathers and perhaps a cap to yield them from the sun?
⇒ Don't miss my guides to the Best Toys for Cats and the Best Gifts for Cats as well as how to choose Clothing for Cats.
February
For my readers in the United States of America, the Super Bowl is a terrific opportunity for costumes for pet cats! Get your cat sporting the merchandise of your favourite team.
Or position your cat near some tasty super bowl treats or lying in front of the tv captivated by the match!
Is there a better day for your cat than Valentine's Day? The perfect excuse to lavish your kitty with Valentine's love. Obviously no chocolates! But perhaps your cat looks fantastic in red? Or will look fantastic posed with flowers and chocolates?
Cat Fleece with Hearts
Cosy Kitty Vest
Handmade fleece made from comfortable and stretchy material – comfortable for your kitty and for you to maximise Valentine's cuddles.
Cat Cotton Vest with Hearts
Comfortable Vest
This is from the same supplier as the vest on the left just with a different design – so it depends on how you and your kitty like your hearts.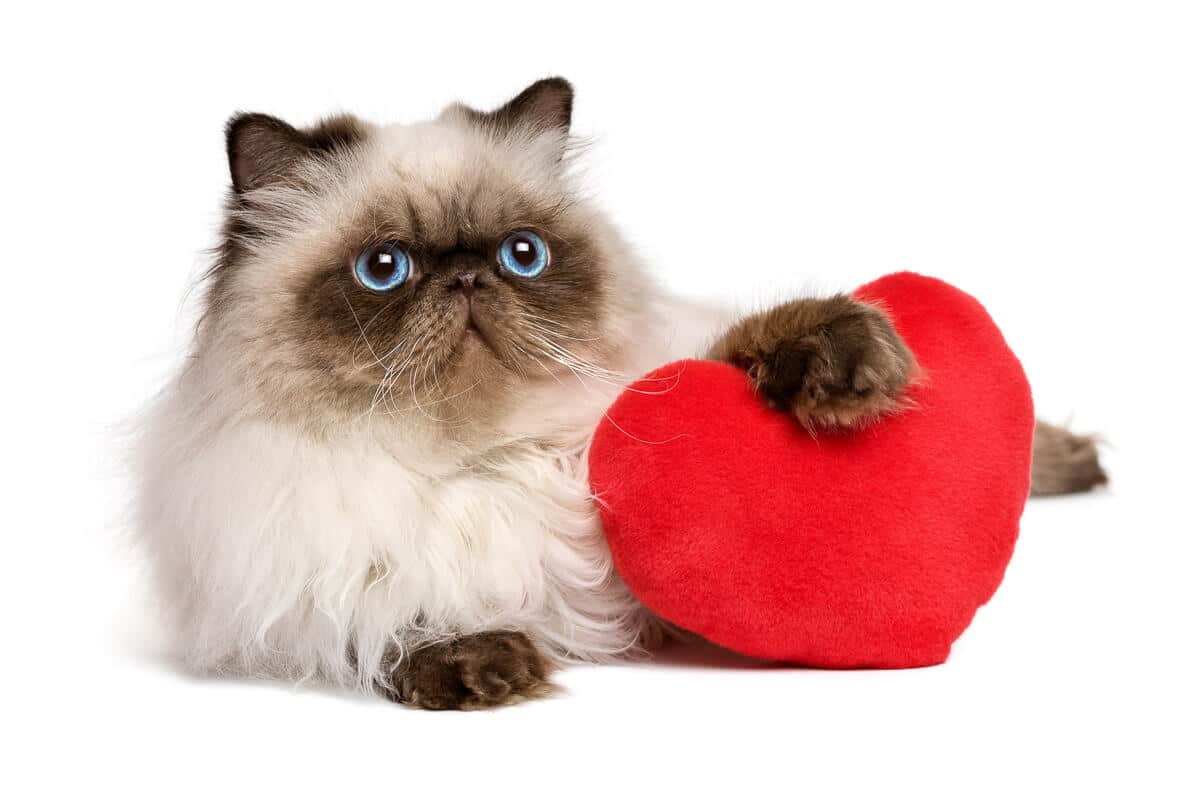 Your cat may even choose to send a Valentine itself with your help to the other feline lovers in your life!
February is also National Cat Health Month so this is a great time to do a quick cat check up on your favourite feline or take her into the vet for a once over.
⇒ Thinking about getting your favourite feline a new collar? Check out my posts on 6 Stylish Leather Cat Collars, 6 Spooky Halloween Cat Collars, 8 Fun Christmas Cat Collar options, 7 Best Cat Tracking Collars, 4 Best Cameras for Cat Collars, 6 Best Flea Collars for Cats choices and 5 Best Designer Cat Collars.
March
March 9 is National Napping Day. Your cat will definitely want to be part of this moving tradition!
March 15 is Red Nose Day – show your support of this amazing charity by popping a red nose onto your kitty and getting that shot up on your social media feed!
But the big event in March is St Patrick's Day on March 16. Endless opportunities for your cat to wear green, pose with Guinness or all forms of alcohol and potentially appear intoxicated (of course your cat is NOT to have any alcohol – we are only pretending) and costumes for pet cats in general.
Leprechuan Cat Hat
Pet Safe Acrylic Yarn
How fabulous is this crocheted Irish hat that is just perfect for celebrating St Patrick's Day? Soft & comfortable for your kitty.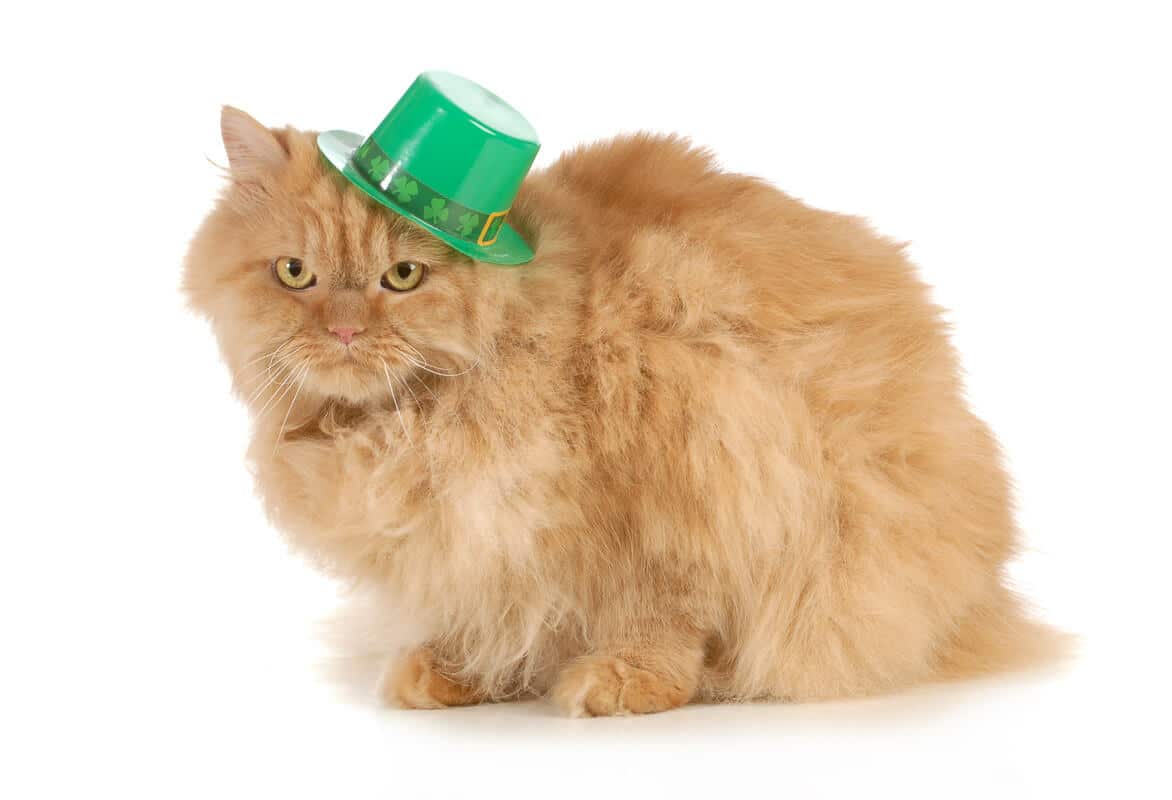 Shamrocks in all their forms are to be welcomed and there is nothing wrong with a cat leprechuan!
March 28 is the official Respect your Cat Day. I hope you know that this day happens 365 days a year in your house!
Sleep awareness week also takes place in March. This generally receives a very large level of support from the feline community.
April
As the date changes every year I am going to choose April to talk about Easter! A huge day on the cat dress up agenda. Bunny ears on a cat is a classic that never fails to receive a smile. If your cat is white do make sure to try to source white ears – also a great contrast if you have a black cat.
There are a multitude of posing opportunities – easter baskets, eggs, bunny ears on, perhaps an easter bonnet?
April 6 is National Siamese Cat Day so a day for extra indulgence if you are a siamese cat parent.
April 11 is National Pet Day.
May
May means Spring is officially underway and this may be a good time to check in on your kitty and any potential allergies it may be developing. Allergies can change over time and in particularly they can change if you have moved in the last 12 months.
May Day is a great opportunity all kittys – but especially Siberians – to embrace their inner Russian! Why not post your kitty with a shot of vodka or some beetroot?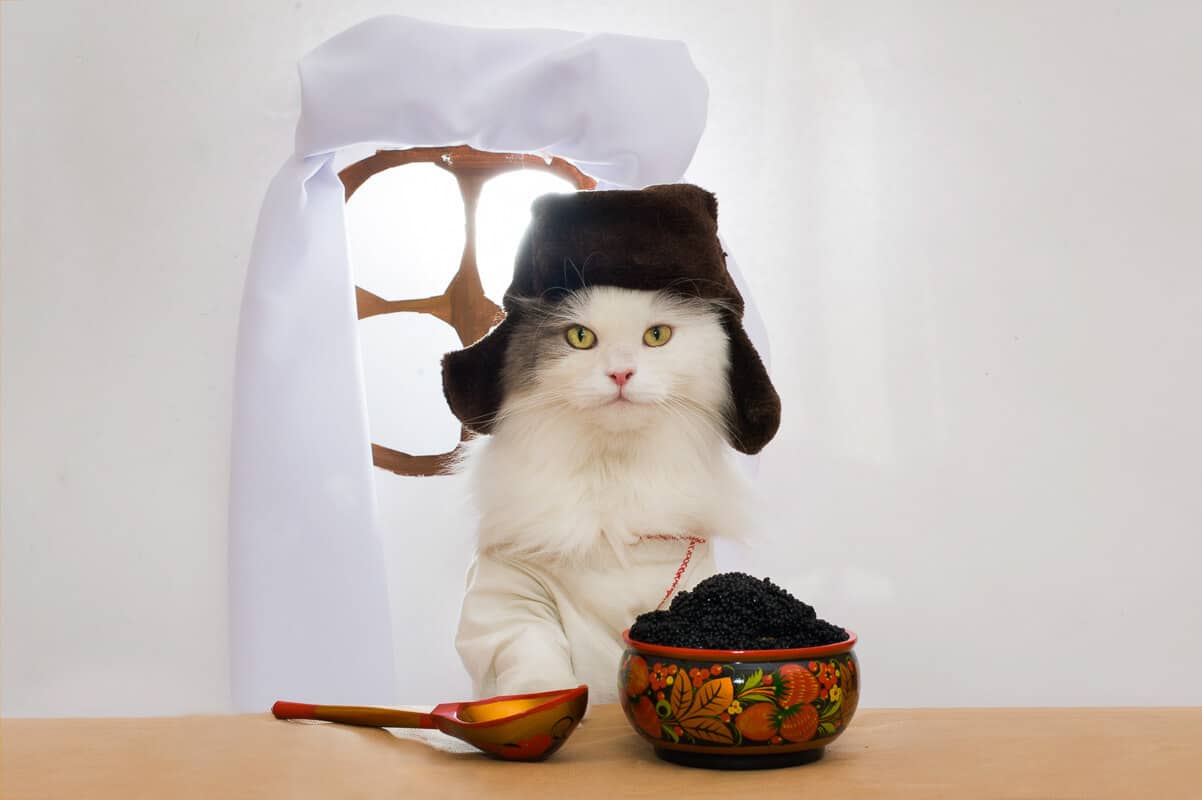 The first week of May is National Pet Month. I thought they already had a day? A day and a month is seeming a bit rich – especially when we're not even halfway through the year…..
June
As it gets warmer it is time to think about keeping your kitty cool. Now is a great time for some serious grooming – do it yourself or with a professional. And it's a good time to check your fresh water supplies and your water bowls – and to make sure you have water bowls distributed in several spots across your home.
June 4 is National Hug Your Cat Day. When was the last time you picked up your kitty and gave her a proper big hug rather than just a stroke? Today is the day!
June 19 is National Garfield the Cat day. Make some lasagne and have a quiet moment with your kitty paying tribute to this feline god.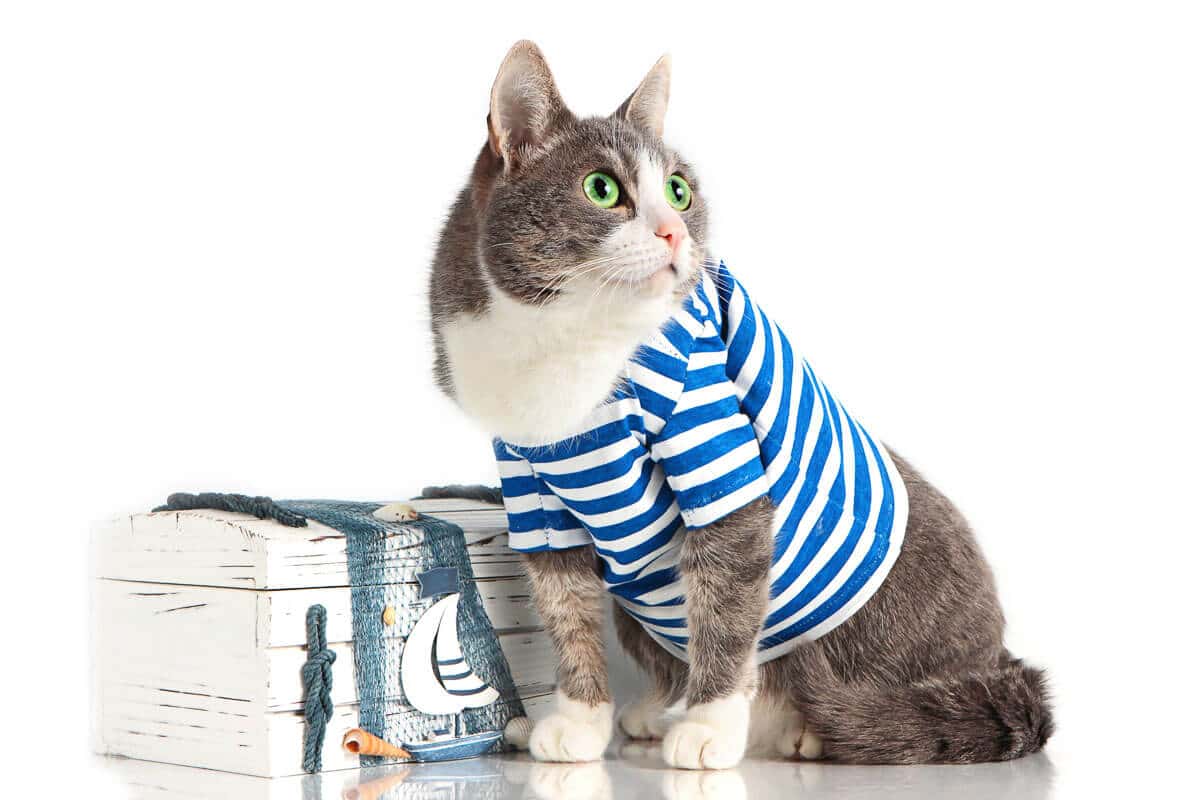 June 20 is Ugliest Dog Day. Now is the time for you and your kitty to sit back and cackle at its arch enemy!
June 21 is International Yoga Day. A perfect time to catch your kitty mid stretch and upload it! Ideally she'll be on a yoga mat and there will be a water bottle nearby!
June 22 is National Take your Cat to work day. What are you waiting for – get that cat carrier out and show off your pride and joy!
The end of June is the start of Wimbledon. A great opportunity for your cat to pop on a white sweatband for her social media followers.
July
For my Canadian readers celebrate Canada Day on July 1 with your kitty perhaps posed near a Tim Horton's donut and with a hockey stick? And maple syrup? Just to the side. I am afraid my area of expertise is Canadian cliches!
And in the USA the big one is of course July 4! Keep your kitty away from firecrackers! But there is no reason that your kitty can't be draped in the US flag or perhaps a white t-shirt and some mock denim jeans for a Springsteen kitty?
Meowica Patriotic Cat Shirt
Cotton T-shirt
Have your kitty join in July 4 celebrations with this super cool Meowica shirt.
USA Flag Tie for Cats
Made to Order
This collar and tie attaches to your kitty with velcro and can be adjusted.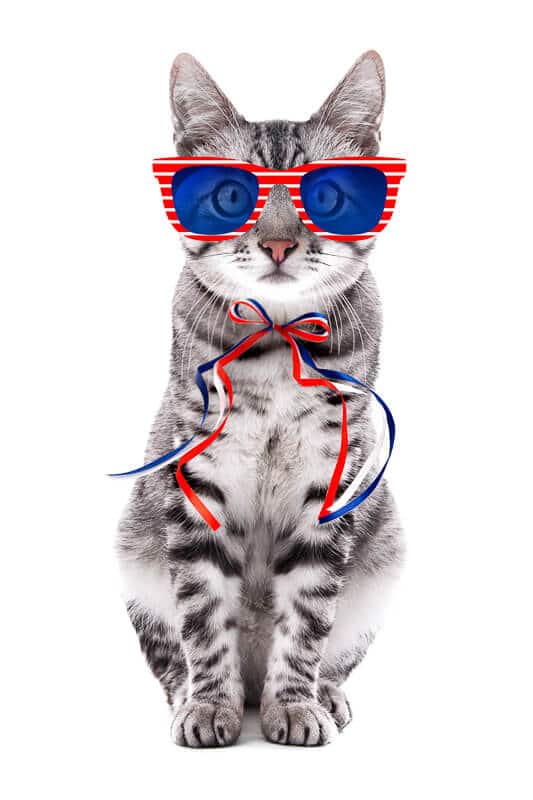 July 5 is National Bikini Day. Get our kitty into her resort wear!
July 10 is National kitten day! Only really appropriate for the first year of your kitty. If you're kitty is on the older end perhaps it is kinder to just ignore this one.
One of my pet favourites is Bastille Day on July 14! Made for le chat! A beret is a complete winner – particularly if your kitty can be posed next to a breadstick and some garlic bulbs.
French Look Outfit
Beret, scarf & t-shirt
Wool felt beret with chin strap, small red scarf with prints, stretch jersey knit black and white stripe t-shirt. Custom Sizing Available
French Beret Hat & Scarf
Made from acrylic yarn
Available in 3 sizes, all in lilac. Custom sizing is available.
⇒ Keen to get your cat out and about? Check out my posts on Is Cat Walking Possible?, 7 Best Escape Proof Cat Harness Options, 5 Best Carrier for Cats choices, 14 Best Cat Carrier for Car Travel options and 4 Top Travel Litter Box options.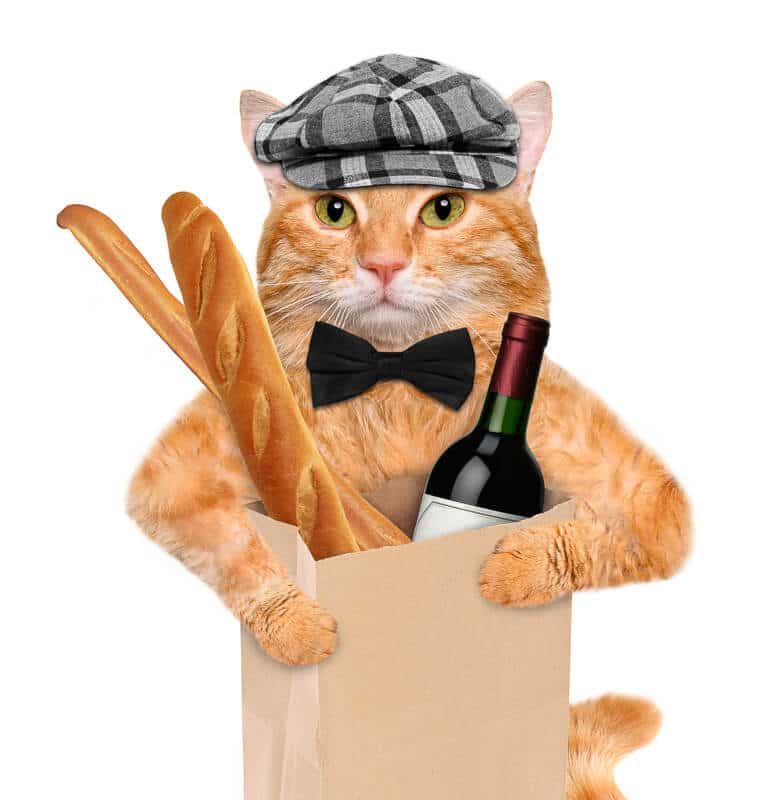 August
August 1 is Spiderman day – a spider kitty can look fabulous!
August 8 is International Cat Day – for once your cat can officially rule your home.
For Londoners August 30 is the Notting Hill Carnival. Get your cat's carribean going with some fruit based head gear.
Not a lot going on in August – best to focus on keeping your furry friend as cool as possible.
September
Wednesday September 16 is Mexican Independence Day AND National Guacomole Day. I had no idea my favourite dip had a day! A sombrero could work a treat with your kitty – as well as a brighly coloured poncho. With the guacamole on the side.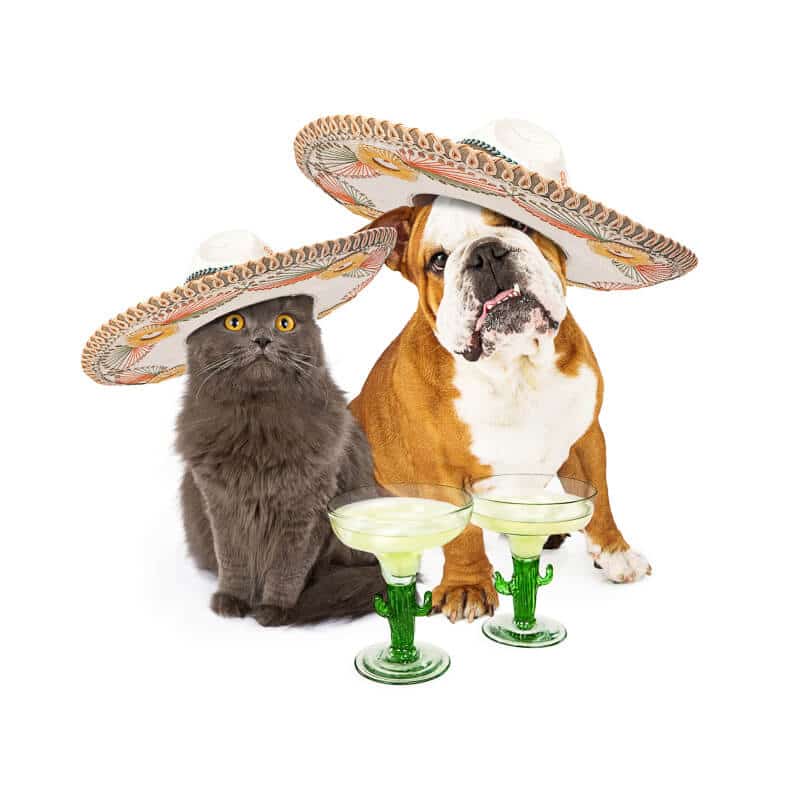 For my Australian readers September 25 is AFL Grand Final Friday! Dress you kitty according to your favourite team (which should be Melbourne based and preferably Carlton). A natty scarf can work a treat to honour your team on the big Saturday at the G!
October
This is a big one!!!! My favourite month of the year for dress up and photo opportunities. Let's start with fall foliage. Your kitty posed with leaves of all the intense shades of red, orange and yellow can scream make me a screen saver!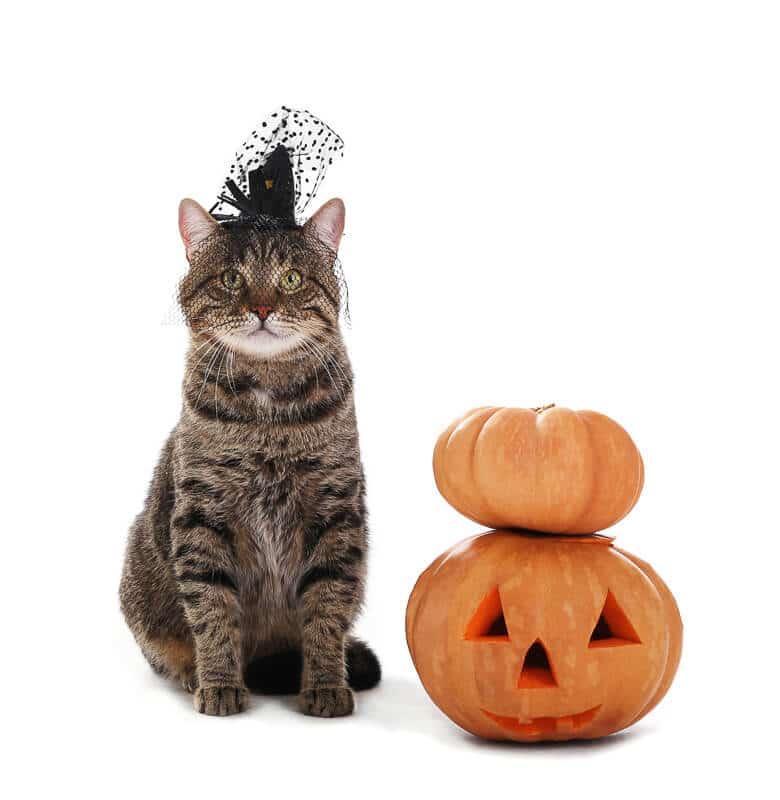 Friday October 16 is National Feral Cat Day. Who on earth came up with this? Your cat doesn't need to know about this one.
Ghost Hat
Handmade
Cute spooky ghost hat available in 3 different sizes. Custom Orders accepted.
Bat Wings
Felt and Elastic Band
Bat wings are made from acrylic felt and are suitable for small & medium size cats and dogs. Bat wings are handmade.
Captain America
Cat Superhero
This superhero costume will fit onto your cat's front legs. Available in 5 sizes.
Little Red Hiding Hood
Handmade
Watch out big bad wolf! Soft and cozy, your kity will love this outfit. Available in 2 sizes and custom orders accepted.
And then there is my absolute favourite dress up day of the year – Halloween! There are endless opportunities for amusing, creative, photogenic cat photo opportunities that also won't irritate your cat. Not to mention pumpkins. As many pumpkins as possible.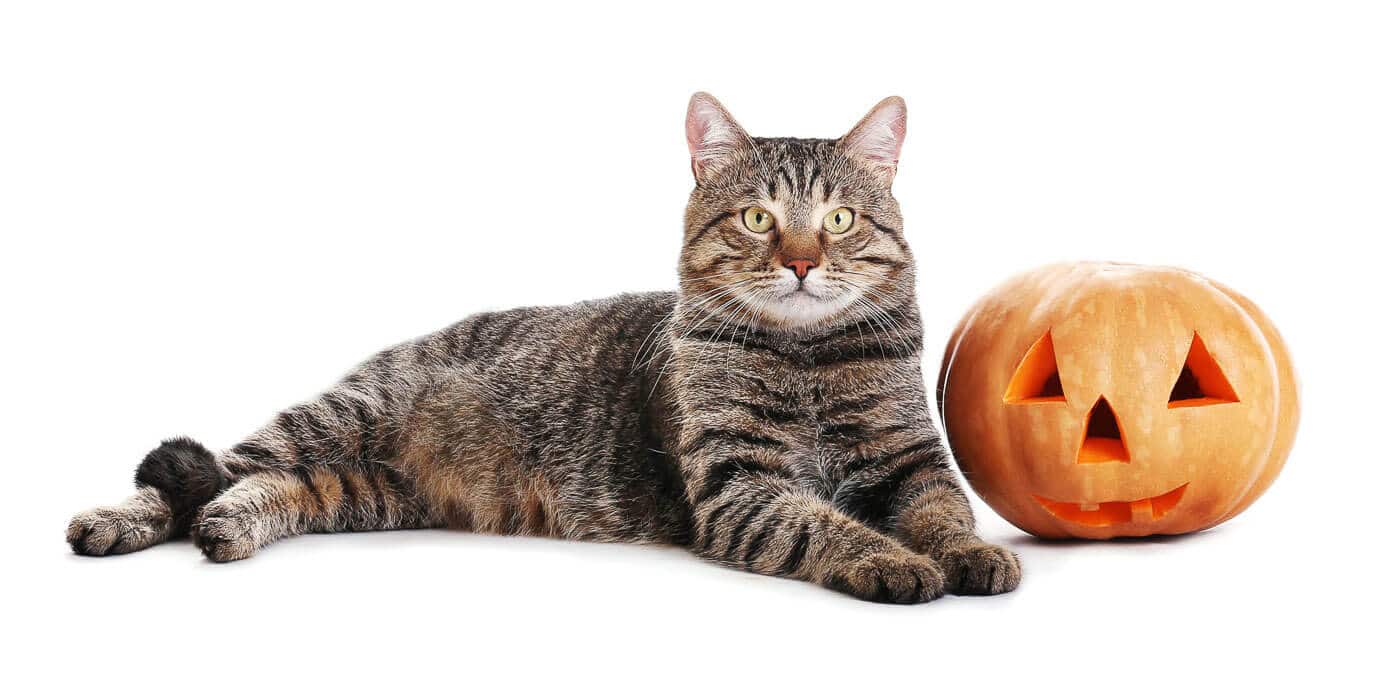 November
For my American readers, November is all about Thanksgiving. Your cat can't wait to embrace its pilgrim side and pose with some turkey and pumpkin pie.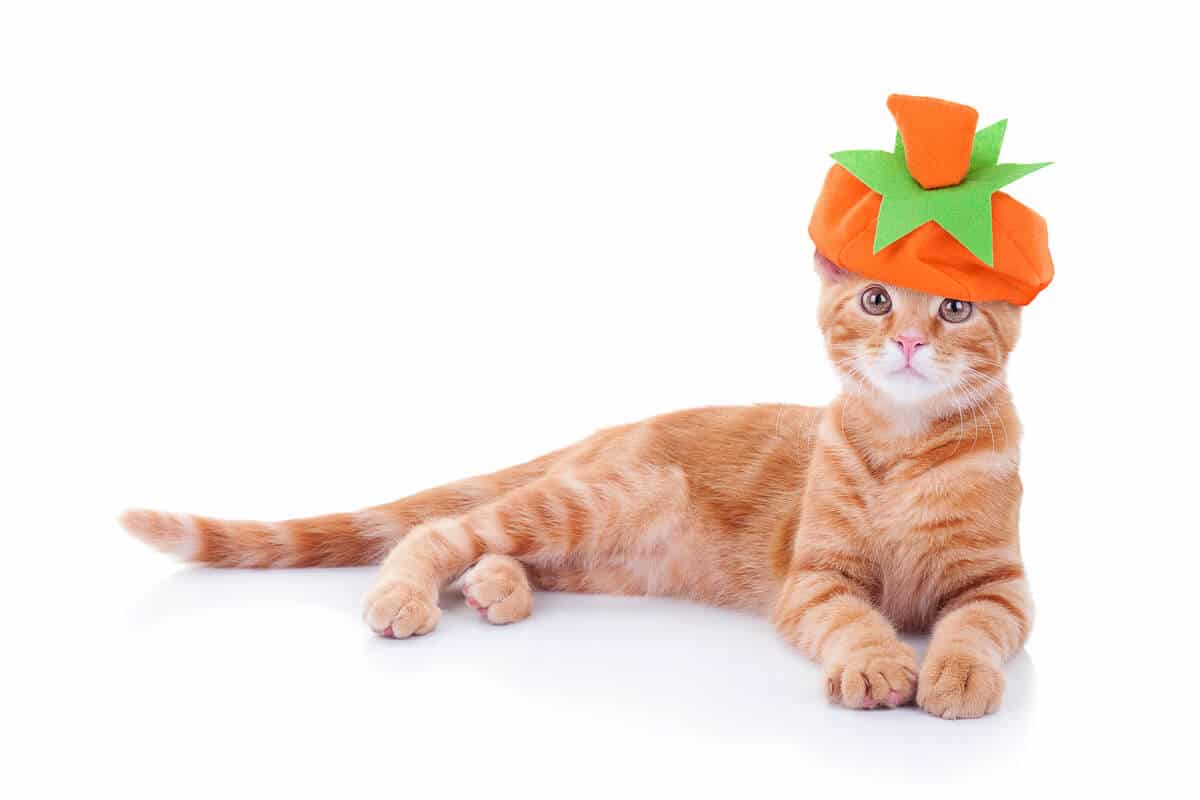 And Black Friday is a pefect time to start shopping for your kitty's Christmas outfits!
December
There are other days and events in December but honestly what's the point as it is all about Christmas – or Hanukkah.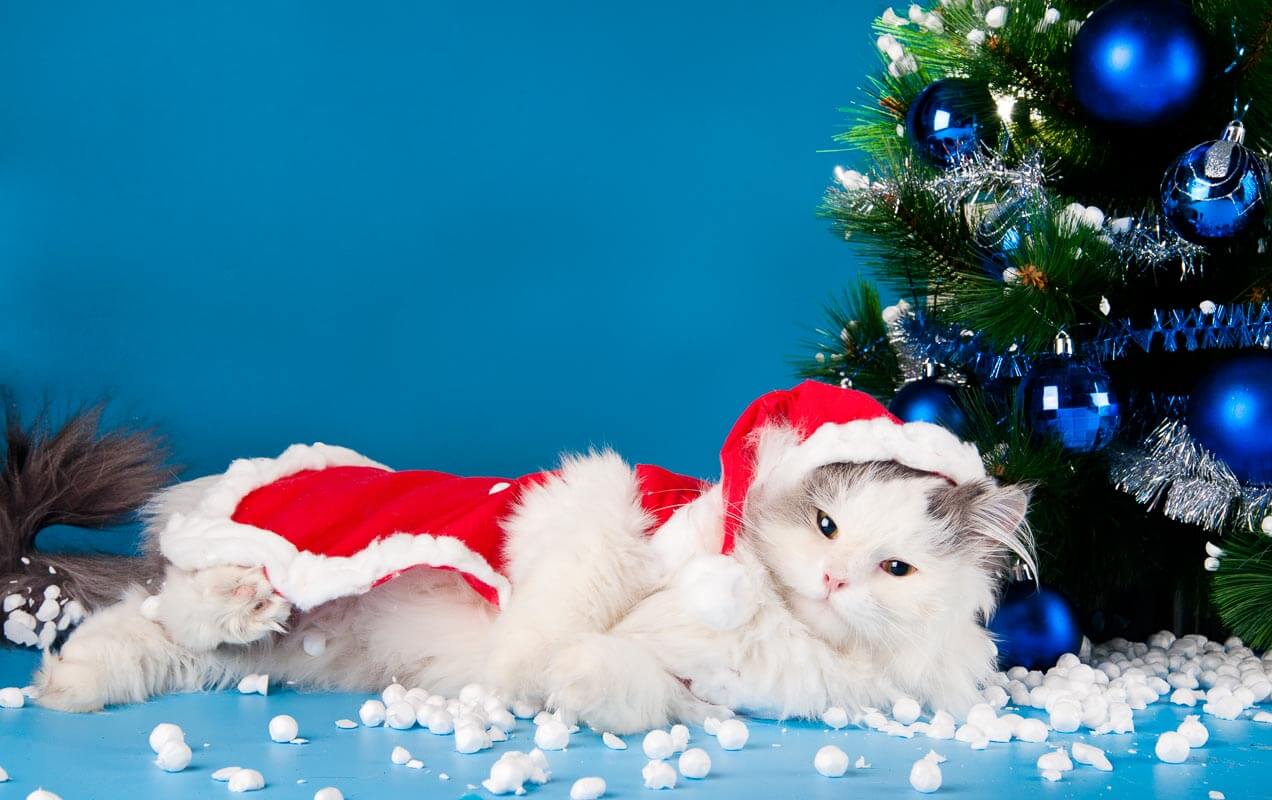 There are endless opportunities all month for photos! A santa hat is of minimum annoyance to your cat and maximum photo effect. Your kitty in a santa hat – or with reindeer ears – can be placed next to the Christmas tree, nicely wrapped gifts, tinsel and more.
Santa's Little Helper
High Quality T-shirt
Fun christmas dress up that will fit on the front paws of your kitty. Available in 4 sizes.
Christmas Cat Outfit
Acryclic Yarn
Crocheted hat and scarf. Scarf is adjustable. Available in 3 sizes. Custom orders accepted.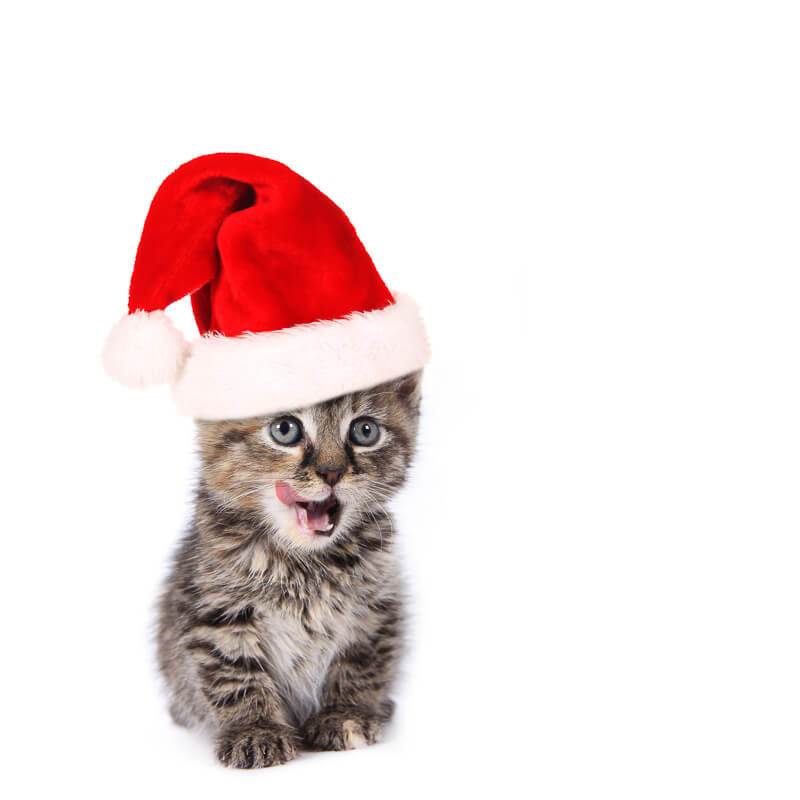 And remember to stock up on cat nip and scratching posts and other kitty treats for your favourite feline. They have earnt major gifts after a big year of photo opportunities!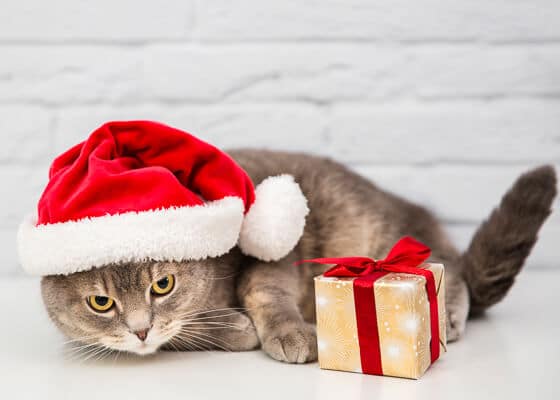 Please Note: This costumes for pet cats post contains affiliate links. That means if you click through on most of the links and end up making a purchase I will receive a small commission. This will not effect the price that you pay. I wanted to make sure that you were aware of this.
Like this costumes for pet cats Post? Why Not Pin It?