There are many reasons to get a collar for your cat. From just looking pretty to carrying their very important ID tags. Collars are essential for our adventurous furry friends – and even for indoor cats.
Finding the right collar that suits your cat's needs and their overall style can be challenging and overwhelming. Designer cat collars are not only a statement piece but extremely good quality as well.
Once you get your hands on these fabulous designer collars, you and your cat will be turning heads all over the neighborhood.
If you're contemplating making the investment, make sure your cat is used to collars already, so they don't chew it off and damage it. If you have this issue, here's a guide on how to train your cat not to chew.
This article will provide all the information to assist you on your journey of purchasing a designer cat collar. Get ready for luxury cat collars that will change the high-class pet game.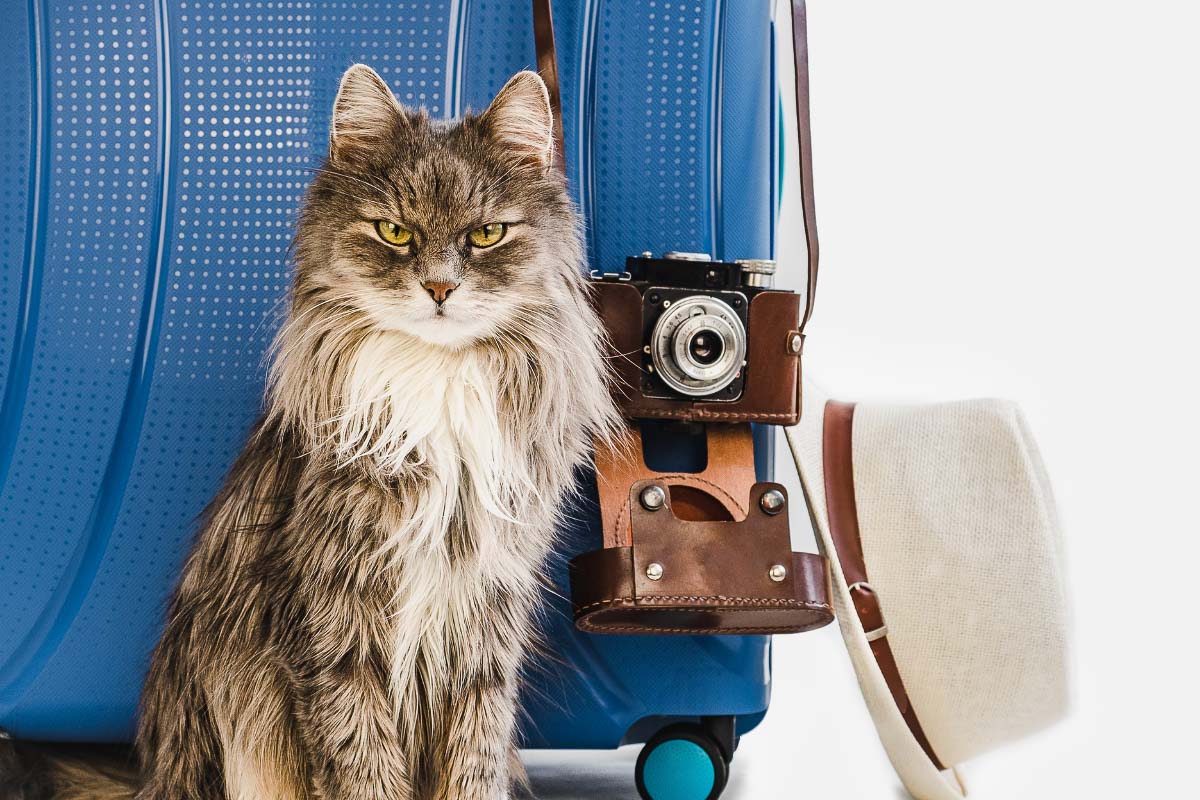 5 Best Designer Cat Collars
Now that we've established the importance of cat collars, let's get into the fun stuff. Most of these collars are limited edition and perfect for rare cat breeds (as they are limited too). To follow is a summary of the top designer cat collars on the market today.
1. The Belugua Luxury Cat Collar
The 'Beluga' – Luxury Cat Collar is the height of cat couture. The luxury collars have caviar-grain, no stretch, leather, and a royal blue suede lining. Making it the pinnacle of padding for your pussy cat.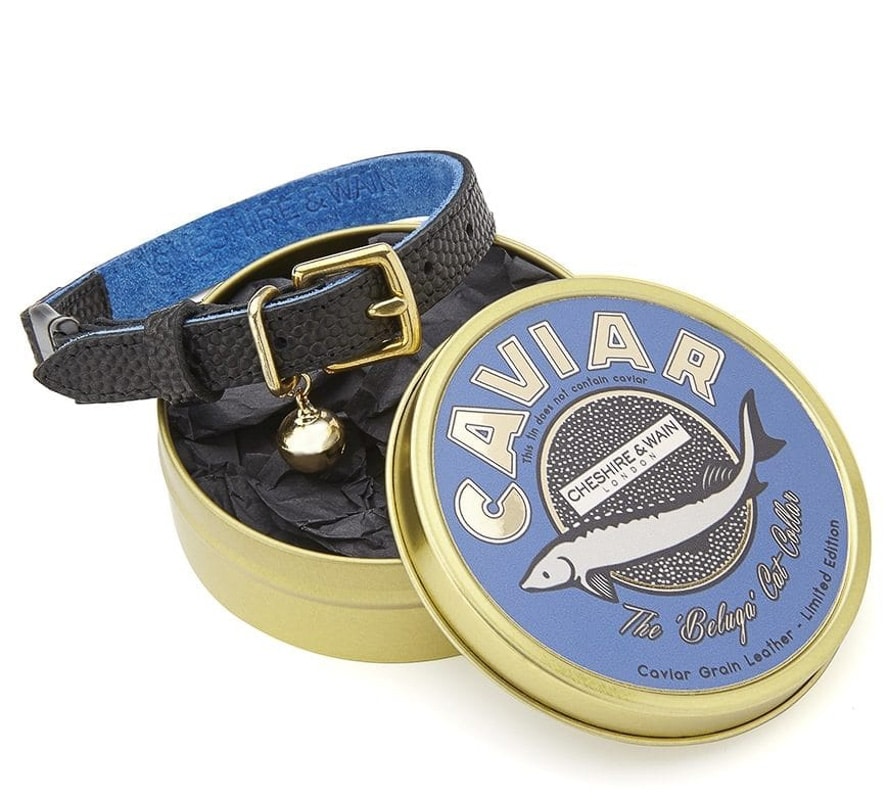 All the collars come in a novelty caviar tin to travel with and stores. The collar has a quick-release clip to ensure your cat's safety. This collar comes in a standard and petite size, guaranteeing a snug and perfect fit.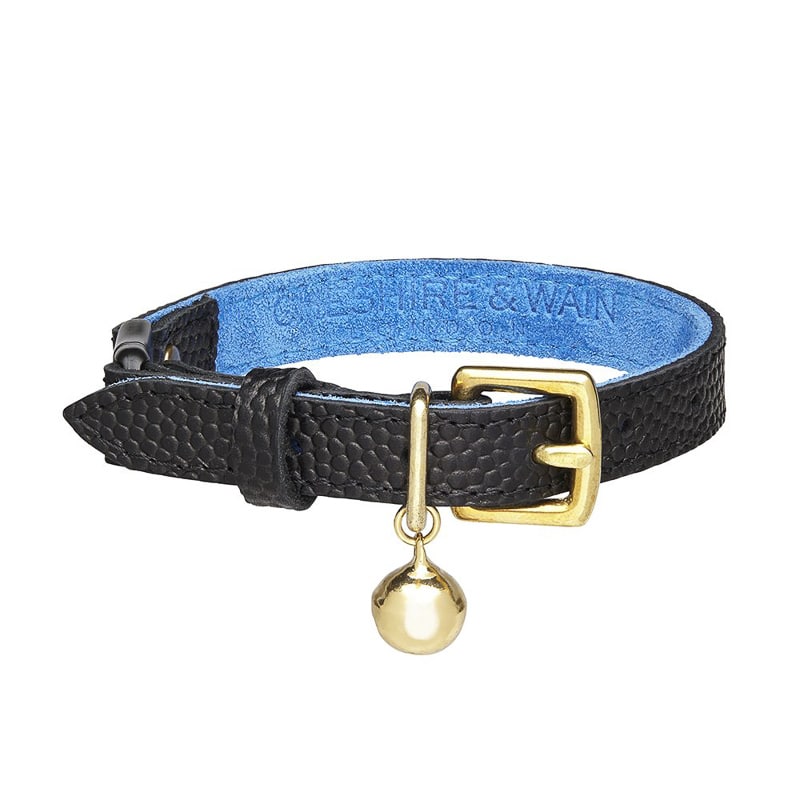 2. The Poldo X DSquared
Poldo x Dsquared 2 – Leather Pet Collar and matching lead Poldo x Dsquared @ – Leather pet leash are both made from extremely high-quality, calf leather.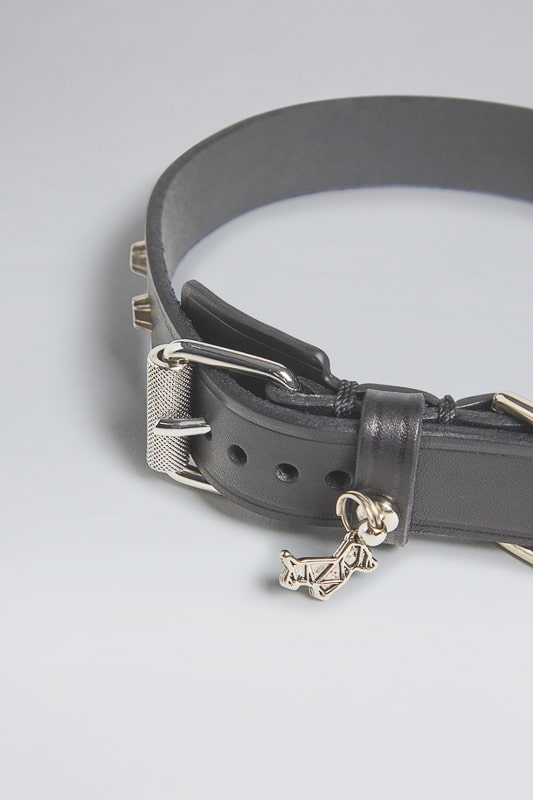 They are made in Italy by top designers and are sure to attract some attention around the town. The Poldo collar has an adjustable buckle closure, little charm detail and comes in various sizes.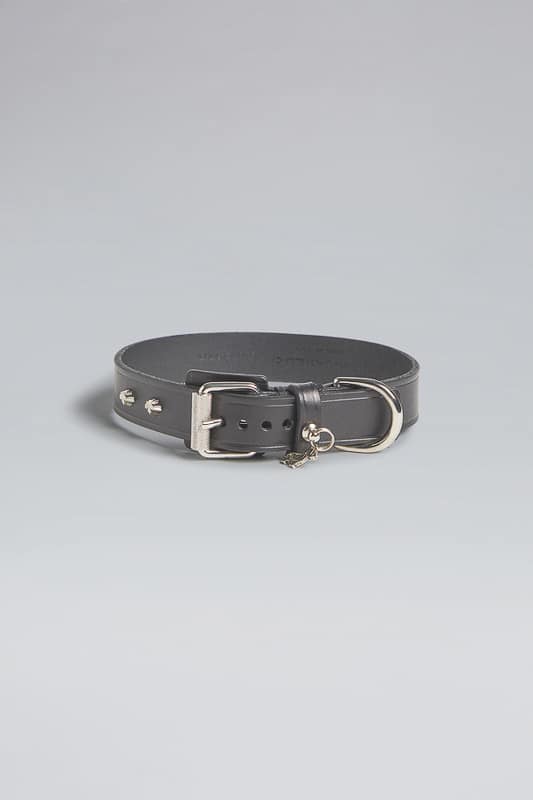 While this set is absolutely gorgeous, it is made for both cats and dogs; therefore, it doesn't have a safety release clip. So be sure only use the collar when your kitty is under supervision.
⇒ Getting a new kitty? Check out my guide to How to Look after a Kitten, 6 Best Kitten Wet Food Options and 8 Best Kitten Dry Food Options
3. Black and Gold Designer Inspired Cat Collar
This designer-inspired collar will make other cat owners jealous. The black and gold design is inspired by Louis Vuitton. It comes fully adjustable, ensuring the perfect fit for your furry friend.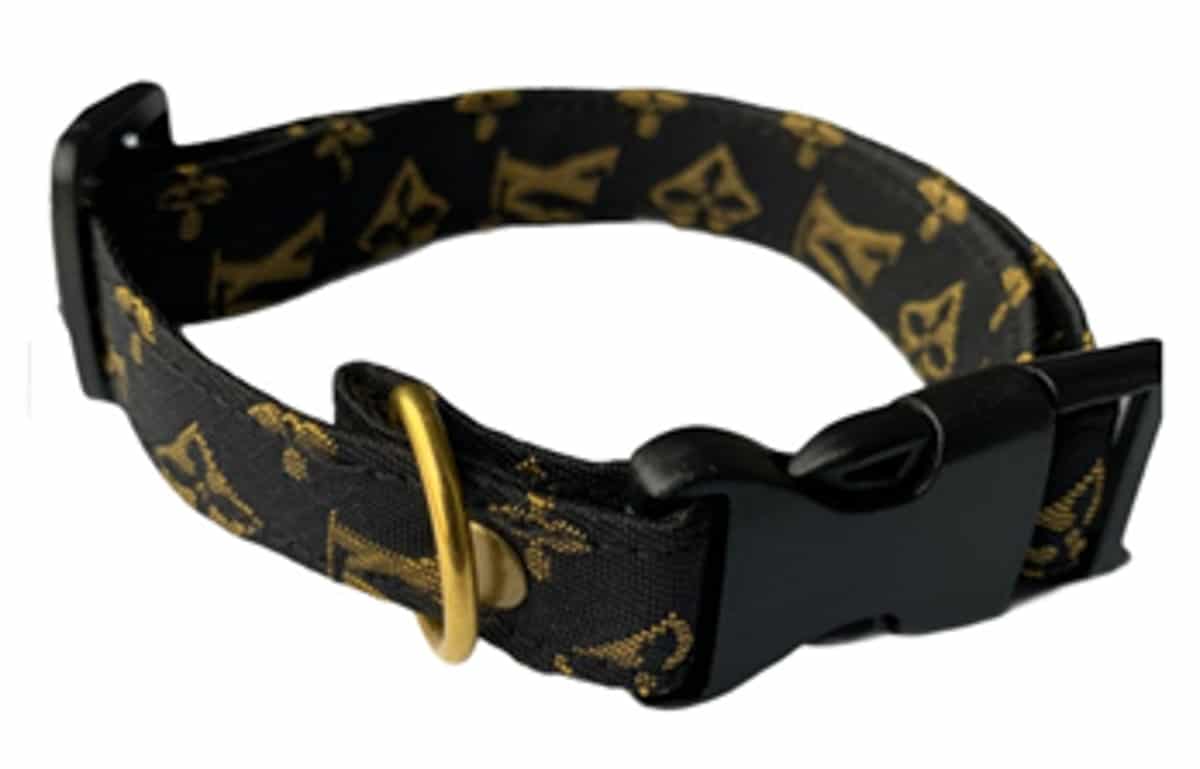 The handmade collar has zero stretch, protecting your cats from injuring themselves or getting stuck. In addition, the collar is made with a D-ring, ensuring the collar sits facing the front and giving you a place to attach your pet's ID tag.
4. Versace Medusa Collar and Leash Set
The Medusa Collar and Leash Set was made and designed by Versace. Not only will it cost an arm and leg, but your cat will be the talk of the town. This collar is the pinnacle of high-end cat fashion. Not only does it scream, 'Posh pet,' but comes with a matching Versace leash.
The collar showcases the iconic medusa studs along the collar, finished with a dainty gold charm to add extra pizazz. The set is made from polyester and should not be washed. It includes the Versace logo and full buckle and loop for identity tag.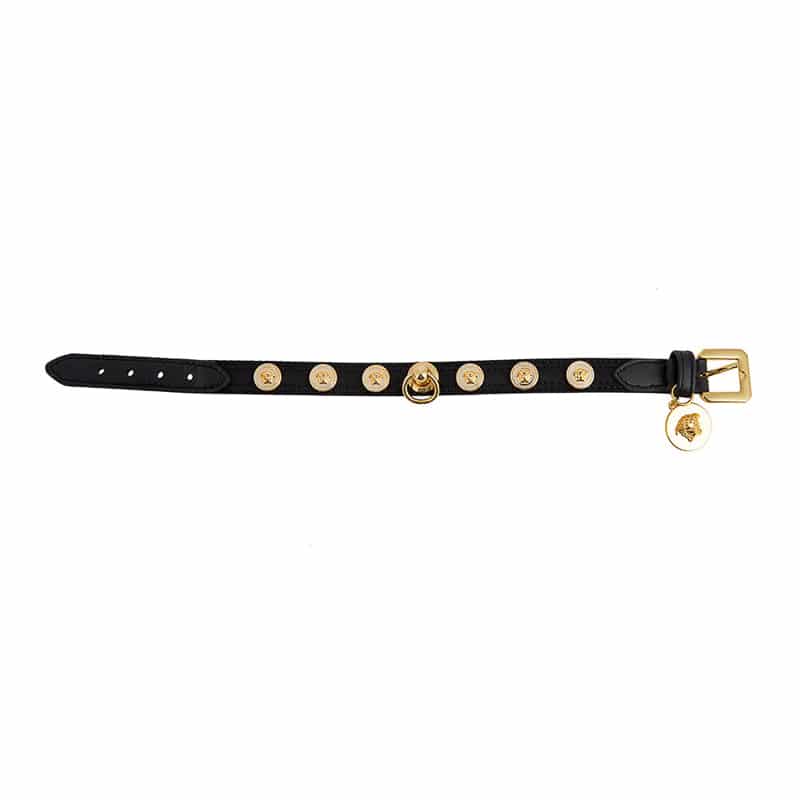 5. Luxury Leather Pet Collar
This Luxury Leather Pet Collar is handmade from authentic leather and added love. It displays the most popular design pattern, the Louis Vuitton flowers dotted on a rich chocolate-colored background.
And for an added bonus, you can add the matching lead to your order for the complete set!
The collar comes in many sizes, but it's advised to measure your cat's previous collar before purchasing. You should be able to fit two fingers between the collar and the cat's neck for optimal fit.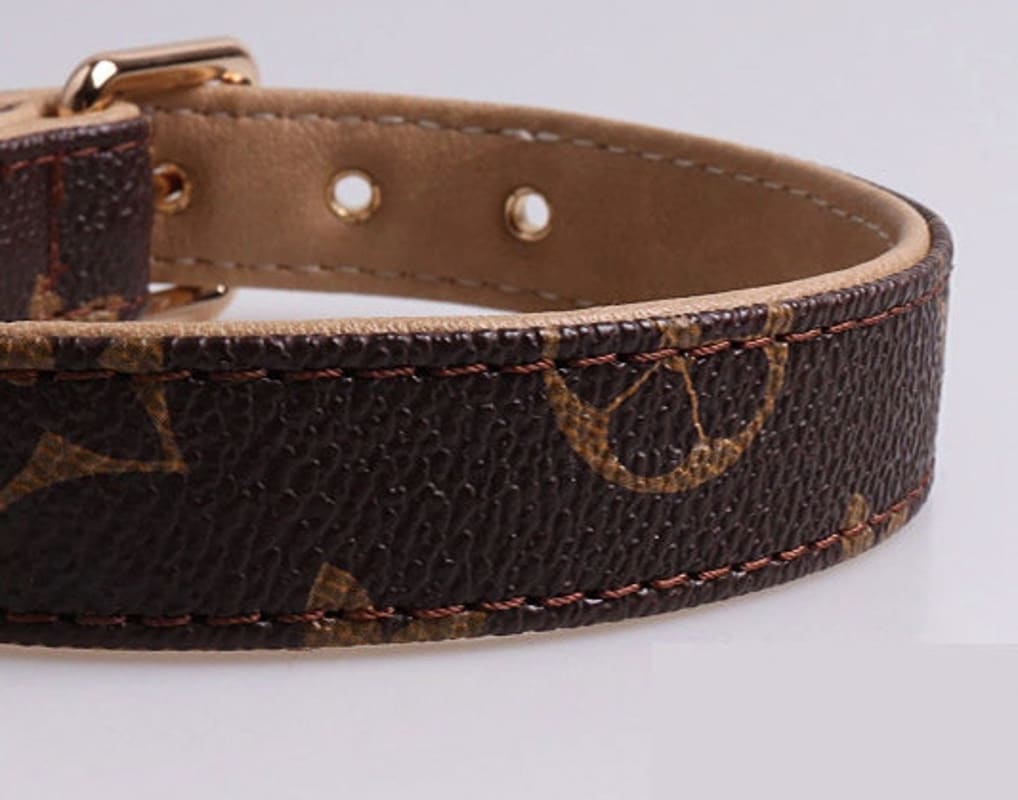 If the collar is too tight, it can cause discomfort and stress, but if it's too loose, it can slip off too easily.
Designer Cat Collars: 5 Things To Consider
Kittens should start wearing a soft and proper fitting collar from 6 months old. It is important to introduce collars from a young age to ensure your cat becomes comfortable in them. This helps them understand not to chew or try to take the collar off.
Once you've got this covered, you can start looking at the various types of purchasing factors to consider.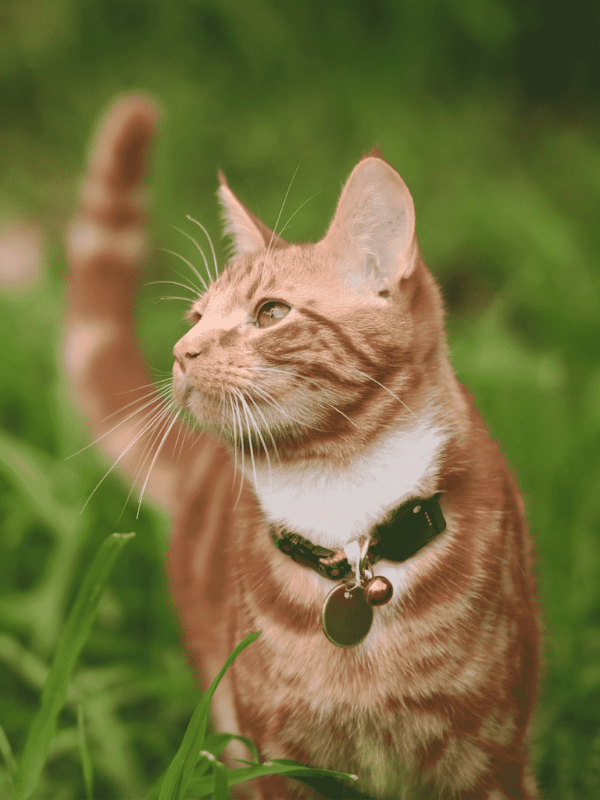 1. Identification Tags
The biggest reason for making your cat wear a collar is to keep him safe and belonging to you, even if they are microchipped. Cats are very adventurous and curious animals.
Often you will see your cat leave the house to explore the great beyond. Microchips can often fail and can't immediately identify a cat as owned or homeless.
If your cat leaves your property, a friendly neighbor might think it's a stray because it has no identification. The person will take the cat to a shelter, vet, or even their home, leaving your kitty with no way back to you.
Even house cats that prefer to stay indoors can end up lost outside. They could be spooked out of the home or get locked out accidentally. For this reason, identification tags are a must.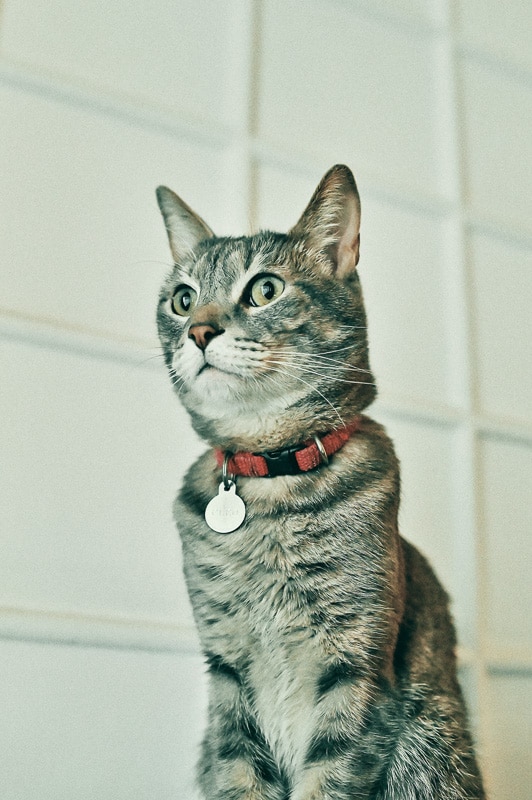 2. Cute Safety Collars
While designer cat collars are a declaration of high-end pet fashion, they sometimes lack practical features. The safest cat collar to get your cat is a quick-release or breakaway collar. This collar stays on your kitty unless an amount of force releases the safety clip.
These collars come in handy when a cat falls or jumps and gets its collar caught on a branch or tree. Usually, this could end in strangulation, but a quick-release collars latch open, allowing the cat to escape.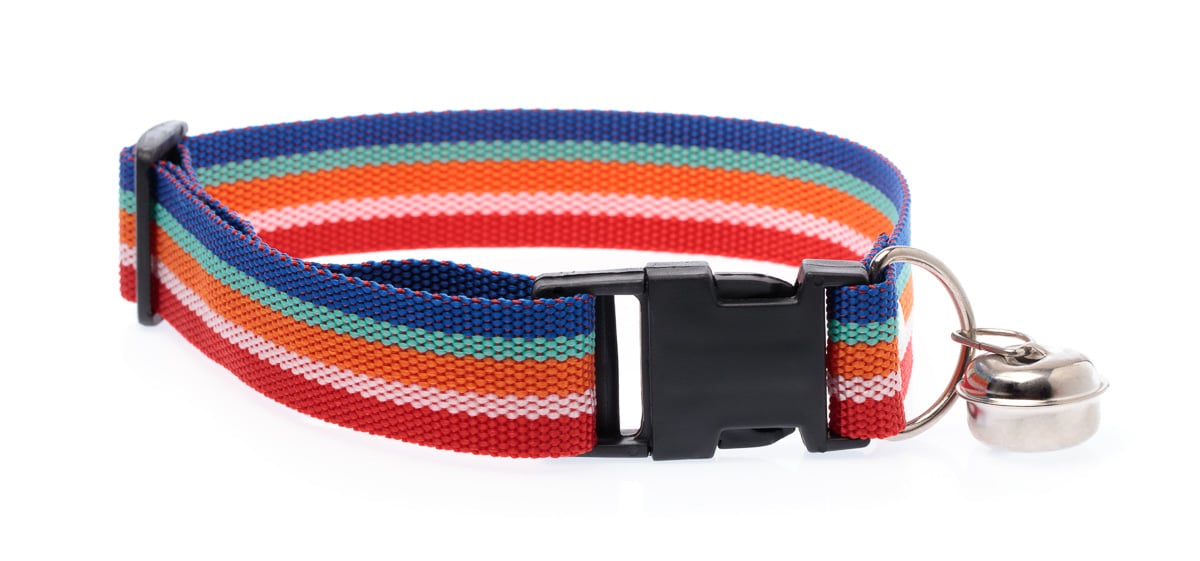 3. Stretchy Collars
Cat collars should not stretch. Whether it's a partial stretch or just an elasticated strip, it can cause problems. If a collar is able to stretch, your kitty can get their front leg caught in it. This awkward position can cause a serious injury and even amputation of your cat's limb.
4. Comfortable Collars
A soft and weightless collar will reduce the chance of your cat becoming irritated, scared, or injured, while trying to pull it off. The collar must be comfortable enough so that your feline doesn't mind wearing it. Adjustable and comfortable collars are the perfect solution to the ultimate fit.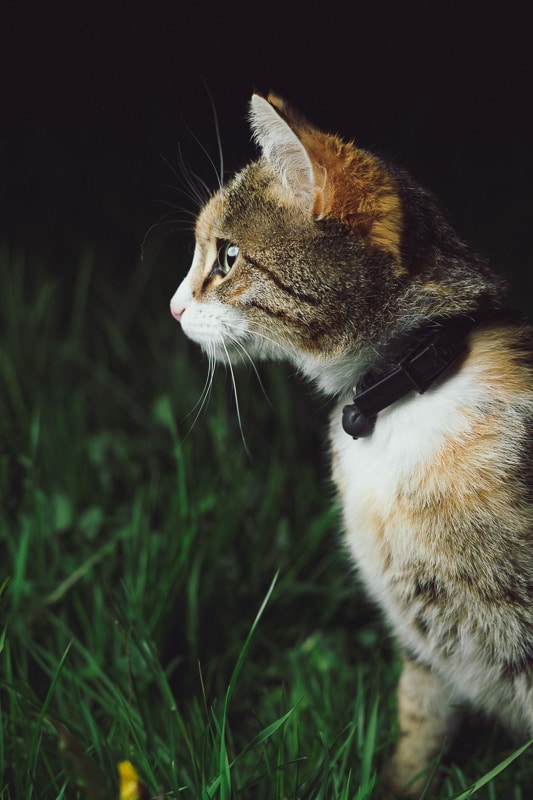 ⇒ Keen to get your cat out and about? Check out my posts on Is Cat Walking Possible?, 7 Best Escape Proof Cat Harness Options, 5 Best Carrier for Cats choices, 14 Best Cat Carrier for Car Travel options and 4 Top Travel Litter Box options.
5. Adding Bells
Choosing to add bells to your collar is up to you. Some cats don't like bells, while others are unbothered. Bells enable you to always know and hear where your cat is. It works especially well for kittens who are always getting up to mischief.
Bells on cat collars are also great for reducing the amount of prey, birds, and rodents your cats are able to catch and bring into the home. The bell warns the prey when the cat is coming, allowing it to escape.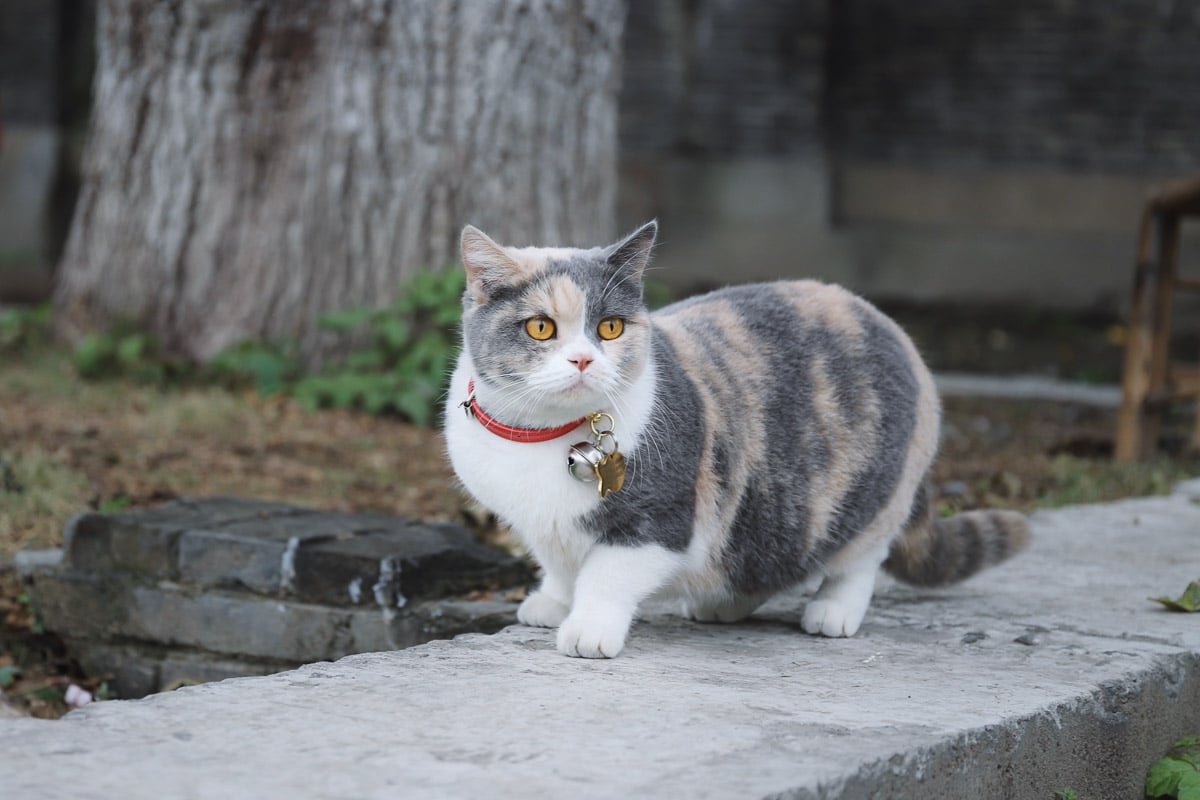 What are the risks with my cat wearing a collar?
Your cat may suffer from minor irritations like hair loss due to the collar rubbing against its fur.
Many cats don't like wearing a collar and may try to take it off. This can cause problems as the collar may get caught on your cat's jaw or on its paws if it uses its legs to try to take it off.
If the collar gets hooked onto something like a line or string and doesn't come off or break open your cat may be strangled.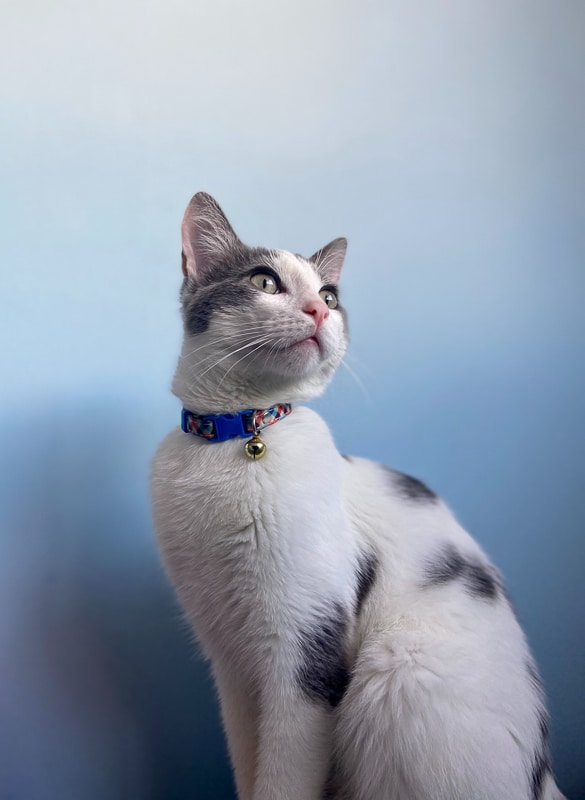 What causes problems with cat collars?
Poor Quality collars can often cause problems. This may be because they were not properly made so could become loose – making it more likely that your cat may be injured trying to remove the collar. Also, the stitching may become lose and cause further issues.
The fit of your cat's collar is also important. Too loose and your cat may get injured trying to take it off. Too tight and it could cause injury and anxiety to your feline.
Some collars still come with elastic inserts. In the past these were thought to be a good idea as it could provide some give. However, vets are now in agreement that these types of collars are more likely to cause problems rather than prevent them.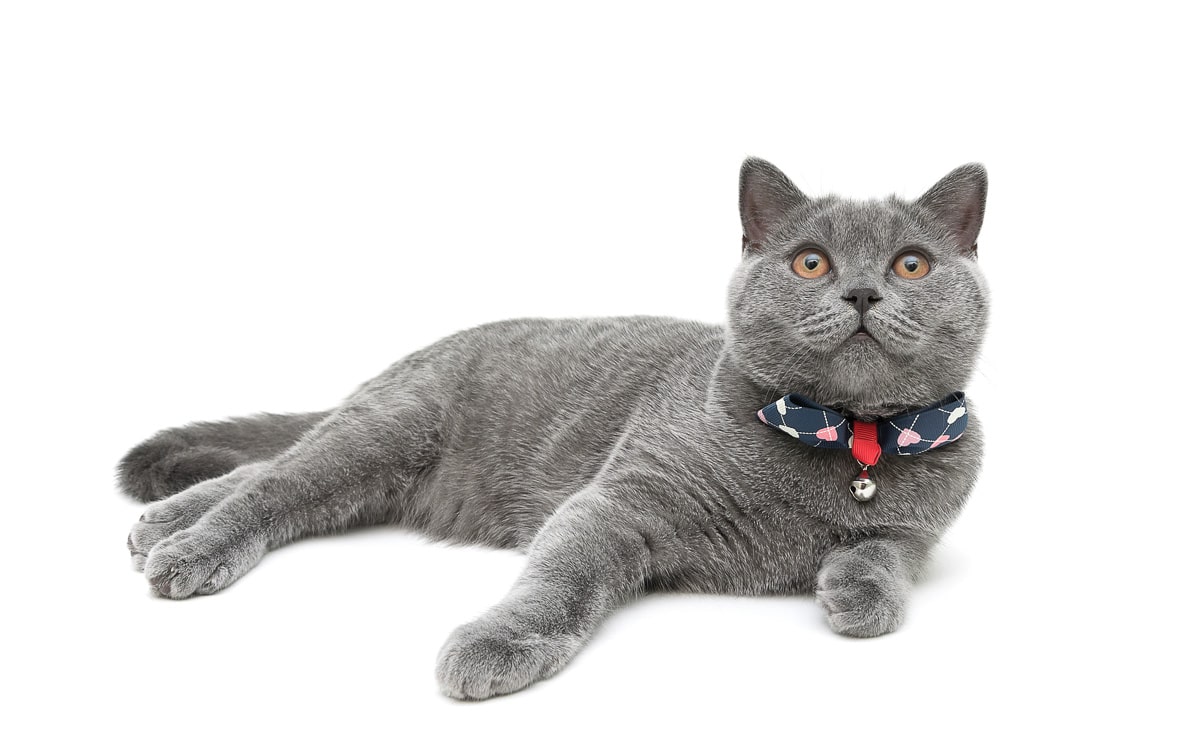 Collar accessories like discs, bells or other items linked to the collar can cause problems. Your cat may get its claw stuck in one of these or they could become caught on something thus restricting and traumatising your cat.
Final Words on Designer Cat Collars
Designer cat collars are exquisite to look at and show off your kitty's high fashion style. From quick-release collars to D-rings and stretchiness, I've covered it all. Whether you buy a designer-inspired dupe on Etsy or purchase the real deal, your cat is sure to turn heads.
Why wait to be the talk of the town? Now that you're equipped with the information and knowledge on all things designer cat collars, you can order your next posh pet's surprise.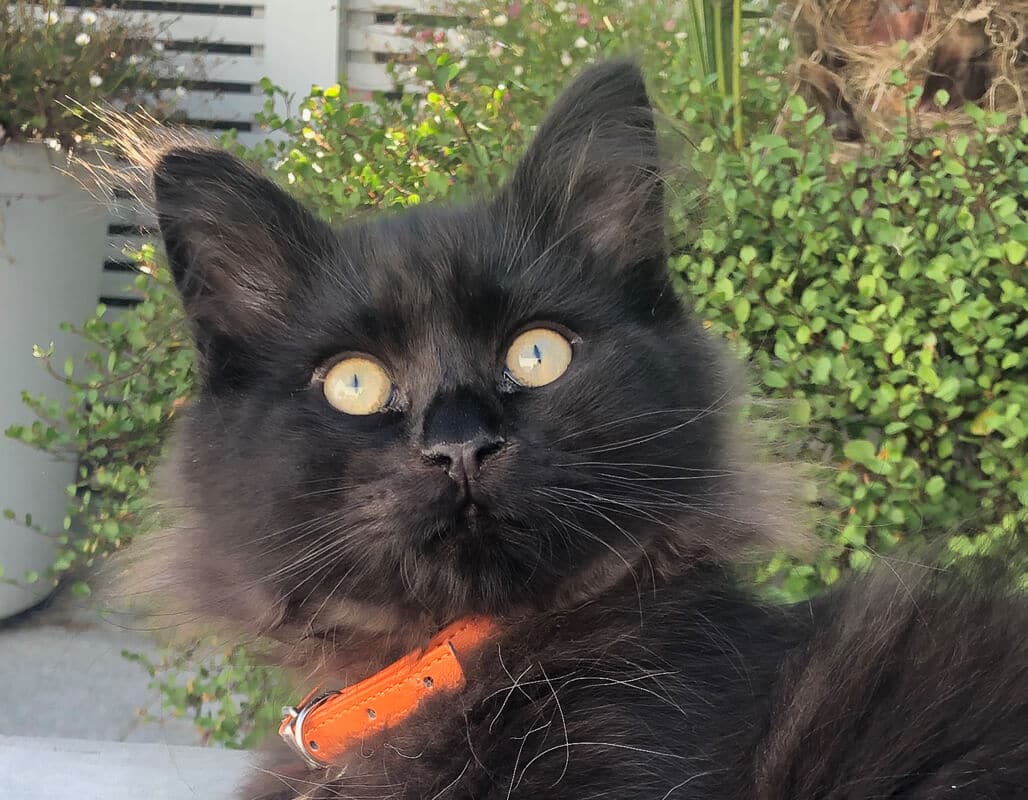 Please Note: This designer cat collars post contains affiliate links. That means if you click through on most of the links and end up making a purchase I will receive a small commission. This will not affect the price that you pay. I wanted to make sure that you were aware of this.