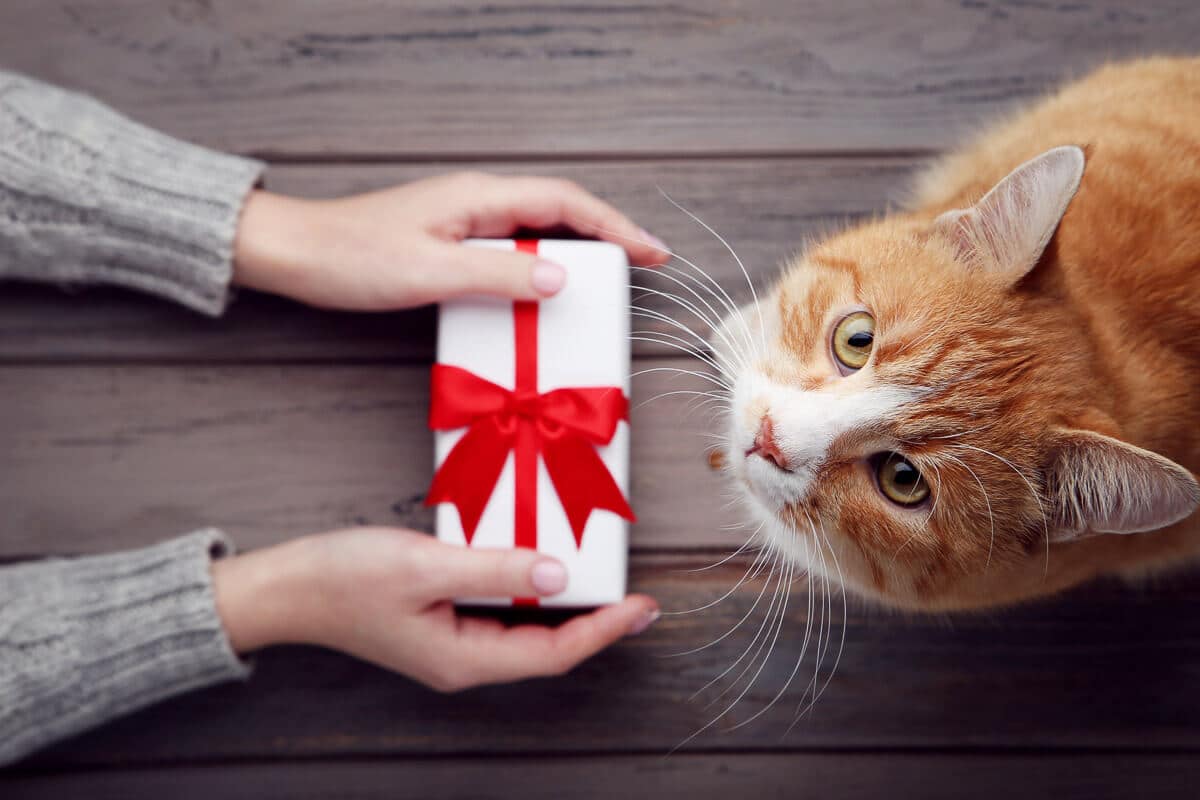 Cats love being treated as much as humans – but unfortunately, they can't tell you which cat gifts would delight them on their birthday, Christmas, National Cat Days, or just because it is Wednesday and your feline is so gorgeous!
There are lots of lists of ideas for christmas gifts for cats, birthday presents for cats, funny cat gifts, gifts for kittens and more on the internet but how do you think about buying your cat the perfect gift? And how about buying gifts for your cat parents who are friends?
Here is my Ultimate Guide to buying the perfect cat presents for your favourite feline!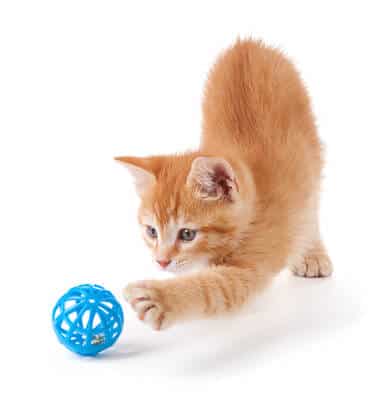 Things to consider before purchasing Gifts for Cats
Safety
The number one thing to think about before you make a purchase of presents for cats is safety. Cat toys are not subject to the same safety standards as toys for humans. Make sure that the toy you choose is non-toxic and safe.
Avoid toys that have small parts or pieces that can easily be chewed off by your cat. These are items that a cat may swallow. They can get stuck in your cat's throat and cut off breathing or if they end up in your cat's stomach could cause major distress for your kitty – and vet bills for you!
Ideally, anything you buy for your cat should be big enough that they can comfortably carry it in their mouth. However, you will need to trade that off against it not being so small that your cat could swallow it.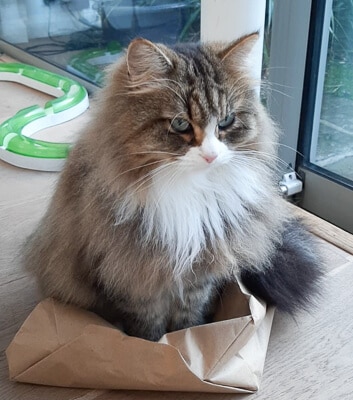 Check the materials of any play or gift items for harsh or rough surfaces and sharp points that could injure your kitty.
String toys and wands can be great fun but do not let your cat play with these cat treats unsupervised. Strings can easily be a choking risk or if it gets caught up in your cat's paws and they can't remove it a major source of stress for your cat.
⇒ Getting a new kitty? Check out my guide to How to Look after a Kitten, 6 Best Kitten Wet Food Options and 8 Best Kitten Dry Food Options
Durability
Remember that your kitty has sharp teeth. Toys or items need to be tough to withstand falling apart – and you don't want your cat eating any stuffing or insides of toys.
Cats do get bored quickly so look for something that challenges your kitty and works in with their core ongoing needs – like scratching – for a longer life toy.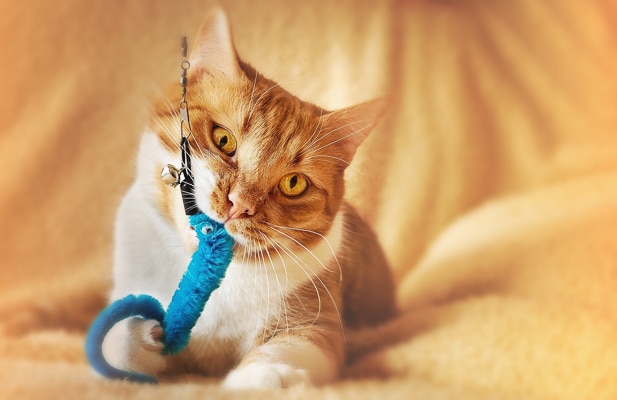 Preferences
Every cat is unique. Some cats are high energy and love running around. Other cats will prefer toys and gifts that they can use with their owners. Many cats don't even like catnip and catnip toys!
So remember to take your cat's preferences into account when choosing them a gift. Also, older cats will be much less likely to use a gift that involves running around no matter how good a gift it is.
Take into account your cat's personal preferences as well as its age and lifestyle to help you in choosing the best cat gifts.
⇒ Don't miss my guides for the Best Toys for Cats, how to choose Clothing for Cats, and my Annual Cat Planner for photo opportunities!
Types of Gifts for Cats:
Catnip Based Cat Gifts
Cat presents based on Hunting
Gifts based on cat food
Cat Gifts based on fashion and comfort
Cat Gifts based on everyday needs
Personalised Cat Gifts
1. Catnip based Gifts
It's a cliche because it's true – the majority of cats love catnip! Catnip comes in many forms. In its plant form, your cat may enjoy rolling on the catnip or eating it.
Octopus Cat Nip Toys
Crocheted and Soft
These super cute Octopus toys contain fiber and catnip. And they can be personalised to whatever colour you choose
Colourful Felt Catnip Toys
Mice & Fish
These colourful soft toys are about 15cm long and 4cm wide. Colours can be customised and cats love the texture
⇒ Thinking about getting your favourite feline a new collar? Check out my posts on 6 Stylish Leather Cat Collars, 6 Spooky Halloween Cat Collars, 8 Fun Christmas Cat Collar options, 7 Best Cat Tracking Collars, 4 Best Cameras for Cat Collars, 6 Best Flea Collars for Cats choices and 5 Best Designer Cat Collars.
Compressed catnip can come in a ball shape so it can be a tasty toy for your kitty. Catnip also comes in spray and oil forms. Do not spray the catnip onto your cat directly – cats don't like being sprayed. Instead, spray their bedding, toys etc.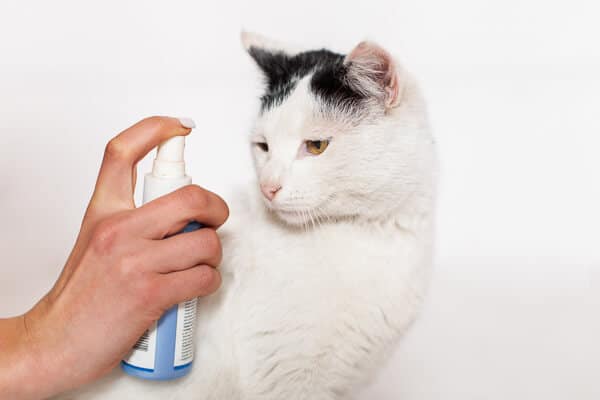 Catnip oil is similar – but it must be diluted. It can then be used in a similar fashion. Or most fun is catnip bubbles! These bubbles tend to be a bigger hit with kittens than they are with older cats. But great for photo opportunities!
Combine catnip with hunting with a mouse filled with catnip! This also gives your cat a chance to catch and "kill" its prey! This is a perfect stocking filler for your cat Christmas presents!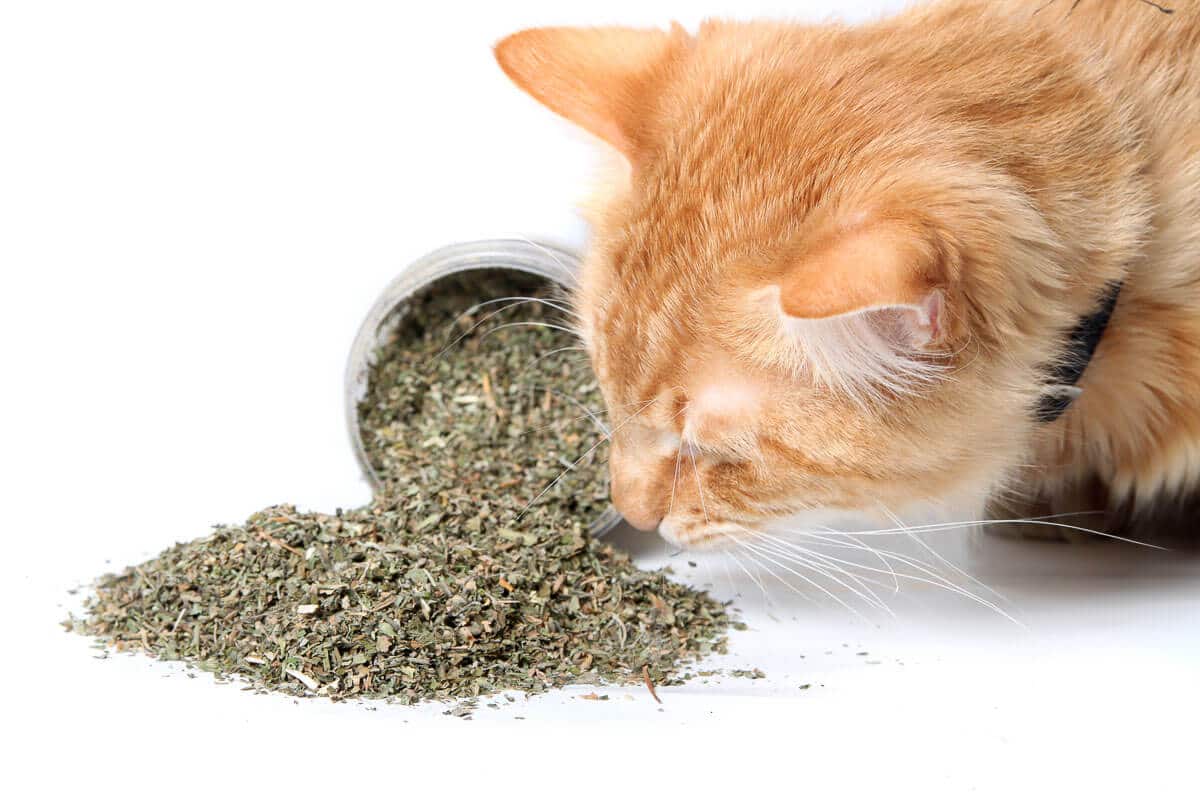 2. Cat Gifts Based on Hunting
As cute and sweet as your kitty may look, underneath she is a hunter with a strong desire to seek out prey. I don't know about you but I don't want Alexei bringing dead prey anywhere near me so gifts that allow him to exercise that desire to hunt are high up my list!
CattyLicious Gifts
I love these bright and sparkly kitty wands. They come in bright colours and also have little silver bells for sounds
Cat Wand Birds
CattyLicious Gifts
This luxury fishing wand comes with 5 different detachable teaser heads to keep your cat entertained for days!
Remember, as this is a natural desire, if your cat isn't able to express its desire to hunt (this can be more common in indoor cats) she may well get frustrated and stressed which can lead to acting out, digestion problems and all sorts of unpleasant outcomes for you and your feline.
But don't worry – there are loads of gifts you can get your cat that will help it to work through its inner beast – hopefully without any fresh corpses!
Visual Stimulation
Visual stimulation can help a cat work through its hunting needs. Birds or fish are perfect for this. If you do have an aquarium make sure that your cat can see it. Or if you don't kitty videos of aquariums will do the trick.
Needlefelt Cat Nip Mouse
Made from 100% merino wool
This realistic needle felt mouse will last and last no matter what your kitty does with it. The long tail makes it seem even more real.
Percy Parrot Realistic Toy
Tiga Toys
Percy is a feather toy configured to spin through the air simulating a flying bird and for your cat look and sound like the real thing!
Depending on the type of cat that you have, visual stimulation may be enough. If not, try tossing your cat a small ball or toy whilst she is watching her potential prety!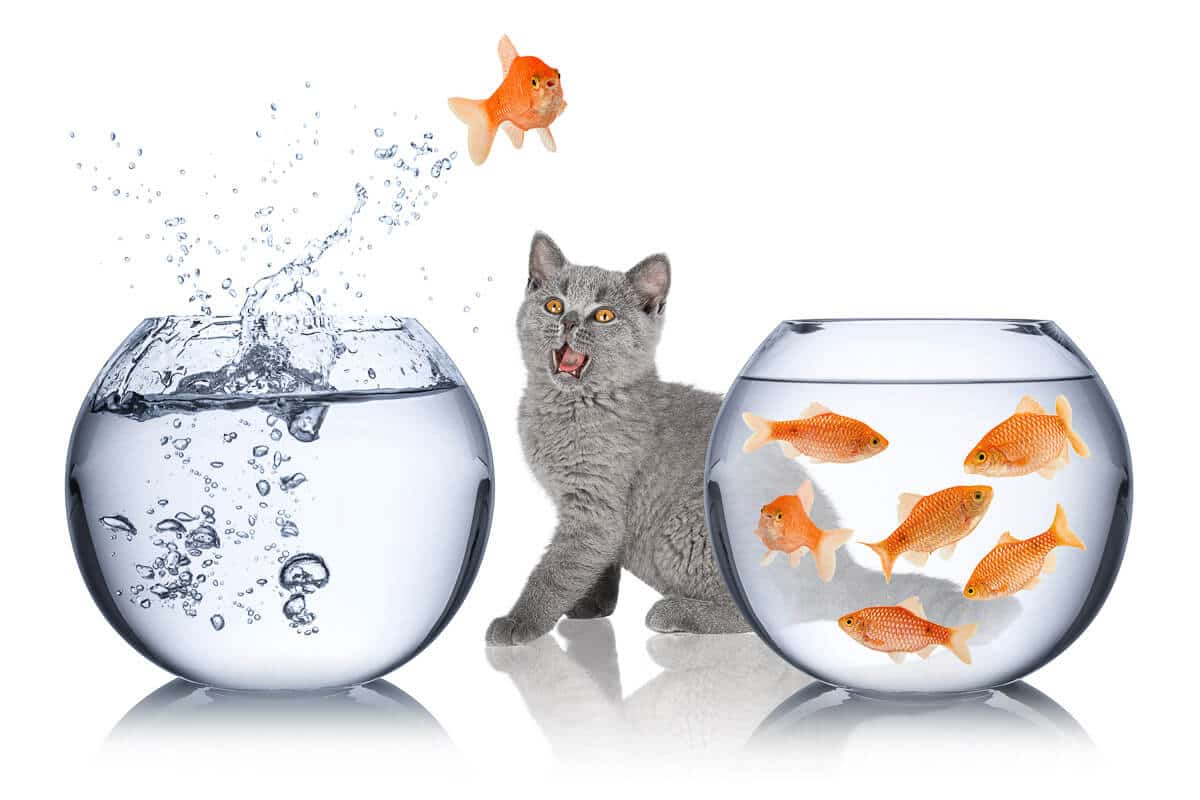 Puzzle and Ball Toys
Most cats love a ball based gift. This might be a game or a puzzle. Cats like the mental challenge of a puzzle game where it gets to chase.
Puzzle Feeder
Birch Wood
With this cat feeder, mealtimes are a game of cat and mouse where your kitty has to paw and hunt to earn her dinner.
Cat Ball Toy
Colourful with mouse
Round ball available in different colours with small mouse and feathers inside for lots of hours of play.
However, make sure that this toy actually allows your cat to get access with his paws to its "prey". If its a track toy make sure it is open at the top so that your cat can catch and feel the ball. If not, your cat could end up frustrated as they are not fully going through the motions of a hunt.
Toys that allow you to move the items in a life like fashion can be a big hit with felines. A wand with something on the end – a toy, a feather etc – can allow your cat to "chase" after it.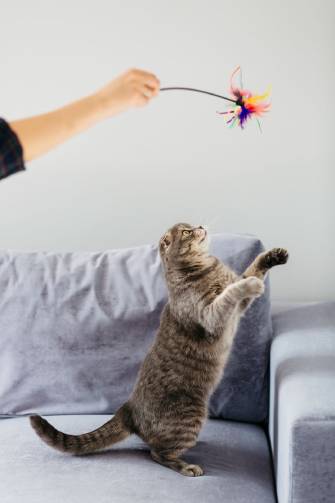 Don't wave the item in front of your cat's face directly as prey would seldom be this bold. Try a mix of fast and slow moves. And let your kitty win on occasion or she will just get bored! These are some of the best gifts for cats.
3. Cat Gifts based on Food
How about a food maze for your cat? Combine fun and the hunt with treats at the end.
Or how about making sure that your cat never goes thirsty with a watering fountain or cat feeder? Or one for snacks?
Many feeder toys today are designed to release their treats in response to the cat pouncing or batting. Many cats enjoy earning their treats – back to the hunt! So combining a treat machine with a bit of effort on your cat's part can make for a great gift!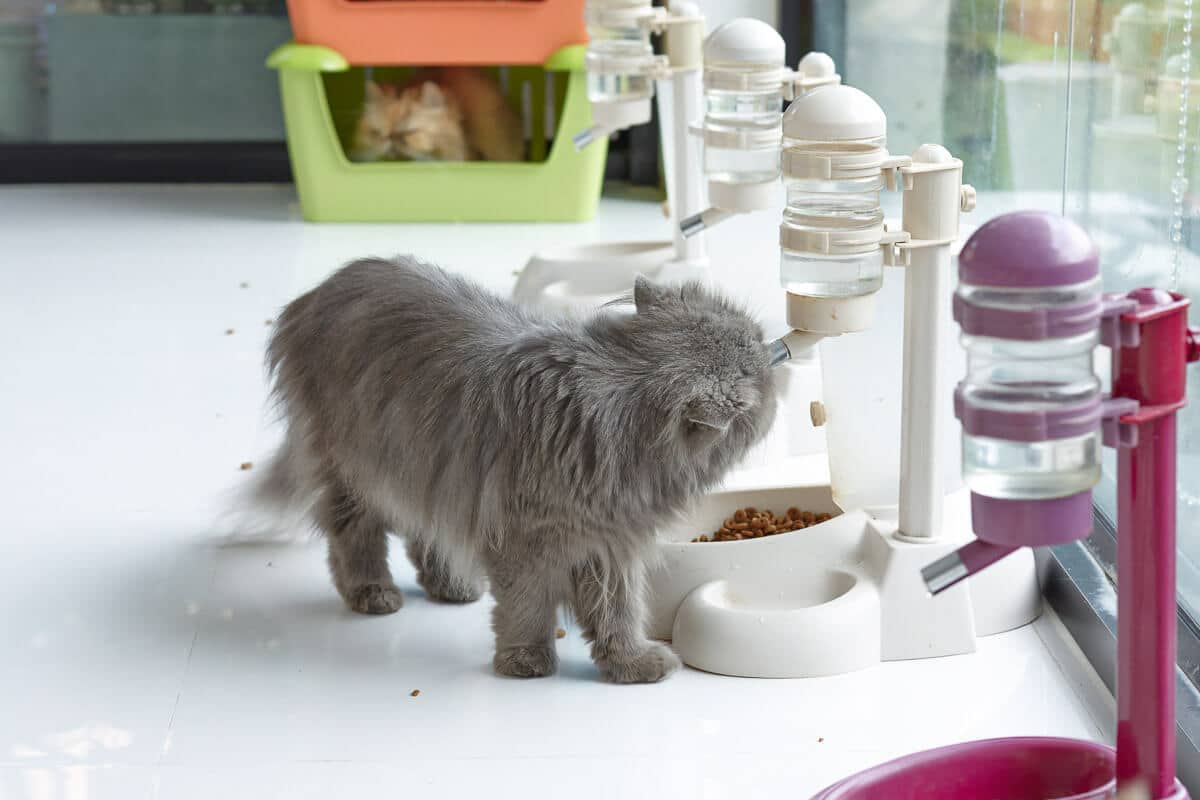 Even better is a new treat machine that comes with an iphone and a camera. This means that you can check in on your kitty when you're out and about and if she's looking sad you can send her a treat!
4. Cat Gifts based on Fashion and Comfort
Why not delight your cat whilst at the same time upping your interior design game? Let's start with seating and daybeds. There are so many great options these days that are a mix of internal comfort to keep your cat warm and cuddly as well as a stylish exterior to match your interior design.
Cat Cave Bed
100% Felted Wool
Eco Friendly Cat Cave
Made from all natural sheep wool, Le Sharma Cat Cave provides a luxurious dwelling for your cat.
Woven Cat Bed
Handmade
Perfect handmade round woven bed for your pet to curl up and snuggle in. Raised sides help with comfort and a sense of security.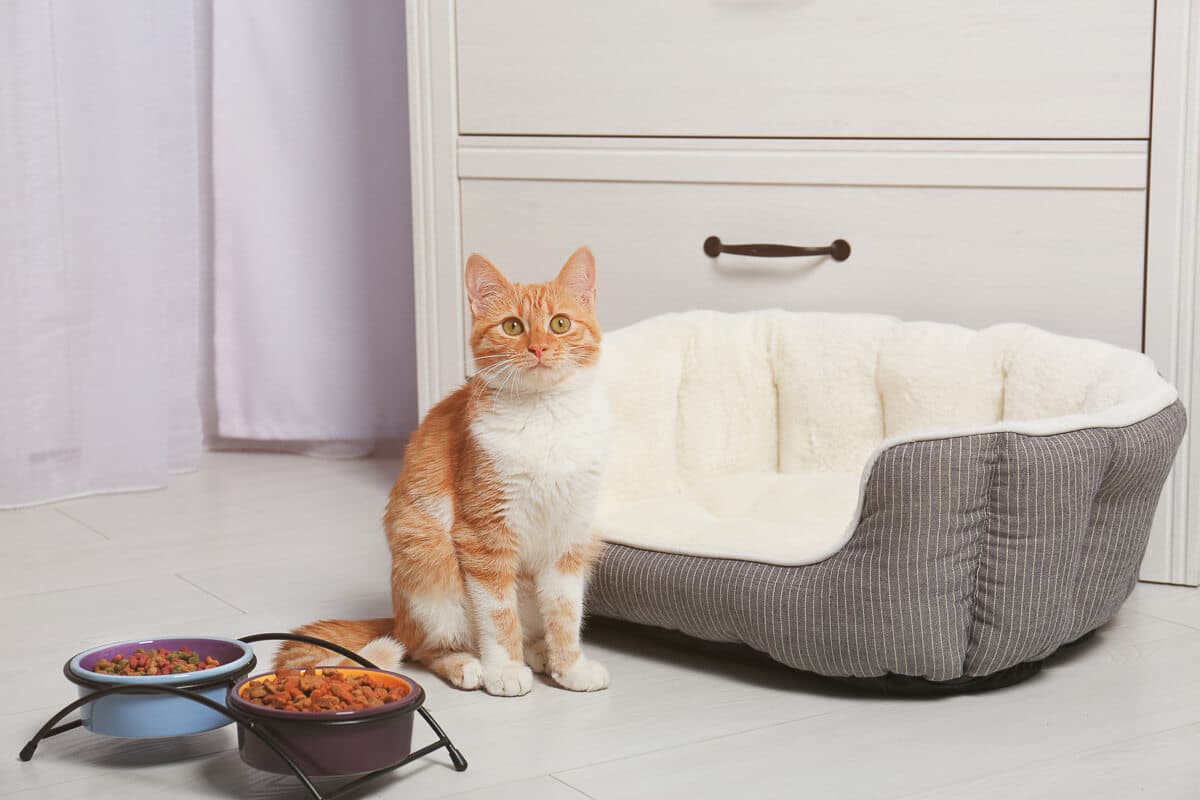 Cats love being able to watch – either you and your family, an aqarium or the outside world. Check out your house and find any spots where your cat loves to sit – particularly window seats – and get her a stylish new place to sit!
We all know that cats love being clean. Why not delight your kitty with a fresh new litter box and some deodorising sprays? Etsy has a fantastic range of natural cat sprays that will complement your stylish home!
5. Gifts based on Everyday Needs
One of the best options for a gift that your cat will love is to up your game when it comes to her scratching post. Try buying a scratching post that is tall enough for your kitty to have a good stretch whilst she is having a scratch – it will also help manicure her nails as well!
Eco Friendly Cat Scratcher
Corrugated Cardboard
Size: 700x220x240 mm
Net weight: 1,7 kg
Material: corrugated cardboard
Handmade
100% eco-friendly materials
Wave Cat Scratching Post
Plus pole & mouse
It has two different places where your cat can sharpen their claws, the wave board & pole at the back have been wrapped with innovative scratching straps,
Or how about a multilayered cat scratching post so your feline can improve its agility whilst it scratches? Remember to check the scratcher material before you buy.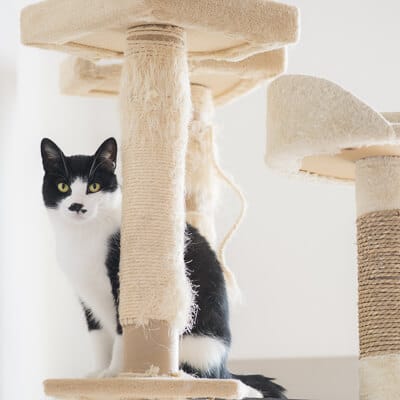 You should buy a cat scratcher that uses material you now that your cat loves to scratch. And always avoid materials similar to any of your soft furnishings or carpets or your cat could start scratching that material wherever she finds it!
6. Personalised Cat Gifts
Okay we know it is unlikely that cats can read. And these gifts are possibly more for the fur parent than the actual kitty. But wouldn't your kitty look fab drinking or eating out of a bowl with its name on it? Or even its photo? Why not have cat gifts for cats?
And remember – no matter how much thought you have put into the gift for your cat or how much money you spend it is inevitable that your cat will get more delight out of the box it comes in vs the gift itself.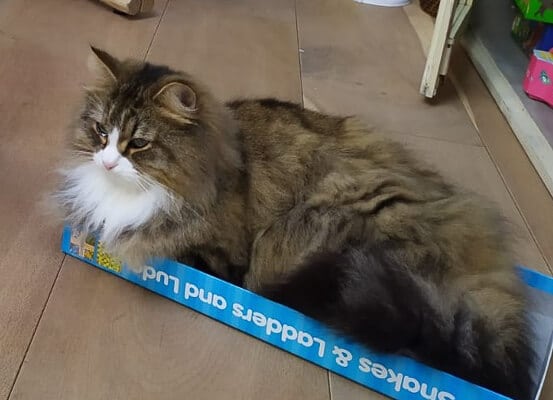 Gifts for Cat Owners
If you're a cat lover the odds are that you know a few more! And you probably know that when it comes to gifts for your cat-obsessed friend something related to their favourite feline will be a winner!
It is hard to go wrong with either having a portrait drawn or painted of someone's cat. Or how about a special photo shoot of them with their kitty and then some framed shots?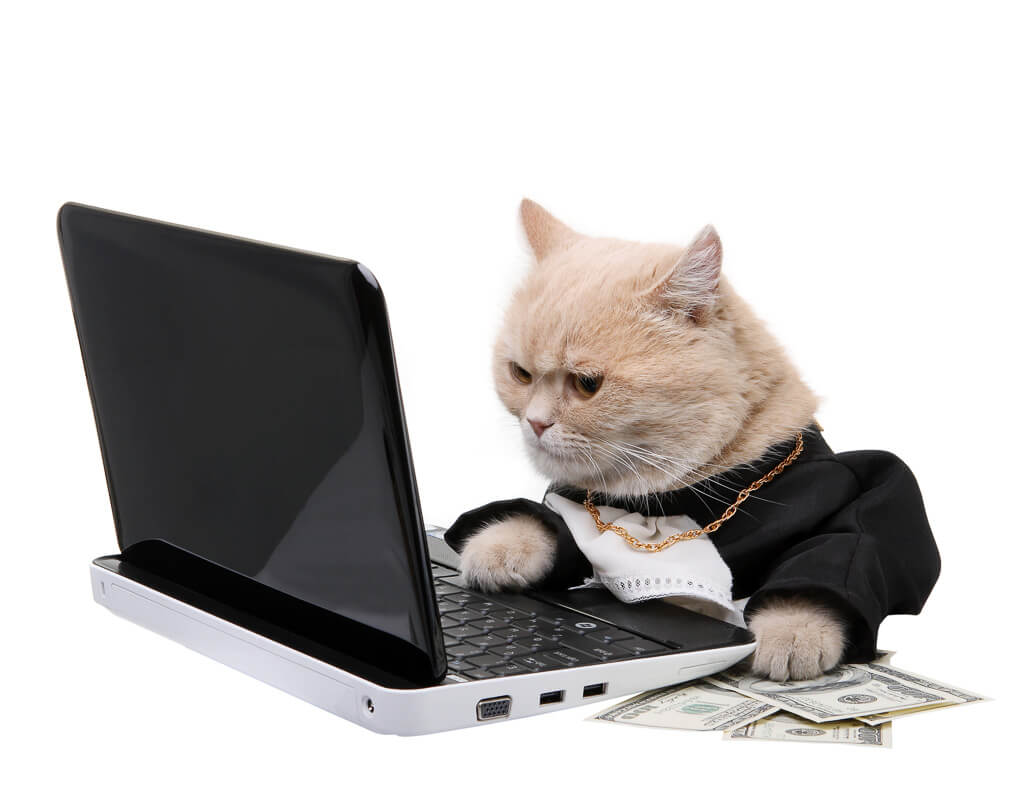 There are many cat books and videos available from those for beginners to those looking to deal with different cat issues – or just to make sure that they have the happiest cat possible.
However, to ensure that you get the perfect cat-related gift for your fellow fur parent start with what kind of cat person that they are and you will be more likely to delight!
1. The Breed Fan
Is your friend true to one breed of cat? Are all of their cats the same breed? Then why not buy them a breed-related gift? Wall calendars can be perfect for breed lovers as they offer up some of the best photos.
Or get them a t-shirt/oven mitt/teatowel that states their love for their breed!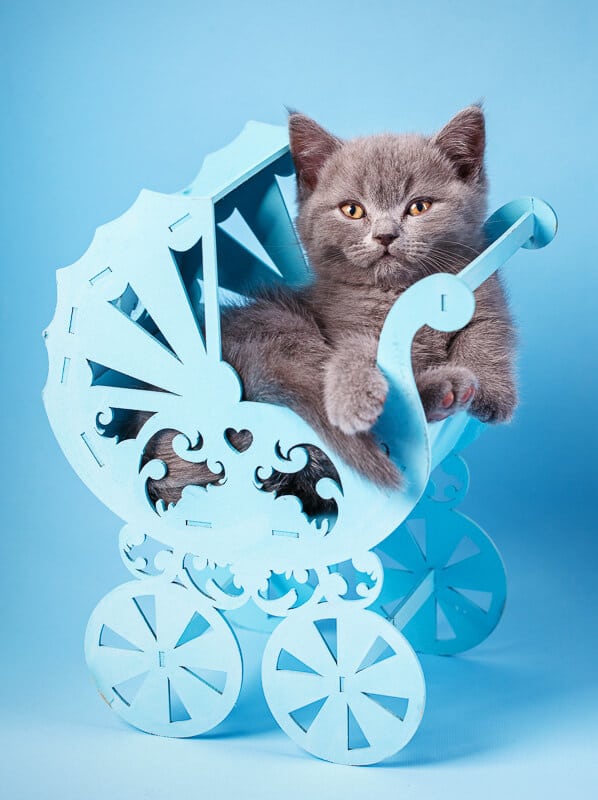 2. The Tiny Kitty Lover
Does your friend like a smaller cat that can head out around town with them? A stylish cat carrier could be a great present. Or make like Taylor Swift and invest in a kitty backpack for them that gives their kitty a window onto the world.
Or how about a handbag that is kitty friendly?
⇒ Keen to get your cat out and about? Check out my posts on Is Cat Walking Possible?, 7 Best Escape Proof Cat Harness Options, 5 Best Carrier for Cats choices, 14 Best Cat Carrier for Car Travel options and 4 Top Travel Litter Box options.
3. Travel Loving Cat Owner
Does your friend love exploring the world? Then how about getting her something that helps her to bring her favourite feline along?
This could be anything from a kitty travel bag (with everything that a cat might need on the road inside) to a natty harness or lead for strutting or even a cat travel tower!
3. It's my Fur Baby
If your friend loves to spoil her cat like it's a baby there are endless gift ideas! This is the perfect cat parent for personalised gifts – personalised about their cats! Anything that can feature their cats name or photo will be treasured.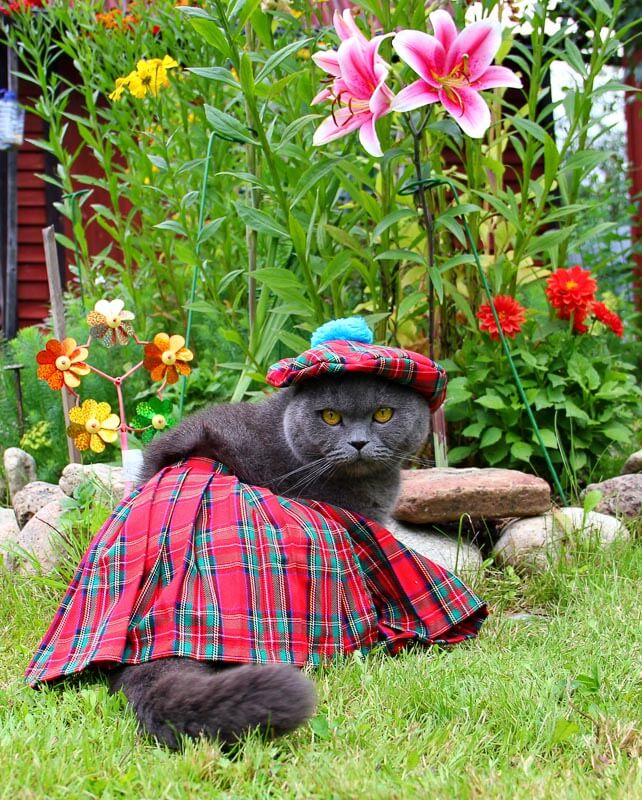 Or how about a cat stroller? Or of course cat clothing? Or even a cat car seat?
For all cat lovers
If the cat lover you are buying for doesn't fit into the above groups you can't go wrong with a voucher. If your friend is immaculate you could get them a cat grooming voucher? Or perhaps a voucher to a stylish online cat retailer?
Please Note: This gifts for cats post contains affiliate links. That means if you click through on most of the links and end up making a purchase I will receive a small commission. This will not effect the price that you pay. I wanted to make sure that you were aware of this.
Like this Gifts for Cats Post? Why Not Pin It?