Keeping your cat healthy, happy, and active is a big responsibility. And taking care of a cat requires us to understand their behavior and what they need when it comes to things like high fiber cat food.
Just like humans, cats can suffer from a number of illnesses and physical problems. This could mean excess weight gain, diabetes, digestive issues, and hairball problems. And more often than not, particular foods can help manage these things.
Considering a high-fiber food can go completely against what you thought you knew about cats. Aren't they supposed to be carnivores who do best when eating meat?
But high-fiber foods may actually be the answer to most of your cat's problems. With the right knowledge, specialist advice, and reputable brands, you can ensure your cat has a well-balanced, healthy diet.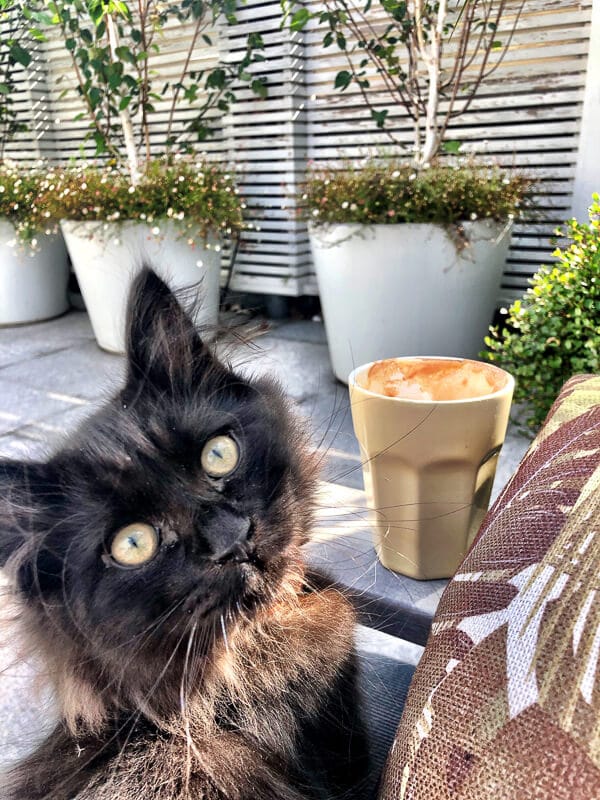 The Effects Fiber Has On Cats
Fiber is a type of carbohydrate that plays a significant role in the movement of food through a cat's gastrointestinal organs.
A large part of this fiber won't get broken down – rather, it acts as a transportation means for the meats that cats have been designed to ingest. This is why it's very important that your cat is not eating too much fiber.
Too much fiber can leave your cat going to the litter box too often, or it can cause constipation and stomach pain.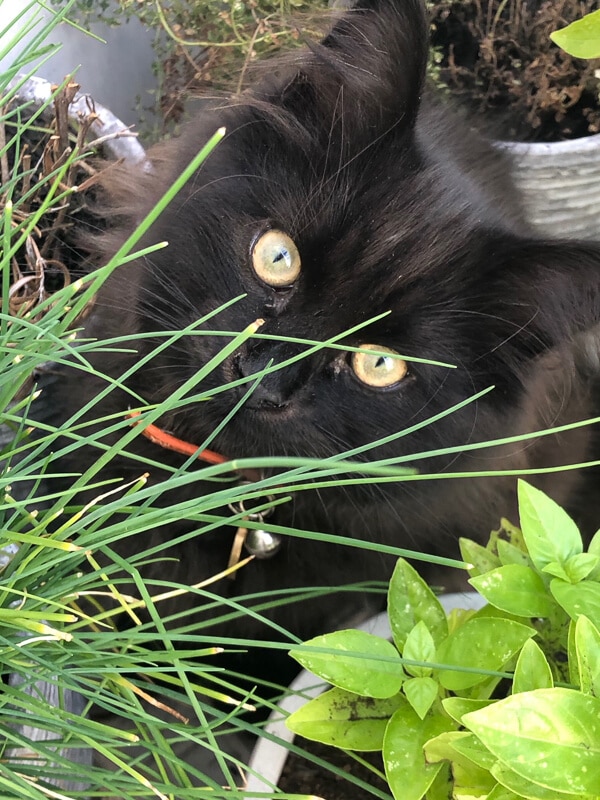 Luckily, we aren't feeding our cats a completely fiber-based diet. Quality high fiber cat foods, like the ones listed below, include fiber that can be fermented and broken down by bacteria.
This, in turn, creates fatty acids, which provide your kitty with energy for the cells that line their intestinal tracts.
⇒ Don't miss my guide to buying Cat Walking products, the 7 Best Escape Proof Cat Harness options and the Best Carrier for Cats.
⇒ Got a new kitty on the way and looking for some names? Check out my posts on 12 Greek Cat Names , 11 Egyptian Cat Names, 12 Best Cat Food Names, 50+ Creative Names for Black Cats, 12 Bang On Irish Cat Names, 11 Movie Cat Names, 12 Sensational Siamese Cat Names, 12 Black and White Cat Names, 19 Awesome Bengal Cat Names, 11 Ginger Cat Names, 9 Best White Cat Names and the 16 Best Disney Cat Names
Which Cats Need Fiber in their Diet?
Let's think back to the time when cats weren't kept as house pets. Cats would have been feasting on unlucky prey, such as rodents and birds. The bones and fur were their main source of fiber.
But nowadays, we have lazy house cats, adventure-seeking kitties, and cats that are dealing with special dietary needs. In all these cases, fiber is needed to keep your kitty healthy and happy!
Fiber can help with these issues:
Cats who suffer from diarrhea as it absorbs moisture
Constipated cats whose food can't pass easily
Overweight cats who like to spend a lot of time indoors
Cats who suffer from hairballs
Older cats who struggle to digest food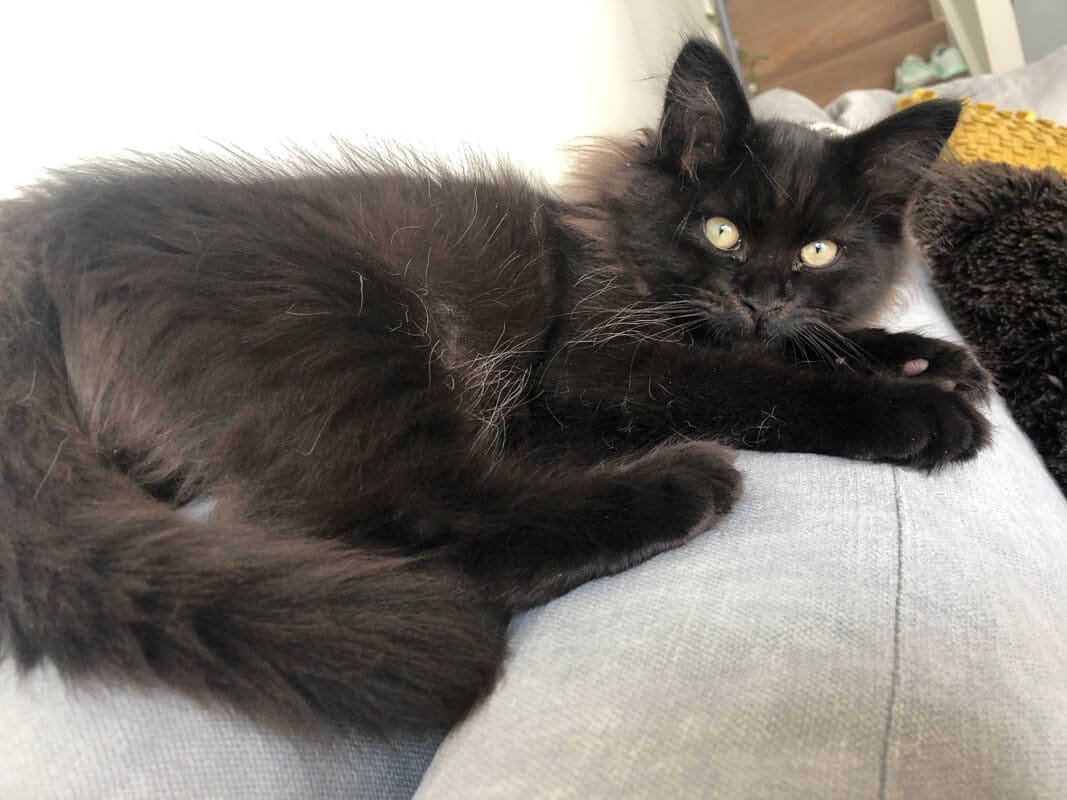 Picking a High Fiber Cat Food
Cats are more satisfied with a diet that consists largely of meat proteins, as opposed to plant-based material. But it's absolutely essential that they receive fiber-rich foods.
Choose fiber foods that contain both soluble (dissolves in water) and insoluble fiber (remains intact when moving through the digestive tract)
It's important that the fiber is high-quality so that it can be digested by your kitty.
In unique situations, like when your cat suffers from hairballs, pick foods especially high in fiber.
⇒ Looking for the perfect collar for your kitty? Check out my posts on 6 stylish leather cat collars, the 7 best GPS Cat Collar Options, 8 stylish and fun Christmas cat collar choices, 6 best flea collar for Cats, 4 best Cameras for cat collars and 6 Spooky Halloween cat collar options.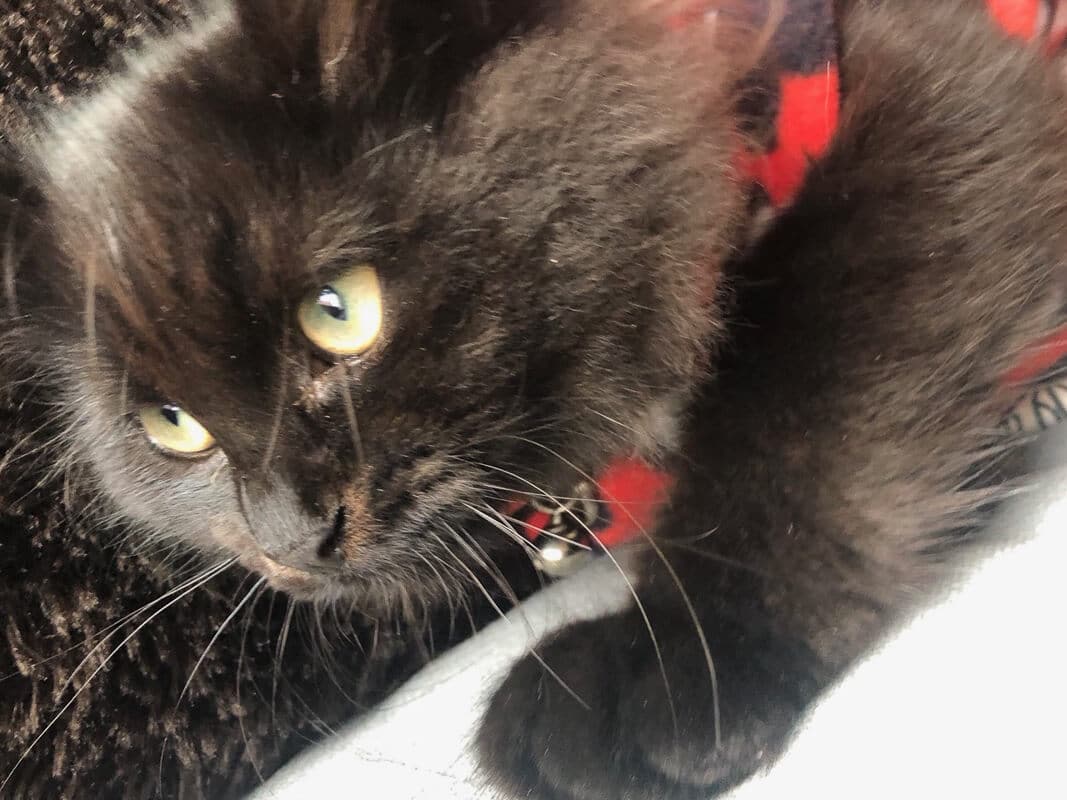 The decision to move your cat on to high fiber foods needs to be made with the help of your vet. Too much fiber may cause damage to your baby. If your cat suffers from dental issues, exponential weight-loss and gastrointestinal, a high-fiber diet is not the right choice.
⇒ For everything you need to know about taking care of your finicky feline check out my guide to How to Groom a Cat, Ultimate Persian Cat Grooming Guide, the Best Cat Brush, Caring for Cats guide and my quick cat check up guide.
Best High Fiber Cat Foods
High fiber foods can be found online, but keep in mind, you may need a prescription for some. Here's a list of top-quality, high fiber foods in both the US and the UK.
Royal Canin Fibre Response Adult Dry Cat Food
Royal Canin is a trusted brand found all over the world. And their fiber response dry food is another reason why they have such a good reputation. This high fiber food provides everything your kitty would need for a healthy, active lifestyle.
As well as being an effective daily supplement, this dry food provides added nutrients for when cats are suffering from vomiting, diarrhea, and appetite loss. With added prebiotics, the food supports good gut bacteria health.
⇒ Keen to get a better understanding of why your cat behaves as it does? Check out my posts on What Smells do Cats Hate, Why Does my Cat Lick my Nose?, Why do cats roll in the dirt, Why Does my Cat Lay on my Chest , Why Does my Cat Sleep on my Legs, How Often do Cats Pee, How to Pet a Cat, Why do Cats Chase Their Tails?, What Does it Mean When a Cat Rubs Against you , Why Does my Cat Sit on Me? , Why do Cats Purr when you Stroke them? , How to Train a Cat Not to Bite, Why do Cats Knead their Owners? , Why do Cats Arch their Back, How to Get a Cat to Eat, Why Doesn't My Cat Purr?, Why Does my Cat Attack Me, Why Do Cats Lick Each Other? , What Does it Mean When a Cat Licks you? , Why Do Cats Bite Their Nails? and What Does it Mean when a Cat Headbutts you?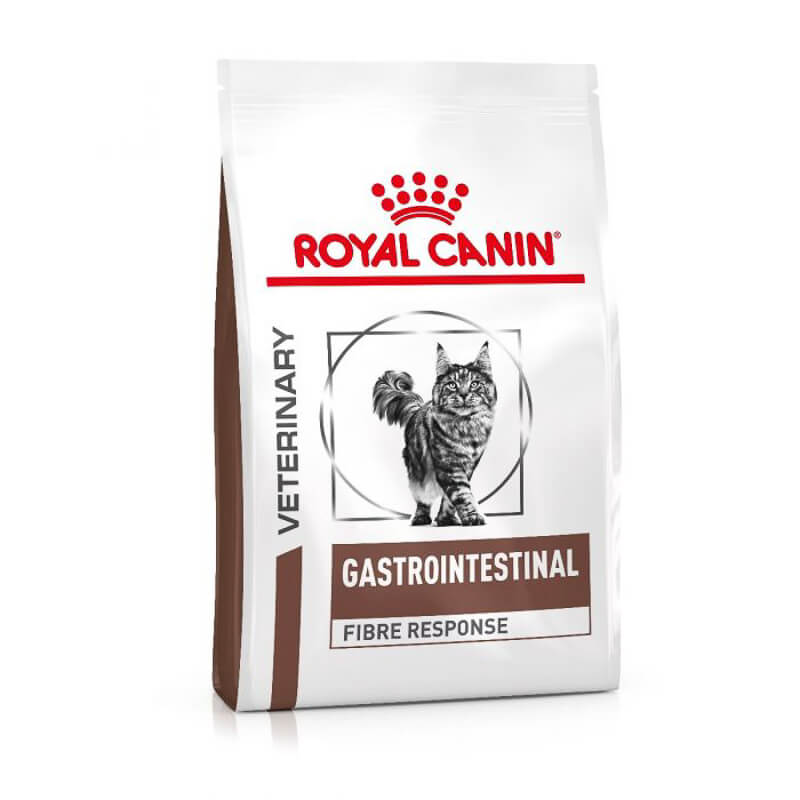 This brand also includes added Omega-3 fatty acids, derived from fish oil, which nourishes and soothes an upset tummy. It also supports urinary health and prevents bladder crystals from forming.
All of these benefits are delivered with lower calories, so your best friend will remain at a healthy weight. And with the blend of fiber, the food aids in intestinal movement which helps reduce digestive and stomach upset.
⇒ Shop USA Royal Canin Fibre Response Adult Dry Cat Food
⇒ Shop UK Royal Canin Fiber Response Adult Dry Cat Food
⇒ For all things fun with your kitty check out my guides to clothing for cats, the best toys for cats, great gifts for cats and my annual cat planner for kitty photo opportunities across the year.
Hill's Prescription Diet Feline Gastrointestinal Biome Chicken
High fiber foods are all about achieving good gut health. This Hill's prescription gastrointestinal food has been designed using a holistic approach to dietary requirements. As we know, there needs to be a balance between fiber and protein.
The blend of active fibers found in this product allows for food to easily pass through, and break down your kitty's breakfasts and dinners. With a good release of bacteria, their gut health will also be optimized, which essentially allows regular bowel movements.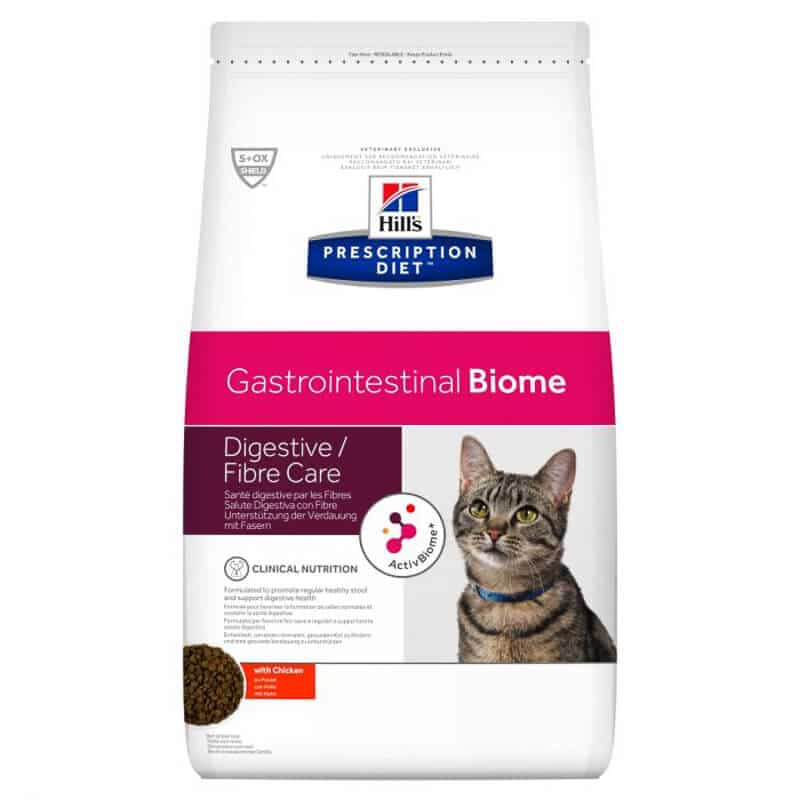 If you have an older cat or a cat with dental issues, these kibbles can be soaked in warm water with chicken stock added. This leaves a soft, warm, and delectable meal for your kitty!
⇒ Shop USA Hill's Prescription Diet Feline Gastrointestinal Biome Chicken Dry Food / Wet Food
⇒ Shop UK Hill's Prescription Diet Feline Gastrointestinal Biome Chicken Dry Food
⇒ Check out my guides to the Best Cat Products, Travel Litter Box, and the Best Cat Litter
Royal Canin Veterinary Diet Calorie Control CC High Fiber
This high fiber canned food is a fantastic choice for those aiming at providing their cats with complete and balanced nutrition. It's specifically made for indoor cats who like to spend the majority of their time lounging around the house and enjoying their owner's company.
Royal Canin has designed this food to provide optimal levels of protein, which will provide cats with energy, and fiber. The fiber is made up of a combination of soluble and insoluble fibers, leaving your kitty feeling full in order to maintain a healthy weight.
⇒ Thinking about what kind of kitty you would like? Check out my posts on the 9 Most Expensive Cat breeds, 10 Snuggly Flat Faced Cat Breeds, 7 Strange and Weird Cat Breeds, 11 Indoor Cat Breeds, 14 Cutest Cat Breeds, 12 Most Friendly Cat Breeds, 8 Fluffiest Cat Breeds, 9 Super Cool Cat Breeds, 11 Rare Cat Breeds, 8 Small Cat Breeds, 9 Big Ear Cat Breeds, 13 Big Eyed Cat Breeds, 10 Tuxedo Cat Breeds, 9 Gorgeous Grey Cat Breeds, 8 Garfield Cat Breeds, Siberian cat colors, Maine Coon Personality and the ultimate Siberian Cat personality profile.
The wet food contains a blend of antioxidants made up of vitamin C & E, lutein, and taurine (which supports the immune system).
⇒ Shop USA Royal Canin Veterinary Diet Calorie Control CC High Fiber Wet Food
⇒ One of the best places to get some fantastic cheap and cheerful cat clothes and accessories online is AliExpress. If you're in the USA, check out Chewy for some great options.
Royal Canin Intense Hairball 34 Adult Cat Dry Food
This Royal Canin intense hairball food has been specifically designed for indoor cats who are prone to hairballs. A large part of a cat's day involves grooming, and hairs are too often swallowed.
Swallowed hair becomes trapped in their digestive tract, forming hairballs that are emitted through their stools. This is often an uncomfortable process for cats and can lead to constipation.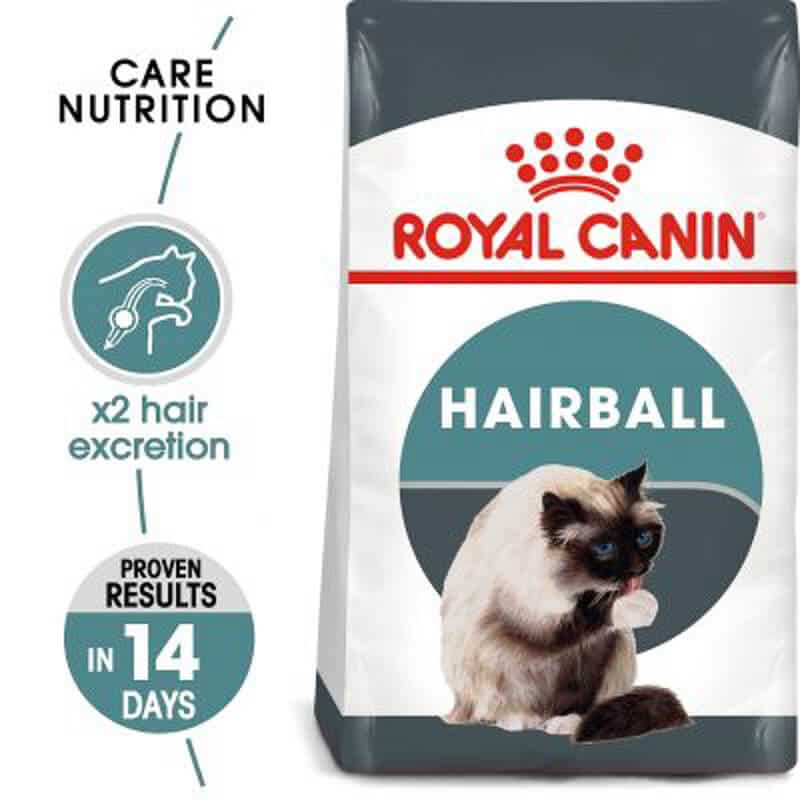 This specific blend of dietary fibers includes psyllium seed husk and insoluble fibers that naturally stimulate healthy gut flow. Being high in fiber, the food encourages daily elimination, which will prevent hair from getting trapped and creating hairballs.
Along with fiber, this food consists of amino acids for strong eyes and heart, a unique kibble shape that prevents plaque build-up, and 34% protein.
⇒ Shop USA Royal Canin Intense Hairball 34 Adult Cat Dry Food
⇒ Shop UK Royal Canin Intense Hairball 34 Adult Cat Dry Food
⇒ About to become a fur parent? Check out my Complete Guide to How to Look After a Kitten.
American Journey Turkey and Chicken Recipe Grain-Free Dry Cat Food
While many companies opt to include excess wheat products into their food to increase fiber, it may not always work for your cat. American Journey's grain-free dry cat food uses alternatives to soy, wheat products, and artificial preservatives.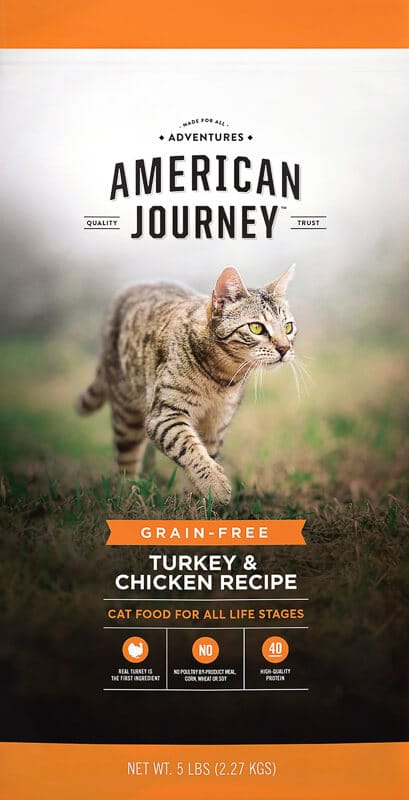 As well as featuring 40% protein, the dry food is made up of wholesome fruit and vegetables for that added bonus of fiber. The added powerful nutrients and essential amino acids will keep your kitty going for a full day of adventures.
Like taurine, which helps with heart and eye health, and fatty omega acids, which help your kitties coat and skin look silky and healthy.
⇒ Shop US American Journey Turkey and Chicken Recipe Grain-Free Dry Cat Food
Blue Buffalo Wilderness Chicken Recipe Grain-Free Dry Cat Food
This Blue Buffalo Wilderness dry food is the perfect combination of what cats need most: high-quality protein and natural sources of fiber.
The food is packed with chicken, which keeps them lean and healthy. And it's also loaded with the best, healthy carbohydrates, like sweet potato, flaxseeds, and peas – the greatest fuel for adventure-seeking cats.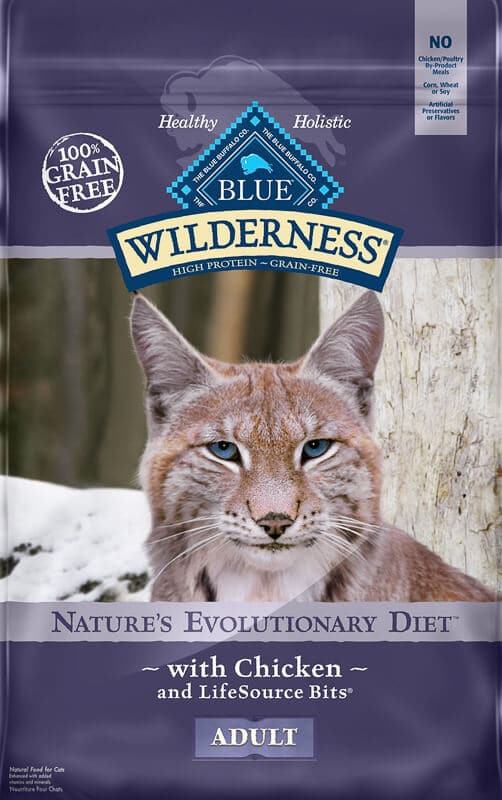 In total, it has a 7.4% fiber content. This is especially impressive because they don't bulk their product up with wheat and soy, like less reputable brands.
As an added plus, this product contains LifeSource Bits. This blend of vitamins, antioxidants, and minerals support a balanced, healthy immune system.
⇒ Shop US Blue Buffalo Wilderness Chicken Recipe Grain-Free Dry Cat Food
⇒ Check out my guides to the best treats for cats, high-calorie cat food, high fiber cat food, low protein cat food, best food for cats with ibd, best cat foods for older cats that vomit, best food for constipated cats, can cats each cashews, can cats eat raspberries, best kitten dry food and a complete cat feeding guide wet and dry food.
Final Thoughts on High Fiber Cat Foods
Your cat's well-being directly relates to what you're feeding them. Food can help tackle a number of different health-related issues. This is why seeking specialist opinions and sourcing high-quality food is an important part of owning a cat.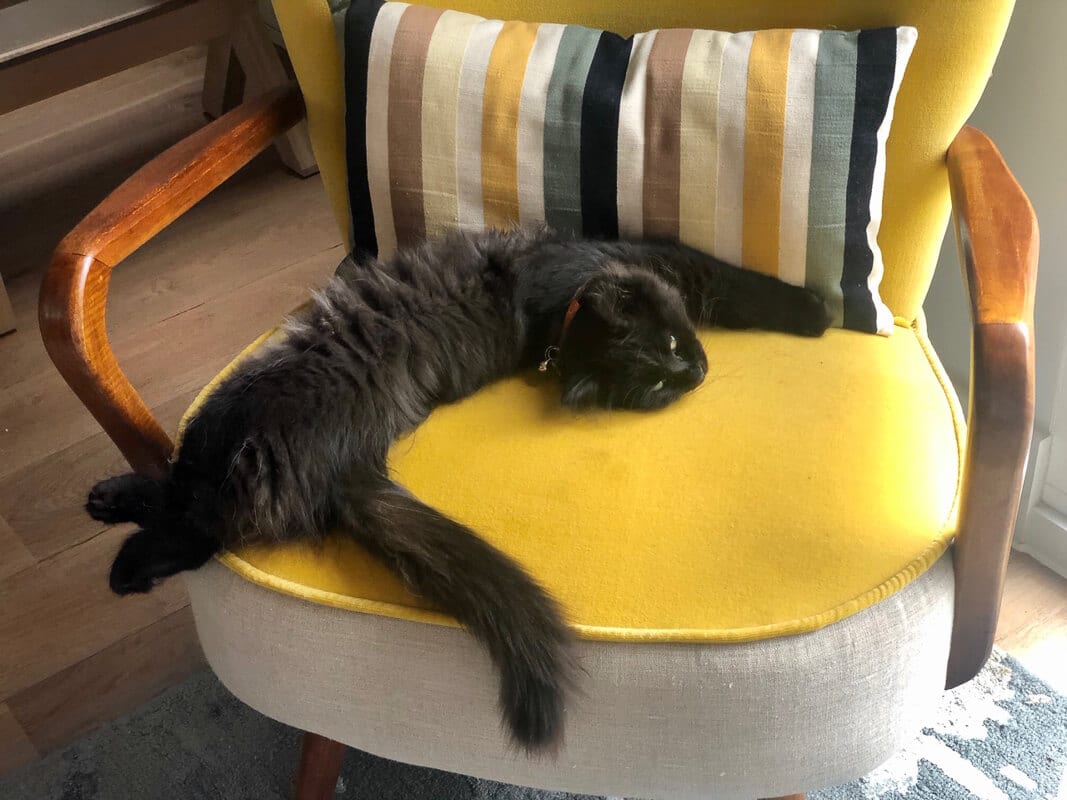 Not only do cats need fiber for energy, but they also need fiber to ensure that food is properly digested and excreted regularly. In the end, this means your cat can gain all the benefits of their protein consumption, without missing out on essential nutrients.
Please Note: This high fiber cat food post contains affiliate links. That means if you click through on most of the links and end up making a purchase I will receive a small commission. This will not effect the price that you pay. I wanted to make sure that you were aware of this.
Like this High Fiber Cat Food Post? Why Not Pin It?