Interested in finding a luxurious feline from one of the expensive cat breeds to join your family? Choosing a specific breed can help you know what kind of personality, health risks, and other characteristics you can expect from your cat.
If you'll spare no expense for the perfect kitty, you're sure to find it here.
With wonderful personalities and unique looks, these nine cat breeds are some of the most expensive in the world. But you'll easily see why they've got such a hefty price tag attached.
1. Expensive Cat Breeds: Savannah Cats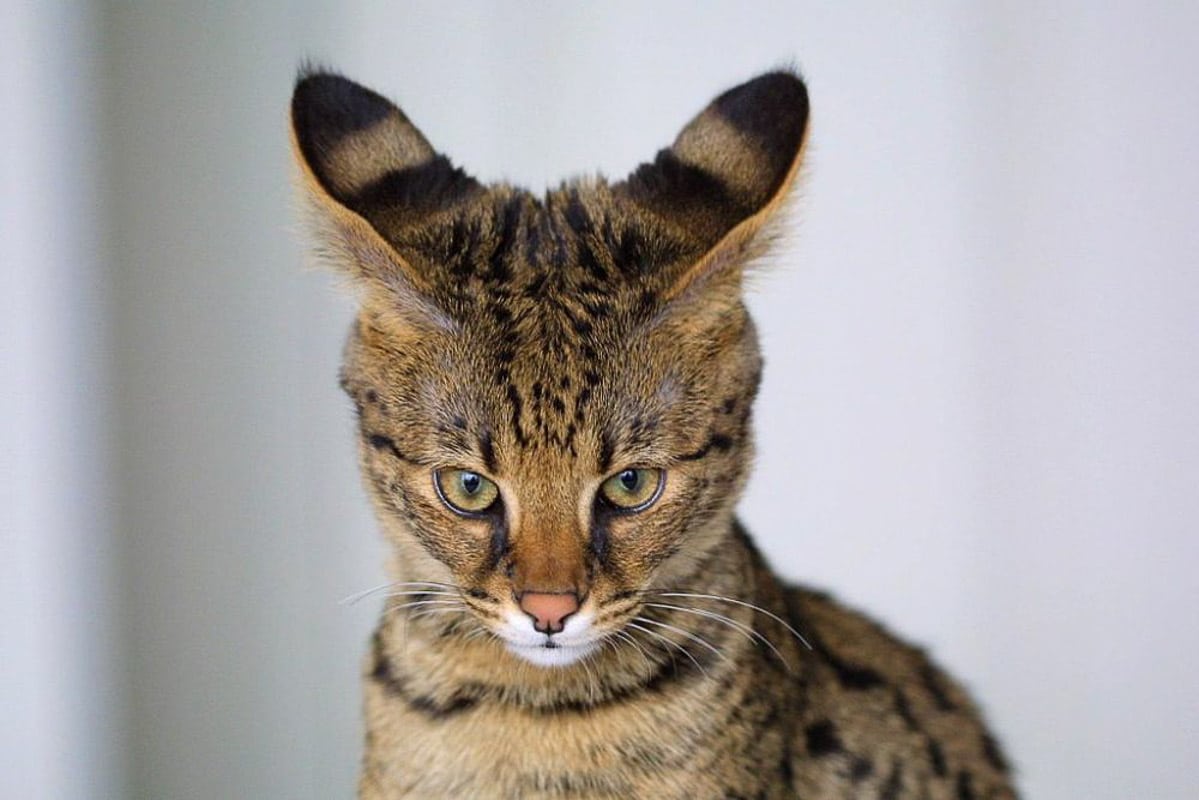 This exquisite feline is the most expensive domestic cat in the world. The Savannah cat is a hybrid of the African Serval cat and the domestic Persian. Their stunning coats are marked with black spots, and their ears are tall and pointed.
Savannahs are so costly due to their breeding. It takes luck – and often a number of years – to mate a serval and a domesticated cat.
They bond with only a few people and are known to be very loyal. They're very inquisitive and have an impressive ability to jump – even onto fridges and high walls. They have quite a strong hunting instinct, so if you keep birds or fish, your Savannah cat will likely eye them daily.
Because of this hunting instinct, it's important to look at your country and city's ownership laws before you decide to invest in this feline. Some areas have restrictive laws because these large cats can threaten native species.
⇒ Don't miss my guide to buying Cat Walking products, the 7 Best Escape Proof Cat Harness options and the Best Carrier for Cats.
⇒ Got a new kitty on the way and looking for some names? Check out my posts on 12 Greek Cat Names , 11 Egyptian Cat Names, 12 Best Cat Food Names, 12 Bang On Irish Cat Names and the 16 Best Disney Cat Names
2. Siberian Cats
My own feline friend, Alexei, is a Siberian, so I'm particularly partial to this amazing breed. With a thick, luxurious coat, stunning colors and affectionate personality, Siberians are well-suited to any home.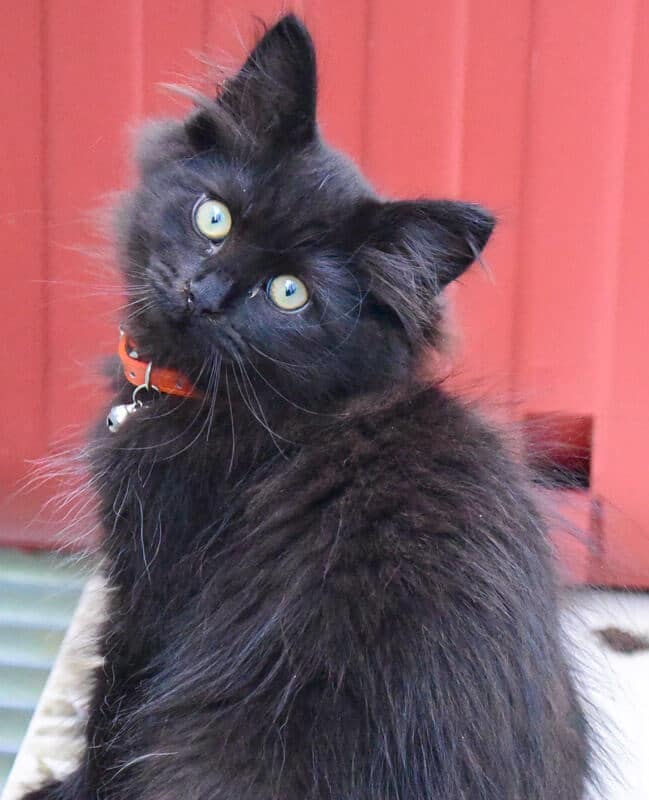 They're laid-back but enjoy playing, and are very attached to their humans. You'll often find your Siberian cat following along behind you and cuddling up as soon as you take a seat.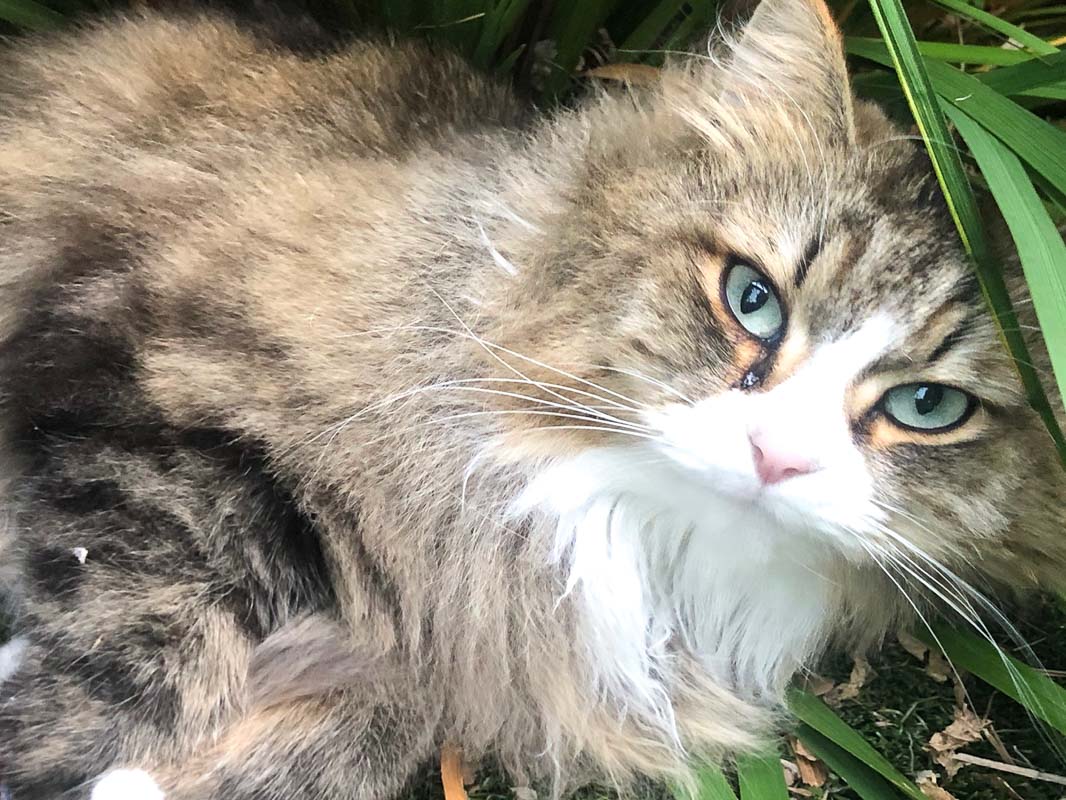 As you may expect, this loving cat comes from Siberia in Russia, so they're well suited to cold conditions. It's an ancient breed thought to be ancestral to all modern long-haired cats. That's quite the pedigree.
⇒ Thinking about what kind of kitty you would like? Check out my posts on the 9 Most Expensive Cat breeds, 10 Snuggly Flat Faced Cat Breeds, 7 Strange and Weird Cat Breeds, 11 Indoor Cat Breeds, 14 Cutest Cat Breeds, 12 Most Friendly Cat Breeds, 8 Fluffiest Cat Breeds, 11 Rare Cat Breeds, 13 Big Eyed Cat Breeds, Siberian cat colors, Maine Coon Personality and the ultimate Siberian Cat personality profile.
3. Norwegian Forest Cat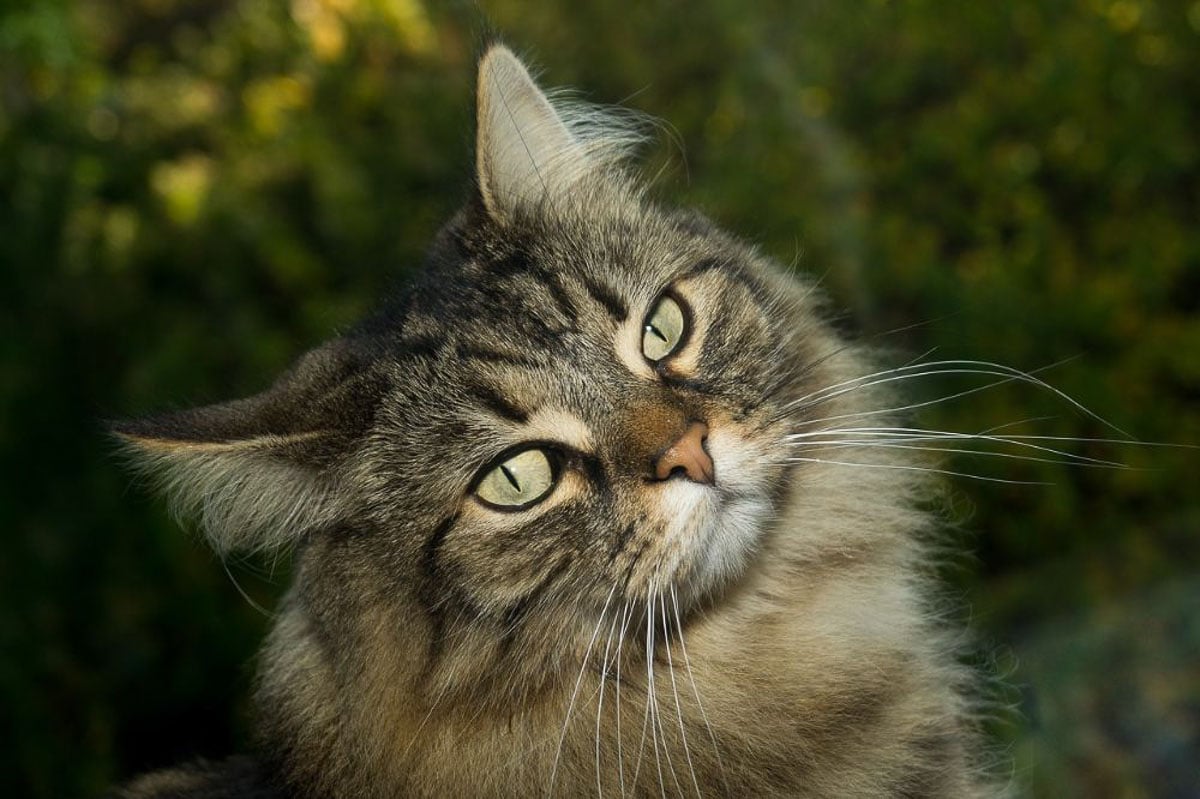 Also known by its Norwegian name – Skogcatt – the Norwegian Forest Cat has been around for centuries. Very handy for ridding houses and farms of mice, they've only recently become popular in Europe and the States.
These fluffy felines are large cats, with long fur. They're independent, alert, and very clever.
Norwegian Forest cats usually prefer their own space. This expensive cat breed loves a good chin scratch though, and they're loving without being attention-seeking.
They're also amazing climbers, and you'll often find them sitting in the very tops of trees before hurtling down headfirst. For smaller homes, a cat climber and scratching post is handy.
⇒ For everything you need to know about taking care of your finicky feline check out my guide to How to Groom a Cat, Ultimate Persian Cat Grooming Guide, the Best Cat Brush, Caring for Cats guide and my quick cat check up guide.
4. Russian Blue Cats
With emerald-green eyes and a luxurious silvery coat, Russian Blues are a startlingly pretty breed. The Russian Blue is sweet-tempered and fine-featured, with long legs that allow it to run at high speeds.
This expensive breed of cat really enjoys play and requires a good bit of attention when you get home. Although, they do enjoy napping in a quiet corner and tend to shy away from large groups.
Often demanding at mealtimes, these happy felines can get quite chunky if you're not firm. Russian Blue cats are another very intelligent breed, so it's important to provide enough mental and physical stimulation to keep them happy.
⇒ For all things fun with your kitty check out my guides to clothing for cats, the best toys for cats, great gifts for cats and my annual cat planner for kitty photo opportunities across the year.
5. Ragdoll Cats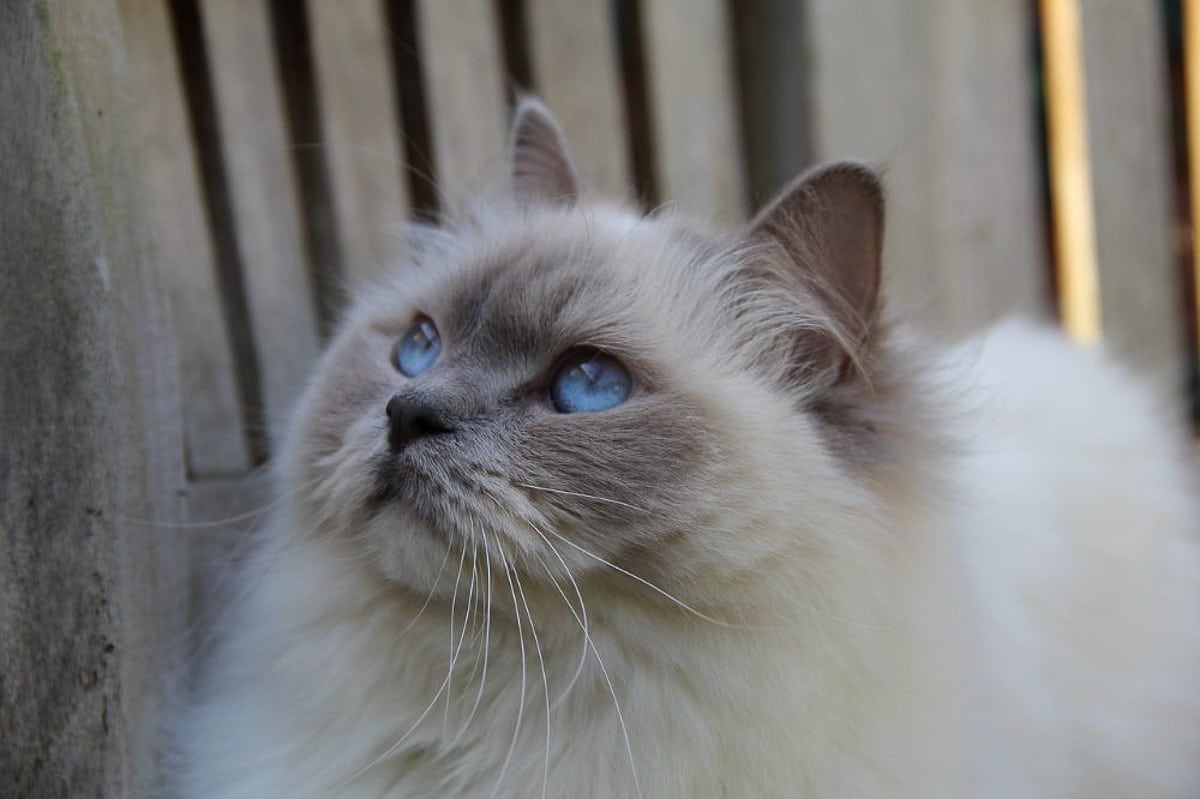 Playful and friendly, with stunning blue eyes, the Ragdoll cat is a famously fun pet. Their most fascinating feature is their tendency to lie limp when you pick them up (as opposed to most cats, who squirm out of your hold as soon as they can).
Ragdoll cats are loyal, and often greet their humans at the door. They're also great with dogs and children, making them perfect for families.
With a sweet and gentle temperament, Ragdolls are super relaxed with strangers and will seek a bit of love from everyone. This is one of the friendliest expensive cat breeds.
⇒ Check out my guides to the best treats for cats, high-calorie cat food, high fiber cat food, low protein cat food, best food for cats with ibd, best cat foods for older cats that vomit, best food for constipated cats, best kitten dry food and a complete cat feeding guide wet and dry food.
6. Egyptian Mau Cat
A rare breed with a beautifully spotted coat, the Egyptian Mau cat is a historic breed. It has a medium-sized but muscular build, with longer hind legs. They are the fastest domestic cat breed in the world!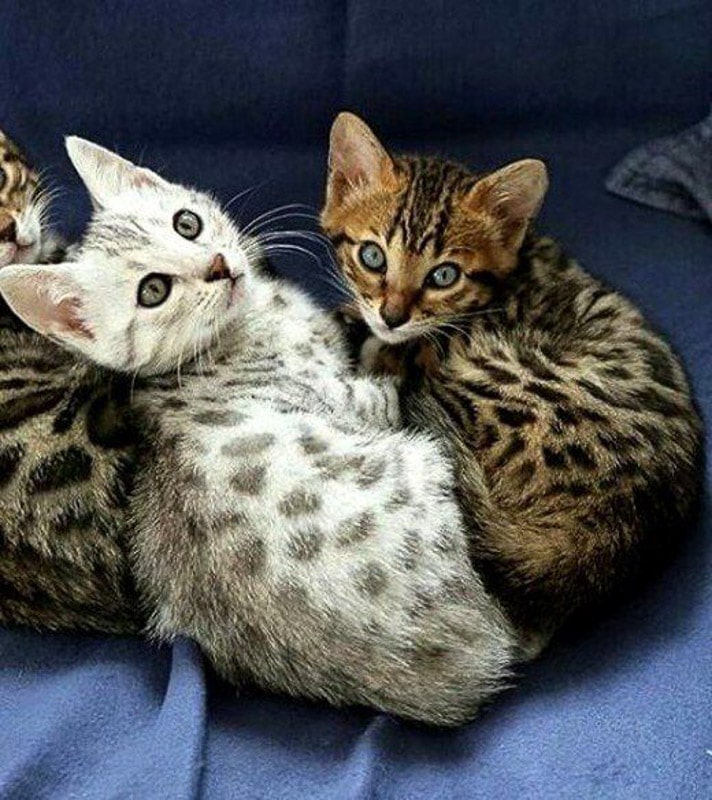 Egyptian Mau cats prefer heat and are quite sensitive to temperature. So if you live somewhere very cold, keep this in mind.
With a balanced temperament and a preference for activity, it's best to have a large garden for your Mau cat. They're very loyal and cheerful, and love snuggles. Smart enough to turn on the faucet, Egyptian Mau cats also love playing with water.
⇒ Check out my guides to the Best Cat Products, Travel Litter Box, and the Best Cat Litter
7. American Wirehair Cat
Another rare breed of domestic cat, the American Wirehair cat is characterized by its unique coat of springy, crimped hairs.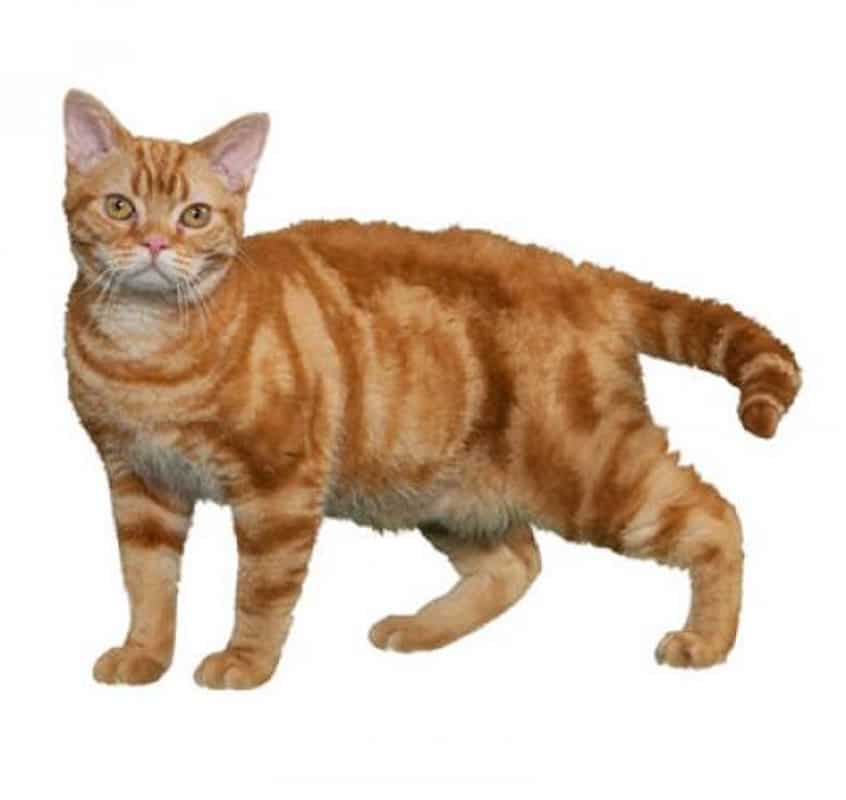 Wirehair cats are stocky and strong, with a calm but sociable personality. They love playtime but aren't very talkative. They also bond with every member of the household, making them an easy part of the family. American wirehair cats love to spend time soaking up the sun.
All Wirehairs can be traced back to a spontaneous mutation that occurred in 1966. That's why they're such a rare breed – their unusual coat simply can't be replicated.
⇒ About to become a fur parent? Check out my Complete Guide to How to Look After a Kitten.
8. American Curl Cat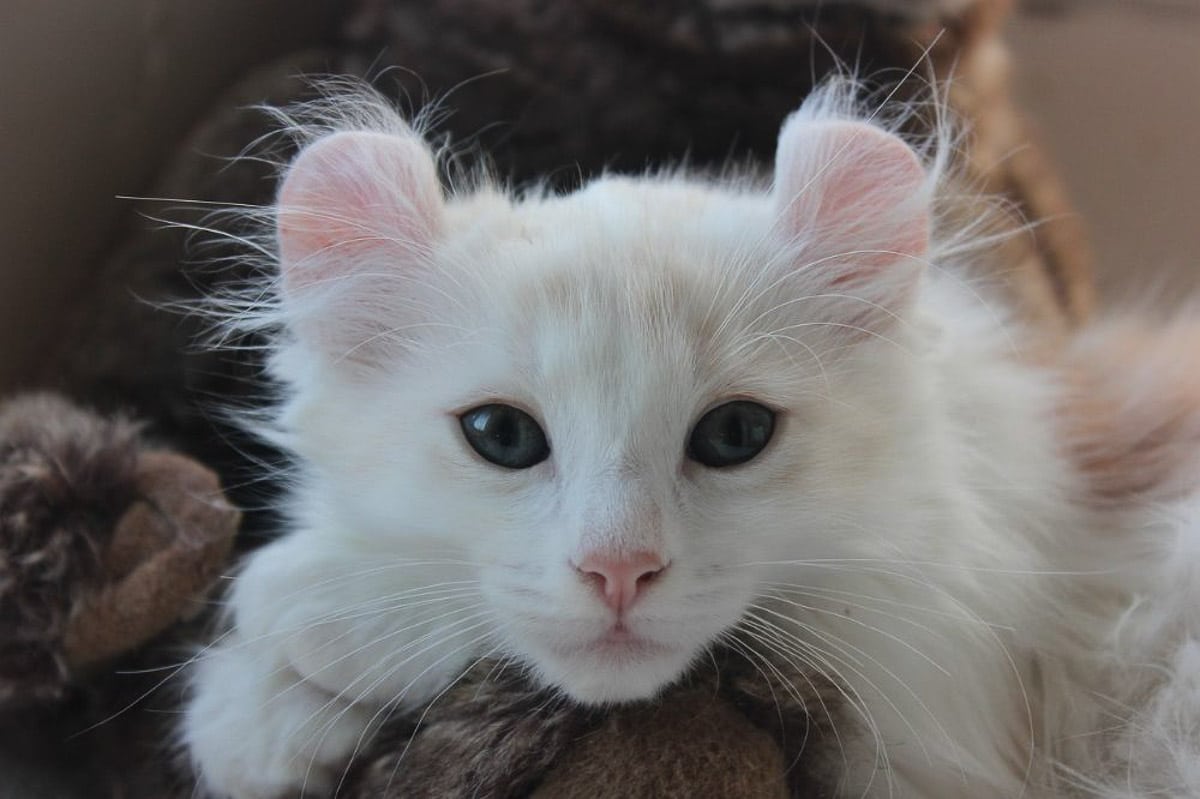 These happy kitties are affectionate, healthy, and talkative. The name refers to the unique ears of the American Curl Cat, which curl backward in a particularly sweet way.
Like the Wirehair cats, American curl cats are all descended from a single natural genetic mutation. They're one of the youngest cat breeds, having moved from stray to pedigreed in just six years.
Curious, clever, and people-loving, the American Curl is perfect for families. They love to greet people with a little head bump or a rub against the legs. Curls are also active and adaptable, with older Curls known to be just as active as younger ones.
⇒ Looking for the perfect collar for your kitty? Check out my posts on 6 stylish leather cat collars, the 7 best GPS Cat Collar Options, 8 stylish and fun Christmas cat collar choices, 6 best flea collar for Cats, 4 best Cameras for cat collars and 6 Spooky Halloween cat collar options.
9. Sphynx Cats
A very unusual and pricey cat breed is the regal Sphynx. Well-known for its hairless coat, the Sphynx cat is a wonderfully friendly and playful cat – and they're certainly striking.
The Sphynx cat breed is not actually hairless – it's covered in a light downy layer of hair that feels like suede or peach fuzz.
Despite their stern expression, Sphynx cats are energetic and often goofy tricksters. Acrobatic, energetic, and curious, you'll see them bouncing around the home with enthusiasm. They're also very loyal cats, and this expensive cat breed loves to be involved in family activities.
Because of their energetic and loving personality, the Sphynx takes a fair bit of work. They're also susceptible to sunburn and skin damage, as well as getting cold easily. This makes them best suited to the indoors – but there are cat sweaters you can get to keep your Sphynx snug and safe.
⇒ About to become a fur parent? Check out my Complete Guide to How to Look After a Kitten.
In Summary: Expensive Cat Breeds
There you have it – the most impressive and expensive cat breeds in the world. These domestic kitties are loving and joyful, with few health risks and strong pedigrees.
Each breed has its own specific traits that make them well-suited to different homes and environments. So be sure to choose your feline friend based not only on the price-tag but also on whether you're well-suited to each other. If you do, you can't go wrong.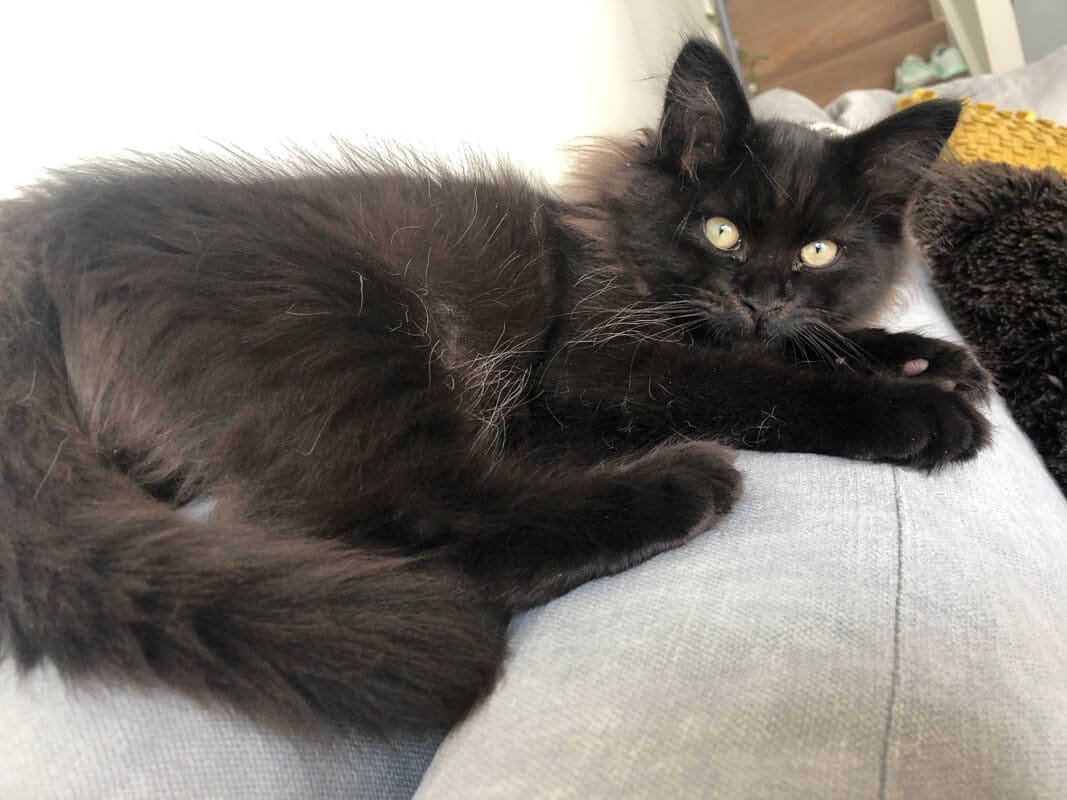 Please Note: This Expensive cat breeds post contains affiliate links. That means if you click through on most of the links and end up making a purchase I will receive a small commission. This will not affect the price that you pay. I wanted to make sure that you were aware of this.
Check out my Expensive Cat Breeds Web Story
Like this Expensive Cat Breeds Post? Why Not Pin It?