Although we always seem to hear about black cats the most, grey is a very common cat coat colour. Grey is often called blue in the world of kitties. Cats come in solid shades of grey as well as grey patterns for tabbies.
Many of the popular cat breeds have grey as an option and there are three exclusively grey cat breeds as you will read below.
Grey cats can shimmer and I think they are particularly beautiful in a tabby design. Grey coats are shown off particularly well against blue eyed cat breeds.
Here are my 10 grey cat breeds.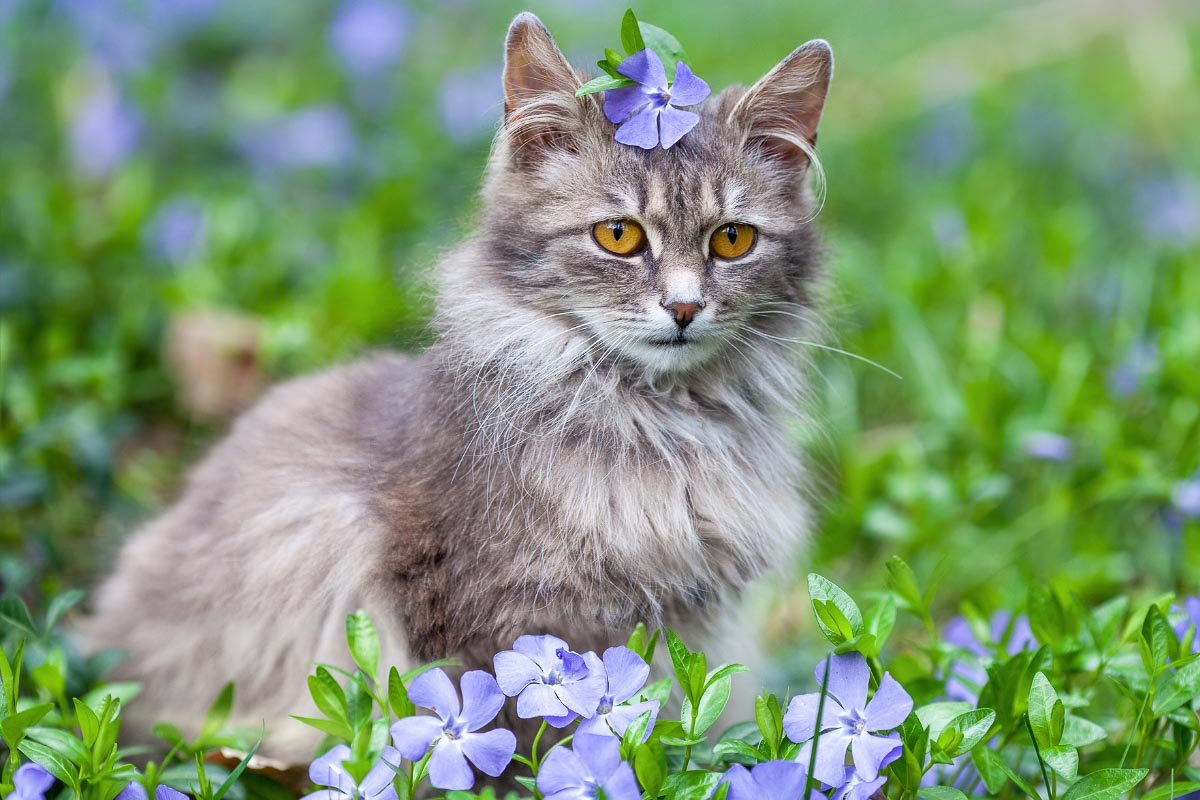 9 Grey Cat Breeds
1. Russian Blue
All Russian Blue cats are grey. They are a medium haired version of the Nebelung breed (see below) with a plush coat. Russian Blues are one of the most famous grey cat breeds.
With emerald-green eyes and a luxurious silvery coat, Russian Blues are a startlingly pretty breed. The Russian Blue is sweet-tempered and fine-featured, with long legs that allow it to run at high speeds.
With emerald-green eyes and a luxurious silvery coat, Russian Blues are a startlingly pretty breed. The Russian Blue is sweet-tempered and fine-featured, with long legs that allow it to run at high speeds.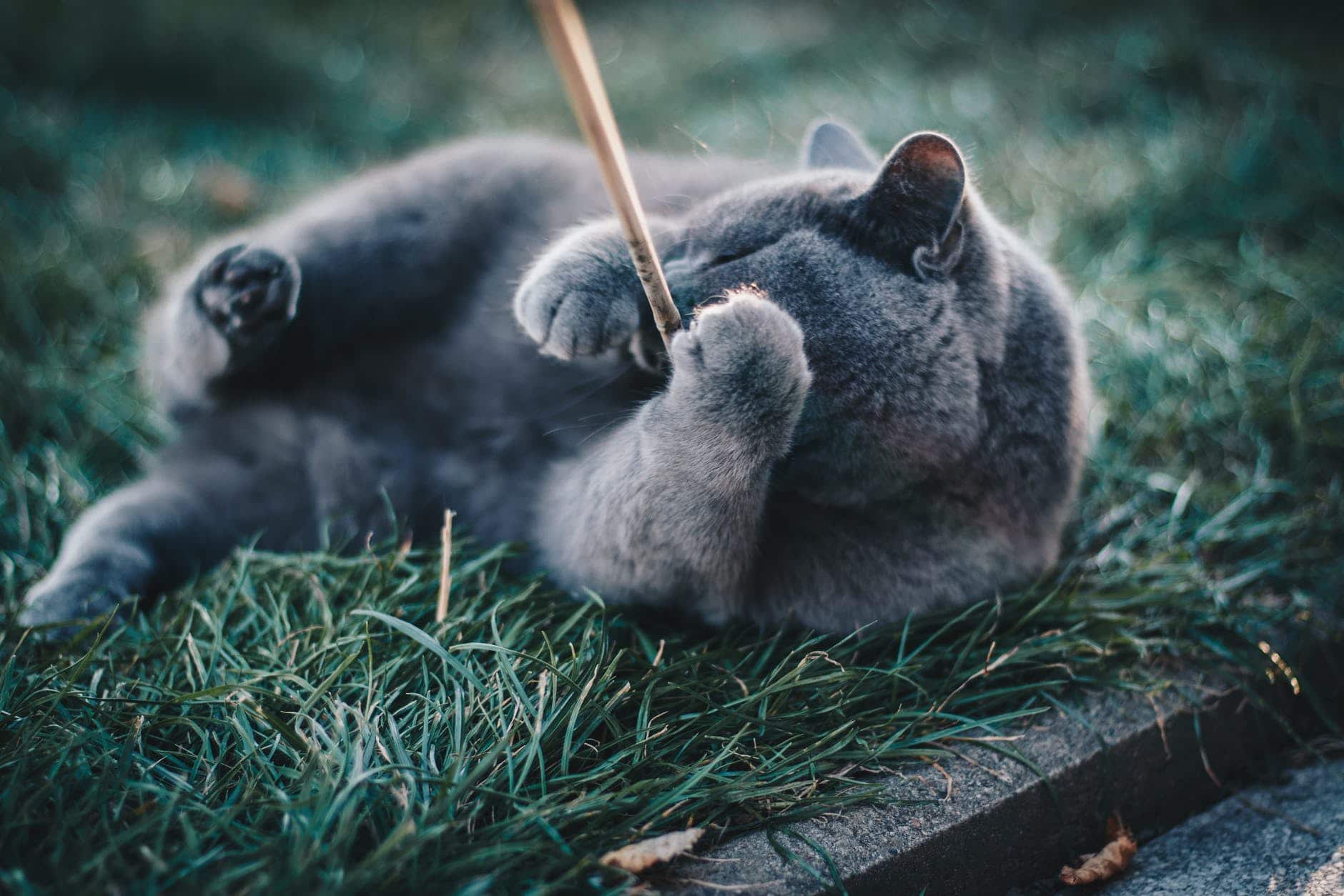 Those green eyes are large, round, and wide-set. This is another cat breed that constantly looks like it is wide awake! Russian Blue cats are born with yellow eyes which turn green over time.
This expensive breed of cat really enjoys play and requires a good bit of attention when you get home. Although, they do enjoy napping in a quiet corner and tend to shy away from large groups.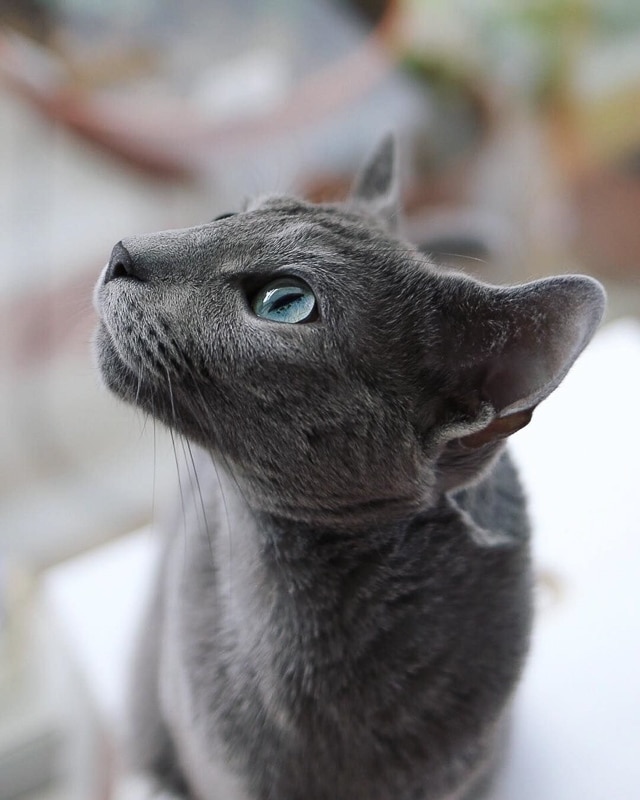 Often demanding at mealtimes, these happy felines can get quite chunky if you're not firm. Russian Blue cats are another very intelligent breed, so it's important to provide enough mental and physical stimulation to keep them happy.
2. British Shorthair
Grey is one of the most popular colours for the British Shorthair cat breed, particularly a darker shade of grey.
The British Shorthair cat is a medium to large-sized cat breed with large gold, orange, or copper color eyes, a short, broad nose, and a short to medium coat. Daily grooming of these felines is necessary, especially during seasonal changes.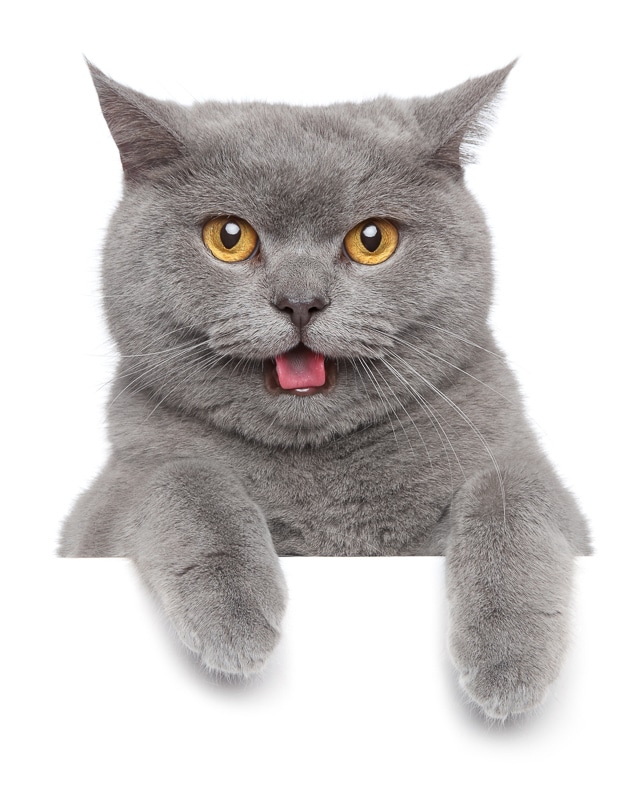 These lovely kitties are highly intelligent; however, they are still happy to stay inside and play with toys and people. Get some wand-like toys and start a game with your British Shorthair cat; it can be great fun.
This indoor cat breed has an easy-going personality and provides great companionship. While these cats love to play, they don't require hourly attention.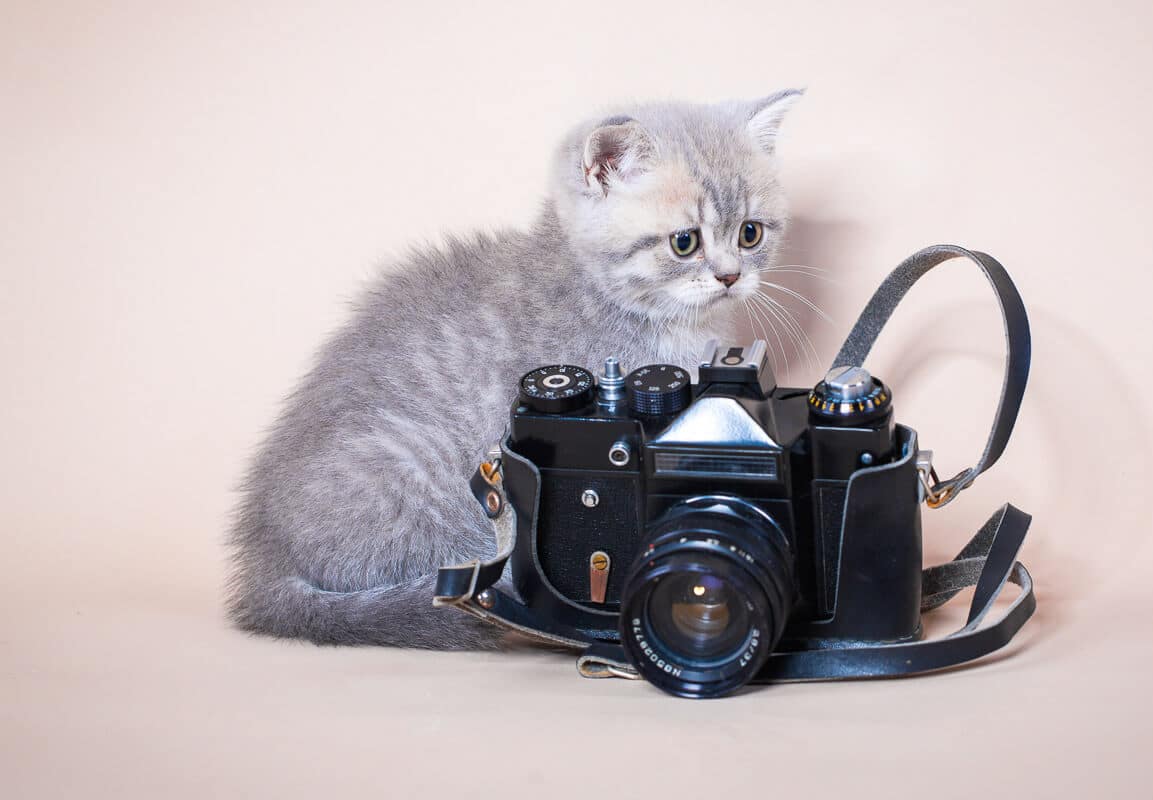 3. Persian Cat
Blue Persians are grey cats. Persian cats are affectionate, docile, and gentle kitties. This breed has a quiet demeanor; they plop down on any soft surface and simply pose for your appreciation.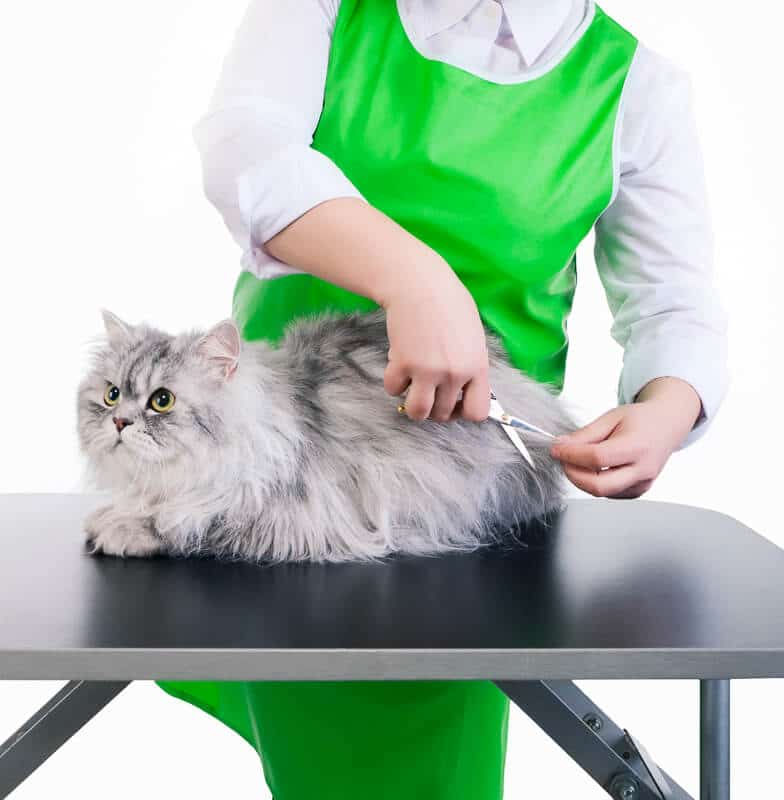 These elegant cats are not very active, which makes them the perfect indoor pet.
Persians have a relatively small face so their big round eyes are particularly prominent. Most Persians have gorgeous blue eyes but there can be exceptions – or some who have a different colour in each eye. Their eyes can be particularly striking against a blue or grey coat.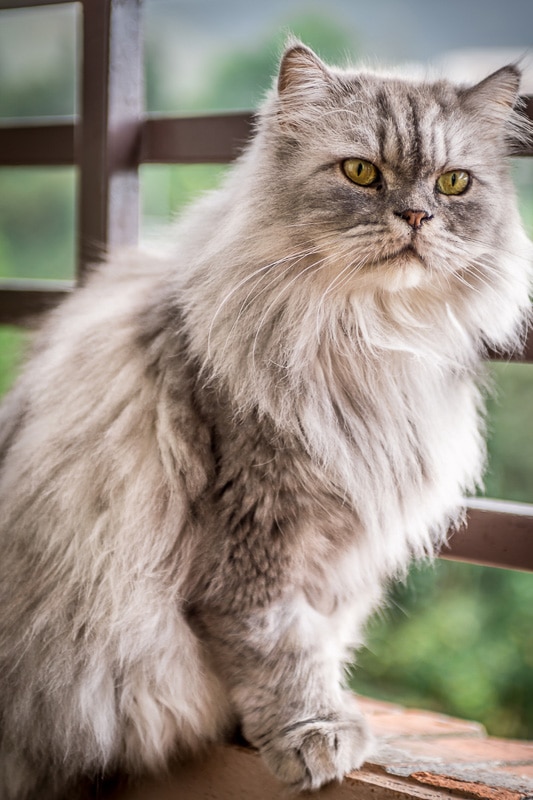 Although affectionate, Persian cats are discriminative and reserve their attention for family and a few trusted guests.
This beautiful flat flaced cat breed does get along with children and other household pets; however, they aren't fans of loud environments but rather serene homes where little changes.
4. Chartreux
This french cat breed also only comes in grey or blue as it is often called. It is known as one of the most polite breeds – not a word normally associated with cats!
This is one kitty that doesn't like to complain and will be not just your friend but a friend to any guests as well.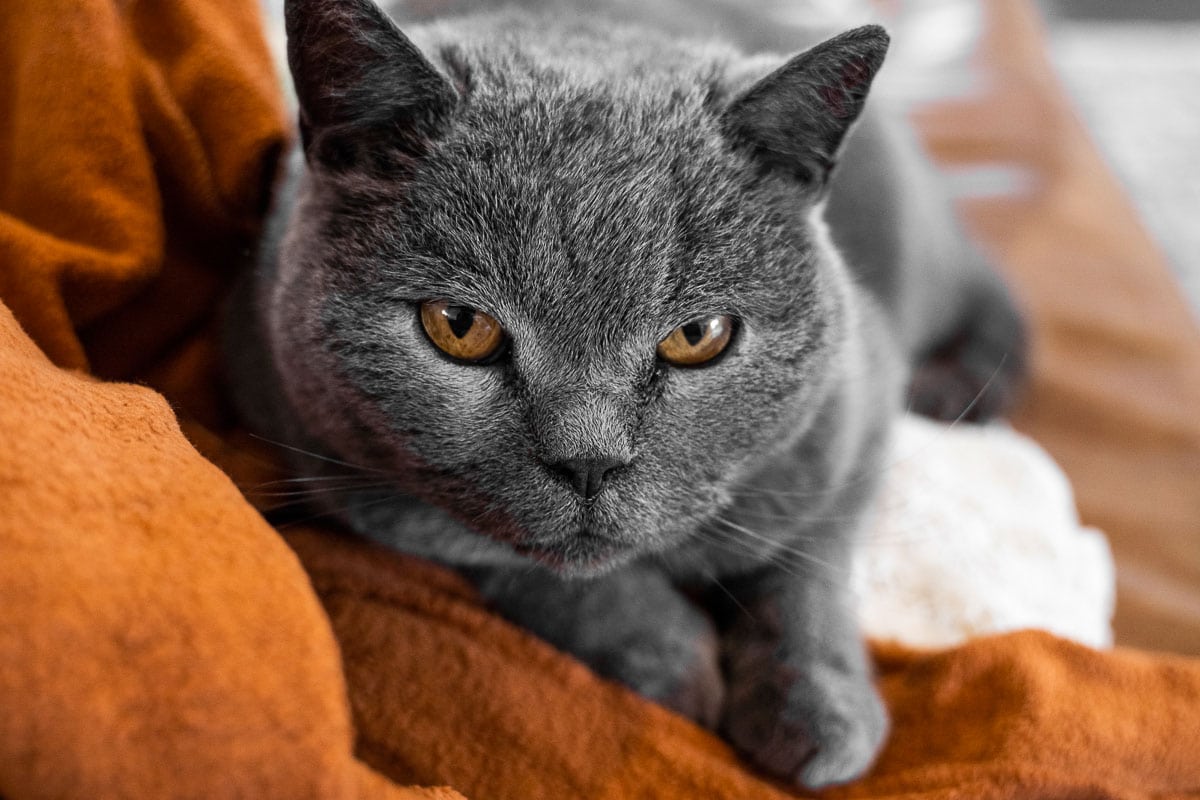 Their round eyes tend to come in shades between copper and gold, which beautifully offset their blue-grey coats.
This still rather rare cat breed is a great option for a busy person who lives on their own or a busy couple/family. It likes to play but this desire generally comes in spurts. And this is a breed which is quite good at entertaining itself.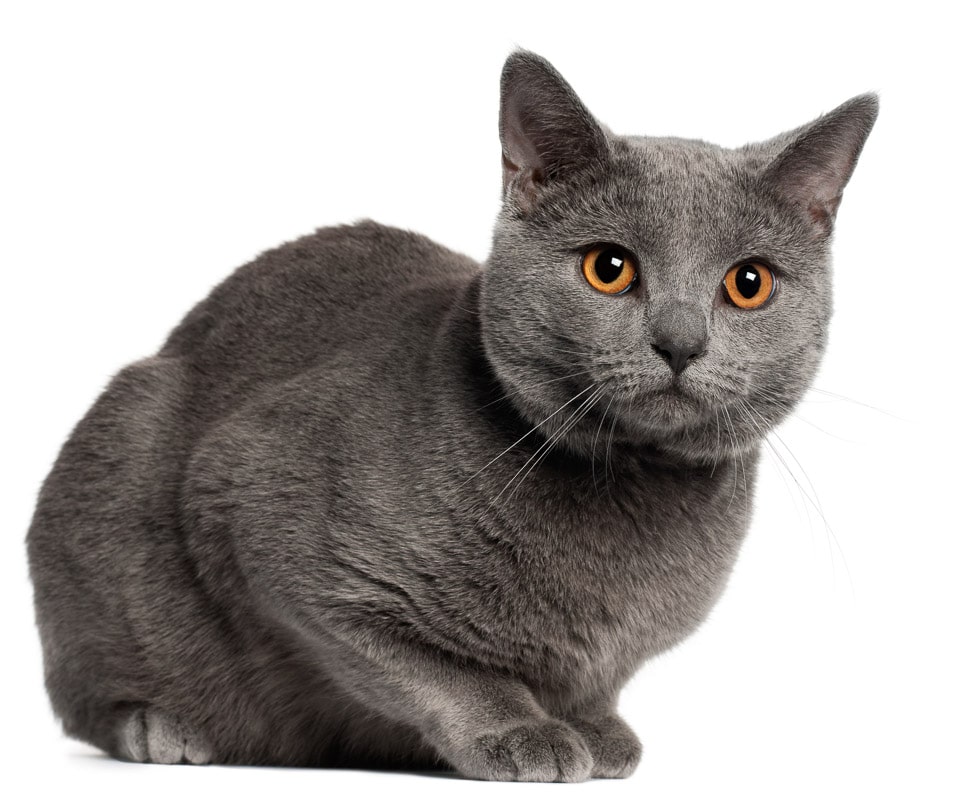 5. Nebelung
Nebelung is a less well-known cat breed and their name means "creature of the mist" in Germany. This breed is considered to be the long-haired version of the Russian Blue and only comes in grey.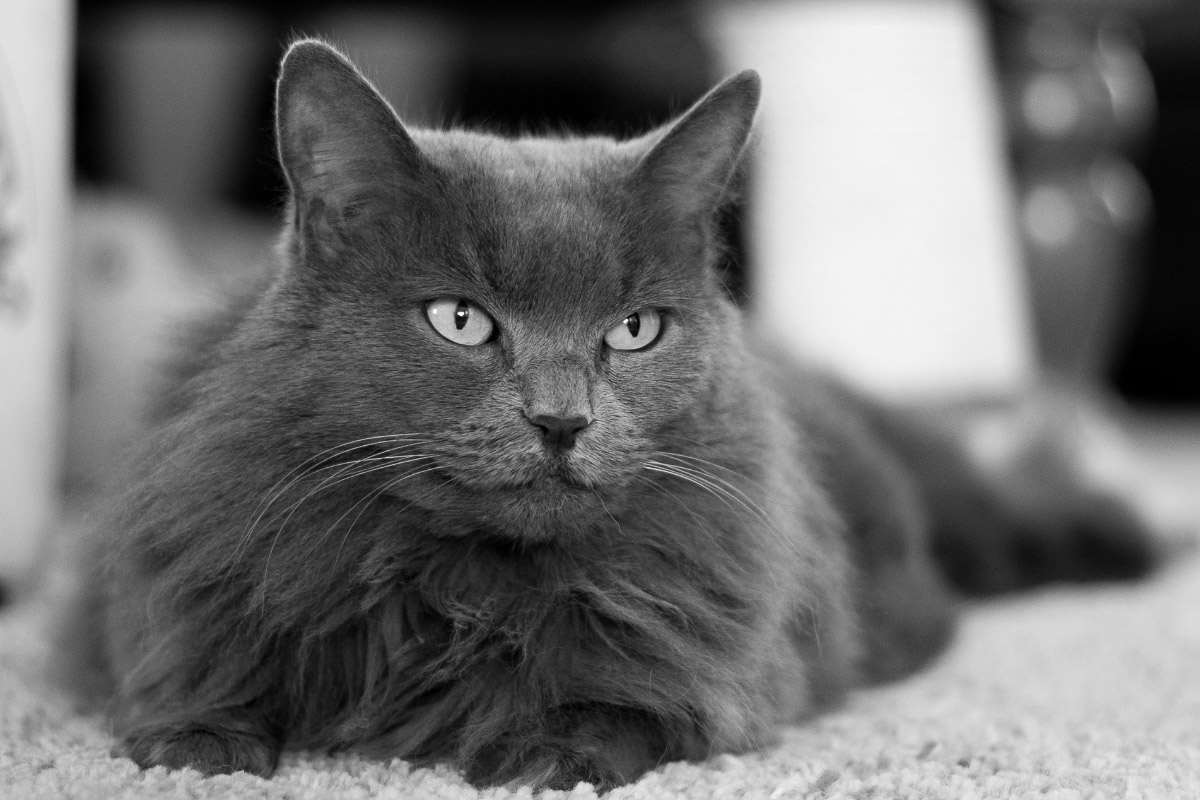 Their coat is a slivery blue-grey and their long hair tends to be quite luxurious. They have fluffy tails and often a mane around their neck like Siberian cats.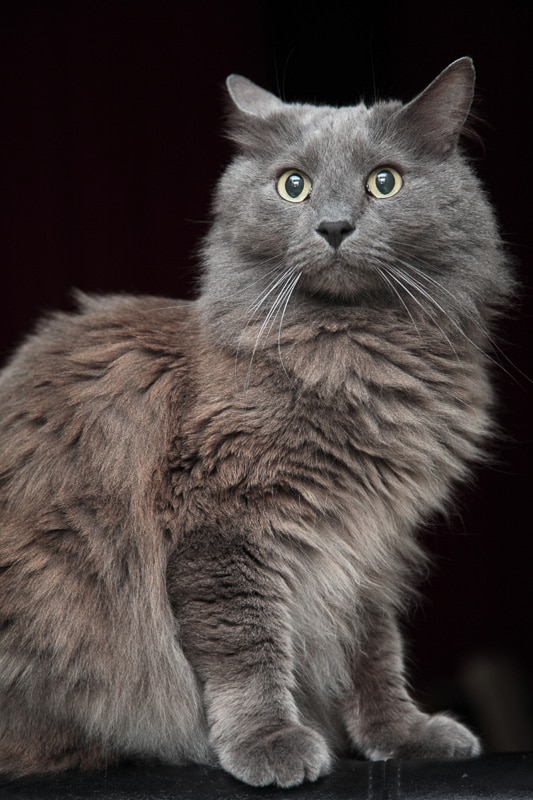 Personality-wise, the Nebelung cat breed is known as being quite a shy and calm cat. They can be playful and love to climb but are happiest nestled up on their owner's lap.
6. Norwegian Forest Cat
Larger than your average cat, the Norwegian Forest Cat Breed are rather elegant kitties. They have long legs and bushy tails that are often as long as their bodies.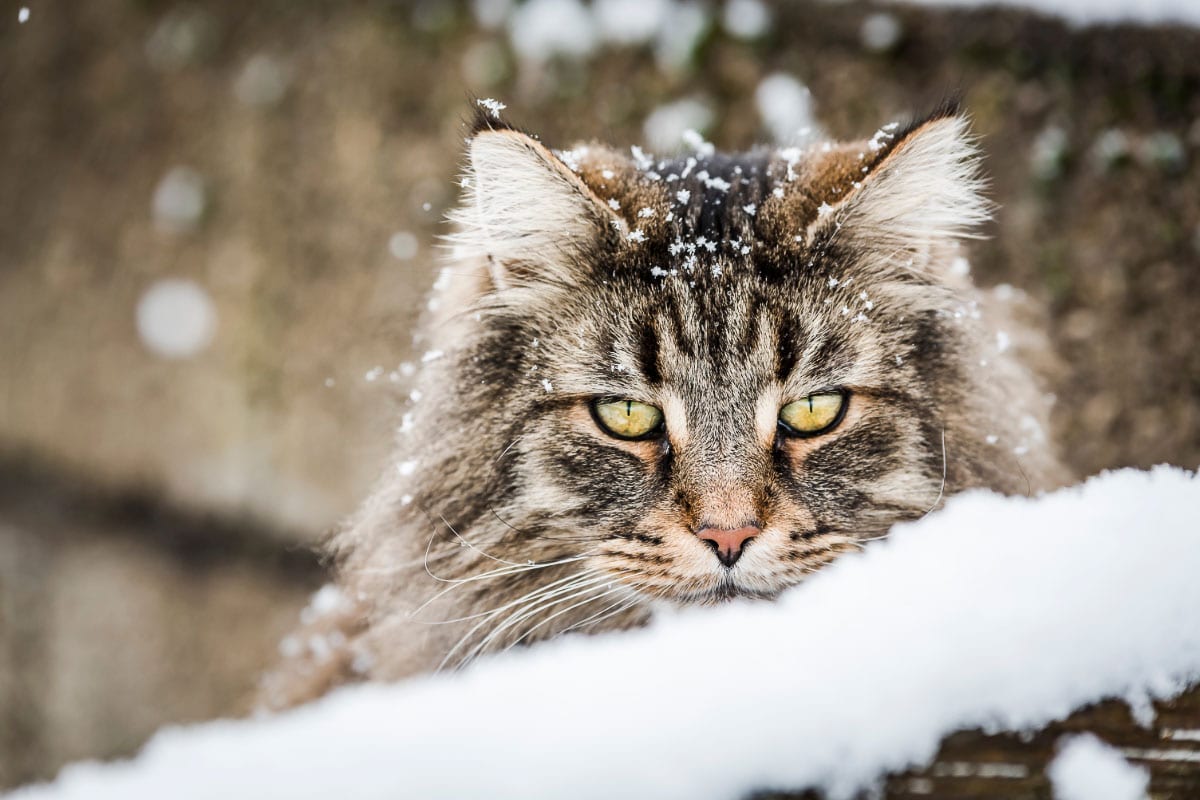 ⇒ Don't miss my guide to buying Cat Walking products, the 7 Best Escape Proof Cat Harness options and the Best Carrier for Cats.
When their coat has fully come in they are a sight to behold. They often come out in a full mane, fluffy chest, furry legs and even tufts of fur between their toes.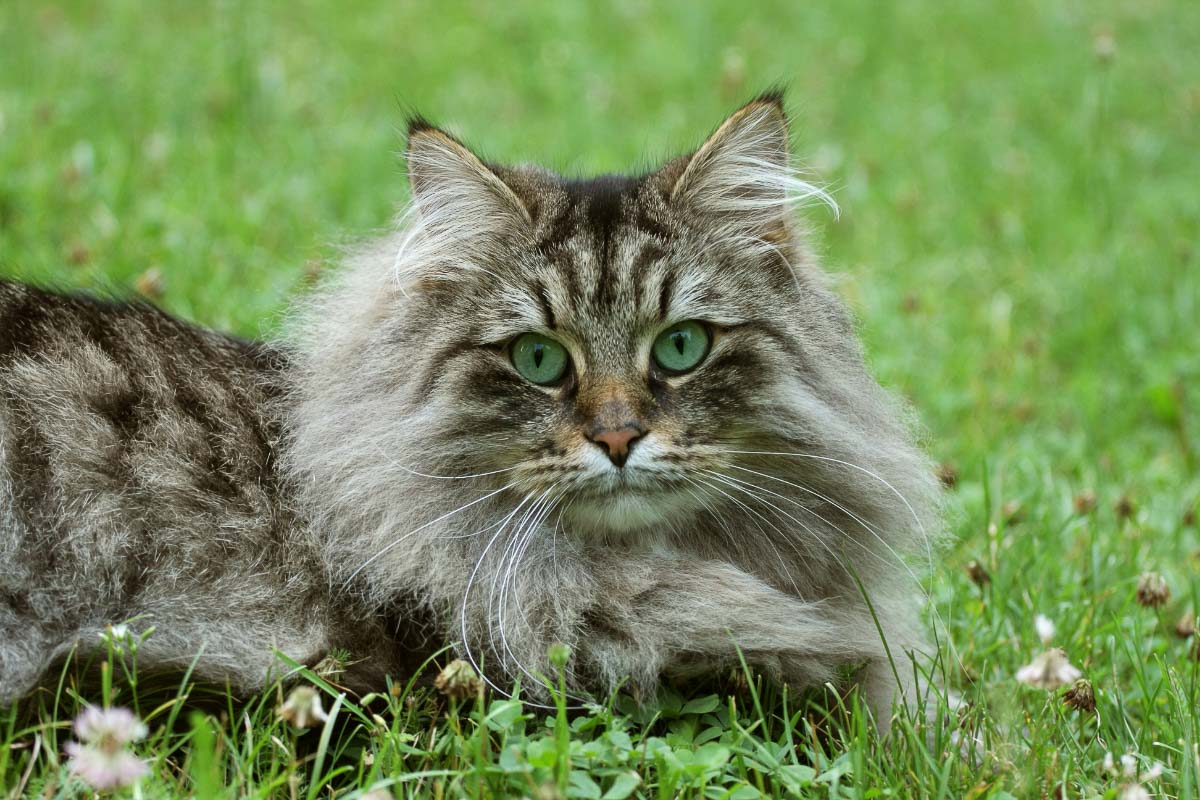 ⇒ For everything you need to know about taking care of your finicky feline check out my guide to How to Groom a Cat, Ultimate Persian Cat Grooming Guide, the Best Cat Brush, Caring for Cats guide and my quick cat check up guide.
As a result, these friendly cats do require daily grooming. Their ears also often get tufts of fur which needs to be groomed. The Norwegian Forest Cat actually has a double coat with one being weatherproof.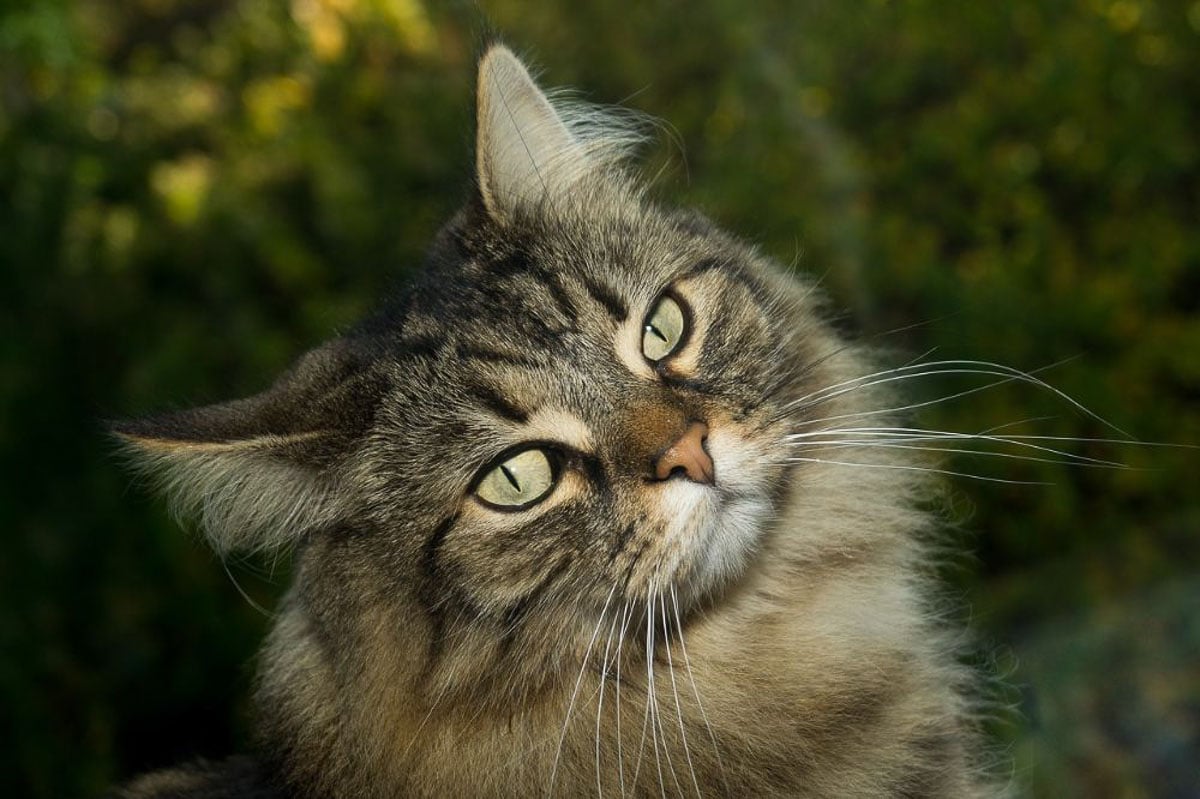 ⇒ For all things fun with your kitty check out my guides to clothing for cats, the best toys for cats, great gifts for cats and my annual cat planner for kitty photo opportunities across the year.
7. Scottish Fold
Scottish Fold cats, named for their unusual folded ears and striking, yellowish-orange eye colors, these kitties just love to be around people. These easy-going cats have a great personality and get along with anyone.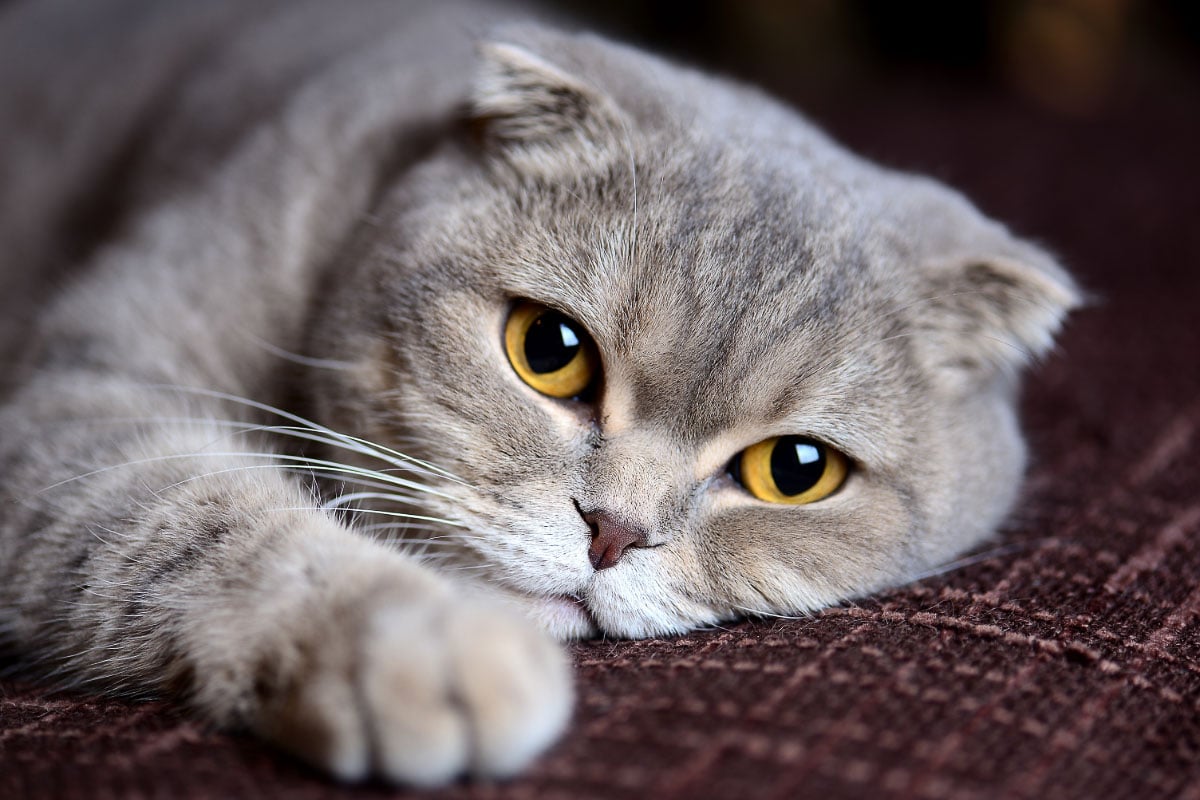 ⇒ Check out my guides to the best treats for cats, high-calorie cat food, high fiber cat food, low protein cat food, best food for cats with ibd, best cat foods for older cats that vomit, best food for constipated cats, can cats each cashews, can cats eat raspberries, best kitten dry food and a complete cat feeding guide wet and dry food.
Whilst they may be best known for those funny folded ears this breed is also characterised by beautiful big round eyes. Their eyes come in shades of gold, blue or grey and green. Add these to those fluffy ears and you have one cute cat breed!
As active mousers, Scottish fold cats are playful, sensitive, and expressive. These joyful felines have a habit of posing in odd positions – sitting upright as if they were a meerkat, lying flat on the floor, or on their backs with their paws in the air.
They are moderately active and enjoy toys that test their agility and challenge their intelligence, like puzzle toys. Scottish fold cats crave attention and make great companions, so expect to play with them when you get home from work or school.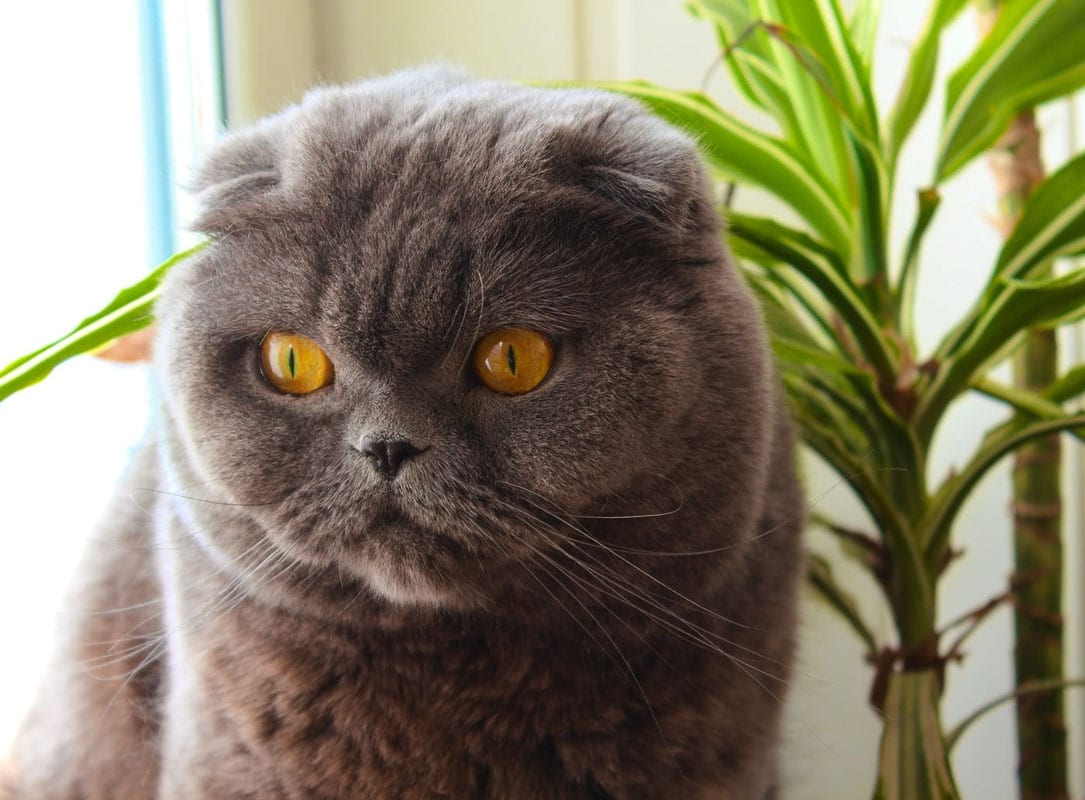 ⇒ Check out my guides to the Best Cat Products, Travel Litter Box, and the Best Cat Litter
8. Siberian Cats
My own feline friend, Alexei, is a Siberian, so I'm particularly partial to this amazing breed. With a thick, luxurious coat, stunning coat colors such as grey and an affectionate personality, Siberians are well-suited to any home.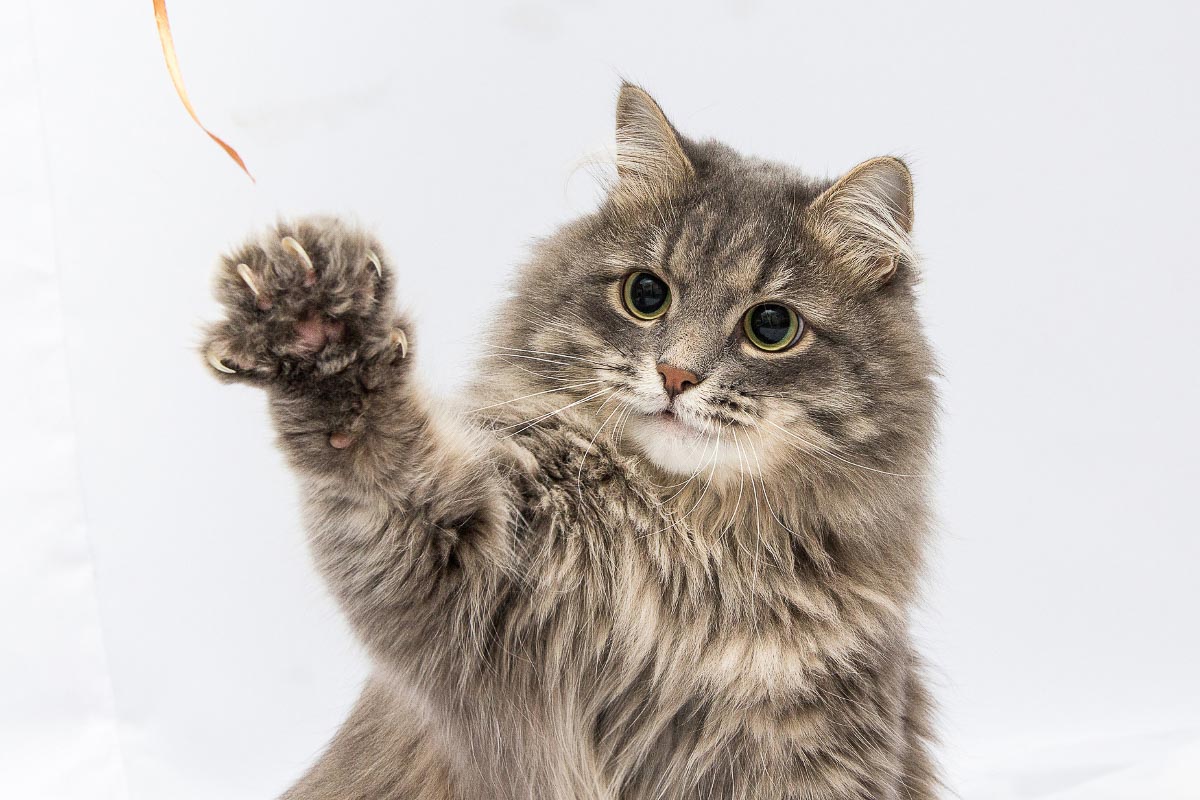 ⇒ About to become a fur parent? Check out my Complete Guide to How to Look After a Kitten.
They're laid-back but enjoy playing, and are very attached to their humans. You'll often find your Siberian cat following along behind you and cuddling up as soon as you take a seat.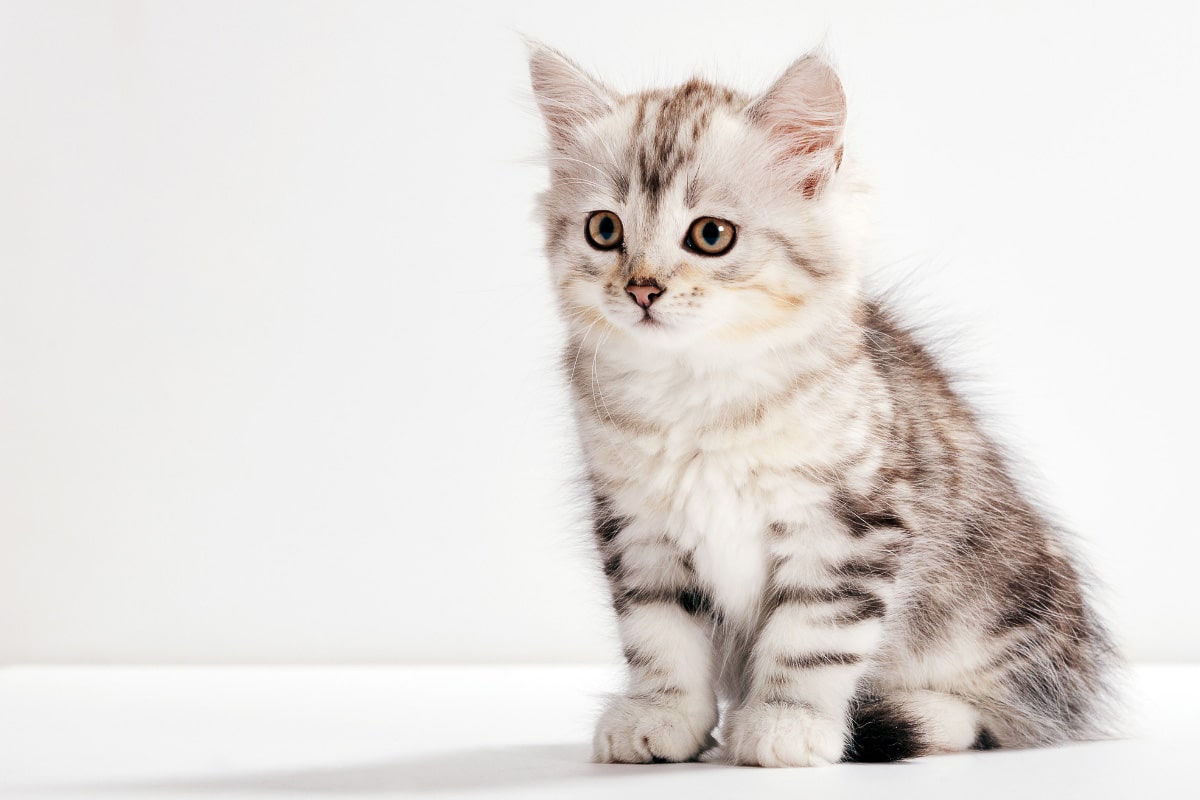 ⇒ Looking for the perfect collar for your kitty? Check out my posts on 6 stylish leather cat collars, the 7 best GPS Cat Collar Options, 8 stylish and fun Christmas cat collar choices, 6 best flea collar for Cats, 4 best Cameras for cat collars and 6 Spooky Halloween cat collar options.
As you may expect, this loving cat comes from Siberia in Russia, so they're well suited to cold conditions. It's an ancient breed thought to be ancestral to all modern long-haired cats. That's quite the pedigree.
9. Sphynx
The Sphynx doesn't have a coat but it does show colour on its skin which can be grey. These medium-sized cats have a striking appearance with hairless, wrinkled skin and large ears.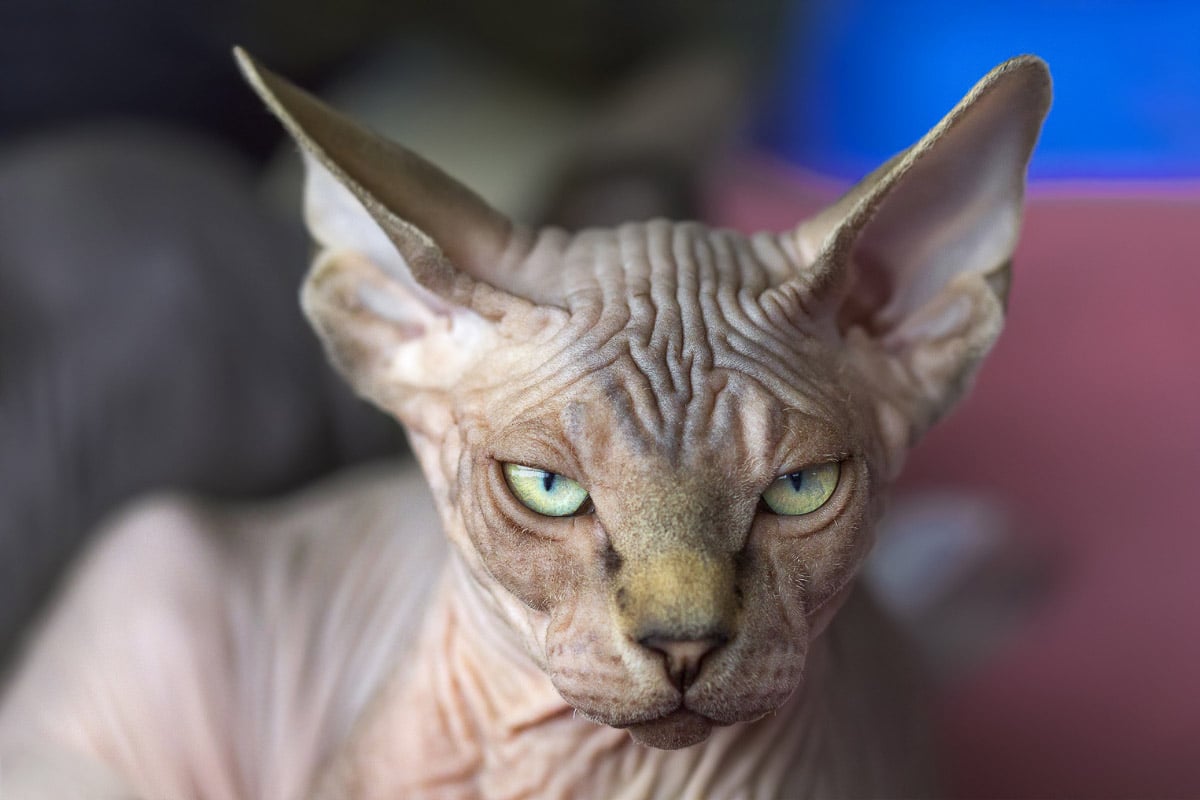 ⇒ Keen to get a better understanding of why your cat behaves as it does? Check out my posts on What Smells do Cats Hate, Why Does my Cat Lick my Nose?, Why do cats roll in the dirt, Why Does my Cat Lay on my Chest , Why Does my Cat Sleep on my Legs, How Often do Cats Pee, How to Pet a Cat, Why do Cats Chase Their Tails?, What Does it Mean When a Cat Rubs Against you , 14 Sleeping Cat Positions, Why Does my Cat Sit on Me? , Why do Cats Purr when you Stroke them? , How to Train a Cat Not to Bite, Why do Cats Knead their Owners? , Why do Cats Arch their Back, How to Get a Cat to Eat, Why Doesn't My Cat Purr?, Why Does my Cat Attack Me, Why Do Cats Lick Each Other? , What Does it Mean When a Cat Licks you? , Why Do Cats Bite Their Nails? and What Does it Mean when a Cat Headbutts you?
It is also known for the somewhat intense gaze which emits for its large eyes. As another breed with minimal hair those large eyes stand out even more on the Sphynx cat.
Though Sphynx cats appear to look bald, they may be covered in a small amount of peach fuzz, giving them that velvety texture. However, they do require moderate grooming to care for their hairless bodies as they do not have fur to absorb natural oils their body produces.
⇒ Thinking about what kind of kitty you would like? Check out my posts on the 9 Most Expensive Cat breeds, 10 Snuggly Flat Faced Cat Breeds, 7 Strange and Weird Cat Breeds, 11 Indoor Cat Breeds, 14 Cutest Cat Breeds, 12 Most Friendly Cat Breeds, 8 Fluffiest Cat Breeds, 9 Super Cool Cat Breeds, 11 Rare Cat Breeds, 8 Small Cat Breeds, 9 Big Ear Cat Breeds, 13 Big Eyed Cat Breeds, 10 Tuxedo Cat Breeds, Norwegian Forest Cat vs Maine Coon, 9 Gorgeous Grey Cat Breeds, 8 Garfield Cat Breeds, Siberian cat colors, Maine Coon Personality and the ultimate Siberian Cat personality profile.
What the Sphynx cat breed lacks in fur, they make up for in their personality. These hairless kitties are sociable, energetic, and love to play. The curious kitties are mischievous and are fond of teaser toys and puzzle toys to challenge them.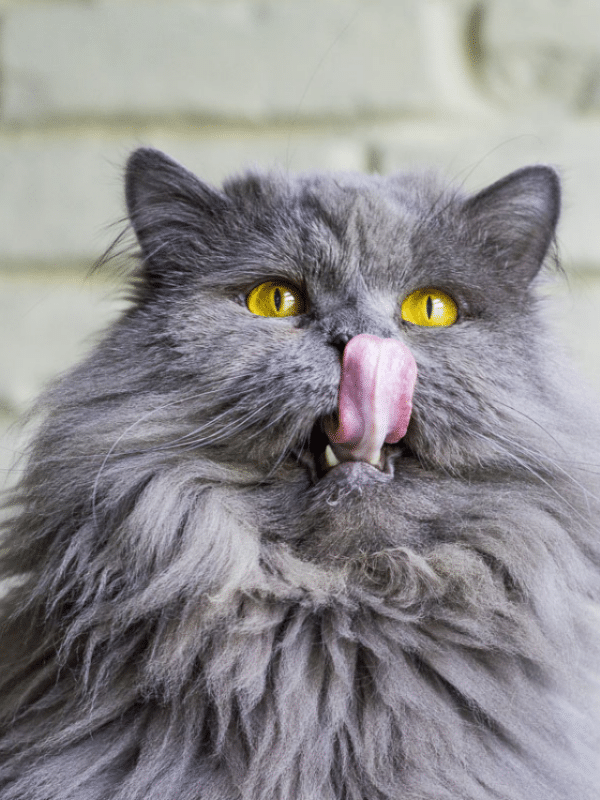 ⇒ Got a new kitty on the way and looking for some names? Check out my posts on 12 Greek Cat Names , 11 Egyptian Cat Names, 12 Best Cat Food Names, 50+ Creative Names for Black Cats, 12 Bang On Irish Cat Names, 11 Movie Cat Names, 12 Sensational Siamese Cat Names, 12 Black and White Cat Names, 19 Awesome Bengal Cat Names, 11 Ginger Cat Names, 9 Best White Cat Names and the 16 Best Disney Cat Names
Please Note: This grey cat breeds post contains affiliate links. That means if you click through on most of the links and end up making a purchase I will receive a small commission. This will not affect the price that you pay. I wanted to make sure that you were aware of this.
Watch my Grey Cat Breeds Web Story.