While most cats are perfectly content to spend their days sleeping in their favourite spot, there are times when they need a little exercise. A stroll outdoors can stimulate your cat both mentally and physically and is particularly good for their digestion.
Taking your kitty on their first walk can be an exciting adventure for both of you. But the wrong cat harness might turn a gentle walk into an extreme game of chase that isn't quite what you had in mind.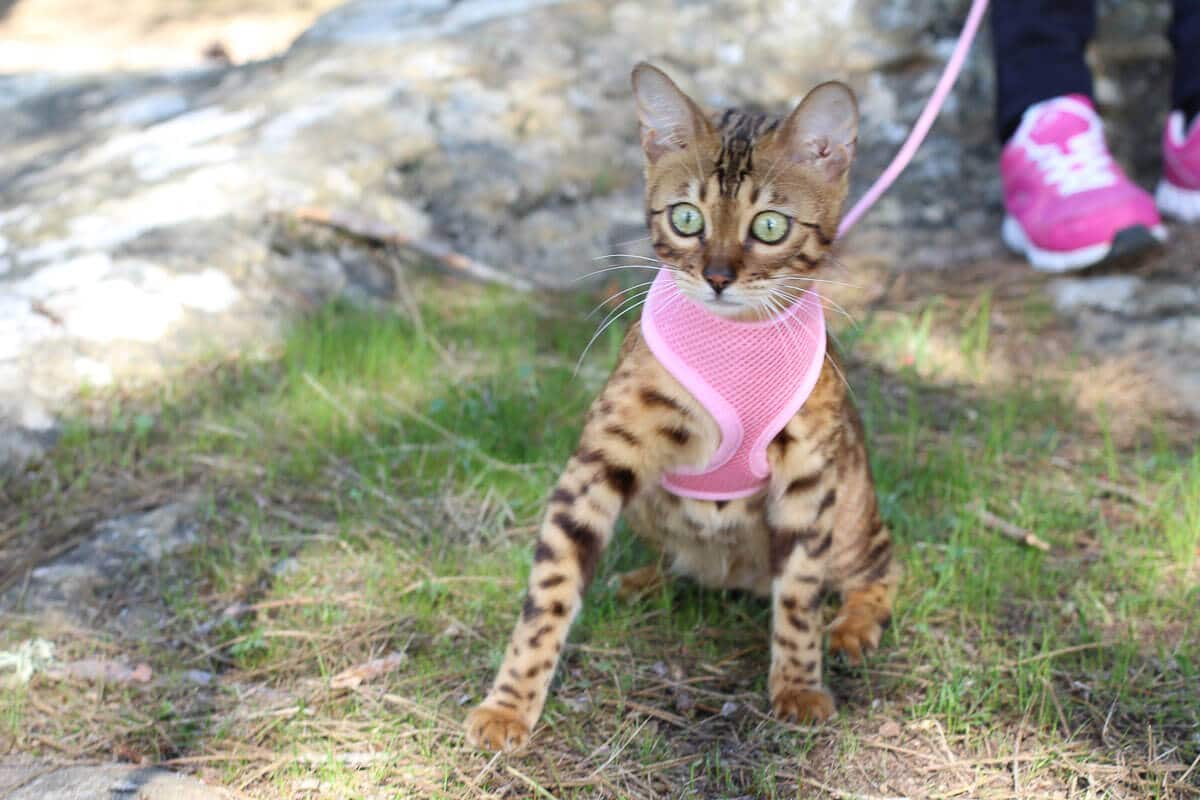 With our cat walking guide and the right escape proof cat harness, you'll be out exploring with your feline friend in no time. Since cats are both quick and nimble, finding a sturdy and comfortable cat harness is a necessity.
Read on to discover the best and most comfortable escape-proof harnesses for your cat.
Top 7 Escape Proof Harnesses For Cats
Taking your indoor cat outdoors for the first time can be an intense experience and you want a cat harness that you can trust.
Here are a few of my favourite, escape-proof cat harnesses.
1. PetSafe Come With Me Kitty Harness & Bungee Cat Leash
This H-harness has two adjustment points, ensuring your cat is secure and snug in their harness. The two snap buckles make it easy to put the harness on and take it off (saving your hands from your kitty's claws).
The cat harness applies gentle pressure to your cat's shoulders rather than their throat, so you can safely keep your cat close-by. It also grants quite a lot of mobility, allowing your cat to explore comfortably while preventing any escape attempts.
The Petsafe Kitty Harness and Bungee cat leash come in a variety of colours and three sizes; small, medium and large. The bungee leash design provides some "give", so when your kitty makes sudden movements or reaches the end of the leash, there won't be any harsh tugging.
⇒ Shop USA PetSafe Come With Me Kitty Harness & Bungee Cat Leash
⇒ Shop UK PetSafe Come With Me Kitty Harness & Bungee Cat Leash
2. Mavs Shop Harness (Escape Proof)
This custom made harness is not only escape-proof, but it comes in a variety of colours. It's made of super-light material that holds your kitty snuggly while allowing for maximum mobility. Just make sure you adjust the cat harness to fit your kitty, otherwise they'll be able to slip out of it.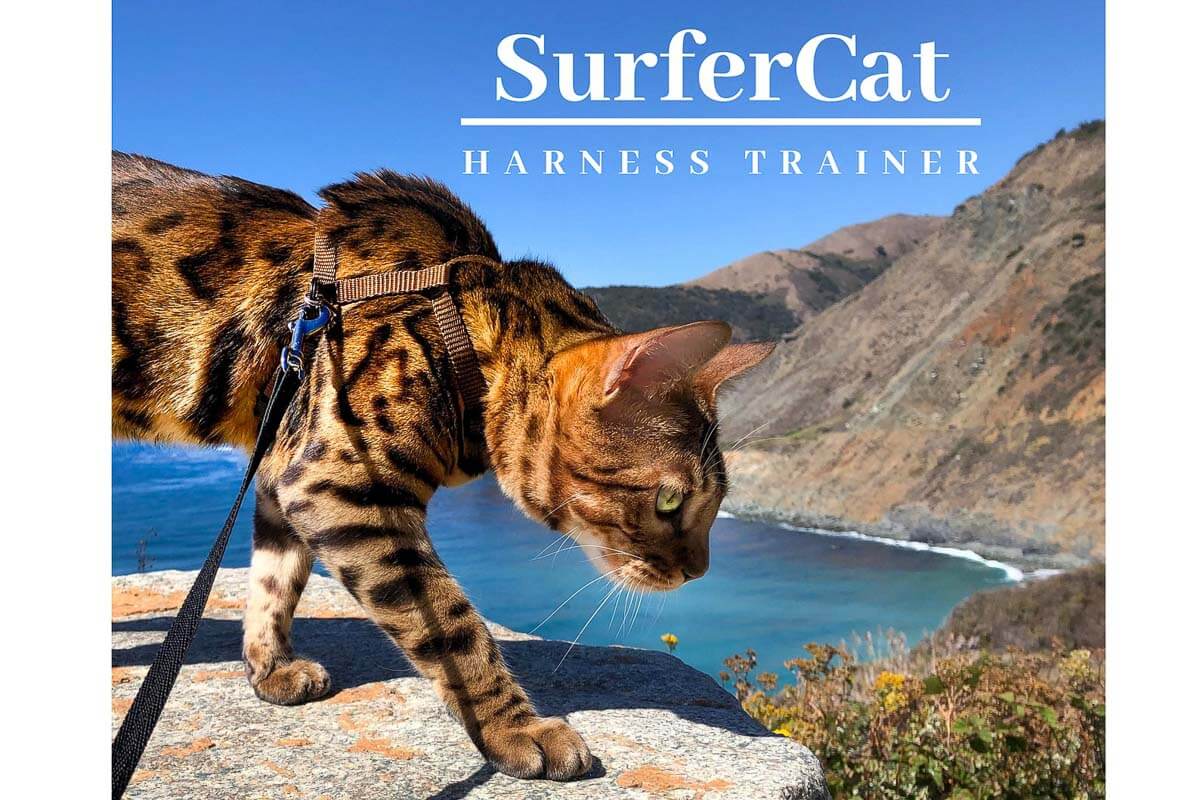 This cat harness even includes a charm with your kitty's initial on it. It's also completely adjustable, meaning it will fit small kittens and fully-grown adult cats. If your cat is on the larger side, you can try their XL harness.
⇒ Shop for UK Mavs Shop Harness (Escape Proof)
3. Catit Nylon Adjustable Cat Harness and Leash
This stylish figure 8 cat harness is easy to put on and take off your cat. It's completely adjustable, allowing for a snug but comfortable fit. The cat harness also includes a bell and D-ring for attaching identification tags.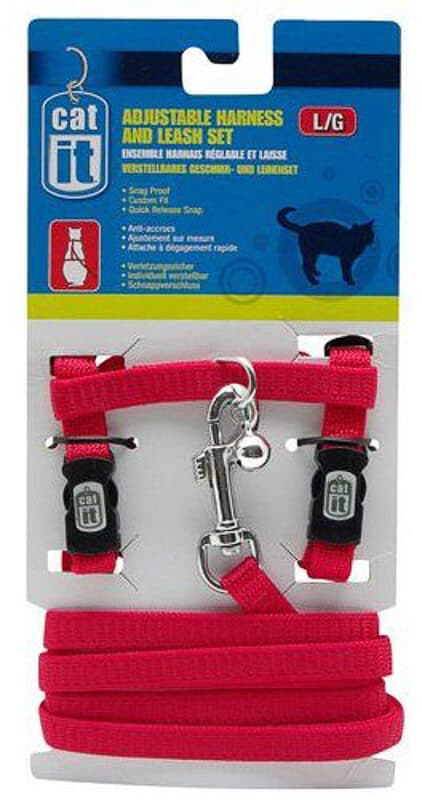 It comes in a variety of colours and the material is easy-to-clean. This cat harness is also snag proof which prevents the harness from tightening when snagged or scratched. The long leash will give your kitty the freedom to roam and investigate during your walk.
⇒ Shop for USA Catit Nylon Adjustable Cat Harness and Leash
⇒ Shop for UK Catit Nylon Adjustable Cat Harness and Leash
4. Comfort Soft Adjustable Mesh Cat Harness
This vest-style cat harness comes in a variety of colours. It will fit securely around your cat's body, foiling any devious escape plans. And the breathable air mesh material will keep them cool on your adventures.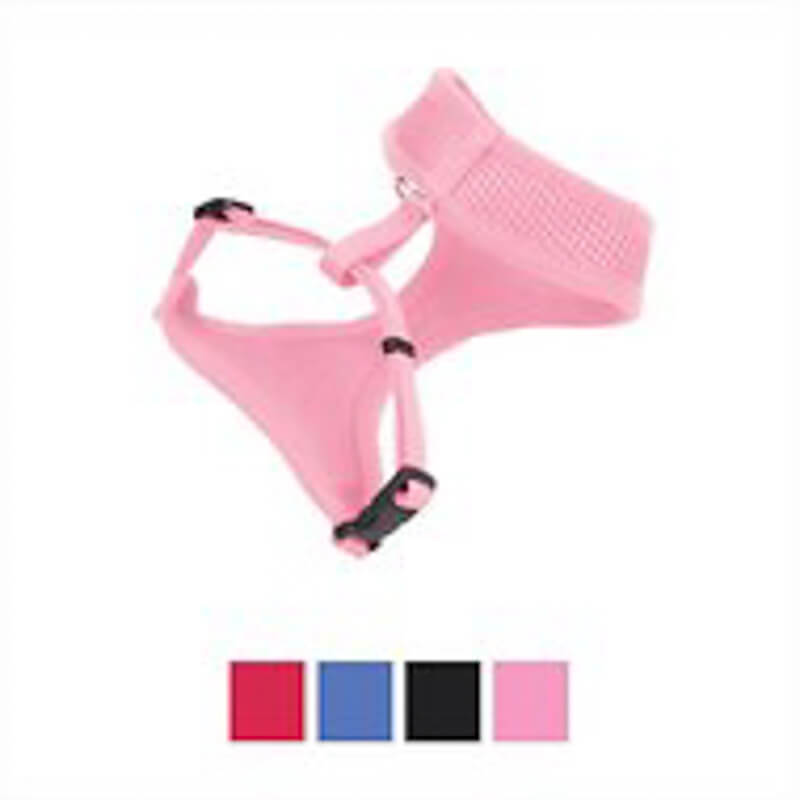 The cat harness uses a safety buckle, making it easy to put on and take off. While the vest style ensures that the leash pressure is evenly distributed across the chest and shoulders.
You can easily attach a leash to the metal clip on the back of the cat harness, giving your cat the freedom to explore ahead of you.
⇒ Shop for USA Comfort Soft Adjustable Mesh Cat Harness
5. ButterflyCatJackets Harness
If you're seeking style and comfort for your kitty, a ButterflyCatJackets harness is a great option. Not only does it come in a variety of colours but it's also durable and strong. When sized and fitted correctly, your kitty won't be able to slip out.
This cat harness comes in both kitten and adult size, but if you include your measurements in your order, they'll custom make the jacket to suit your cat for no additional charge.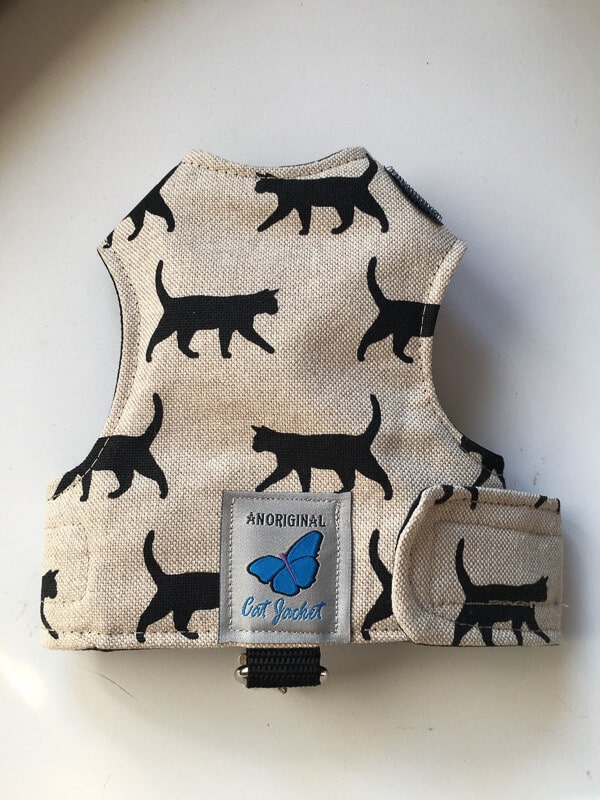 Unlike other harnesses, this one uses strong and adjustable velcro. It doesn't have any plastic buckles, allowing for greater comfort for your feline. The strongly secured D ring is the perfect place to attach your cat's leash when you're ready to go for a walk.
⇒Shop for UK ButterflyCatJackets Harness
6. Necoichi ZEN Fish Charm Cat Harness & Leash Set
The Necoichi harness will make your cat stand out from the rest. This stunning and stylish cat harness not only looks great but it'll prevent crafty kitties from making a run for it. And it can be adjusted to fit your feline perfectly.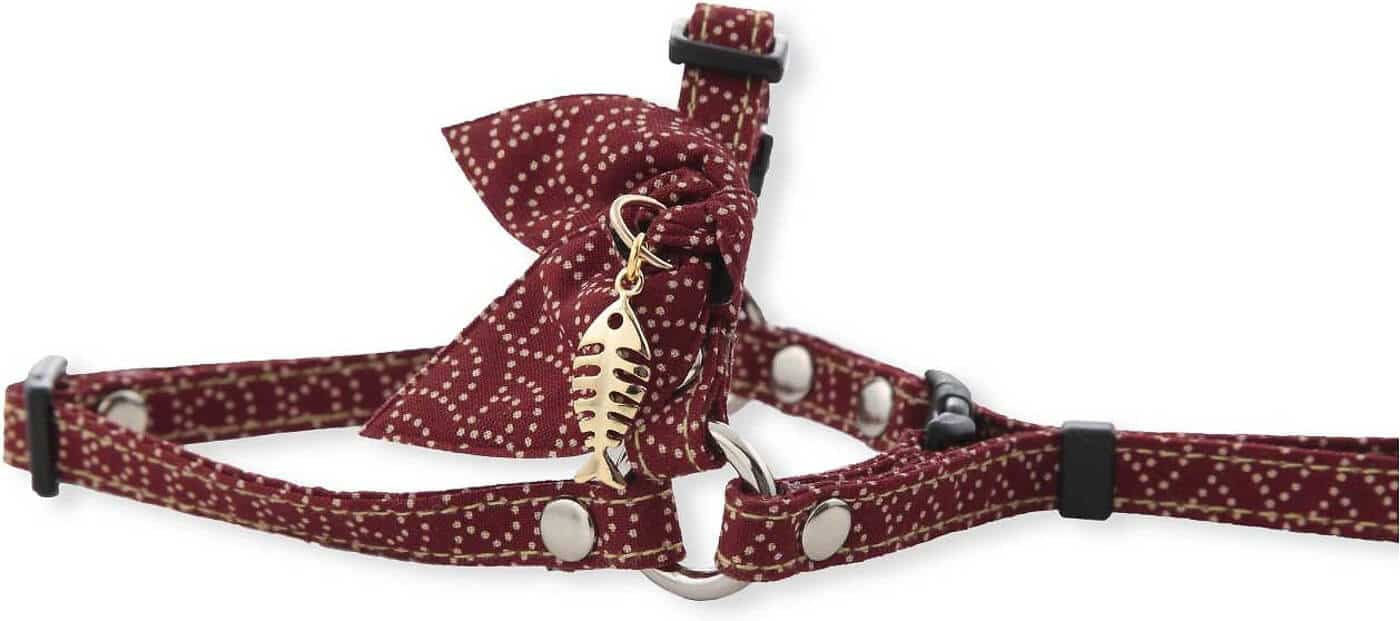 Besides its fashionable bow and golden fish charm, the harness also comes in a variety of colours. Plus its adjustable size is also suited to most kitties. The leash is attached securely to the harness, ensuring you're connected to your kitty at all times.
⇒ Shop for US Necoichi Zen Fish Charm Cat Harness & Leash Set
⇒ Shop for UK Necoichi Zen Fish Charm Cat Harness & Leash Set
⇒ Getting a new kitty? Check out my guide to How to Look after a Kitten, 6 Best Kitten Wet Food Options and 8 Best Kitten Dry Food Options
7. Escape Proof Cat Vest Harness and Leash
This vest-style cat harness comes in size small, and extra small, perfect for smaller kitties. It's easy to put on and take off while allowing for a decent amount of movement.
It fits snuggly and is adjustable to ensure a good fit. Most kitties won't be able to escape the cat harness, but avid escape artists might still be able to wriggle their way out of it.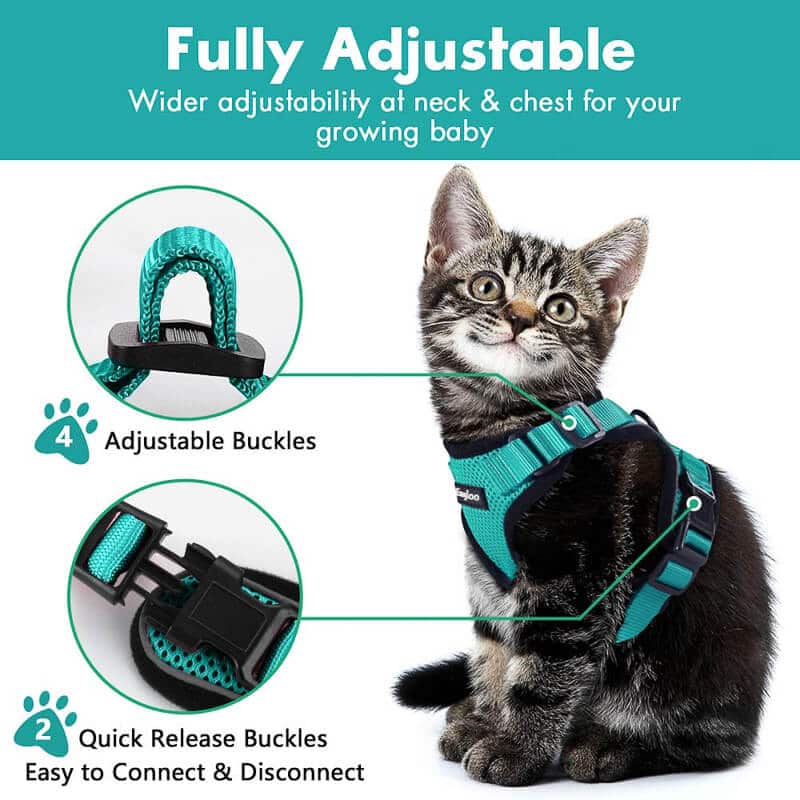 The soft mesh material ensures your kitty won't overheat while out exploring. The harness is also made with resilient cushioning, helping to prevent injuries while keeping your cat comfortable. And the ring on the back will keep you securely connected to your kitty when you're outdoors.
This cat harness offers more coverage, allowing for greater pressure distribution than other harnesses. This makes it a comfortable choice for kitties that pull heavily during walks. And the reflective strip will make sure your cat is visible during early mornings or late evenings.
⇒ Shop for UK Escape Proof Cat Vest Harness and Leash
Finding The Right Fit for an Escape Proof Cat Harness
When getting your cat ready to explore the outside world in a new harness, it's essential to find the fit right. If the cat harness is too big or too small, your crafty feline might pull a Houdini and take themselves on an adventure without you.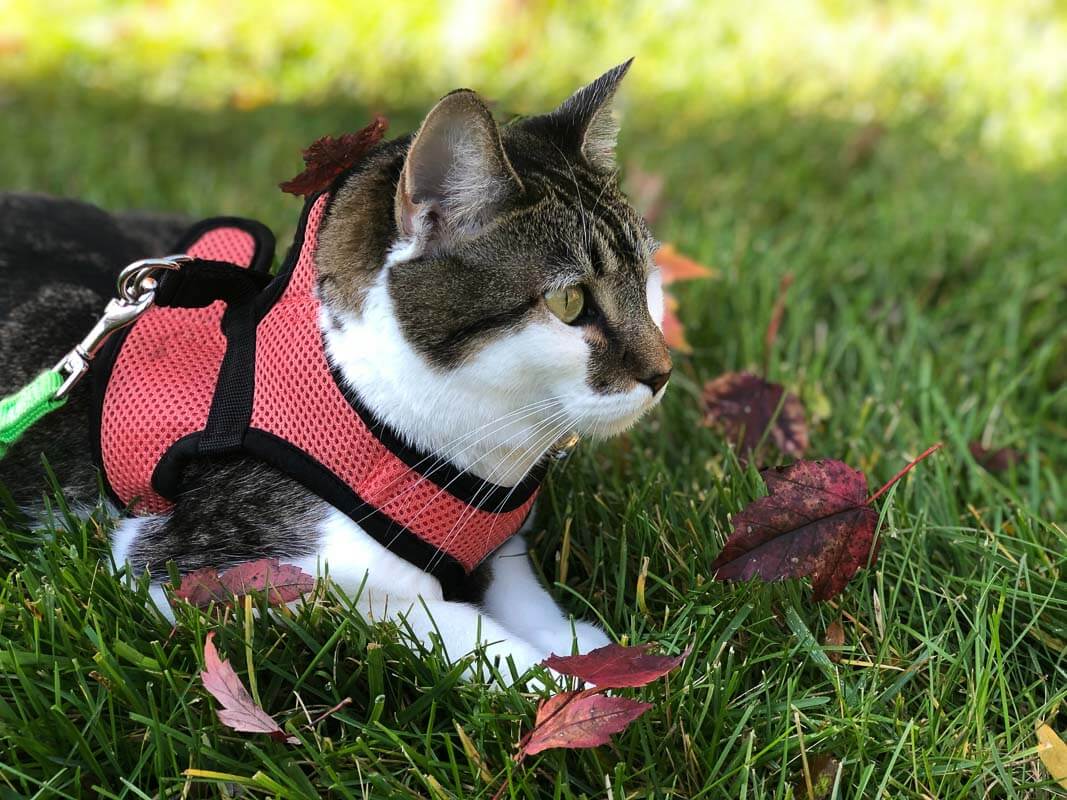 A cat's harness should be secure but not too tight. It's a good idea to measure your cat before ordering your harness. This way you'll ensure the right size harness.
Most cat harnesses are adjustable to ensure the perfect fit. But even then, a determined kitty or a seasoned escape artist may still be able to wriggle their way out if their cat harness is just too big.
⇒ Keen to get your cat out and about? Check out my posts on Is Cat Walking Possible?, 7 Best Escape Proof Cat Harness Options, 5 Best Carrier for Cats choices, 14 Best Cat Carrier for Car Travel options and 4 Top Travel Litter Box options.
3 Types of Cat Harnesses
There are three main styles of cat harnesses. Namely the vest-style cat harness, the H-harness and figure 8 holsters. Here's all you need to know about the different types of cat harnesses.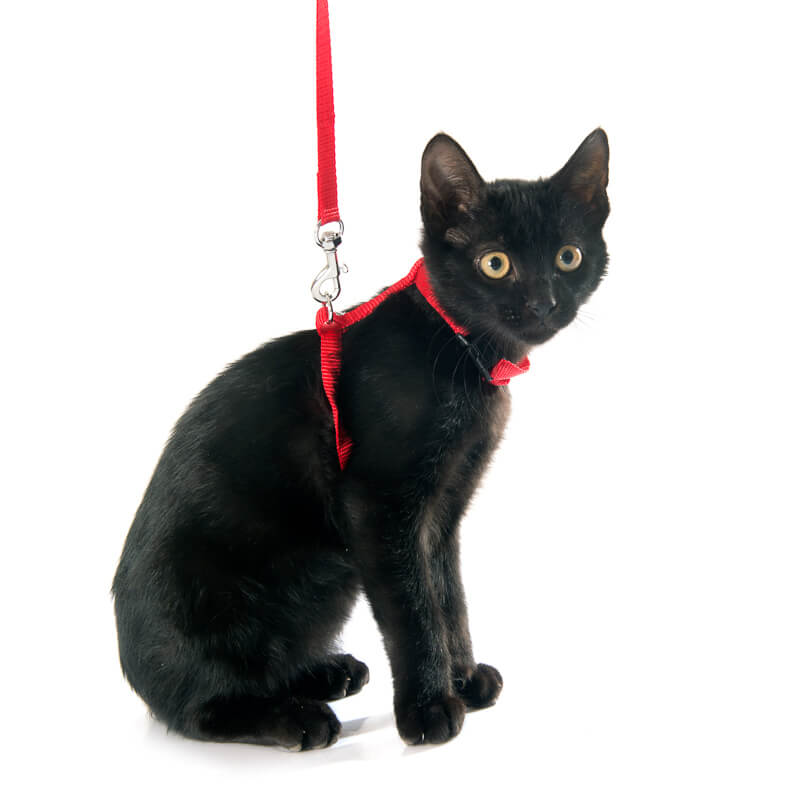 1. Vest-Style Cat Harness
For craftier kitties, the vest-style harness offers both security and comfort. These cat harnesses look like a vest and you can get them in various colours and styles. This means there are some more stylish options available.
Just make sure to choose a breathable material. And as with all cat harnesses, the fit is exceptionally important.
They're usually fastened at the back, making them relatively easy to get on and off. The style of the cat harness also makes sure pressure points are more spread out, which is important if your cat decides to make any sudden movements.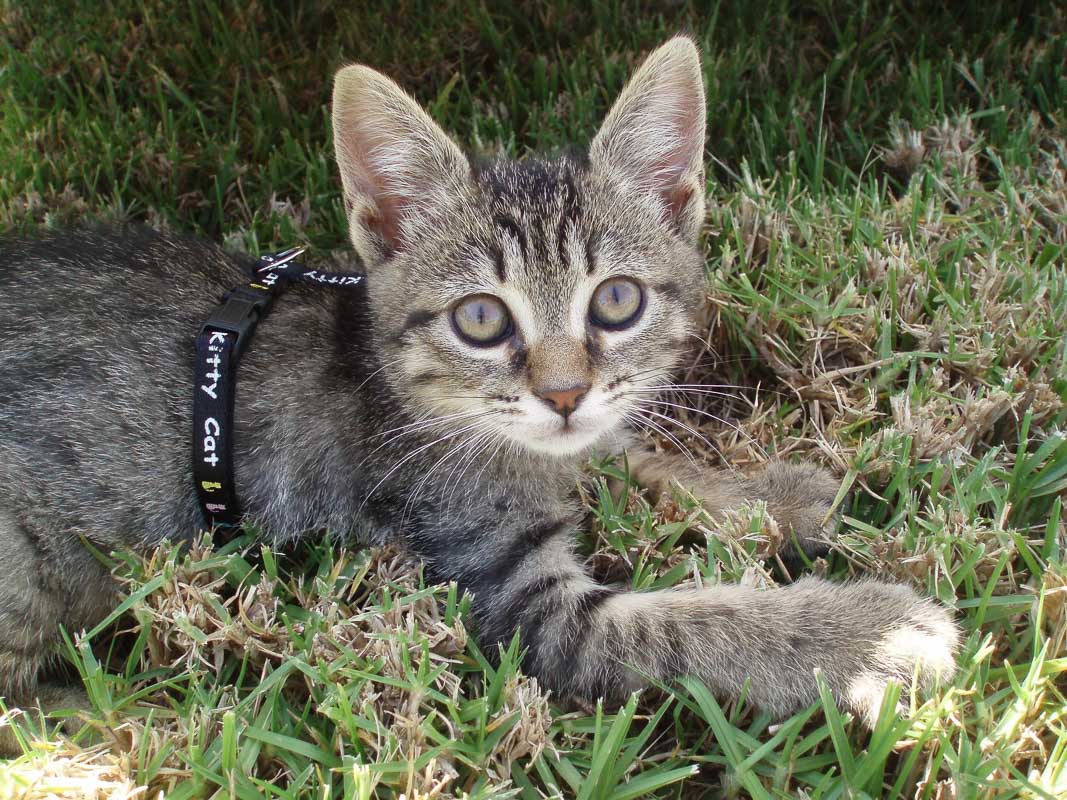 2. Cat H-Harness
The H-Harness is shaped like the letter H and is ideal for active kittens. They have the smallest contact area with your cat and you won't have to push their head through the harness.
The H-harness has two loops, one for the head and one for the chest. These are joined by two straps, one on the back and underneath. This will give your cat quite a bit of mobility while keeping them secure.
Cat H-harnesses do concentrate pressure on limited areas so, in case of sudden movements, your cat might not be so happy.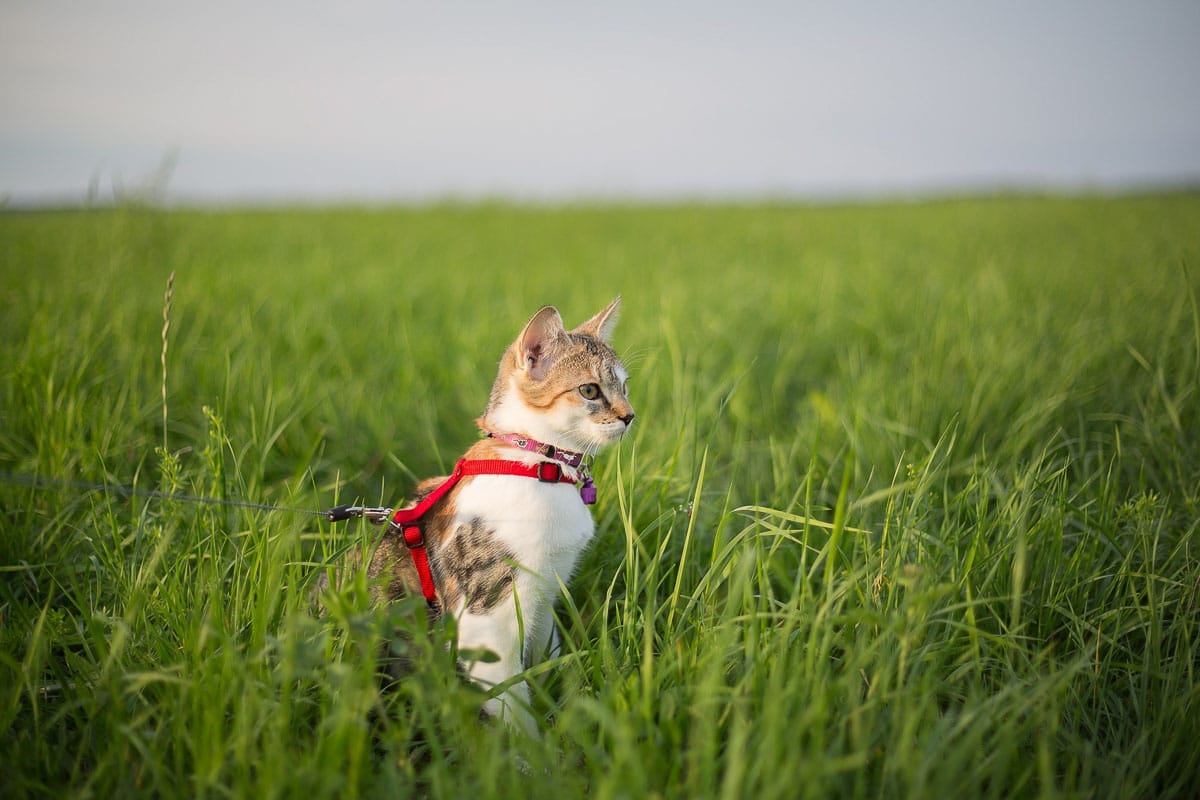 3. Figure 8 Cat Holsters
This type of cat harness is in the shape of a figure 8 and allows for plenty of mobility while keeping your cat safely strapped up. It has a small loop that fits over the cat's head and another loop that is buckled by the chest.
These cat harnesses are easily adjustable and will tighten in the event of an attempted escape.
Final Thoughts on Escape Proof Cat Harnesses
If you keep your kitty indoors, cat toys and indoor adventures won't satisfy them completely. Cats are natural explorers and they love to investigate the outside world. A cat harness is a great way to allow them out while keeping them safe.
When taking your cat out and about, it's important that they're both secure and comfortable. Cats can be tricky little creatures with the ability to escape from almost anything, but the right harness will quell any aspiring Houdini.
Please Note: This escape proof cat harness post contains affiliate links. That means if you click through on most of the links and end up making a purchase I will receive a small commission. This will not effect the price that you pay. I wanted to make sure that you were aware of this.
Like this Escape Proof Cat Harness Post? Why Not Pin It?