It becomes a serious business when you're trying to choose the best cat carrier for car travel. Whether you're sending your cat to a cattery or to the vet, ensuring your fur baby is in a pleasant, peaceful, and stress-free environment is essential – for both of you.
While our felines are most comfortable in their royal palaces, at home, some cats can adapt to travel rather well. And those of us who own felines – or, more appropriately, are owned by them – must ensure that our companions are supported and happy when on the road.
Apart from this, we need to ensure our pets have the best carrier for cats for car travel, day-time adventures, or airline trip.
Let's dive into the top cat carriers for car travel for our beloved little pawtners.
NB – before you hit the road you'll enjoy reading how to have a great road trip with a cat.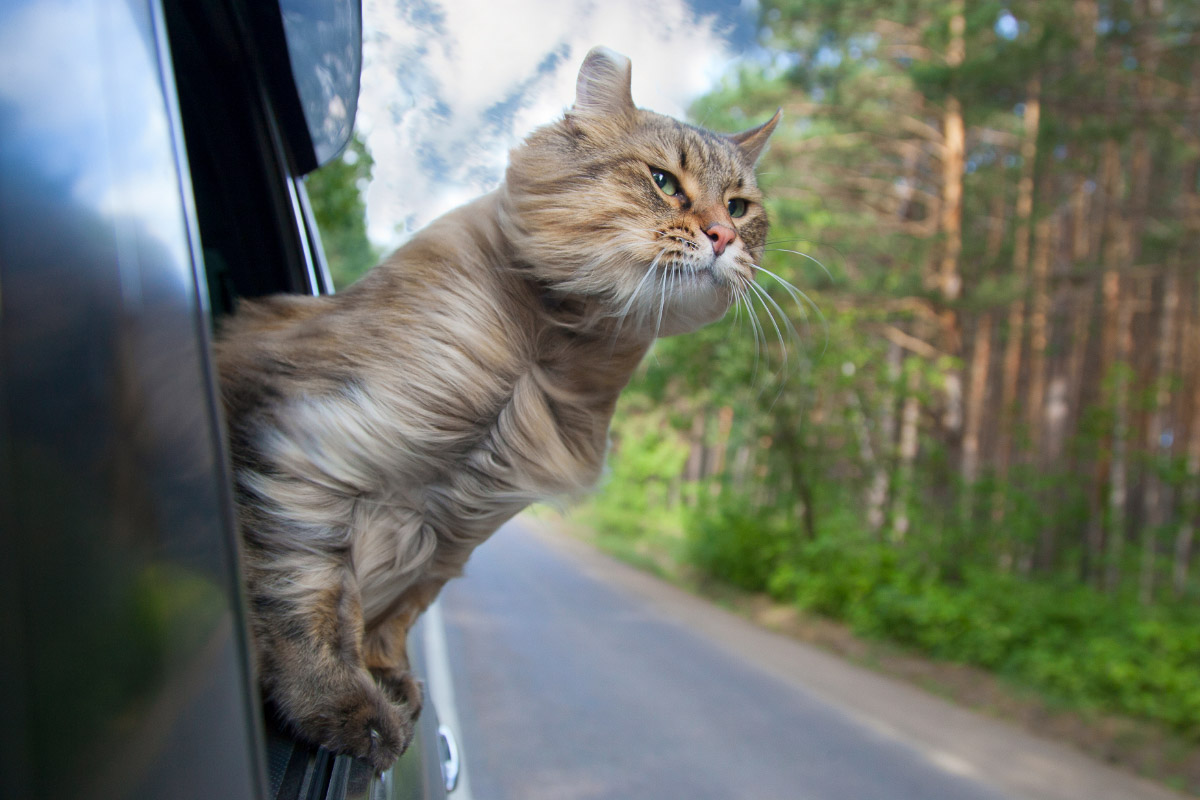 Best Cat Carrier for Car Travel – 5 Formats
Cat carriers come in an assortment of styles, from hard-shelled kennels to soft-sided shoulder bags and backpacks. The best one to choose for your kitty will depend on how you plan on using it. A good carrier for a quick trip to the vet, going to the cattery or catio, or a day excursion may differ from the one that needs to protect your kitty on a pressurized, temperature-controlled cargo plane.
So, before we dive into finding the best carrier for your kitty, take a look at some of the most common cat carriers you'll find.
Psst…If you're inquisitive about walking felines on a lead, take a look at my guide to if cat walking is possible.
1. Rolling Carriers
One of the biggest upsides to these cat carriers is their maneuverability. These bags are great for pet parents who can't bear lugging around loads. The downside to these types of carriers, though, is you need to ensure the bag is level. You can't exactly treat it as another piece of luggage. A small amount of movement from the outside can feel like an entire rollercoaster for your feline inside.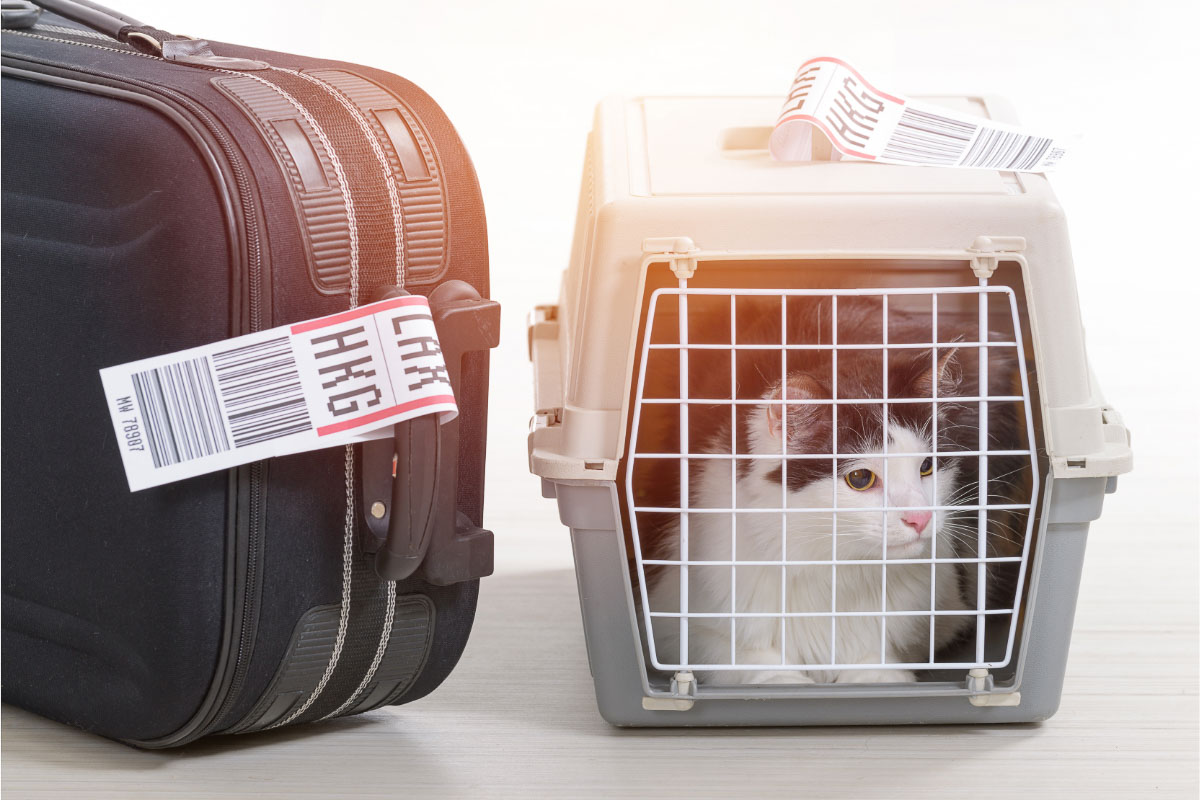 2. Backpacks and Strollers
One way to explore with your kitty is to use a stroller or a backpack. Bear in mind; you'll need to consider what exactly you'll be doing.
For example, cat backpacks are super convenient and a great way for your kitty to explore the world with you. While backpacks are more for those short trips or outdoor adventures, cat strollers, on the other hand, are ideal for urban environments and paved footpaths.
3. Cardboard Carriers
Many pet shelters provide these cardboard carriers for new cat parents at the time of adoption. These kinds of carriers are mostly constructed for short-term use. Because of the carbon fibers, the bag will eventually break down and become less rigid.
The boxes are not long-lasting ad are prone to being chewed, scratched, and soiled. These carriers are made for quick and efficient transportation, to get your kitty from point A to point B.
4. Soft-Sided Mesh Panels
Soft-sided cat carriers with mesh windows are made with firm yet flexible materials such as nylon, polyester, and microfiber. These bags are lightweight and pliable, making them easy to maneuver around or stow away when not in use.
While soft carriers are durable, your pussycat can easily damage the bag with their teeth and claws, and they also don't provide as much protection as a hard-sided carrier.
5. Hard-Sided Carrier
A traveling cat parent's favorite, the hard-shelled cat carriers are more durable than other styles. The sides provide a sturdy and supportive space for your cat to relax in while traveling with you. You can choose between a top-door, top-loading case, or a single-door, depending on you and your kitty's preferences.
Hard-shelled carriers typically don't come with their own padding, but you can place a small blanket, pillow, or tiny bed inside to make your kitty their little nest. Keep in mind, if you do insert padding, make sure your kitty has enough room to move around.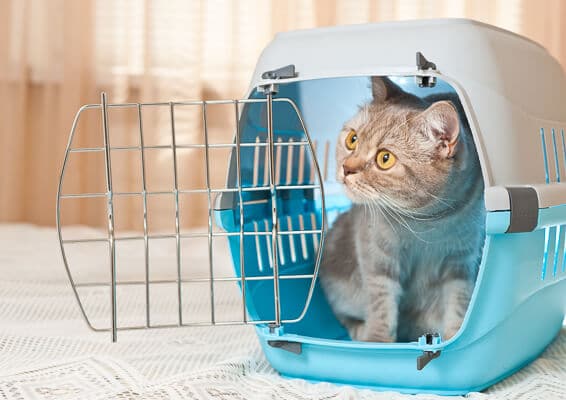 14 Best Cat Carriers for Car Travel
Now that we've learned about the many sorts of carriers, let's look at the best cat bags for car travel for our beloved felines.
1. Henkelion Soft-Sided Collapsible Pet Carrier
The Henkelion Soft-Sided Collapsible Pet Carrier is an excellent pet transporter for our purrfect kitties and other small canine friends. The bag boasts some handy features, from the various zippered openings to the all-around mesh panels.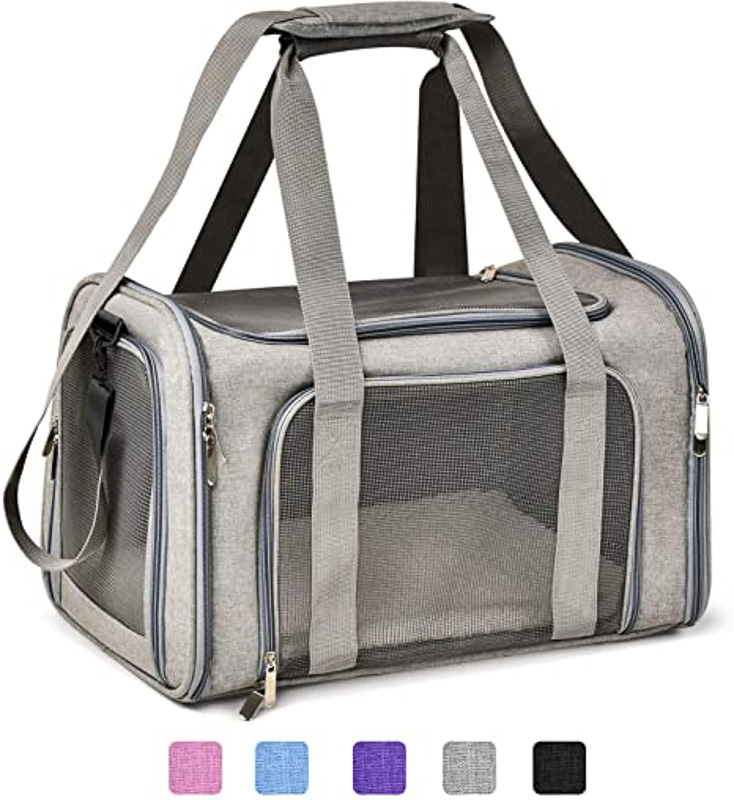 The airline-approved pet carrier provides two connecting looped handles and padded shoulder straps for easy, secure transport of your precious cargo. Moreover, the lightweight bag is easy to carry and stow away when not used. It also has a cuddly fleece bed that can be removed and washed.
2. NECOICHI Portable Cat Carrier
NECOICHI Portable Cat Carrier is the ideal lightweight, foldable bag for day trips. The carrier provides mesh windows for your kitty to peer out and enjoy the travel experience. Also, as cat parents, we want to ensure our kitties are happy, and the open panes enable us to do just that.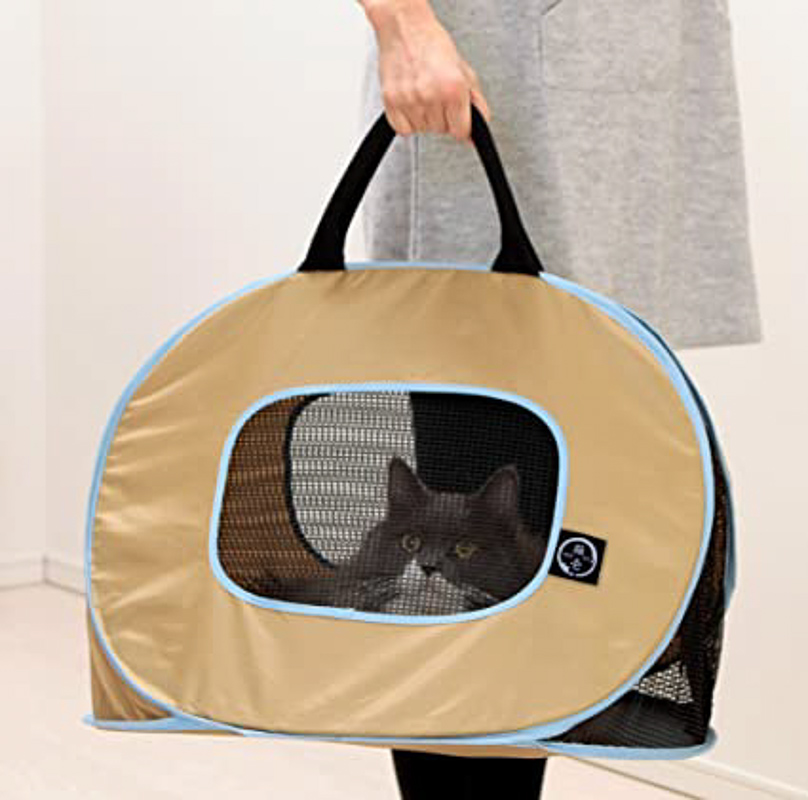 The sturdy fabric makes it super easy to clean. The bag is also equipped with two twin zipper-lock rings that can't be opened from the outside – for maximum security for those escape artists.
3. SportPet Foldable Travel Cat Carrier
SportPet Foldable Travel Cat Carrier is specifically designed for felines and can hold up to 25 lbs – ideal for both small and large cats. When you're not using the carry bag, it easily folds down and can be stored just about anywhere. Similarly, it assembles within seven seconds.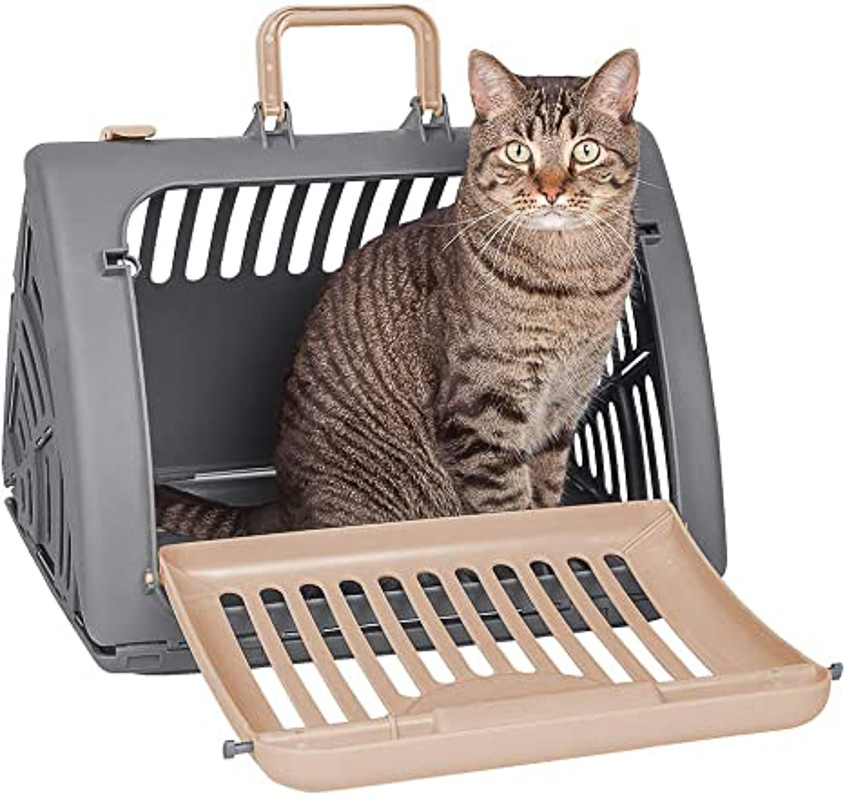 The key feature of this carrier is its wide-side opening door to allow your cat to feel comfortable walking into it. The carrier also includes a comfy waterproof, machine-washable bed for your kitty to lay on. It's an exceptional traveling carrier for your feline.
4. Pet Magasin Hard Cover Collapsible Cat Carrier
If you're looking for the ideal top-loaded, foldable pet carrier for your sweet feline friend, Pet Magasin Hard Cover Collapsible Cat Carrier provides a comfortable resting place for any trip.
⇒ Getting a new kitty? Check out my guide to How to Look after a Kitten, 6 Best Kitten Wet Food Options and 8 Best Kitten Dry Food Options
The case features both hard and soft shells, providing your kitty with a firm surface to stand on. The floor is also made of a rigid, non-slip base to keep your pet from getting knocked around. The mesh windows around the sides of the carry bag provide plenty of ventilation for your pet, with a 360-degree view of you and their trip.
5. Pet Magasin Soft-Sided Cat Carrier
Another incredible travel bag from Pet Magasin, the Soft-Sided Cat Carrier, is airline approved and provides a comforting space for traveling felines. The bag was made to keep your pet safe and retains its shape when the zippers are pulled together. The carrier is soft-sided with comfortable padding inside and is surrounded by mesh windows for ventilation.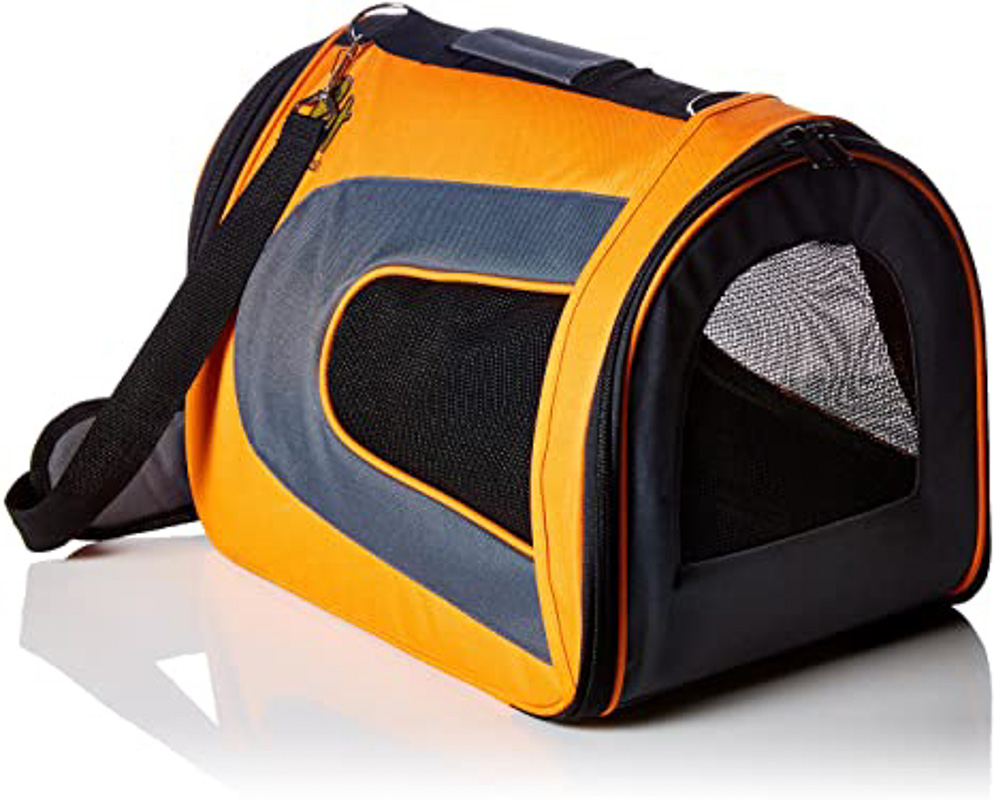 Moreover, there is a pocket outside the carry bag, perfect for carrying feline treats, vet certificates, brushes, leads, or some of her favorite cat toys.
6. Petmate Two Door Top Load Carrier
If you're looking for a hard-shell pet crate for travels, this Petmate Two-Door Top Load Carrier will make an excellent choice. The carrier was built with an ergonomic handle to hold your kitty's case fast and stable.
The low-cost, durable carry kennel will provide your cat pal with plenty of room to move around. One easy-to-fix downside is the hard floor. However, you can add a pet blanket or a small pillow to give your little prince(ss) the comfort they necessitate. There are also ventilated sides for your fur baby to enjoy the views en route to your destination.
7. PetAmi Premium Soft-Sided Pet Travel Carrier

The PetAmi Premium Soft-Sided Pet Travel Carrier provides our much-beloved pets with a comfortable, durable design and top safety features. It is ideal for any trip – whether it's flying or car travel. Apart from being a super comfy travel bag for your kitty cat, this carrier also boasts an extra pocket for you to keep your fur baby's treats. Moreover, the bag comes in an array of eleven different colors to choose from.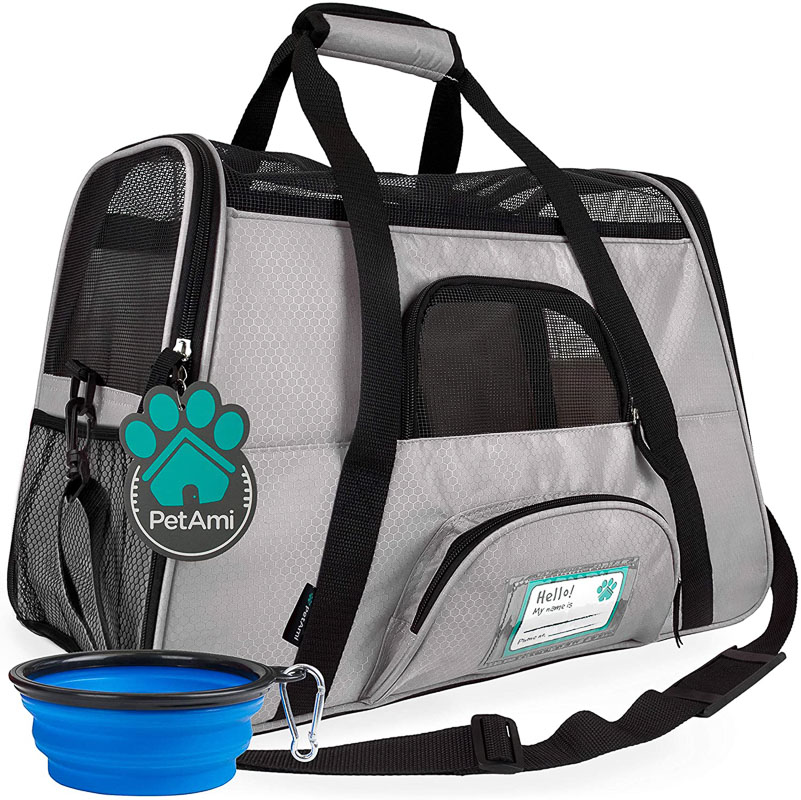 The double clip straps help support the weight of your kitty, whether they sit, stand, or sprawl out in their little portable castle. The carrier is breathable with three sides of mesh windows and a two-way entry for easy access. For your peace of mind, the backpack comes with a safety strap and buckle to prevent even the most cunning of escape artists from getting out.
Psst…If you're looking to take your fury cat pal on an adventure, whether hiking or a trip to the park, take a look at the PetAmi Deluxe Pet Carrier Backpack – providing you with oh la cuteness and keeping your kitty close to you.
8. Sherpa Travel Deluxe Pet Carrier
Another top choice for our beloved cats, the soft-sided Sherpa Travel Deluxe Pet Carrier provides plenty of features to make your cat's trip a comfortable one. The bag is patented for its unique spring-wire frame that allows you to push down several inches of the frame at the rear to conform to under-seat airline requirements.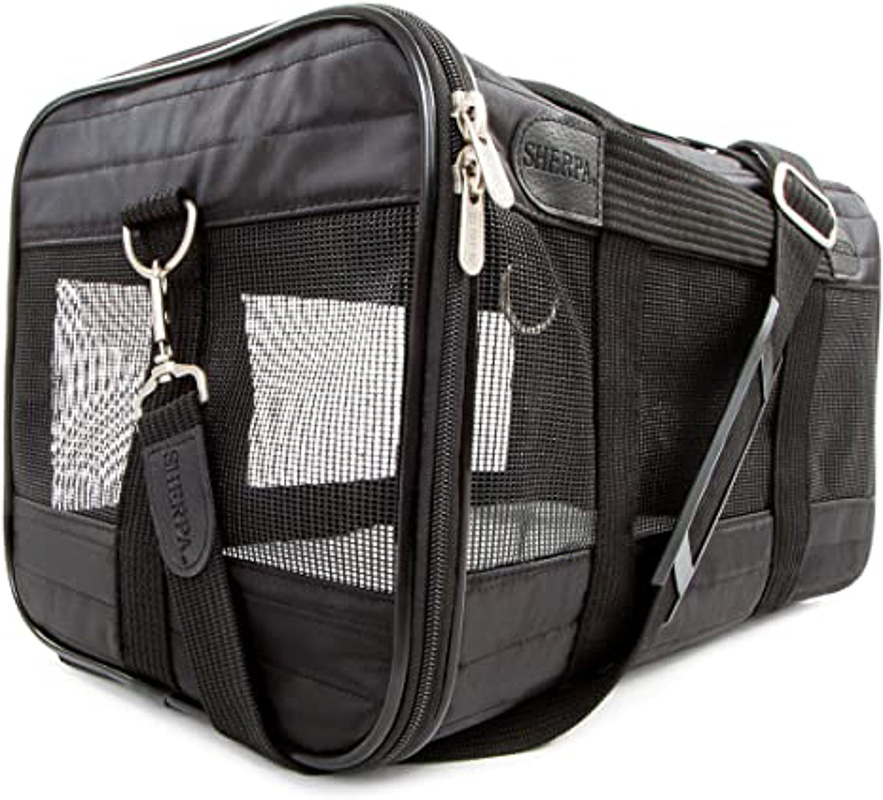 The carry bag provides see-through mesh sides to keep your kitty's space breathable without obstructing her vision. Stash treats, a water bottle, and her favorite toys in the rear pocket to keep her content along the way. The bag comes available in three sizes, namely small, medium, and large. The fabric is durable and machine washable, easy to clean between trips. It's a great bag for shorter plane or car trips with your cat.
9. EliteField Soft-Sided Pet Carrier Bag
The best thing about these travel bags is that you can take your furry friend with you wherever you go. And the EliteField Soft-Sided Pet Carrier Bag provides both you and your pet with style and comfort in one. The bag comes in six snazzy colors: black, charcoal gray, pink, purple, sky blue, and sapphire blue.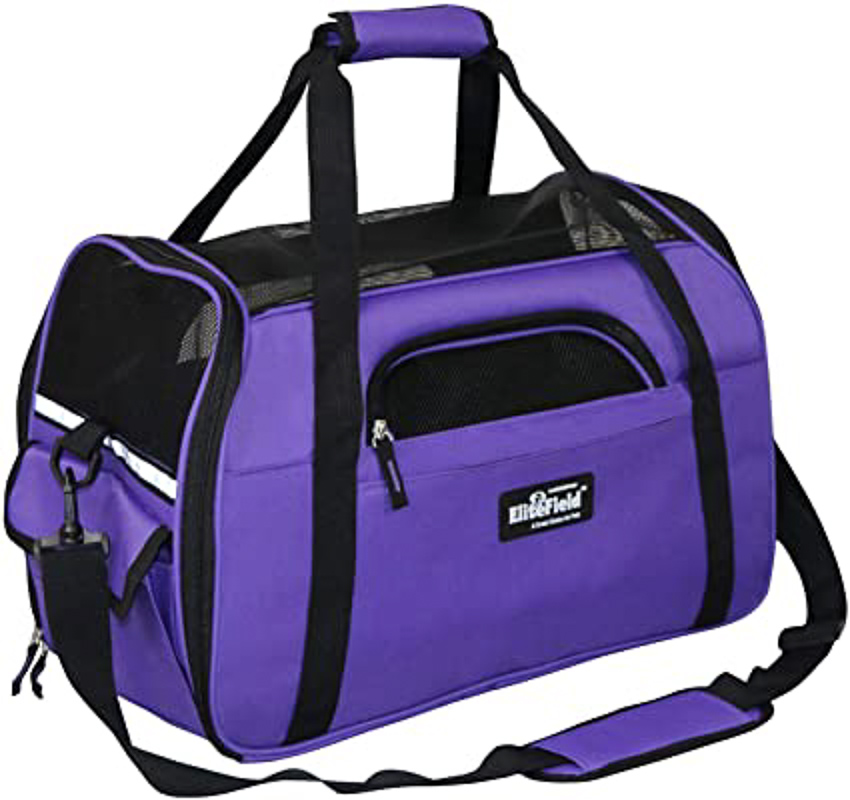 It's made from durable, lightweight material and features mesh netting in the front and sides of the bag for optimum ventilation for your little partner. The carrier includes a seatbelt loop and straps to attach to your luggage or car seat. The carry pack also comes with a removable plush bed to provide your kitty with comfort. There is also an accessory storage pocket to keep their treats for snacks along the way.
10. Siivton Expandable Pet Carrier

Regarding lightweight and comfort, the spacious, cozy Siivton Expandable Pet Carrier checks all the boxes. The four-door carry bag easily folds down to provide extra space for our beloved pets, allowing them to move around more freely and reducing anxiety levels in cats associated with confinement.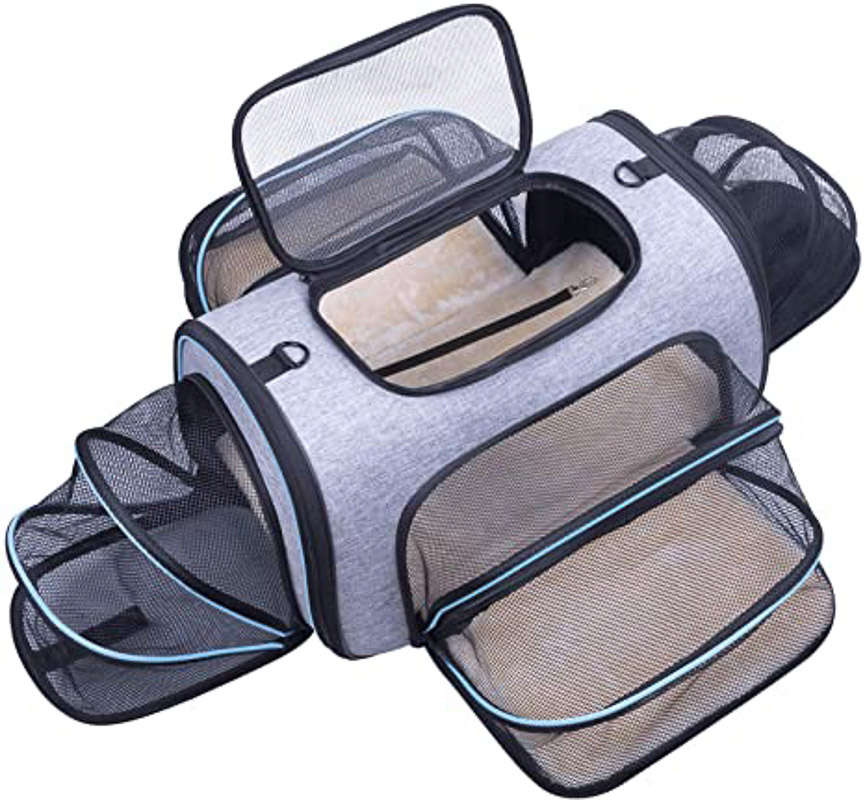 ⇒ How long do cats live? How to get a cat to eat? How to train a cat not to bite? How often do cats pee? and How to Pet a Cat.
The pet carrier is easy to carry over your shoulder; place it atop your luggage, secure it with a seatbelt in your car, or add it as a top bag. The bag has various entry points as well as mesh windows for ventilation. The carrier is easy to clean, and the warm fleece pet bed can be removed and washed.
11. Mr. Peanut's Soft-Sided Pet Carrier
The next time you take your kitty on vacation or a little car trip, the gold series airline-approved Mr. Peanut's Soft-Sided Pet Carrier will spoil your dear pal with oh la comfort. Recommended for pets up to 15 pounds, the luxury tote is designed with faux fleece bedding and a plywood base for added support and comfort.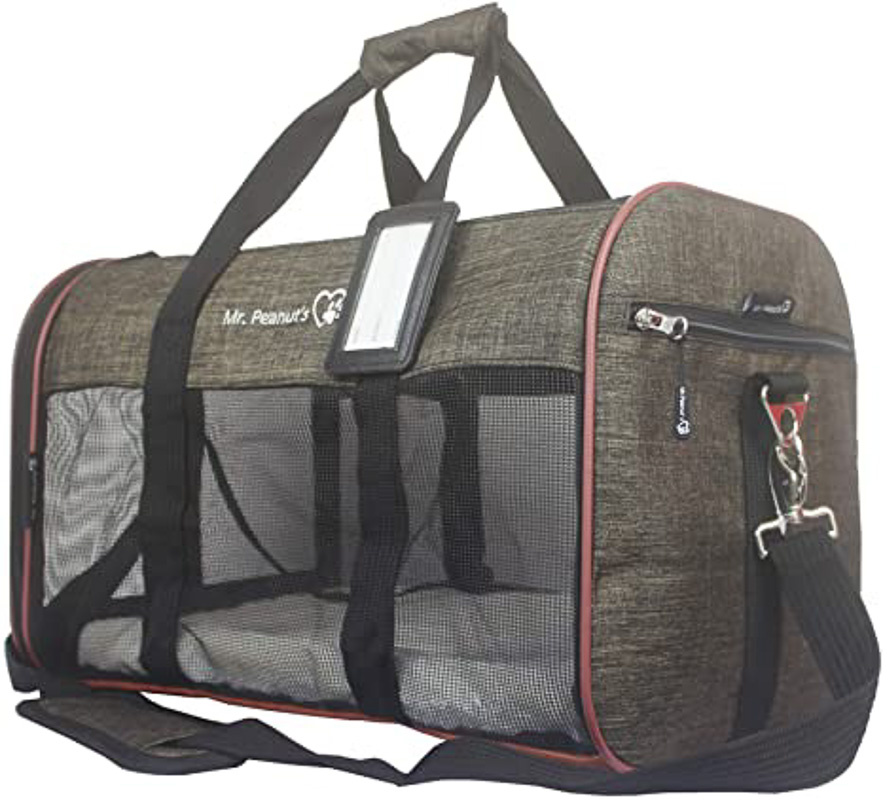 The carrier features premium self-locking zippers to keep your pet exactly where they belong during your trip. Give your kitty cat the privacy she needs with the roll-away or roll-up cover. The soft-sided carrier is a breeze to travel with. It also provides mesh windows on all sides and on top and a zippered mesh pocket for storage. Moreover, it comes with a luggage strap, ID tag holder, and safety seatbelt attachments.
12. Morpilot Pet Travel Carrier Bag
The Morpilot Pet Travel Carrier Bag presents some unique features for traveling with your pet. This includes a collapsible water bowl to keep your pal hydrated during trips, and all four sides have breathable mesh windows, allowing your kitty to look around and enjoy the journey just as much as you.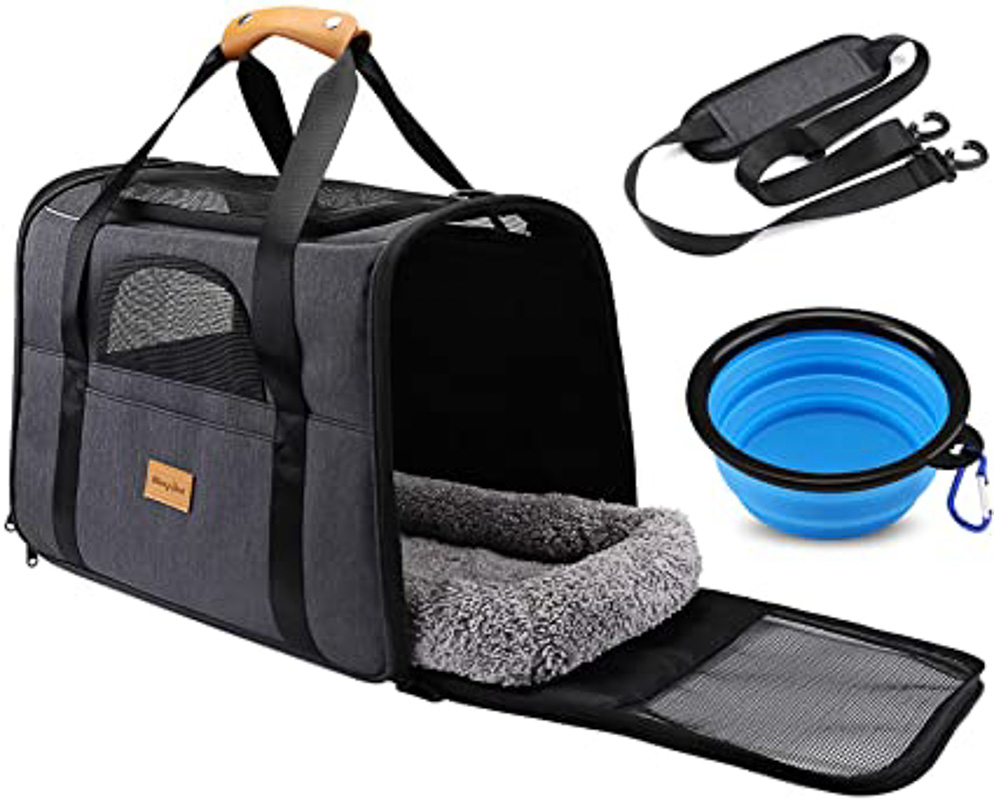 The carrier provides a built-in collar buckle and comes with a spacious front pocket, ideal for placing toys, leashes, or clothing for your cat. The floor is sherpa-lined and reinforced with sturdy support to provide your pet extra stability. The carry bag also comes with a small washable cushion to give your kitty all the pleasures of home.
13. PetLuv Happy Cat Soft-Sided Carrier
Let your little prince-ss ride in style with the PetLuv Happy Cat Soft-Sided Carrier. The royal chambers boast a foldable design and built-in features that provide plenty of room for your kitty. In addition, it's designed with all-around mesh windows to provide your furry companion with ventilation and panoramic views of the outside. And if your kitty purr-ferrs privacy, there are unique three-stage privacy settings for the flaps.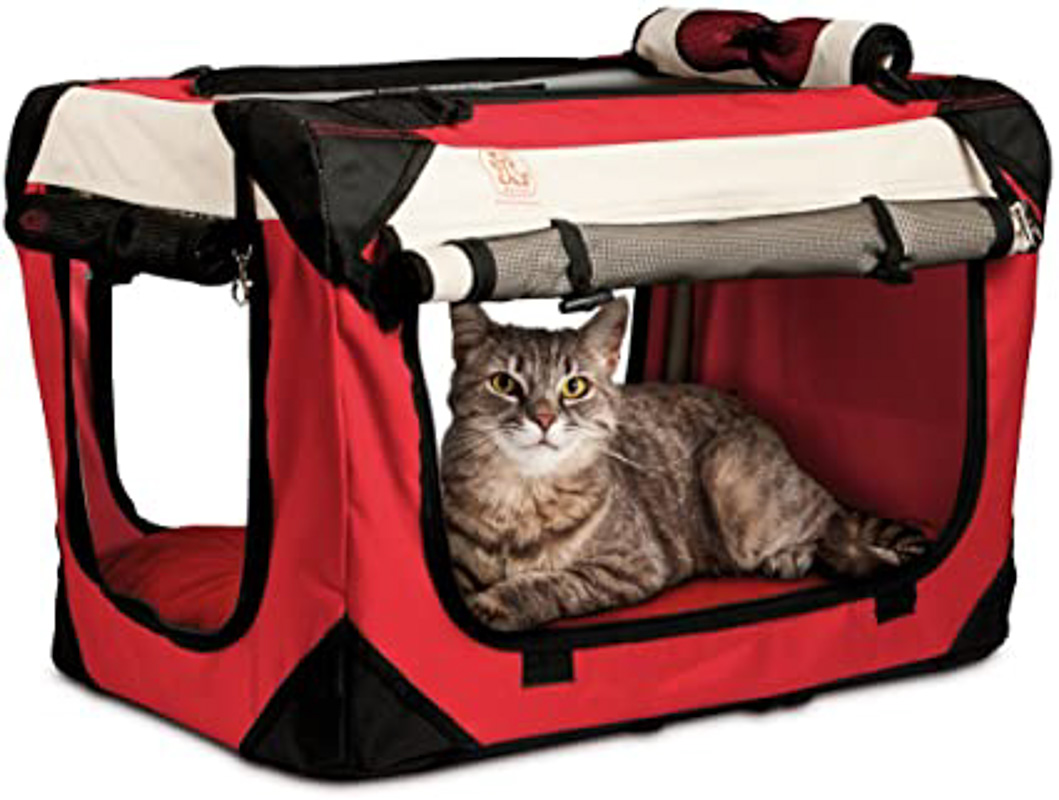 Your feline can go in through the top and side holes. And the adjustable shoulder straps make it simple to transport the bag from your car to your next location. Furthermore, there is a washable, soft pillow for your pal to sleep on, which provides comfort and reduces anxiety.
14. Pet Gear & Car Seat Carrier
The best thing about a road-tripping buddy is that you both equally enjoy the views and surroundings together. And the Pet Gear & Car Seat Carrier for cats and dogs is designed for both of you to enjoy adventures together. The carrier features mesh ventilation around the case to provide your little pawtner with a 360-degree view and enjoy the fresh air.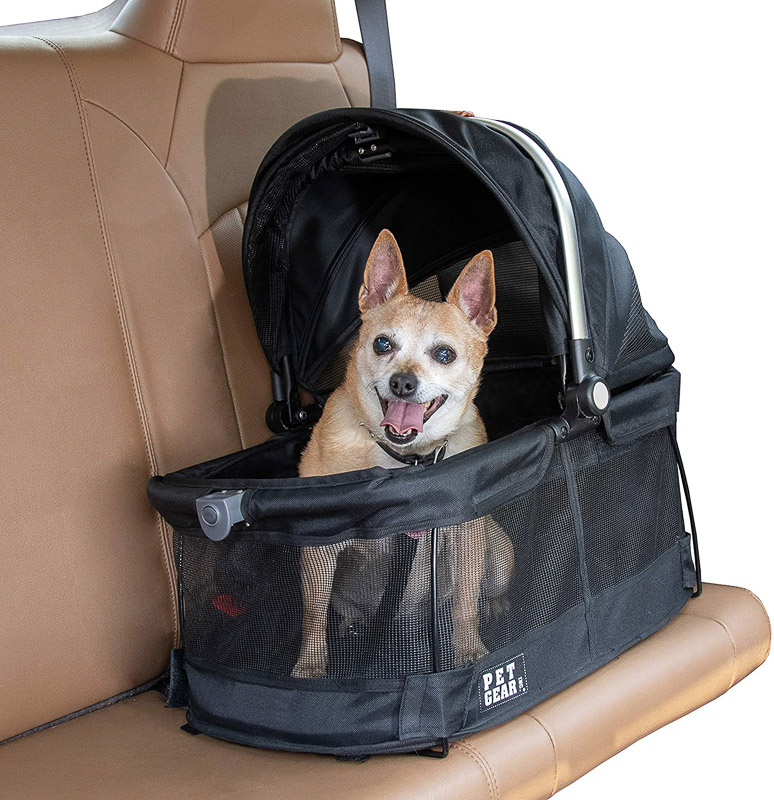 No need to fumble around with annoying zippers here, the lightweight carrier is easy to access with a push-button entry on the side of the bag. There's also a tether in the interior that can easily attach to a harness to keep your fur baby locked in. The carrier can also be easily attached to the seatbelt of your car, great for any bumpy rides.
A Footnote: Cat Carriers for Car Travel
Finding the best carriers for our purr-fect little companions is curtail to our kitty's peace of mind, comfort, and contentment. When moving your cat by car, comfort is usually the biggest issue.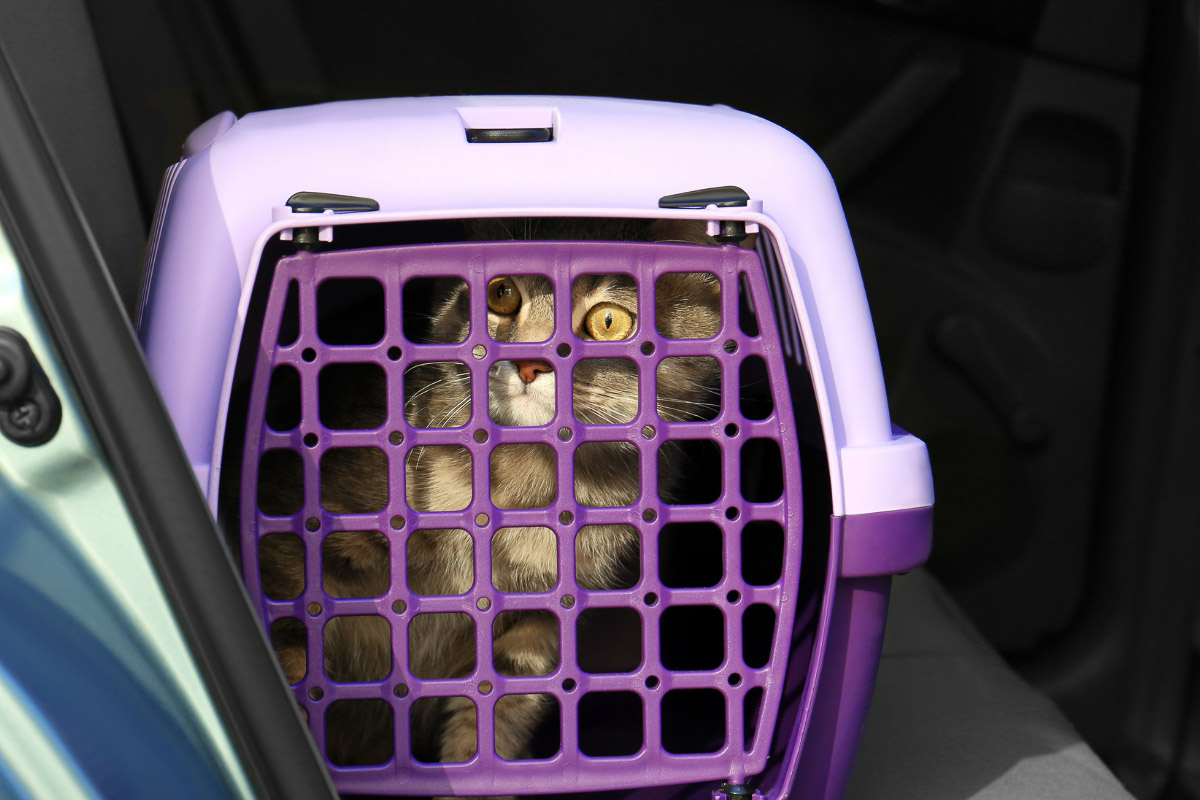 Soft carriers with mesh-sided windows tend to be preferred over hard-shelled ones. And attaining top-rated products to suit our feline's demands is essential to a happy kitty and convenient trip.
So, let's paw-tect our little kitties and provide them with the ultimate care they deserve during our travel trips.
Psst…During your travels, you may want to put a collar on your kitty. So, why not 'zhuzh it up a little more and spoil your kitty with a designer cat collar that you and your feline companion will love.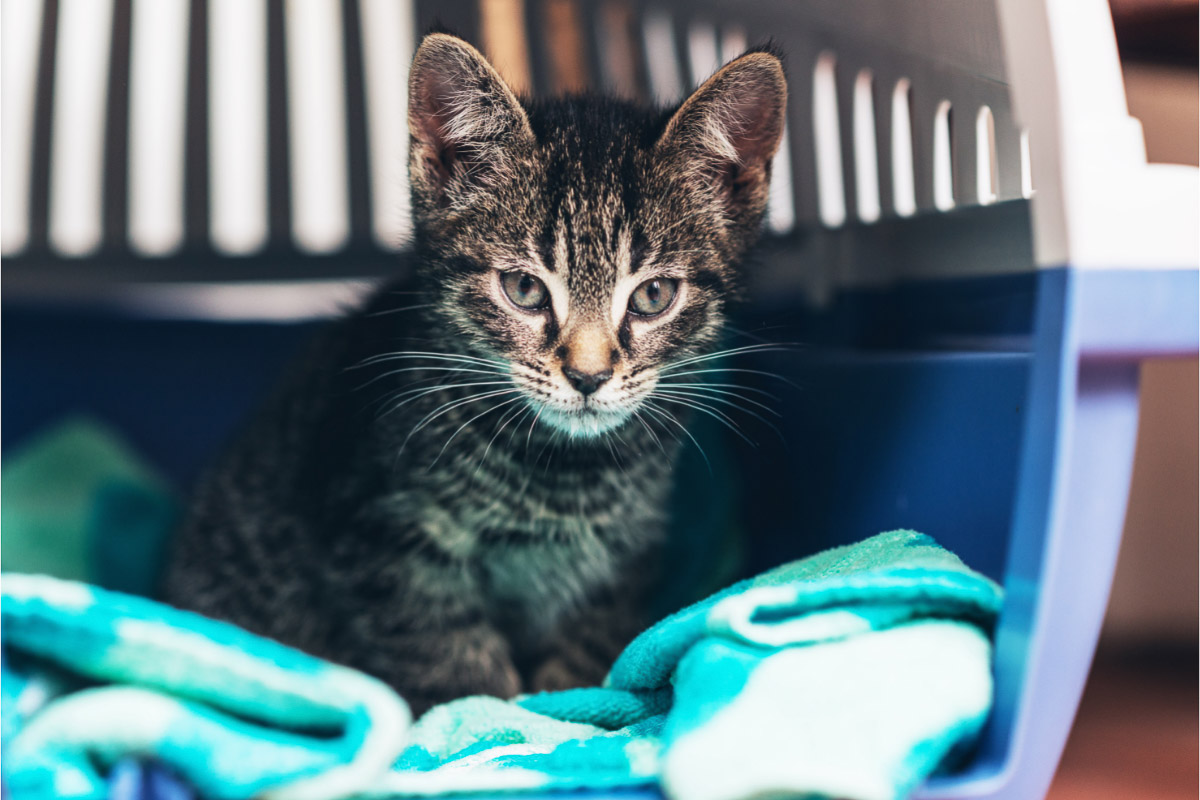 ⇒ Can Cats Eat Raspberries?, Can Cats Eat Popcorn?, Are Ragdoll cats Hypoallergenic?, Can Cats Eat Peanut Butter?, Can Cats Eat Cheese?, Can Cats Eat Cashews? and How to Keep Cats Away from Plants
This best cat carrier for car travel post contains affiliate links. That means if you click through and make a purchase I will most likely receive a small commission. This won't affect the price you pay. Just wanted to make sure you knew.