Whoever said that dogs are man's best friend obviously didn't own a cat. There's little as calming as listening to the soft purr of your furry friend or as gratifying as watching your kitty stretch out in the sun.
With this in mind, it makes perfect sense that you would want to take your cat with you on certain trips and travels. And that's when the role of pet travel carrying cases becomes invaluable – and it is key to finding the best carrier for cats for your feline.
Pet carriers for cats make traveling with your cat really easy. There are different types to choose from, each with its own care instructions. Here, we explore the different types of traveling cat carriers as well as tips on how to clean and maintain them.
Best Carrier for Cats: Different Types Available
Anyone who has ever owned a cat will know that felines are incredibly independent, making it very difficult to travel with your cat in confidence.
A pet travel carrier makes it easier to transport your kitty from one place to another. There are different types of carriers, each serving its own purpose.
Soft-Sided Mesh Panels Cat Carrier
Soft, mesh windows carriers come in different sizes and are great in various instances – from air travel to trips to the vet. The flexible material makes the carrier less bulky and easier to transport without the cat inside, as it can fold in. Many also have wheels and sturdy handles for easy carrying.
⇒ If you're keen to get out and about with your kitty, don't miss my Guide to Cat Walking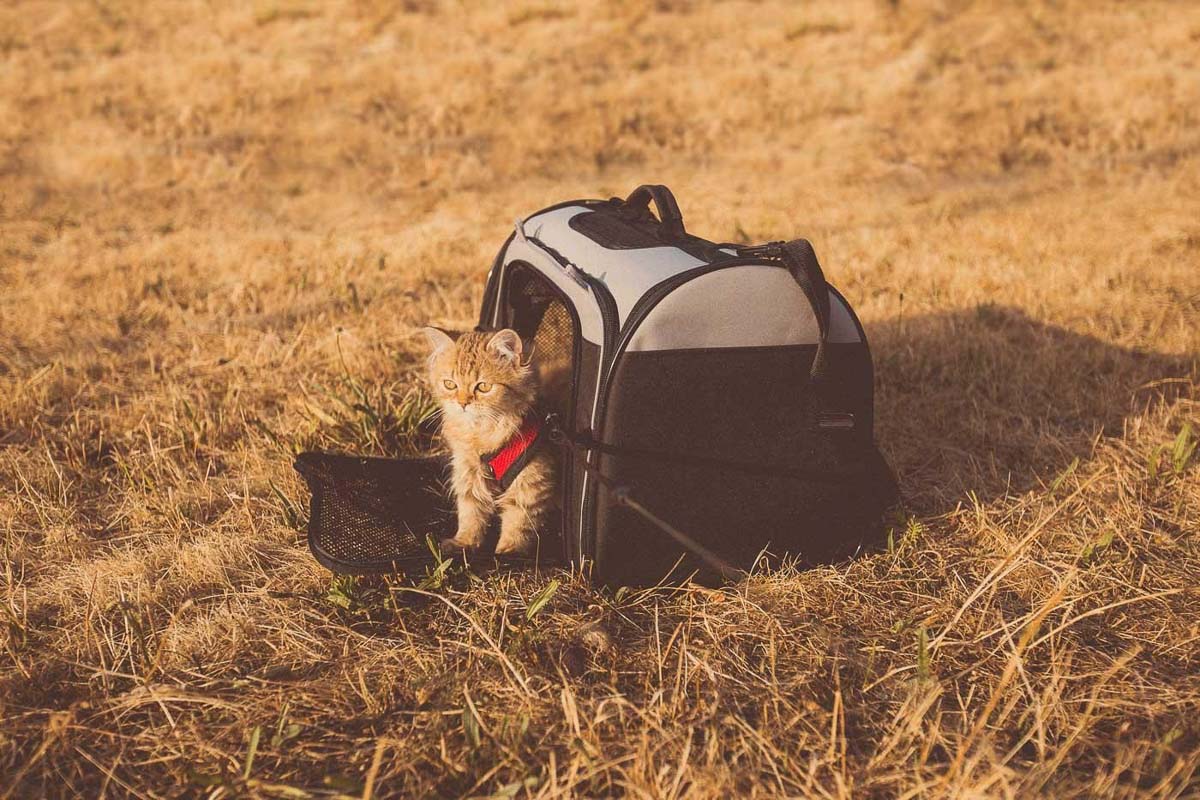 While soft carriers are effective for transportation, there are a few considerations to consider. The soft cat carrier can be more difficult to clean and is prone to damage if your cat is on the wilder end of the spectrum and enjoys clawing as a favorite pastime. But this is one of the best cat carriers for long-distance car travel.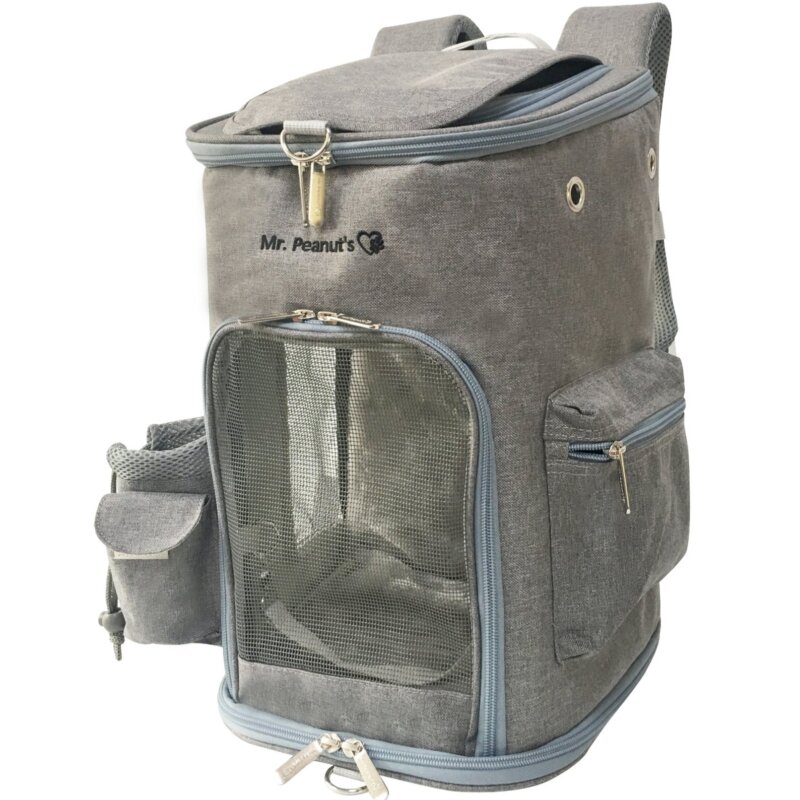 Hard-Shell Pet Carriers
The hard-shell, plastic carry cases re known to be the most sturdy and supportive. As an added bonus, they are a fair bit easier to clean. You can choose between single-door, top-door, or top-loading cases, depending on your preference.
Normally, these plastic cases include steel wire or steel mesh. Keep in mind that if you have a large cat, then the best carrier for cats you may require spending some extra money to find one with a sturdy handle.
Cheap cat carriers are normally of lower quality and may put your lovable kitty in danger.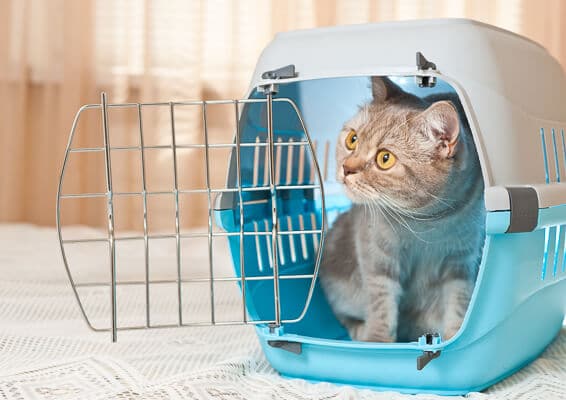 If you're looking for large cat carriers to give your cat more space to move around, a hard-shell plastic case may be your best option. These can be one of the best cat carriers for scared cats.
Ultra-Light Cat Carrier
If you want to move your kitty from one house to another or take them for a quick trip to the vet, then a heavy-duty carrier may be clumsy and unnecessary. The best carrier for cats for you may be one of the super light cat carriers that are collapsible, convenient, and comfortable – for both you and your cat.
These cute cat carriers may be convenient, but they are also limited for long-distance travel. Another great option for quick and easy day-to-day travel is the portable cat carrier bag and sling. These slings are incredibly easy to clean and comfortable for the cat and the owner.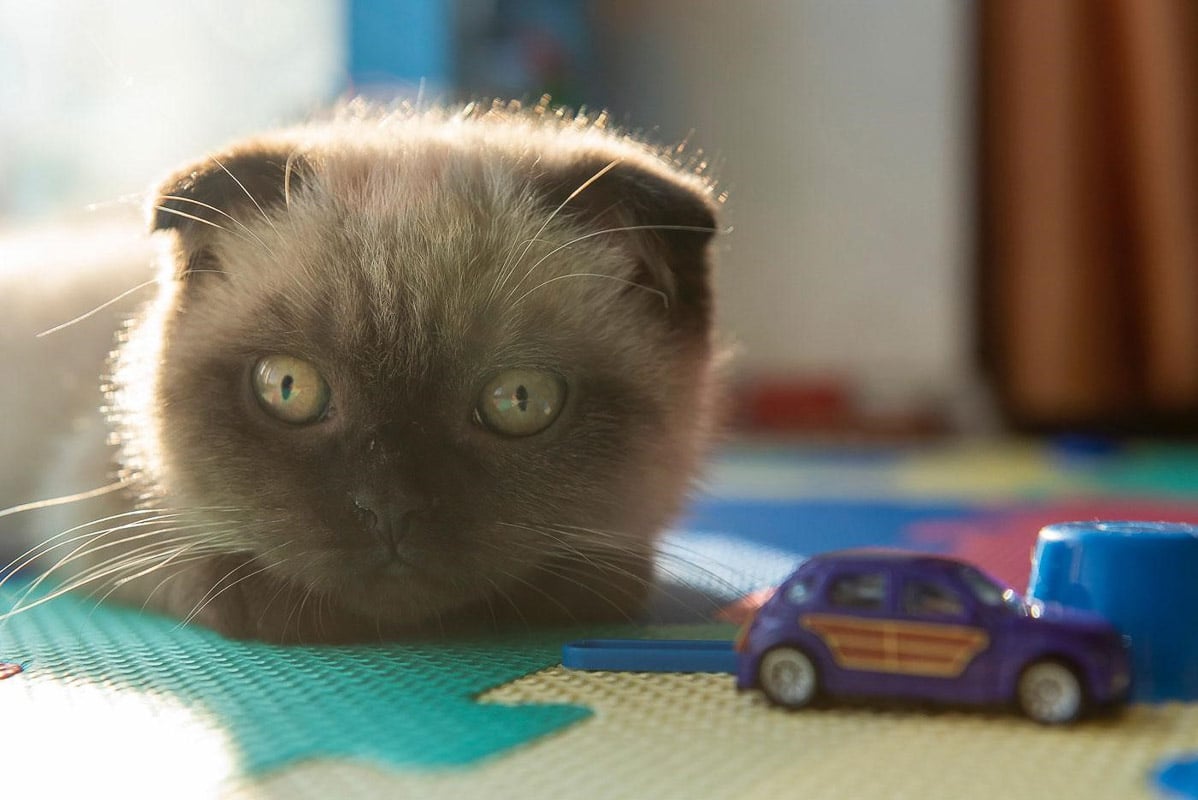 Backpack Pet Carrier for Cats
These funky bubble backpacks are ventilated, transparent, and convenient. The capsule cat carriers are mostly airline-approved and allow you to travel with your regal feline companion in style. This is one of the best cat carriers for plane travel.
With these cat travel bags, you can take your kitty with you on your next adventure, with both hands-free to take photographs, read a map, and sip a cup of coffee. It is easy to see why this format is one of the best carrier for cats options.
Cardboard Cat Carrier
Many cat owners prefer to buy a temporary, disposable cardboard pet carrier. The boxes are mostly one-size-fits-all and are not long-lasting. The cat carry box is prone to be chewed, and soiled, and is not the most comfortable.
However, it does have its perks. They are really affordable and work perfectly for the quick and efficient transportation of your cat. If you are after something, low cost this is one of the best cat carrier options.
Features To Consider
There are certain features to look out for when investing in a cat carrier. These features will affect how your cat enjoys its travel.
Number of Doors
There are portable cat carriers with single doors as well as multiple doors. The description is self-explanatory, with a single door offering only one opening for your pet, and multiple doors offering many.
If you have a small, docile kitty, then one door should be fine. But if you have a larger cat that can put up a struggle, then multiple doors (particularly top loading cat carriers) may be a better choice as it's easier to get them inside.
⇒ Getting a new kitty? Check out my guide to How to Look after a Kitten, 6 Best Kitten Wet Food Options and 8 Best Kitten Dry Food Options
Lock Type
There are various lock types to choose from that will ensure the safety of your cat. Some kitten carriers have zippers, velcro, and snaps. While these may be quick and easy, it makes it relatively easy for cats to push their way through the opening.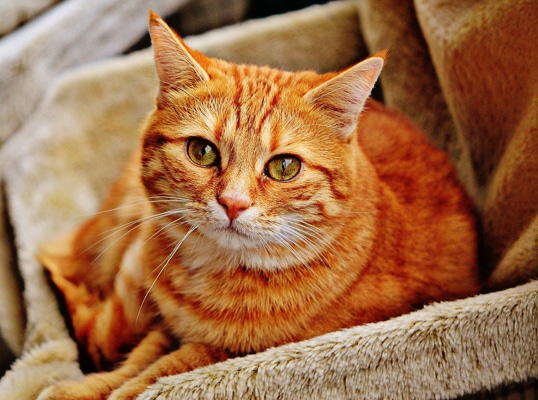 Others have plastic knobs that latch the carrier together. These are also fairly easy to use, but the carrier does need to be aligned correctly to work. Plastic pegs are another way to latch a carrier. While simple to use, the pegs can sometimes be misplaced.
Another method of closing the carrier is with side snaps. These are effective and effortless, but the loud snap can make a skittish cat feel uncomfortable.
Size
The size of your cat carrying case is also important and depends largely on the size of your pet, as well as how long they will be inside. As a rule of thumb, the carrier should be at least one and a half times the size of your animal.
For long flights, you want to ensure that your kitty carrier is large enough for your pet to stay comfortable. If it can fit food and water bowls, then that's an added benefit. And one they'll be grateful for.
A medium cat carrier is perfect for your average-sized cat going on shorter trips so is often the best cat carrier for car trips, while a small cat carrier is all that is needed for a quick trip to the vet. At the end of the day, you want your precious cat to be comfortable and secure.
Best Practices For Using A Cat Carrier
While many humans aspire to tick off as many exotic destinations as possible, the thought of travel tends to stress out a lot of cats. Here are a few suggestions and preparation hacks to help you to prepare.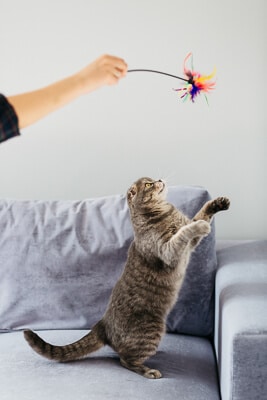 Familiarize Yourself With The Airline Regulations
The pet policy may vary slightly depending on which airline you travel with. The last situation that you want to find yourself in is to be stranded at the airport with an unsuitable carrier.
Make sure that you do your research beforehand, and be certain that your cat pet carrier fits within the airline's policy.
As a guideline, many airline policies follow a similar policy:
Pets must be of a certain age before boarding a plane (normally at least 8 weeks)
Pets must remain inside their closed container, under the seat in front of you
Only two pets allowed per passenger in the cargo hold
As you can see, a large carry container that doesn't fit under the seat may present itself as a problem for flying.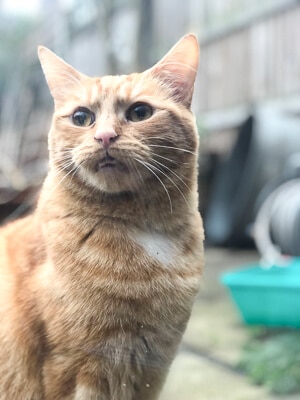 Stay on the safe side and call your airline beforehand to find out what the proper procedure is for booking a cat on a flight.
Make Sure That Your Cat Is Comfortable
As a loving pet owner, you'd naturally want your kitty to feel comfortable and safe while traveling. Whether you're using the carrier in the car or on a plane, there are certain steps to destress your cat.
Firstly, leave the carrier out in your home so that the feline can get comfortable around it. Don't allow the travel case to become synonymous with stress.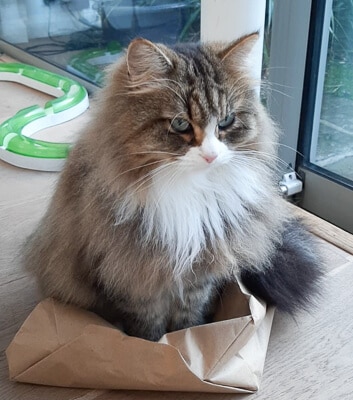 Secondly, you can make the carrier feel like home. Place a blanket or piece of fabric on the bottom of the carrier to add an element of coziness and comfort.
Another way to make your cat feel at home in the case is to put it inside with its favorite toy, and show it lots of love before you close the door, to make it feel comfortable.
Secure The Travel Case
While airlines have a certain protocol for traveling with pets, transporting your cat in the car leaves the responsibility of security to you. Secure the carrier in the backseat with a seatbelt, and never put your cat in a closed trunk.
It should also go without saying that you should never leave your cat alone in the car, especially on warm days.
Break Up Long Trips
Cats can be real divas and enjoy their independence. Locking them in a cage – no matter how comfortable – for hours on end is not ideal. If you're driving on a long trip, then make sure that you stop for regular breaks.
Take advantage of this to make sure that your kitty is secure when outside of the box.
Keep The Cat Carrier Clean
Cats are as clean as they are independent. The iconic image of a cat licking its paws is renowned for a reason. So, ensure that you respect your kitty and keep the cat carrier clean.
Each product will have its own recommended cleaning instructions, so keep an eye open for those.
Picking The Perfect Cat Travel Carrier
There are plenty of fantastic options on the market. Most are designed with the comfort and security of your feline friend front of mind.
At the end of the day, you want to make sure that your cat doesn't view the carrier as a threat, but rather as a snug mode of transport. Assess what you need the travel bag for and any restrictions that may accompany the journey, and make your choice from there.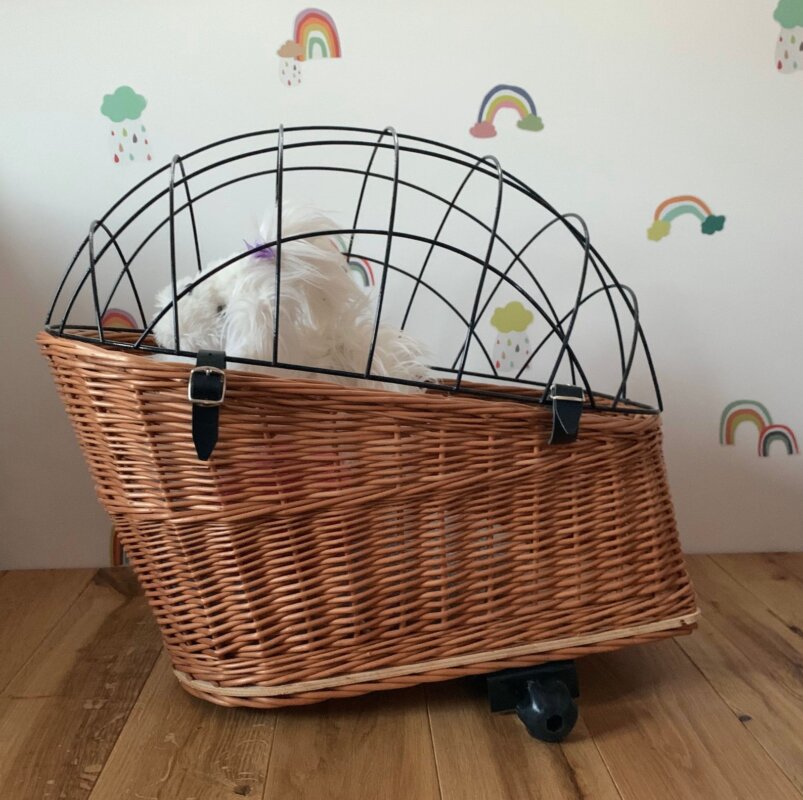 A cat carrier solves several transportation problems. Whether you're shooting to the vet, or going on an exciting trip, now your cat can travel in comfort and style.
Please Note: This post on the best carrier for cats contains affiliate links. That means if you click through on most of the links and end up making a purchase I will receive a small commission. This will not effect the price that you pay. I wanted to make sure that you were aware of this.
Like this Post on the Best Carrier for Cats? Why Not Pin It?